Space saver bags, also known as vacuum/roll-up bags, are great storage containers for packing before traveling.
I know how important packing all the necessary stuff is before going away from your home. You never know what and when you might feel the need of something. These bags serve this purpose.
I have picked some best space saver bags for travel to help you pick the finest one for your journey.
Why and Who are Vacuum Bags for?
Let's say you are about to go on an adventurous trip. You don't want to carry 2/3 suitcase but need to take with you a blanket, sleeping bag, pillow, clothes, toiletries, etc. That's certainly a lot for just one suitcase. This is where the space saver bags come in handy.
These space saver travel bags are meant to compress the stuff inside by releasing the air with the valve on it. You can use a travel vacuum pump, added-in purchase or a vacuum cleaner for bringing out the air inside the bag.
As a result, all the essentials can fit in one suitcase as everything is tightly compressed. There are also roll-up bags available and you can select the one according to your likings.
Those who travel often may not be pleased with its service as they have to pack and unpack several times. But, if you are traveling to 1/2 locations, these bags can prove to be an excellent companion.
They are also great for return trips as you can divide your laundry in these bags but carry them with all your stuff in one suitcase.
---
Top 7 Best Space Saver Bags for Travel in 2022
Let's now check real-life, impartial, and detailed reviews of top 7 best vacuum storage bags for travel in 2022.
1. Spacesaver Premium Vacuum Storage Bags for Max Space Saving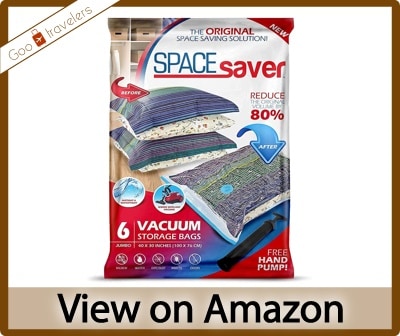 Spacesaver vacuum bags are one of the best space saving bags for travel. These bags come in 6 sets of jumbo packs and are appropriate for storing bedding and bulky clothes. For traveling on a flight, you can use them for keeping your personal belongings or souvenirs in an organized method.
Material: Made from premium quality plastic, these bags with reinforced seams can store beddings like king-sized duvets, pillows, clothes, bulky jackets, curtains and many more.
Compression: Work with vacuum cleaners, these bags include double-zip locks with a triple seal turbo valve. Also, you can compress the bag up to 80% with the pump provided with purchase. After compressed, it will prevent moisture from accessing the things inside and keep the things mildew-free.
Size: Sizing 80cm x 100 cm each (30×40 inches), this jumbo pack of space saver bags provides adequate space for travel packing. You can fit everything in one suitcase in an organized way, be it bedding or clothing.
WHY I LOVE IT:
Large size.
Durable material.
80% air reduction.
Travel pump included.
TAKE NOTE:
---
2. GONGSHI Vacuum Storage Space Saver Sealer Compression Bags
The next sets of vacuum bags from GONGSHI come in a pack of 12 bags of different sizes. Whether you are on a journey or you want to organize your wardrobe, these quality bags are reliable for storing all your stuff accordingly.
Material: 2 layers of plastic material blended precisely to make sure no air gets in while compressed. The dual zipper seal also prevents air access in the bag and secures your valuables inside.
Compression: With a compress power up to 80%, these bags can be put in use with any standard vacuum or the pump included with the purchase. You can store them in your home or travel bag and they will not leak or puncture anytime soon.
Size: A set of 12 bags in different sizes makes organizing things easier. 3 jumbo sized (40″x30″), 3 large sized (32″x24″), 3 medium sized (28″x20″), and 3 small sized (24″x16″) bags are available in the pack for your convenience.
WHY I LOVE IT:
12-bags pack.
4 different sizes.
Quality material.
Leak-resistant.
Dual zip seal.
Pump included.
TAKE NOTE:
---
3. SPACEMAX Premium Reusable Vacuum Storage Bags with Travel Pump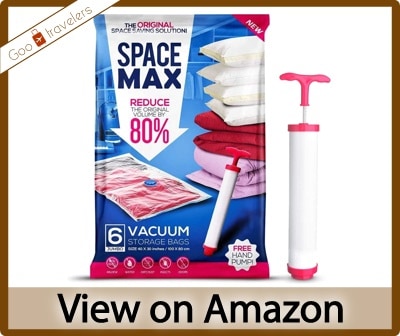 This 6 jumbo-sized bags pack offers adequate space for storing all your wardrobe or travel essentials. Maximizing the storage space in a wardrobe or suitcase, this set of bags can hold from king-sized duvets to multiple sweaters or plushy toys. Moreover, you get a lifetime replacement warranty over the purchase.
Material: These innovative bags are made from premium quality plastic that does not wear and tear over time. These leak-resistant bags include a dual-zip seal that is sturdy and locks the bag from any water or air access.
Compression: 80% compression power allows the bag to fit in any suitcase effectively. While compressed, it will last for months without getting punctured or leaked. Also, a travel hand pump is provided with the jumbo pack.
Size: For carrying king-sized duvets to sets of clothes, these bags can fit them all in. All the 6 bags measure 40×30 inches each in diameter, providing a lot of space for storage.
WHY I LOVE IT:
Water-resistant material.
Leakage proof.
Dual-zip seal.
Sturdy air valve.
Hand pump included.
TAKE NOTE:
---
4. The Chestnut Space Saver Hand Roll Seal Vacuum Bags for Clothes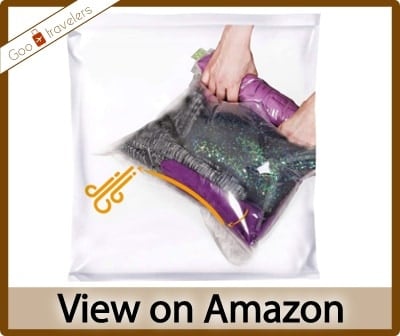 For the 4th position, I have roll up space bags from Chestnut that come in a pack of 12 bags. There are 4 large and 8 medium-sized bags that can be used for multiple purposes. They are reusable bags and save up a lot of space inside the luggage.
Material: These bags are strongly made using PA (Polyamide) and PE (Polyethylene). These transparent bags with a green seal are water and leakage resistant and save the inside stuff from mildew, germs, odors etc.
Compression: Simply put in the clothes, towels, or other necessary things inside, seal the bag with the help of the zipper and hand roll afterward. It will take out all the air quickly and reduce the original size at a massive rate.
Size: Available in 2 sizes. 4 large bags are sizing 28×20 inches, and 8 medium bags sizing 24×16 inches. You can put in towels, sweaters, single duvets, pillows and many more stuff inside these bags and save space.
WHY I LOVE IT:
Easily roll-able.
Stays compressed for a long time.
12 bags in one.
Water and tear-resistant.
Airtight and reusable.
TAKE NOTE:
Comparatively small in size.
---
5. Spacesaver Premium Vacuum Storage Bags with Free Hand Pump
This set of 12 bags from Spacesaver provides 4 different sizes (3 bags each) for convenient use. Either for packing suitcase/handbag or clearing out messy cloth organizer, these bags are reviewed as one of the best compression storage bags available. Moreover, the manufacturer also provides a lifetime warranty upon purchase, in case of any malfunction.
Material: Made from durable and water-resistant plastic, these bags are thick and will not cause wear and tear over multiple uses. They will stay deflated for months and keep the clothing or bedding away from germs, odor, or insects.
Compression: Compress them with the help of a vacuum cleaner or the pump provided with purchase. They will deflate by 80%, making large blankets and duvets much smaller in size. All you need to do is fill the bag, zip it, suck the air out with a vacuum/pump, and store it.
Size: There are 4 different sizes available in this pack for multiple stuff storage. 3 small-sized (16″x24″), 3 medium-sized (20″x28″), 3 large-sized (24″x32″), and 3 jumbo sized (30″x40″) bags for keeping all the things in an organized method.
WHY I LOVE IT:
12 bags in one.
Worth the money.
4 different sizes.
Durable material.
Pump included.
TAKE NOTE:
Irresponsive customer service.
---
6. Ziploc Reusable Space Saver Clothes Storage Bags for Travel
After kitchen accessories, SCJhonson has brought these Ziplock bags in a bigger size as the travel companion. These bags are huge and can hold extra-large queen-sized duvets in each. Keeping away air, dirt and other harmful objects, these bags will stay deflated for months.
Material: These plastic bags are made from quality material that is wear and tear-resistant. Keeping your belongings intact, they will not inflate after some days and hold their compressed status. Also, these are reusable bags, and easy to fill up as they stand upright during packing.
Compression: The dual-zip seal and the air-tight valve are durable enough to keep away moisture and air for a longer time. With a vacuum or rolling it with your hands, you can compress the bag up to 75% leaving no ounce of air inside the bag.
Size: There are 2 jumbo-sized reusable bags in this pack that are appropriate for storing queen-sized duvets, multiple pillows or curtains. These travel space saver bags measure 81cm x 1.7m (2ft 8in) in size which is huge for conveniently storing large plushy items.
WHY I LOVE IT:
Affordable.
Durable material.
Water-resistant.
Dirt and germs proof.
TAKE NOTE:
---
7. Hibag 12-Pack Roll-Up Space Saver Storage Bags for Travel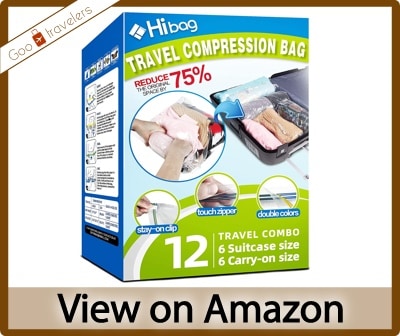 This set of 12 roll-up space saver bags from Hibag are widely acknowledged for the purpose they serve. During travel packing, you can pack in these bags that come in 2 different sizes (6 bags each). These bags are time saver as you do not need to waste your time pumping out the air. Moreover, a lifetime warranty is available for any inconvenience.
Material: The bags are made from PA and PE, ensuring water, rip and tear resistance. The dual-seal lock provides a complete airtight lock while the colorful lock lines indicate sealed status. These bags are also reusable and provide long-time endurance.
Compression: Fill the bag with clothes, close the zipper and roll it from the opposite side of the zipper. This way, you can compress the bag up to 80%, and this compressed state will last for several months.
Size: There are 2 different sizes available in this pack; one for suitcases and one for carry-ons. The bigger ones measure 19.5×27.5 inches while the other measure 15×21 inches. These sized bags can hold towels, clothing and single-sized beddings for traveling purposes.
WHY I LOVE IT:
2 different sizes.
Premium quality material.
Appropriate for traveling.
Airtight and water-resistant.
Dirt, germs, and mildew resistant.
TAKE NOTE:
Irresponsive customer service.
---
How to Select the Right Space Saver Travel Bag?
The key aspect of a space saver travel bag is its size and material. These are also the only things most people look for before buying one.
Opt for thick and quality material bags as they will be durable for journeys, keeping away moisture and bad odor.
In terms of size, there are many sizes of bags available to choose from. From small travel rolls to jumbo-sized, you can get yours according to your need.
However, make sure the actual size of the bag before compressing fits inside the suitcase you will be carrying.
There are also a couple of other things to take consider, such as; airtight valve quality, color etc.
Almost all the quality material bags come with a quality airtight valve. On the other hand, clear bags are more popular than colorful ones.
You'll also love the latest portable luggage scales available from top brands.
---
FAQS about Vacuum Bags for Travel
What are the available sizes for vacuum bags?
Available sizes of vacuum bags are as follows:
* 60cm x 40cm approx. (Travel rolls): For a couple of clothes, toiletries, etc.
* 70cm x 50cm approx. (Medium): For clothes, sweaters, big towels, etc.
* 80cm x 60cm approx. (Large): For clothes, bulky jackets, pillows, etc.
* 100cm x 70cm or more (Extra-large/Jumbo): For clothes, curtains, pillows, king-sized duvets, etc.
Are space saver bags good?
Space saver bags are good in the sense that they keep everything organized inside the suitcase and provide room for more stuff.
Can vacuum bags decrease suitcase weight?
No. Though they divide everything into parts and compress to make space for other things, they do not decrease but increase the suitcase weight.
Are vacuum bags good for packing clothes?
Vacuum bags can hold many clothes in one place as you compress them but they end up wrinkling your ironed clothes.
Can I use vacuum bags for a small number of clothes?
Unless you want everything organized inside your bag, you probably do not need a vacuum bag for a small number of clothes.
Are vacuum bags allowed to bring along in planes?
According to TSA (Transportation Security Administration), vacuum bags are allowed to carry inside suitcases. If needed, security agents are allowed to open the bags for inspection purposes in airports.
How to use space saver bags?
You can use the space saver bags for storing your essentials in one place. These bags are used to store things like bedding, clothing, curtains, towels, plush toys, etc.
---
Bottom Line
To sum up the article, it is best to say that vacuum or roll-up space saver bags are quite handy while traveling. They may have their take note but they sure do help a lot in keeping things organized during long haul journeys.
---
You May Also Like:
5 High Quality Stroller Covers for Air Travel.
7 Top Quality Backpack With Water Bottle Holder.
---