Imagine having a cup of coffee and watching the sunset after a long tiring outdoor adventure.
It could be the best relaxing moment any traveler could imagine. Taking a travel coffee mug is becoming a trend nowadays for various reasons including this one.
Since the manufacturers are coming with options, things may get confusing while picking up the right one for you.
Considering all of your demands, in this article, I will let you know about some of the best dishwasher-safe coffee travel mugs to help you enjoy your beverages at any moment during your outdoor adventure.
The Necessity of Dishwasher Safe Coffee Travel Mug
Traveling is at the same time entertaining and exhausting. You will hardly find an alternative to a cup of coffee to get rid of tiredness. While most coffee makers are weighty, a dishwasher-safe coffee travel mug could be the best choice for every traveler.
These mugs, with their lots of features, will serve you for a long time. They will keep your beverages hot and cold as per the demand by offering an insulation system. Most of them are suitable to put inside the car coffee cup holders. You can enjoy your drinks inside your vehicle as well.
These mugs are at the same time leak and splash-proof. Nowadays they are an integral part of traveling gear for their durability and portability. Taking a dishwasher-safe mug can take your outdoor adventure to the next level.
My Top Picks
Also Read: A List of My Favorite Keurig Coffee Maker for Travel Mugs.
---
Top 7 Best Dishwasher Safe Coffee Travel Mugs in 2022
Out of many travel-coffee mugs available everywhere, here are my top seven picks:
1. Swig Life 18oz Dishwasher Safe Cup Holder Friendly Travel Mug
This model from Swing Life Store is one of the best dishwasher-safe travel mugs with a handle. Maintaining quality and durability, it has become a popular travel mug. You will have the flexibility to choose your suitable one from over 40 different designs and prints. Along with traveling, you can also use it as a different occasional gift to your dear ones.
Design and Material
This product comes with an unconventional design, very different from other usual products available in the market. There are more than 43 color and design options from where you can select your desired one. When it comes to its build material, it is stainless steel made which makes it very much durable and long-lasting. The original color is purple reign.
It can contain 18 ounces of fluids, which will always ensure you get enough liquid when needed. The total dimensions of this product are 5 x 5 x 5.75 inches. The material is dishwasher safe; don't put it in the freezer or microwave.
Compatibility
The cleaning is easy by removing the slider from the lid. The material is at the same time noise, scratch, and sleep-free. It will fit any standard car cup holdings makes it a perfect coffee mug for travel. It will keep liquids hot for more than three hours. In contrast, it will keep cold for more than 9 hours.
The wall is vacuum-sealed and double-coated with copper plate insulation, making it thicker. While you go out, it will aesthetically serve you your favorite beverage. You can also use it as a gift item for your loved ones to make their outdoor adventures colorful.
Things I Love
Premium material
High capacity
Long-lasting
Color flexibility
Standard size
Things to Improve
---
2. Contigo Autoseal Vacuum-Insulated Stainless Steel Travel Mug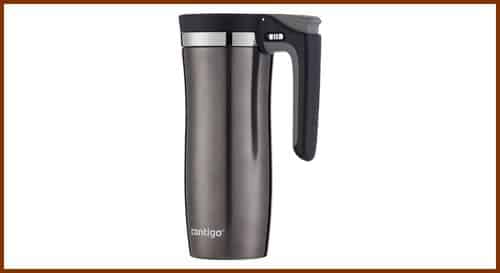 Contigo Store comes with this uniquely designed vacuum insulated travel mug. Since its launch on September 11th, 2017, it has gained peoples' trust for its excellent performance and long-lasting capability.
Providing many different technologies and modern features, it is a great dishwasher-safe travel coffee mug with stainless steel. Taking it in your travel will reduce the hardship of making coffee and make your journey much smoother.
Design and Material
Building with stainless steel, this cup is durable, sturdy, and long-lasting. It can store up to 16 ounces of fluid. The item dimensions are 8 x 3.8 x 8.5 inches. It comes with auto seal technology, which will help it to stop spills. The running mechanism is also easy. You must press the button, drink the liquid, and seal it again.
The weight is only 1.05 pounds, you can carry it around anywhere without any hassle. The temperature will remain the same inside for hours.
Compatibility
Due to the thermal lock installation, it can keep liquid hot for more than five hours and cold for 12 hours. It will give you much comfort while you go outside and move. Since the hot keeping capacity is strong, it is better to cool it down for a few minutes in case, it is hot.
With the lock feature, you will be able to avoid hassles created by the auto seal button. The cleaning mechanism is also easy. Since the lid is one piece, there will be no misplacing parts; you can clean it immediately.
Things I Love
Lightweight
Auto seal technology
Easy using
Temperature store
Things to Improve
Excessive hot liquid may mold the lid.
---
3. Contigo Luxe AUTOSEAL Vacuum-Insulated Spill-Proof Travel Mug
Another popular travel mug that keeps coffee hot the longest is this model from the Contigo store. If you are searching for a perfect vacuum insulated travel mug, this could be your go-to go item.
Offering smooth using and cleaning experiences, it's one of the highly rated travel coffee mugs that you will find online. Comparing the price with the performance, it is a good choice for your next outdoor adventure.
Design and Material
Like the previous two items, this mug is also stainless steel. The company made it super travel-friendly since the weight is only 0.4 pounds. It will always ensure that you never run out of liquid and get adequate at the time of your need.
It offers an auto seal function; this is how the lid protects and prevents leaking and spilling while you move. The wall is double vacuum insulation, making it durable and long-lasting at the same time.
Compatibility
It keeps drinks hot for up to five hours and cold for 12 hours. It has a lock system to prevent any accidents caused by the auto seal mistakenly. You can thoroughly clean the whole mug without any hassle. Dishwasher-safe material will protect the mug from any scratches.
The size is ideal and will fit in maximum cup holders and is also suitable for most of the brewers out there. The material is completely BPA-free. No harm to the environment will happen from it.
Things I Love
Travel-friendly
Portable
Leak and spill-proof
Special lock system
BPA free
Things to Improve
The mouth area is excessively curvy.
---
4. Mora Double Wall Dishwasher Safe Ceramic Coffee Travel Mug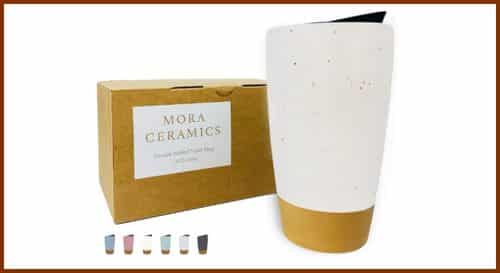 You can choose this model if you are searching for a stylish and well-designed dishwasher-safe coffee mug. Thanks to the Mora Ceramics Hit Pause store for producing this beautiful item targeting travelers. It will provide a fashionable look to you and help your personality flourish.
Without heavy metals like lead or cadmium, it is also safe for your health and will be environmentally friendly as well.
Design and Material
Ceramic mugs are popular among users. This mug is premium ceramic. With an exquisite design, it will look more stylish in your hand. While holding it, the simple yet gorgeous design will enhance your personality.
This mug can keep 13.92 ounces of liquid. The item dimensions are 3.5 x 2.5 x 6.5 inches. The material is lead-free and natural. You don't have to worry about any harmful effects from the material. This dishwasher-safe mug is lead and BPA free too.
Compatibility
Being 1.15 pounds, it is lightweight and easily portable anywhere with you. It has a system of reminders that will remind you to hit the pause button. It will be a wise choice for enjoying yourself alone with a cup of coffee. You will find a drinking hole that reduces the possibility of spilling water. It will remain close and will not open accidentally anyway.
This model is one of the best microwave-safe coffee travel mugs you will find around. The paladin clay on the wall makes it stronger. The outside of the body will protect your hands from burning. It will be a perfect travel mug if you want to get the pure taste of your drink.
Things I Love
Microwave safe
Stylish and beautiful design
High capacity
Drinking hole
Paladin clay coating
Things to Improve
---
5. Stanley Classic Hot & Cold Thermos Trigger Action Travel Mug
Stanley launched this model in February 2019. From that time till now, it has established its reputation for maintaining quality and long-lasting durability. People, especially travelers, like this model very much. Top-class ratings from different consumers and positive reviews expressively support the statement.
Taking such an item in your next travel will reduce a lot of unwanted situations of bearing coffee at the time of your need.
Design and Material
Nightfall color and simple design make this mug a very stylish and suitable one. The design will fit most standard cup holders of the cars. It will ease your beverage drinking experience while you are on the go. Stainless steel material makes it strong, durable, and long-lasting.
It can keep liquids up to 1.3 pounds. The wall is double-coated insulation and helps to keep your drinks hot up to 9 hours and cold up to 12 hours. It can also contain ice intact for almost two days.
Compatibility
The material is BPA-free. You can be safe from harmful material and drink water without tension. The triggered lid enables it to be spill-proof and makes it perfect to use while you're moving. The weight is only 0.9 pounds and easy to carry anywhere with you. The components are also dishwasher safe. Cleaning the mug is also facile by opening the lead.
Things I Love
Beautiful design
Standard dimensions
Lightweight
Double-wall
Easy using
Things to Improve
---
6. VOLCAROCK Insulated Stainless Steel Dishwasher Safe Coffee Travel Mug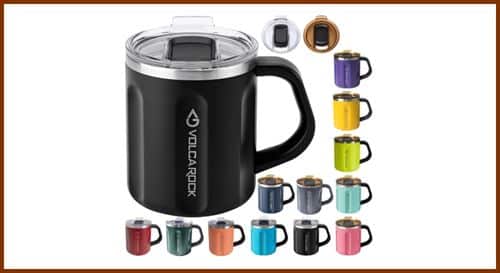 This stainless-steel product will be one of the best travel mugs dishwasher safes within the budget. Simple design yet great functionality makes this model on my list. With a high capacity of keeping your coffee hot for several hours, you can rely on this product when you are on the go for your next adventure. Considering all the features it provides, the price is very much reasonable and fair enough.
Design and Material
This travel mug comes with a splendid design and excellent grip. The 18/8 stainless steel makes it more durable and long-lasting. It never faints or sweats due to the powder coating that adds additional texture. It also prevents from peel and cracking.
It does not contain any polymers or synthetic elements. This mug is also BPA-free and without lead. You can comfortably use it without any worry. It will not harm the environment either. The capacity is 16 ounces of liquid, giving enough storage for your need.
Compatibility
Powered by an additional grip, you can hold it easily and use it while you are moving. The body consists of premium powder coating. The lid is Triton material, ensuring you enjoy the original taste.
This insulated cup will make sure the beverages stay well within the temperature. It can keep hot coffees warm for five hours and cold for six hours. It contains an easy-functioning lid that enables fast and comfortable use. The mechanism will also prevent any types of splashes or peeling.
Things I Love
Good grip
Durable and sturdy
Powder coating
Nature-friendly
Good insulator
Things to Improve
Not fit for maximum cup holders.
---
7. VeeFine Dishwasher Safe 100% leak-Proof Flip Lid Coffee Travel Mug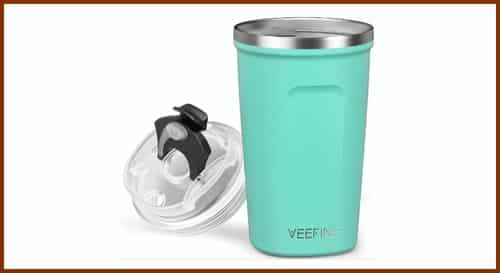 Providing so many unique features, this model from the VeeFine is one of my favorites. This durable product comes with many color combinations to choose from. This product's popularity is increasing daily since it is very lightweight and travel-friendly. Coming with environmentally friendly material, this one is a great item for a safe travel experience.
Design and Material
Like my previous models, this one is also 18/8 stainless steel made. The lead is completely BPA free and being environment-friendly, it reduces the chances of any harm caused by chemical materials. It keeps your beverage well insulated for hours due to the double-wall coating.
The item dimensions are 2.48 x 2.48 x 6.3 inches. The design is suitable for any outdoor adventure including hiking, camping, and trekking.
Compatibility
Being leak-proof, it keeps your hand dries all the time even if you use it while traveling. This model is at the same time splash-proof; nothing comes out while moving or shaking. You can carry it inside your backpack on any trekking. Due to the flip lid, holding it is also easy with one hand.
Being a perfect model for outdoor adventure, this dishwasher-safe cup will offer your beverages the original taste. The size will fit in any standard cup holder. The weight being only 10.5 ounces, it is lightweight and easily portable also.
Things I Love
Premium material
Standard size
Environmentally friendly
Splash and leak proof
Easy holding
Things to Improve
The drinking hole is a bit small.
---
Things to Know Before Buying a Dishwasher Safe Coffee Travel Mugs
A few important things to know before buying a dishwasher-safe travel coffee mug. Some of them are noted here below:
Temperature Retention
Temperature retention is an important element to look at while buying a travel coffee mug. High insulation capacity will keep your beverages hot or cold according to your demand, which is pretty much necessary.
Washability
Checking the mug whether it is dishwasher safe or not, is an important thing to consider. If it enables hand washing, then you have to make sure you can thoroughly clean it with sponge materials or a bottle brush. Check the washability procedure before buying.
Durability
Durability is another crucial factor. Most of the travel coffee mugs of stainless steel are durable, sturdy, and long-lasting. If they have a double-coated layer, they become even more powerful.
Resistance to Leakage
Having a spill-proof and leak-proof lid is very important. Check out the lid mechanism whether it can protect the leakage from inside.
Ease of Use
You don't want to bear any extra burden while drinking beverages in traveling. Smooth opening and closing are thereby criteria to give you a flexible experience. See whether it contains enough grip on your hand because holding it in moving conditions might give you a challenging task.
---
Frequently Asked Questions
Are they suitable for car cup holders?
Most of them are suitable to fit inside a standard cup holder.
How safe are these mugs?
They are BPA-free and environmentally friendly. You can drink from them without any worry.
What is the inner material- plastic or stainless?
The inner material of these mugs is mostly stainless steel.
What is the usual insulation capacity of a coffee travel mug?
Depending on the models, my suggested products can keep your beverage hot or cold from 3-8 hours or even more.
---
Final Words
Choosing the right travel coffee mug can give you a pleasant experience and save you from hazards. My list of the best dishwasher-safe coffee travel mug will help you find the right product and take your adventure to the next level. Pick any of them according to your requirements and enjoy your outdoor adventures with freshness.
---
You May Also Like:
Can You Put Travel Mugs in the Dishwasher?
A List Of My Favorites Electric Cooker for Travelling.
---