You are about to sail for your next adventure and you have packed your luggage without an additional pair of shoes just to avoid some extra burden.
This is a pretty common scenario with most travelers since everyone tries to make their luggage as lightweight as possible.
The consequence is, it gets really troublesome to spend the whole traveling time with a single pair of shoes. Especially when you spend outside for weeks, more than one set of shoes is inevitable.
Here comes the importance of foldable travel slippers. Making your luggage lightweight, there is hardly any better alternative than these. Among all the options, I will discuss some of the best foldable travel slippers in this article.
Why Foldable Travel Slippers Are So Popular?
When it comes to lightweight shoes, the market is flooded with options and types. But the popularity of foldable slippers is always on the top. The main reason is they save space inside your travel backpack. Other than being lightweight, they are also compact in design, which makes them pretty much convenient for everyone to use and carry.
Foldable slippers mean, they are smooth, flexible, and sometimes stretchy. These features will help you step inside the shoes easily. They also come with varieties of sizes. You will get a lot of different options to choose the suitable one.
Offering durability and good grip, most of them are suitable for use on various occasions. You can use them inside your house as well as in any outdoor adventure. Due to all of these features, shoes that fold in half are popular among tourists.
My Top Picks
---
6 Best Foldable Travel Slippers for Men & Women in 2022
With the rising demand for travel slippers, many brands have launched several unique models. Here, I will discuss my top 3 picks of foldable travel slippers for both men and women categories. The first three on the list are for men and three for women.
1. NuFoot Booties Men's Foldable & Flexible Footwear Travel Slipper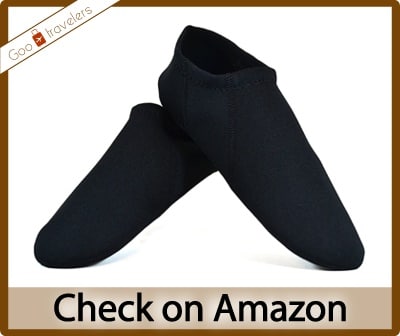 This model from NuFoot is one of the most popular foldable travel slippers for men. It comes with several options of sizes. Customers get a lot of flexibility while buying. You can wear it on any casual occasion including traveling.
Maintaining good quality and durability, it gained a large amount of customer satisfaction all over. Give it a try if you are searching for a reliable product with satisfactory performance.
Design and Material
Premium Neoprene fabric made this sipper durable and long-lasting. They will make you feel like you are wearing moccasin boots. Due to the fabric quality, it is highly water-resistant and prevents you from skidding.
The design is for men only with a great touch of fashion. You will look more stylish while wearing this. The general dimensions are 12 x 5 x 0.5 inches with options of different sizes like- small, medium, large, x-large to fit you. So, no matter what your feet size is, you will surely find the suitable measurement!
Usability
You can never compare this slipper with your regular shoes. This model is perfect for multiple occasions. You can use it inside your house as indoor shoes, during yoga, and also while traveling. It will add a new dimension to your travel since it is very cozy and comfortable.
Carrying it is also easy since the weight is only 1 ounce. The pattern is flawless and flexible stretching allows you to fit your feet inside easily ensuring due comfort. During cold weather, your feet will remain warm wearing it. It will also protect your feet from dust and irritation.
Things to Appreciate
Durability
Good flexibility
Water and skid resistant
Suitable for different occasions
Flawless design
Take Note
Not suitable for hard road trekking.
---
2. Ibluelover Non-Slip Sole Portable Foldable Travel Slippers
Ibluelover started marketing this slipper in November 2019. Since then, it became one of the most reliable men's foldable travel slippers. It will provide excellent comfort and comfy feelings to take your travel experience to the next level.
Considering the material quality, it is an excellent choice for a foldable travel slipper. The price is also within the budget, so it will be a wise decision if you buy it.
Design and Material
This slipper's upper side is smooth cotton with a warming lining to protect you from cold. The thick sole is premium Faux leather to give a strong base. Due to the PU leather, it is skid-proof. This fashionable design will improve your confidence as well as also ensure the highest comfort.
The length is 11″, whereas the width of the front is 4″, and the back portion is 3.1″. The design is particularly designed for men but they prepare slippers for females also. Wearing sizes up to US9.5 in the case of females would suit this item. The range is US10 for males. The whole package comes with two pairs of slippers of both black and white color and is definitely worth the price.
Usability
The specialty of this model is it will give you comfort no matter what the weather is. The padded sole and upper leather give enough grip to walk. You can use it for both household and outdoor traveling. The extraordinary comfort will take your adventure to a whole new level giving an amazing experience.
Being one of the best foldable flats for travel, it could be the ideal item for you to pick. Lightweight and easy portability is another advantage of taking it outside.
Things to Appreciate
Skid-proof
Premium material
Two sets of slippers
Comfortable
Lightweight
Take Note
---
3. ITODA Portable Washable Foldable Travel Slipper with Bag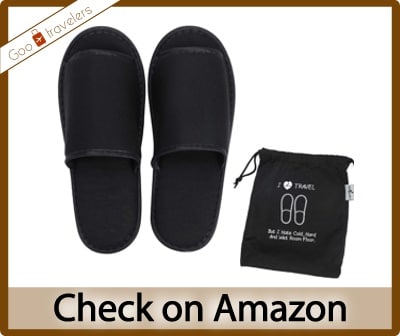 If you are looking for a reliable travel slipper with a pouch, you can go for this one. An exquisite design and durability make this product worth buying. It comes with great flexibility and you can fold it comfortably keeping everything intact.
Taking such a slipper in your backpack will add great comfort and a smooth wearing experience when you are away from home.
Design and Material
ITODA comes with this product targeting long durability. Sizes will suit almost everyone. You can wear it with or without socks and it will feel good anyway. The length and width of the slipper are 27 and 8-10 cm. The available EU size is 35-43 and the US measurement is 4.5-10.
The sole is made of sturdy material and comes with a waterproof feature. You can comfortably use it indoors and also outside maintaining due caution. The package comes with a bag for storage. You can easily pack and carry it around anywhere while moving outdoor.
Usability
When you wear this, it will give you a soft and cozy feeling. You have options to buy a single or double pair. It contains anti-skid material that will prevent you from slipping and provide a solid base to stand firm. It also provides longevity along with protecting the slipper from dampness and water. Floors that contain tiles, this kind of design is perfectly suitable for those surfaces.
The weight is only 3.2 ounces, you can take it to whatever place you want. During traveling, you can use it for air travel, any hotel stay, gymnasium, party, and so on.
Things to Appreciate
Unique design
Flexible size
Good grip
Suitable for multiple occasions
Solid base
Take Note
Not suitable for rocky surface.
---
4. Silky Toes Women's Foldable Portable Travel Ballet Flat Roll Up Slipper
This item from Silky Toes is a famous travel slipper for women. If you are choosy for footwear, you can go for this one. The brand offers numerous sizes and colors for this model. It gives you a lot of options while buying.
Due to its unique design, it is suitable for wearing on different occasions and traveling. It could be the go-to-go travel slipper for your next adventure.
Design and Material
Outside of this stylish slipper is high-quality PU leather material, whereas the inside is rubber sole. Due to its highly flexible structure, it is one of the best foldable slippers for travel. After wearing, you will more likely feel that the pair is made only for travelers like you! Taking it anywhere is so easy since you can fold it compactly in no time.
It comes in four different sizes- 35, 37, 39, 41 comprising the small, medium, large, and extra-large respectfully. On another measurement, they will come in 7, 8, 9, and 10 orders. The item dimension is 4 x 5 x 1 inch with standard measuring numbers.
Usability
As I mentioned earlier, this slipper will add a new dimension to your travel experience. It comes with several designs and colors that you will have confused about which one to buy. If you have any particular color preference, chances are more that you will find that.
This item will suit perfectly with high elasticity. The package will offer a pouch of the same color to carry the slipper easily. This pouch with a handle is another reason you can hold it comfortably anywhere. The overall package will weigh only 12 ounces, easily portable during traveling. You can use it on any occasion and make it a gift for your loved ones as well.
Things to Appreciate
Stylish
Several sizes and colors
Highly foldable
Comes with a pouch
Gift material
Take Note
---
5. SECRET WEAPONS Foldable Ballet Travel Flats with Purse & Tote Carry Bag
'Secret Model' comes with these foldable travel shoes for women. It offers multiple colors and sizes for your convenience. The most notable thing about this item is its design. A unique and eye-catching design will make you look stylish and confident.
The leather cover will also ensure a comfy experience while you use it outside. Offering durability and style, it is simply one of the best women's foldable travel slippers.
Design and Material
The building material of this model is Faux leather. And this is what makes it one of the finest folding sneakers for travel. Folding and packing this model is easy without any hassle. This characteristic makes it perfect for travelers.
The leopard-colored design will be visible from a long distance and will ensure a stylish look as you desire. If you want a fashionable pair of shoes, then this would be a great pick for sure.
Usability
Due to its compact design, it is suitable for both home and outside. While traveling, you can take it anywhere since it is easily portable and lightweight. It will also take less space inside your travel luggage, giving you enough place to keep other necessary stuff. The skid resistance feature will give a good grip at the bottom.
The shoes come with a splendid purse of the same color and perfectly fit inside it. There will be no problem with carrying. You can wear the shoes in any weather and time of the year. It will ensure maximum comfort as long as you fit your leg inside.
Things to Appreciate
Eye-catching design
Fashionable
Multiple uses
Lightweight
Additional purse
Take Note
It may contain a chemical odor.
---
6. Snoozies Skinnies & Travel Pouch Women's Foldable Travel Slipper
Another interesting pair of travel shoes for women with various colors and designs. This model is a top-rated women's foldable shoe for travel with immense popularity. Since its availability in October 2019, it soon became a reliable product with a great buying demand. Maintaining quality, usability, and high comfort, this model is one of the most popular ones you will find online.
Design and Material
Several unique designs and colors make this model a great product for women to buy. It will make you look stylish while you wear it on travel. It will also ensure you get a soft feeling and comfortableness around your feet. Like the previous item, it also has a carrying case that makes it a perfect travel slipper.
The flexibility of sizes is another great feature of the item. This model has four different sizes-small, medium, large, and extra-large indicating the numbers 6, 8, 10, and 12 respectively. The item dimensions are 5.2 x 4.55 x 2.05 ounces.
Usability
Weighing only 2.72 ounces, it is lightweight and portable. You can carry it around anywhere easily without much hassle. A flexible structure makes it highly foldable. The compact structure ensures it takes minimal space inside your travel suitcase.
Unlike many other slippers out there, this model is machine washable and never shrinks. The zipper close carrying case ensures the due protection of the slippers when you move from one place to another.
Things to Appreciate
Beautiful design
Comfortable
Lightweight
Size availability
Foldable
Take Note
---
Things to Know Before Buying A Foldable Travel Slipper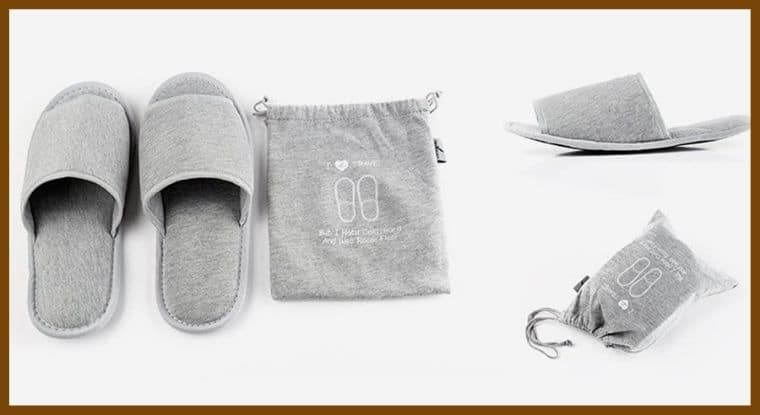 Slippers being a vital part of your apparel, is of great importance. You have to choose the suitable and perfect one for you. Without comfortable travel shoes, your journey will be dull and problematic. Avoiding this problem needs strong knowledge and monitoring before buying. Here are a few such things to consider:
Material
The material will determine how durable the slipper will be and how long it will last. Faux and PU leather is good for these types of slippers. They are sturdy and give long-term resistant capability. Select a material that will also give you a comfortable and cozy experience.
Size
The sizes of travel slippers are almost the same on different brands. You still need to check the size. Get a better idea of various size patterns so you will never suffer from getting the wrong size anyway.
Foldable Capability
Folding capacity is a vital feature since your prime intention is to buy such type of slippers. Most of the slippers mentioned above are smooth and are easily foldable to half. It means this compactness will save half of the space inside your baggage.
Heel Support
Good support from the heel is crucial since it is related to durability. All of the products above will give good heel support. A sturdy sole is not essential all the time except for uneven trekking. Still, solid heel support will provide the necessary grip you need.
Other Compatibilities
Among other compatibilities, being water-resistant and skid-proof are notable. Check whether it will keep you warm enough or not if you are aiming to travel in cold weather.
---
FAQs about the Best Travel Slippers
Are these slippers machine washable?
Yes, they are machine washable. Cold and dry wash followed by air dry is suitable for these models.
Do these slippers contain any kind of tread?
The pads connected at the bottom make these slippers anti-skid and protect you from slipping. Most of them do not contain tread.
Can they make your feet sweaty?
They can since they are warmer. Thin woolen socks can prevent from getting sweaty.
What is the equivalent of size 8 to small, medium, or large?
The usual eight sizes global will be equivalent to the large size of these slipper models.
Are these slippers suitable for deadlifting?
They will provide a good grip while doing maximum gym activities. Due to a lack of sturdy soles, they may not give additional support while you go for deadlifting.
---
Final Words
Foldable slippers are great travel accessories providing many benefits outdoors. Keeping this with you will reduce many unnecessary hassles while you are traveling.
I have tried to give you a vast idea of how they work. I believe my list of the best foldable travel slippers will help you find the right product you need. Choose one and enjoy the rest of your journey!
---
You May Also Like:
How to Pick A Perfect Travel Cardigan for Women.
An In-Depth Guide about Sand Proof Beach Blanket.
The List of My Favorite Portable Clotheslines for Traveller.
---