A vacuum pump is one of those essential travel gears you shouldn't leave behind if you really care about a comfortable outdoor journey.
It has become very popular with tourists nowadays for its effectiveness and ability to inflate or deflate things.
Like other travel gears, there are plenty of pumps from different brands available everywhere. Not to mention that only a few of them can serve for a long time.
Finding a durable pump is crucial if you travel frequently. It will save a lot of your time and spare you from unnecessary hazards.
This article will show you some of the best travel vacuum pumps to make your choice easier.
The necessity of a Vacuum Pump During Your Travel
The first picture that comes to our mind when thinking about a travel vacuum pump is a tiny piece of material we can grab in a hand. Depending on brands, the sizes may vary. The function remains the same for almost every pump- inflate or deflate.
People, especially tourists find this device very helpful to manage spaces inside their backpacks. A vacuum pump can inflate or deflate space or storage bags and keep things compact. It helps to minimize the storage in the lowest possible way and save baggage spaces.
Having a travel vacuum pump with you can make your packing item free from being contorted. It saves extra space and gives you the option to carry more necessary things.
When you return from a tour, you are likely to carry some extra things as a souvenir. A travel vacuum pump will help you that time by managing space for those items.
6 Best Portable Vacuum Pump for Space Bags in 2022
Among all the travel-friendly portable vacuum pumps out there for space bags, I have chosen the top six products. Here are their detailed reviews with pros and cons:
1. FLEXTAILGEAR Tiny Portable Ultra-Mini Air Pump for Storage Bag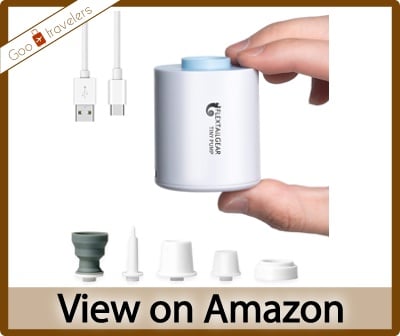 This tiny portable model of air pump from FLEXTAILGEAR is a popular model online. Travelers, especially backpackers, love using this product very much. Offering great productivity with several outstanding features, this air pump for storage bags inflates and deflates swiftly. It could be a great choice to take with you for your next adventure.
Material and Specifications
Premium ABS (Acrylonitrile Butadiene Styrene) material with good sealing technology made this product sturdy, durable, and long-lasting. Being well-sealed, it works smoothly with full swing. It contains 3.5 kPa air pressure that allows it to get rapid air extraction. It saves up to 50% space when used for vacuuming space bags.
The dimension is 2 x 1.7 x 1.7 inches with an average power of 13.5W. The airflow rate of this egg-sized air pump is 180L/min. It contains a lithium battery of 1300mAh that can work straight 15 minutes after full charging. It requires 2.5 hours to get fully charged. It offers fast charging with a c-type port.
You can give charge in four ways- with a laptop, car charger, power adaptor, and power bank. The cordless design enables it to get power anywhere without any outdoor power source.
Compatibility
This pump comes as a handy instrument for being lightweight. Weighing only 2.3 oz, you can take it anywhere. Carrying it is possible to even inside your pocket. The operation is simple with one button mechanism. Excellent wind speed and saturation function provide good work efficiency than the usually available pumps.
It offers five nozzles and matches with maximum inflatable products of any size- small or large. You can use this model in sleeping pads, inflatable furniture, beds, toys, air mattresses, pool floats, and many others. Another interesting feature is that it can make fire with an air-blow function that helps in outdoor adventure.
Things I Appreciate:
Durable and long-lasting
Lightweight
Cordless design
Simple operation
Fire making
Take Note:
No specific signal for low battery.
---
2. GIGA Pump 2.0 Electric Portable Ultra-mini Inflator/ Deflator Air Pump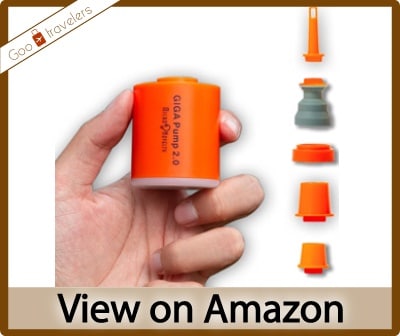 This electric portable air pump from the GIGA PUMP brand is another excellent choice for travelers. If you want to save both your time and space, this could be a perfect choice to start with. It comes with some unique features to solve your problems of inflating or deflating in no time. It will act as an integral travel device for any backpacking tour.
Material and Specifications
GIGA PUMP 2 is one of the most compact air pumps with the size of a key. The dimensions of it are 3 x 2 x 2 inches. It easily fits inside your pocket. The premium building material made it durable and long-lasting. It can work with any kind of vacuum bag to store spare clothes and necessary items. In fact, it can save more than 50% of your space.
This rechargeable vacuum pump features a 1300mAh battery of lithium-ion. One full charge can inflate more than ten air mattresses or vacuum more than twenty bags. The inflation pressure of it is 2 kPa with a filling speed of 265 L/min.
It offers an ultra-bright lantern that can work up to 10 hours and have brightness from 40lm to 400lm. This model works with a type-c charging port along with options to charge with a laptop, power bank, and a wall charger as well.
Compatibility
This vacuum pump comes as a handy instrument in both indoor and outdoor. The air and vacuum pump with lantern are so compact that you can take it anywhere outside without much hassle. Weighing only 2.8 ounces, it is super lightweight.
It kept four different nozzles to fit with any kind of air mattresses or inflatables. You can inflate/deflate mattresses, swimming tubes, pool floats, toys, yoga balls, and things alike. One special nozzle is also there specifically for vacuum bags to suck up the air quickly and save storage. It adds efficiency to both indoor and outdoor adventure.
Things I Appreciate:
Compact design
Lightweight
Ultra-bright lantern
High battery life
Five nozzles
Take Note:
No specific signal for low battery.
---
3. FLEXTAILGEAR MAX Pump Plus Portable Lightest Air Pump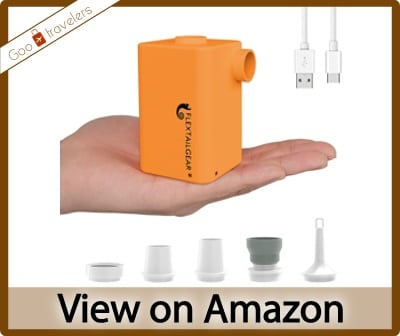 Here comes another great air pump model from FLEXTAILGEAR with excellent usability. Using a powerful battery, Max Pump Plus will inflate or deflate your storage bags within a short time. Taking such a device with you in outdoor adventure means, you can have hassle-free and stress-free adventure managing spaces. It will help you manage your baggage space in the highest possible way.
Material and Specifications
Max Pump Plus model of FLEXTAILGEAR comes with durable ABS (Acrylonitrile Butadiene Styrene) material and long-lasting sealing. You can use it for many days without significant technical difficulties. It comes in three different colors- grey, white, and orange.
The dimension measurement is 3.2 x2.2 x 2.2 inches, which is offering a compact design. The working wind speed is 300 L/min and the air pressure is 2.2 kPa. These numbers ensure quick inflation/deflation by saving much of your time. It has a lithium battery of 3600mAh and can work up to straight 45 minutes after a full charge.
The USB port design supports four different ways of charging- with laptops, power banks, power adaptor, and car charger. It gives flexibility and options while you are outside.
Compatibility
This travel-friendly air pump can inflate an airbed in 3 minutes, an air raft in 1 minute, and a swimming ring in just 30 seconds. One full charge is enough to inflate 50 swim rings, 10 air beds, and 20 storage bags. It also offers five nozzles to be compatible with most air mattresses and inflatables, thus giving you more flexibility. You can use it for air beds, air rafts, pool toys, inflatable bathtubs, sleeping pads, and so on.
Weighing only 160 grams, this product is lightweight. It fits inside your backpack without taking excessive space. You can easily carry it around anywhere during your outdoor adventure.
Things I Appreciate:
Strong battery
Quick inflation/deflation
Long working duration
Flexibility of options
Lightweight
Take Note:
Not suitable for balls, tires, or balloons.
---
4. FLEXTAILGEAR MAX Portable Air Pump for Vacuum Storage Bag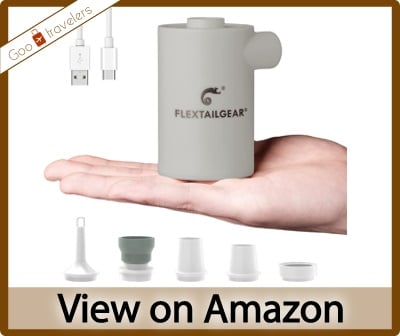 One of the latest air pump models of FLEXTAILGEAR is this Max Pump 2020. It has gained immense popularity after launching. This model provides more flexibility and options to the users. I will highly recommend this one for its usability. This item can easily be your go-to-go travel vacuum pump model to take with you on any outing.
Material and Specifications
Made with a sturdy ABS plastic shell, this mini air pump is durable and well-sealed. It comes with excellent crafts and a boosted motor to function better. The size is 3.2 x 2.2 x 2 inches with a compact design to make it travel-friendly. The design is compatible to work with 2.2kPa air pressure with a wind speed of 300 L/min. Depending on size, this air pump can inflate air products quickly within minutes.
It contains a large built-in battery of 3600mAh. After one full charge, it can work up to straight 45 minutes. The charging capacity is fast with options to charge by power bank, power adaptor, laptop, and even carport. Due to this, you can charge it both at home and outdoor without any problem.
Compatibility
The dual purpose of inflating and pumping makes it a handy travel gear. The compact and cordless design is suitable to take it outside anytime. The unique design enables all types of safety precautions. Weighing only 150 grams, it is also a lightweight and portable gear.
Like other models of FLEXTAILGEAR, it also comes with the option of five nozzles. You can use it for almost all the inflatable air products like- air beds, mattresses, toys, sofa, swimming rings, vacuum storage bags, pool floats, and what not! The mechanism is also easy with a button enabling system. It also offers firing capacity with an air blow function that helps a lot in outdoor adventure.
Things I Appreciate:
Quality building material
Compact design
Lightweight
Fire making power
Strong battery
Take Note:
No specific signal for low battery.
---
5. Dr.Meter Quick-Fill Inflator Deflator Portable Electric Air Pump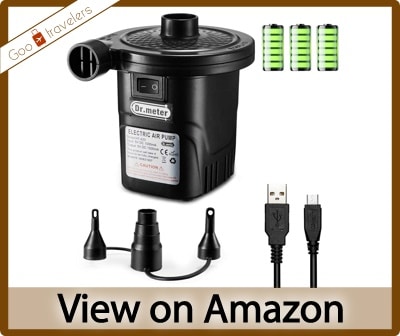 Here I come with another popular electric air pump model from Dr.Meter that gained a large amount of user satisfaction over the years. Dr.Meter made this pump travel-friendly pump keeping in mind the necessities of their customers. This super lightweight portable air pump comes with a strong battery that helps to function well and inflate or deflate within a very short time.
Material and Specifications
This black-colored model is one of the best mini vacuum pumps for storage bags. It comes with a compact design suitable for travelers with dimensions of 4.48 x 3.93 x 4.56 inches. The built-in rechargeable lithium battery is strong. The 400mAh capability ensures quick inflation. Charging is also pretty convenient due to USB port support which enables it to charge at home and even in your car.
The motor is small yet powerful enough and maximizes the airflow within its limit of 250 L/min. It ensures smooth and flexible inflation or deflation in no time. It works for 30 minutes after a full charge. If you are aiming to inflate airbed, beach ball, inflatable pool, or bounce house, this could be the go-to-go model to choose.
Compatibility
Due to the compact and cordless design, it is perfect to fit inside your suitcase or backpack easily. It weighs only 0.68 pounds and is thereby super lightweight and portable. This model offers three different nozzles to fit in almost all the possible inflatables.
The working mechanism is easy with a button enabling system. It will inflate and deflate very quickly saving much of your time. The most exciting feature is this pump can also act as a travel charger. The USB output port is 5V. You can charge your phone or laptop during an emergency.
Things I Appreciate:
Compact design
Portable
Powerful battery
Quick performance
Can work as a charger too
Take Note:
The on/off switch is at an awkward position.
---
6. VMSTR Travel Vacuum Storage Bags with USB Electric Pump for Travel
The last one doesn't necessarily mean the least performance whatsoever. VMSTR comes with this model targeting especially outdoor adventurers and travelers. This model is long-lasting for using high-quality building material. It also offers many unique features that will be very convenient while using it outdoor. This electric pump could be the item to add to your travel accessories.
Material and Specifications
Made with premium polypropylene material, this vacuum storage bag is durable, sturdy, and long-lasting. It comes in eight bags of four different sizes. It is suitable for all vacuum bags with a diameter less than 25mm. All the bags included have the required size. The total package dimensions are 14.68 x 9.57 x 3.19 inches.
This model works with one lithium-ion battery. It plugs into a USB port and you must use a USB power adaptor of more than 2A. It can work faster than a manual vacuum pump.
Compatibility
This pump can be a very handy travel gear while you are moving. It can save and maximize your baggage space up to 80%! Removal of excessive air inside the bags is effortless. Zippers and sealing covers are perfect to ensure smooth compression whenever you use them. It offers a double zipping facility for long-lasting use.
The running mechanism is also simple that saves a lot of your time. Another notable advantage is its portability. The package, weighing only 1.26 pounds, is easy to carry anywhere with you. It also takes less space inside your backpack to give a smooth travel experience.
Things I Appreciate:
Electric pump
Durable
Eight bags
Works faster
Easy to carry
Take Note:
---
Things to Notice Before Buying a Travel Vacuum Pump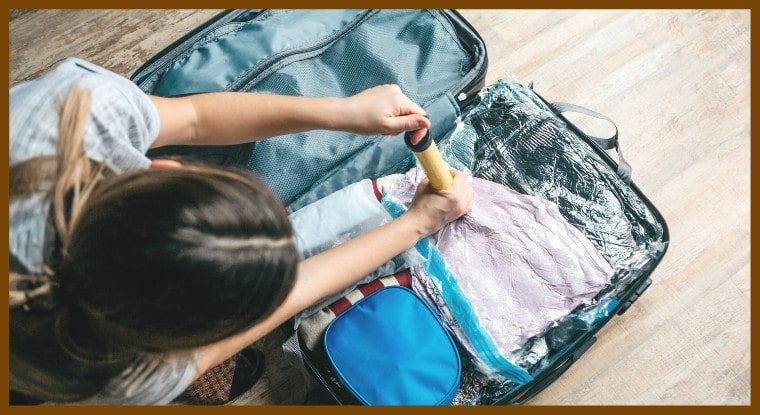 When you are buying a travel vacuum pump, there are a few things you should notice carefully. Some of them are here:
Material
If you are a frequent traveler, then you will often need a vacuum pump. It has to be sturdy and durable to fit your requirements. Pumps made of ABS material are strong, durable, and long-lasting.
Size and Weight
Though most of the travel vacuum pumps are tiny, yet it's better to check the size before buying. No point to fill your travel bag with a heavy thing whose purpose is to free up spaces. The weight should also be a concern. You wouldn't like to carry a pump weighing much heavier, will you?
Battery
The built-in battery is another basic thing to notice. A standard battery of 1300-3000mAh should work fine. See the charging time and working capacity since time is a concern when you are on an outing.
Charging Style
Choose a pump that is easy to charge even there is no home charging facility. A vacuum pump that can be chargeable with outdoor options like a power bank, laptop, carport, or power adopter should be preferable.
---
FAQs about Mini Vacuum Pump for Storage Bags
What are the standard air pressure and wind speed of a travel vacuum pump?
The standard air pressure is 2-4kPa and wind speed is good somewhere between 180-300L/min.
How long should I use a vacuum pump at a time?
Vacuum pumps can work for around 30-50 minutes after a full charge. Better if you run the highest 10 minutes at a time. It will ensure the longevity of the product.
Can a vacuum pump deflate too?
Yes, the design of maximum travel vacuum pumps is suitable to inflate and deflate both.
---
Final Words
Being a handy instrument, a travel vacuum pump can make your hard work easy. It helps to keep your packets tiny to save more space and also keep your items neat.
Following my list will help you get the best travel vacuum pump to give a smooth outing experience.
---