Every year airlines earn a large amount of money from the passengers thanks to carrying overweight on flights.
They often set a maximum weight range for ensuring better balance while landing and taking off.
Whatever be the range, the monetary penalty comes as a burden to most travelers. If you travel frequently, it is essential to measure the weight of your luggage before arriving at the airport to avoid unwanted circumstances.
Only a portable weighing scale can help you in this matter.
While there are so many luggage scales to choose from, you have to select one that gives accurate reading all the time. I have made a list of the best portable luggage scales to help you find the ideal product.
How Necessary a Portable Luggage Scale is?
Just see the charging manual of different airlines for per extra weight and you need no other reason to buy one weighing scale for luggage. Sometimes the penalty comes even double your original flight value! Yes, it is such strict.
Many people compel to leave things at the airport to make their luggage lighter only for this reason. Imagine yourself ransacking your well-packed suitcase at the airport to escape from less important things. Surely you don't want that experience.
Why don't you measure the weight at home to match the weight limit of the airlines? You can save much of your time, energy, and money and start a stress-free trip right away.
These suitcase scales have multiple uses apart from measuring luggage only. You can measure anything that is attachable with the hook and within the range. Having such a weight measuring item is pretty much handy and it is worth every penny.
---
9 Best Rated Handheld Luggage Scales in 2022
I have listed some of the heavy-duty luggage scales here that are portable and will give an accurate reading of your baggage every time.
1. Camry Portable Digital Baggage Scale for Travel
Camry produces one of the best portable digital luggage scales for high accuracy reading and good compatibility. If you are a frequent traveler, you can have this model that will provide efficiency to measure your luggage weight.
Save your energy, time, and extra fees due to overload with the help of this exquisite instrument.
Key Features
Made with high-quality thermoplastic polymer ABS, this silver-colored scale can measure up to 110 lb. (50Kg) with 50g graduation. The holding grip is rubber-textured and thereby super comfortable to measure weight. It includes a low lithium battery and tare function to sustain energy. Moreover, it also has a thermometer to display temperature in both C° and F°.
Usability
This scale will give you precise reading with its digital sensor before heading towards your journey. You will get an alert if it becomes overloaded. This scale will comfortably fit inside the luggage pocket since it weighs only 0.2 pounds and is super portable. You can even carry it inside your pocket.
Things to Appreciate
High accuracy
Auto-off function
Overload alert
Thermometer sensor
Great rubber grip
Take Note
The display will flash three times before giving the original reading.
---
2. FREETOO Digital Suitcase Weight Scale
This red-colored beautiful product from FREETOO is a handy portable weighing scale that will give you almost an accurate reading of your baggage weight. Offering simple user-friendly functions, this could be your go-to-go weight scale for luggage conveniently.
Key Features
The building material of this slim-designed scale is plastic that comes with a large LCD monitor to see the reading even without external light. The weight measuring capability of this scale is 110 lb. with the highest deviation of 0.1 lb. It enables energy saver mode that will automatically work and get off after 1 minute.
Usability
This slim product weighs only 90 g and you can easily carry it without any hassle. The battery lasts way longer than other options and the installation process is super easy at the time of replacing.
You can see the reading comfortably since it pauses the screen after showing the final weight. The handle is made of piano lacquer for smooth and easy measurement.
Things to Appreciate
Large display
Less deviation
Energy-saving mode
Durable with anti-scratch material
Low battery alert
Take Note
Remove the insulating piece from the battery
Use two hands for 30lb+ weight.
---
3. Etekcity Digital Portable Handheld Luggage Scale
When I am talking about the list of the best digital luggage weighing scales, I cannot ignore this excellent product from Etekcity. Coming with so many exciting features at an affordable price, this scale will give you a pleasant experience while measuring the weight of your baggage.
Key Features
This scale is made of high-quality metal body that has a capacity to measure up to 110 lbs. where the highest deviation is only 0.1 lb. Like the previous models, this scale also has auto-off and tare functions. The LCD screen will give you an accurate reading which will lock automatically after showing the result.
When the battery life almost finishes, the screen will show "LO" as an indication of replacing it and "Err" if you put more than 110 lbs. weight.
Usability
This model is famous for its diverse use. Not only measuring the weight of your luggage but also you can measure the weight of any package, camping gear, or shopping bag etc. with this scale. The rubber handle is perfect for grabbing it and measuring weight.
This model also contains a thermometer sensor which will warn you if you are carrying any sensitive item.
Things to Appreciate
Good accuracy
Easy to hold
Thermometer sensor
Overload sign
High-quality LCD monitor
Take Note
Balancing heavy baggage would be a bit uncomfortable.
---
4. Tarriss Jetsetter Digital Portable Suitcase Weight Scale
Tarriss made this Jetsetter scale to reduce the hardship and stress of the travelers due to excessive weight carrying. You can comfortably use this device to measure the weight of your baggage and avoid unwanted circumstances.
Due to its high durability, this is one of the best digital luggage scales I found on the market.
Key Features
The upper side of this scale is a stainless-steel plate and the lower portion is a high-quality plastic cover to make this product sturdy and durable. It can measure up to 110 lbs. (50 Kg) with a precision of 0.2 lb.
The LCD screen will show an overload sign if the weight goes beyond the level and lock the screen in case of accurate reading. The tare function will ensure that you get the weight reading of your desired material only.
Usability
You can easily carry the scale on your journey since it is very compact and lightweight (3.38 ounces). Seeing the measurement reading on the LCD screen will be easy with this scale where you have the option to switch between various weight units like stones, kg, or pounds.
Measuring weight is also comfortable for the presence of a steel hook. The lithium battery lasts much longer and the scale shuts off automatically after 30 seconds to save energy.
Things to Appreciate
Various units
Strong body material
Auto-off system after 30 seconds
Overload indicator
Tare function
Take Note
---
5. Amazon Basics Portable Digital Luggage Weight Scale
If you are looking for an easy hand-held weighing scale, you can surely go for this product. Amazon Basics is providing this lightweight and easy-to-use scale at an affordable price. Very few products in the market can surpass this item in terms of simplicity.
Key Features
It comes with a high-quality metal body with a maximum load measurement capacity of 110 lbs. (50 Kg). The digital screen is large enough so that you can comfortably see the measurement. The holding strap is smooth and flexible, having a strong connection with the metal. When you finish measuring the weight of something, it will go back to zero for the presence of the tare function.
Usability
Carrying this scale while traveling is super handy since it weighs only 0.21 pounds. You can switch between the units like kg or pounds at any time according to your convenience. The CR2032 battery comes with a long-lasting life without any hassle. You will also see the indications easily when battery life is low and when there is excessive weight.
Things to Appreciate
Compact and lightweight
Different units
High battery life
Error indication
Zero function
Take Note
---
6. Digital Suitcase Handheld Weight Scale for Traveler
If you check different digital luggage scales reviews online, then most certainly you will see many recommendations regarding this scale. This model is popular among users for its extraordinary accuracy and simplicity.
Making your traveling stress-less and smooth, this could be the go-to-go travel baggage weight scale for you.
Key Features
Luxebell made this scale with a combination of steel and plastic with durable resistance to offer viability. The strap is nylon made and the hook is pure stainless steel to prevent rust or damage to your travel bag due to rubbing. It contains the same measuring capability and accuracy as my previous models- 110lbs and 0.1lbs.
Usability
This scale accurately measures the weight of your baggage and displays the result clearly with getting locked. The weight being only 2.8 ounces, this compact and light scale can be a suitable travel partner for you. The tare button enables easy use with an auto-off function. The battery is long-lasting with an easy installation mechanism to make your experience hassle-free.
Things to Appreciate
Suitable design for travelers
Durable
Easy installation of battery
Reset button for glib using
Automatic switch-off
Take Note
Be careful when the weight is high.
---
7. EatSmart Precision Voyager Digital Luggage Scale
EatSmart comes with this great product to make your weight measurement experience blissful and time-saving. Offering fast and easy measuring capacity, it is one of the best travel luggage scales available in the market.
Key Features
The company made the design suitable for both single and double hand using. It contains a much bigger handle than the rest of the other models. Even after that oversized handle, the weight is only 5.5 ounces to make it perfectly usable for any traveling.
You can measure weight up to 110lbs with graduations of 0.1lbs precisely before heading for any flights. The smooth nylon strap will ensure easy attaching with your baggage for a comfortable measuring process.
Usability
This model has versatile use and is perfect for measuring the weight of any type of backpack, suitcase, or duffle bag. Thanks to the soft handle grip and strong buckle clip that give you comfort while lifting it with your bag. All you need to do is to press the button and hold it up. It will show the measuring weight on the LCD screen for 20 seconds.
Things to Appreciate
Lightweight
Comfortable grip
Simple mechanism
Durable
Good customer service
Take Note
If not used frequently, the battery may die down.
---
8. Digital 110LB Portable Handheld Baggage Scale
If you find difficulty with the excessive weight of your suitcase at the airport, it is an ideal product for you. Offering some great features and excellent customer service, it is a precious air weight luggage scale to help you measuring weight in no time.
Key Features
Just like other models, this scale also comes with a standard measuring limit of 110lbs (50 Kg) with 50 gm graduation (0.1lbs). It contains an attractive LCD screen which will show the result even in less light. It also uses an affordable battery to save power for longtime use and low battery alert. The tare function will ensure comfortable use with an indication when goes overweight.
Usability
The rubber-made handle will provide easy pulling up while measuring weight. You can easily carry it around while traveling since it weighs only 3.2 ounces. It also locks the screen so that you can get the reading after putting it on the floor.
Battery saving mode is also present with an automatic-off system every 60 seconds. They designed the scale in a way that it fits almost all types of baggage hooks and balance easily.
Things to Appreciate
Accurate reading
Backlight screen
Energy saving
Great holding grip
Tare function
Auto-off function
Take Note
Be careful when measuring near the upper limit.
---
9. Samsonite Manual Luggage Scale, Black, One Size
Being unique to most of the scales out there yet not less effective than any one of them, this model from Samsonite is one of the most accurate luggage scales. I could not end my list without mentioning this exquisite product, famous for its handy use.
Key Features
Made by a blend of high-quality plastic, this scale can measure weights up to 80lbs. It contains two arms- one will show the reading even after you put your bag down and the other will return to the initial zero reading. This model is super compact with the length, width, and height dimension measures 1x5x6 inches.
Usability
The plastic handle is super comfortable to hold and measure weight without any hassle. It offers built-in tape regulation to warn you about getting overweight. Weighing only around 7 ounces, you can carry it easily anywhere during your journey. The user manual is also easy to read and helpful to execute. If your budget is comparatively low, you can go for this product that is worth its value for sure.
Things to Appreciate
Lightweight
Easy to hold
Simple mechanism
Affordable
Fair accuracy
Take Note
Be careful of higher weight.
---
What to Look for When Buying a Portable Luggage Scale?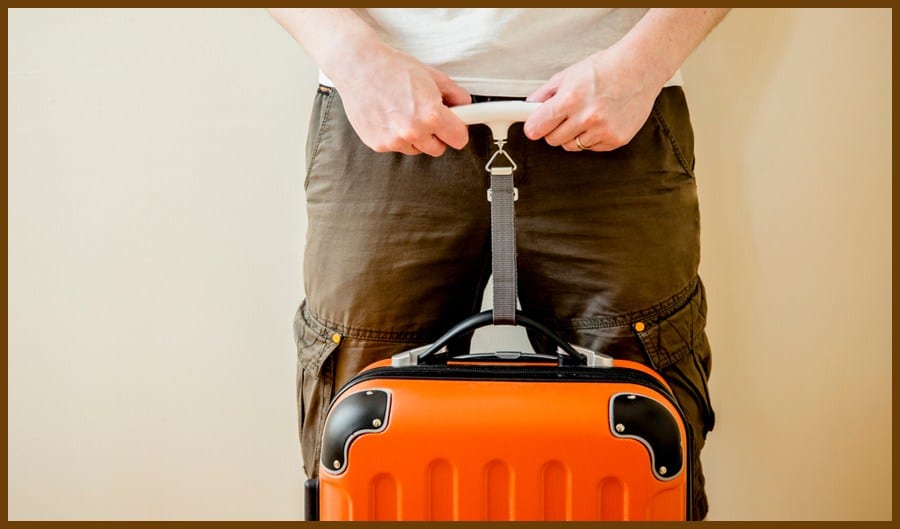 Plenty of luggage measuring scales are there but the functions vary significantly. You need to know your purpose and the attributes before buying a scale. Here are few things you need to consider.
Measuring Capacity
Every weight measuring scale comes with a maximum measuring limit. If your luggage scale does not have enough limit that you usually carry, it is worthless.
Most of the hand-held digital scales come with the highest capacity of 100-110 pounds that is way past the limit of the airlines. Having a scale ranging this level is safe to use.
Accuracy
Accuracy is another important factor. Many devices give reading far from original weight and that can cause troubles. Giving false reading can mislead and make you fall into an embarrassing situation at the airport. The deviation of most of the scales is not more than 0.1lbs which is good to go.
Holding Convenience
You must check the grip before buying. It may not create any problem as long as the weight is low. But for higher weight, the handle needs to be easy and smooth. It may create difficulties to pick your luggage otherwise.
Usefulness
You must check other attributes like whether it has a quality display, weight lock function, offers a warning for overweight and low battery or not. Some digital scales also offer an auto-off facility to save power and have a temperature measuring system. Be sure of what you are getting from your scale all over.
Durability
Almost all luggage scales are light enough to carry anywhere. Because of their weight, they may collapse easily. Checking the durability of the body with the strap attachment is therefore imperative. Never buy a scale that offers some catchy features but is not sturdy enough to carry the load.
---
FAQs about Portable Luggage Scale
Are these scales accurate enough?
Most hand-held weighing scales give a reading with graduation up to 0.1/0.2 pounds which is nearly accurate.
Can I measure the weight of my luggage by a bathroom scale?
Possible but not recommended. You will face difficulty placing your luggage and it may give a faulty reading as well.
How to use a portable luggage scale?
Hook your luggage with the scale and make the reading zero on the screen. Then lift the scale with your luggage up to see the weight reading.
Where can I weigh my luggage for free?
You can weigh your luggage free at post offices, some shopping malls, hotels, or even at the airports. I recommend buying one since they are much affordable.
---
Final Word
A luggage scale is an essential tool to make your traveling life smooth and hassle-free. It can spare you from unwanted circumstances at the airport along with providing many other facilities. You can pick one from my recommendations of the best portable luggage scales above to get the best results for your needs.
---
You May Also Like:
11 Finest Luxury Watch Travel Case for Travelers.
---