We all know how important a good travel bag is, especially while traveling with a baby and you have many things to carry.
And even when on a journey alone or in a group, there are many clothes/gears which cannot be left behind. The need of a good quality travel bag is undeniable.
Why Travel Bags Are Important for Moms?
Moms are like genie for babies. They have everything a baby wants every time. But to be able to present necessary things for baby's comfort, they need to have everything ready while summoned. That is why travel bags are made for.
Travel bags provide much more room for storage than regular carry-on bags. These can occupy both baby's and mom's things in one while being easier to carry.
Nowadays, even dads have become genie, thanks to the neutral colors and ergonomic unisex designs of these bags.
Also Read: Top 5 Stroller Bag for Air Travel to Protect Your Baby Stroller.
---
Best Travel Backpack for Moms in 2022
I am going to discuss my top 8 picks of best travel bags for moms here that are also great carry-on bags for business women or someone adventurous.
1. Mancro Diaper Backpack Waterproof Travel Bag for Mom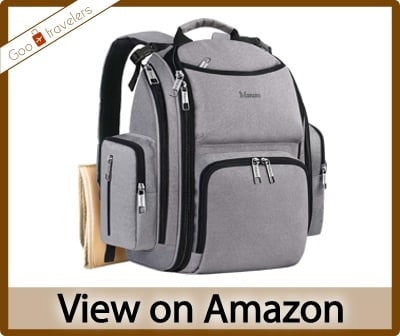 This diaper bag backpack is a big one for carrying all the necessary baby stuff. Its design allows carrying it anywhere, having many pockets to fit essential baby care items. Build for multipurpose use, this bag is neither too small nor too large.
Its dual metal zippers eliminate any risk of things falling out of the bag while on the go. Designed ergonomically, it is a great diaper bag to carry for both moms and dads.
Material and Size: The bag's polyester cover is water-resistant, and it measures around 16.5×11.8×7.1 inch in dimension. Flexible to carry, you can hand wash or wipe it clean in case of stains and dirt. Its S-shaped cushion shoulder straps are comfortable enough to carry the loaded bag all day long.
Design and Durability: Designed ergonomically for both parents, the soft padded back makes shifting carrying turns comfortable. For long-haul flights, it is an ideal baby backpack with the durability of years. The dual metal zippers ensure safety and do not require much strength for pulling.
Storage compartments: There are 4 different sections (large, mesh pocket, inside pocket, and a zippered net section) for keeping all the big accessories separate inside. On the outer side, there are 2 front pockets, 2 insulated side pockets, and 2 side pockets. Another section is you can use it as a changing mat or for keeping a laptop.
Ease of carrying: With the S-shaped shoulder straps, there is also a main handle and 2 stroller straps. The shoulder straps are adjustable to a great length, while the main handle is strong to carry heavyweight inside the bag. With the stroller straps, moms can easily hang it on the stroller back for their convenience.
THINGS TO APPRECIATE:
Multipurpose backpack.
Unisex design.
Durable.
Easy to carry.
Water-resistant cover.
TAKE NOTE:
Quite expensive.
Not machine-friendly.
---
2. CLUCI Women's Leather Backpack Large Travel Shoulder Bags
This brown backpack has the features to offer for carrying makeups, wipes, gadgets, and a variety of stuff. With enough room to fit in all the necessary things, you can also use it as a diaper bag while traveling.
Top-notch build quality, durability, design etc. make it one of the best mom travel bags. Tested more than ten times before launch, it provides enough durability and space to fit in maximum stuff. Contacting the manufacturer via email is also possible in case of any defect post-purchase.
Material and Size: Water-resistant PU leather outer with durable streamlined stitch prevent moisture access in the polyester inner. It measures around 12.20×5.91×112.60 inches in dimension and weighs 1.40lbs, making it a suitable-sized travel bag.
Design and Durability: As a rucksack backpack, it includes removable short-sized straps. You can make the straps short, long, or unlatch them, as it is carriable in 3 different ways. All the zippers are anti-theft, and the streamlined stitches prevent any kind of rip from appearing.
Storage compartments: The main zipper compartment and 2 inner pockets provide different spaces for organizing stuff orderly. iPad, books, pouches or diapers and wipes, you can carry them all in one bag. On the outer side, there are 2 flexible side pockets where you can store water bottles, umbrellas, or baby milk bottles easily.
Ease of carrying: This bag is lightweight, perfectly designed, and ideally sized for using it as a carry-on bag. The water-resistant surface prevents any stains and you can just wipe it to for cleanliness. Also, among the 3 carrying ways, you can choose whichever you like while going on a trip nearby or overseas.
THINGS TO APPRECIATE:
Lightweight and stylish.
3 ways of carrying.
Water-resistant.
Multipurpose use.
Anti-theft and durable.
TAKE NOTE:
Not unisex designed.
Rough zippers.
---
3. BAOSHA HB-28 Ladies Canvas Travel Carry-on Bag for Mom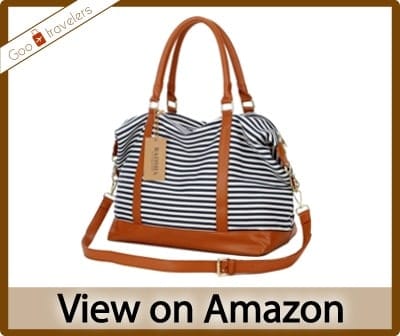 It is a bag big enough to accommodate miscellaneous things for long-haul flights, but small enough to work as a carry-on. This is one of the best carry-onbags for moms as it can take in both mommy and baby products and clothes required during a journey.
White canvas with blue stripes and brown handles gives it a classy look for everyday use. It provides different compartments inside the bag to keep things organized. Just slide it under your seat in a bus or airplane, saving the leg space.
Material and Size: A canvas bag with high-quality outer material and polyester inner. Zippers are smooth to pull while being anti-theft. PU leather handles and straps are highly durable thanks to its heavyweight built. Measuring 16x12x8 inches in size, it is neither too large nor too small for a carry-on bag.
Design and Durability: It may look like a side bag that goes with other luggage but it's not. It comes with a sleeve for attaching the bag with the luggage. The entire bag is made durable with high-quality materials. No matter how much weight is put in the bag, its handles and strap will resist any wear and tear.
Storage compartments: There are 3 compartments for storage purposes. The large and main compartment is spacious for putting in all the big stuff like clothes, books, etc. The other 2 small compartments inside can work as a pouch for keeping smaller things and money.
Ease of carrying: A multipurpose carry on bag for mom that you can carry without feeling burdened. As it already brings sleeve access to attach it with the luggage, you can carry it with ease in a crowded airport.
THINGS TO APPRECIATE:
Large and spacious.
Classy design.
Multipurpose use.
Easily carry-able.
Suitable for everyday use.
TAKE NOTE:
High price.
Not water-resistant.
---
4. TETHYS Diaper Backpack Waterproof Travel Bag for Mom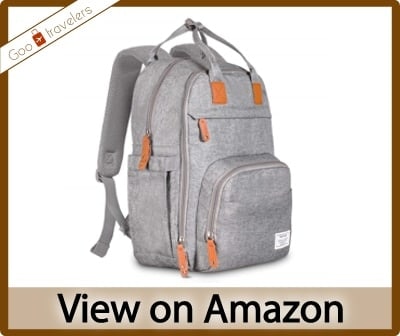 It is the best travel backpack for moms that includes several pockets to keep everything organized separately. This unisex designed bag is an all-rounder for traveling via any vehicle or just going for a walk with your baby.
Baby diapers, wipes, milk bottles, and many other things can be placed inside this, without having to carry multiple bags. Moreover, the manufacturer offers a lifetime warranty upon the registration during purchase.
Material and Size: This bag's outer fabric is polyester and its two insulated pockets ensure the temperature of the milk or water bottles stays the way you want. The shoulder straps are made thick and soft to eliminate any possibility of shoulder or back pain. It weighs around 1.5lbs and measures 17x12x8 inches in dimension, a fair-sized bag for multipurpose.
Design and Durability: Its unisex design makes it a carry-on bag for both parents. The zippers are effortless to pull, allowing opening and closing the zips single-handedly. The nylon material on both inside and outside the bag is erosion resistant, and the straps are durable enough to carry heavyweight.
Storage compartments: A total of 20 storage compartments come with this bag, the main compartment including 6 different pockets. 2 insulated pockets, 2 side pockets, a parent pocket, and 7 other pockets all over the bag provide luxurious yet organized space for each product.
Ease of carrying: The two smaller straps on the top can be hooked together to work as a stroller strap or just carrying it in hands. Shoulder straps are also designed to relieve pain and back aching, ensuring a comfortable walk/journey.
THINGS TO APPRECIATE:
20 different pockets.
Anti-theft zippers.
Lifetime warranty.
Thick yet soft straps.
Erosion resistant.
Water-resistant.
Ergonomic design.
TAKE NOTE:
Stroller straps small in size.
---
5. INIUNIU Unisex Diaper Large Travel Backpack for Mom & Dad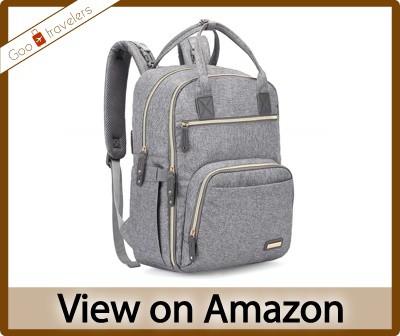 This diaper bag backpack includes 18 small and large-sized pockets for storing baby belongings. For traveling a long distance or going for a walk with your baby in the stroller, this is a great choice as it has a lot of space and features to offer to make your journey comfortable.
Designed for both parents, it allows storage space for moms and dads as well. Diapers, tissue, bottles, clothes and many other gears are carriable in this bag in an order to prevent messing up things.
Material and Size: Made with a 100% polyester outer and inner lining for water resistance. You can wipe it clean in case of any water or beverage spill. A fairly sized bag with 11.8×7.8×16.5 inches of dimension, with a lot of space to offer for your belongings.
Design and Durability: This unisex designed bag includes a changing pad on the front sized 23×15 inches. It is made from 100% nylon polyester to last for a long time, even if used every day. All the straps and handles and can sustain heavyweight while the key lock and dual zippers are reachable with one hand.
Storage compartments: Including the 2 main compartments with 6 different pockets, there are a total of 18 different pockets in this bag. 2 insulated bottle pockets (2.8×7 inches), 1 parent pocket, diaper organizer, laptop/iPad pocket, and more are there to organize belongings.
Ease of carrying: The straps for shoulders are cushion-made, hugging you comfortably while you are on the go. There are also handles for attaching it on a stroller or carrying it in hand, you can carry it according to your convenience.
THINGS TO APPRECIATE:
18 different pockets.
Water-resistant fabric.
Cushioned shoulder straps.
Ergonomic design.
Multipurpose bag.
TAKE NOTE:
Few pockets with storage space issue.
---
6. BAMOMBY Multifunction Waterproof Baby Travel Diaper Backpack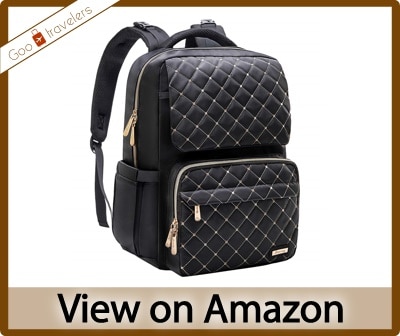 Positively reviewed by numerous users, this diaper backpack from BAMOBY is considered to be the best travel bag for moms for putting in their baby's belongings. Both father and mother can feel free to carry this bag due to its unique and comfortable design.
Several storage compartments, high-quality fabric, multipurpose usability, durability etc. are available with this bag, and it can be a perfect selection while traveling with your kids.
Material and Size: This bag is made from water and tear-resistant polyester fabric. Its shoulder straps are cushioned with a polyester cover that distributes the weight of the bag evenly on both shoulders. It is a 16.14×12.2×6.1 inch bag that comes with a firm handle on top and a stroller handle.
Design and Durability: Made convenient for both parents so that they can carry it without being concerned about the design and color. The fabric it is made from is polyester which prevents moisture access inside the bag while resisting wear and tear. All three means of carrying the bag are also firmly stitched for holding heavyweight inside.
Storage compartments: There are 15 different storage sections including 2 main sections and several others. The changing pad can be used to carry a laptop, iPad or a book during travel. 3 insulated bottle pockets keep the temperature as it is and all the zippers are accessible single-handedly.
Ease of carrying: 3 means of carrying include cushioned shoulder straps, a small handle on the top, and a stroller handle. You can walk carrying it without causing any stress on your upper body as the straps will distribute the weight evenly on both shoulders.
THINGS TO APPRECIATE:
Weightless.
Water and tear-resistant.
Unique design.
15 storage compartments.
Comfortable carrying.
Durable and multipurpose useable.
TAKE NOTE:
Strong odor.
Changing mat not included.
---
7. Kenneth Cole Reaction Women's Chelsea Travel Backpack
Now, if you are looking for a carry-on bag for women designed for the business person, student, or someone who likes to travel, this fashionable mom backpack may be the one.
This chevron qualified bag that stores the necessary stuff organized while traveling.
Many pockets of different sizes can hold in cloths/gears that are required on the go. It is a sleek and classy looked bag for girls and women and will provide a long-lasting lifetime of carrying essentials.
Material and Size: Premium quality polyester on the outer side of the bag gives it a professional and classy look while the inner is lined to resist tearing. It is a 16x11x7.5 inch bag that weighs around 2.15lbs and can carry a laptop with a 15-inch screen.
Design and Durability: Designed for both professional and personal use, this bag comes in a classy look that adds value to the money spent. Either going on a long-haul flight, business trip, summer camp, or hiking in the mountains, this bag includes all the required features while being durable to carrying weights.
Storage compartments: The main compartment provides extra room for putting in clothes and other necessary things while having a separate padded pocket for a notebook, iPad, book, laptop.
Other than this, there are also 2 pockets in the front for easy access to the necessary documents on the go and 2 beverage pockets on each side.
Ease of carrying: The straps for the shoulder and an on-the-top handle are made with premium polyester for longer durability. There is also a handle for attaching the bag with a luggage stroller for easy portability. As it is a carry-on bag, you can put it under your seat in the airplane without losing leg space.
THINGS TO APPRECIATE:
Easy to carry.
Water-resistant.
Tear-resistant.
Multipurpose bag.
TAKE NOTE:
---
8. Dikaslon Large Diaper Travel Backpack with Portable Changing Pad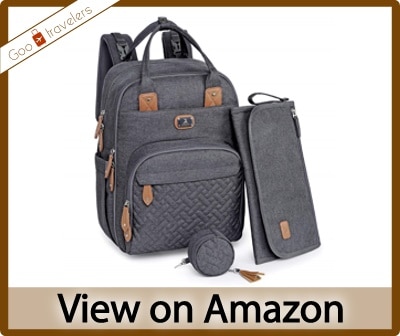 Ergonomically designed bag with 18 storage compartments of different sizes, a pacifier pocket, and a portable changing pad with 2 extra storage spaces. Both moms and dads can feel free to carry it in the public because of its neutral colors.
Traveling on a bus, plane, or car, this bag can easily fit under the seat, trunk or on the seat without taking up much space. While out of home, all the baby belongings can fit in this bag with an extra pocket for parent's essentials.
Material and Size: It is made from water-resistant premium polyester fabric. The shoulder straps are cushioned while the top handle and stroller straps are also made from quality material. Measuring 16.5×8.12 inches and weighing around 2lbs, this backpack for traveling mom holds all your baby's necessary items during journeys.
Design and Durability: It is a unisex backpack with an ergonomic design. Its metal and leather zippers are accessible with one hand and it feels lightweight even while packed. All the sections and materials used to build this bag for traveling with toddlers are water and tear-proof, and you can wipe it clean in case of any spilled mess.
Storage compartments: 18 storage compartments in total, the main compartment including 6 pockets. 5 insulated bottle pockets to fit any sized bottles several mash pockets are also available. An anti-theft section to store parent stuff, a detachable pacifier pocket, and a portable changing pad with 2 pockets are also there, providing a huge storage room overall.
Ease of carrying: For comfortable carrying, the manufacturer has included 3 means of carrying. 2 extra thick cushioned shoulder straps, a top handle for carrying it in hand, and an attached stroller lock are there for your convenience.
THINGS TO APPRECIATE:
Huge storage room.
Lightweight.
Easy cleaning.
Ergonomic unisex design.
Easy to carry.
TAKE NOTE:
---
What to Look for While Buying A Travel Bag for Mom?
Storage Capacity
The first and foremost thing to consider while buying the best mom travel backpack is its capacity of holding things.
The more the merrier. These are also known as diaper bag backpacks and have a different sets of storage compartments for different purposes. Bags that have more than 15 compartments are more preferred by moms who like going on long journeys with their family.
Style, Size, and Material
Although many do not talk consciously about the style of a travel bag, it is a big feature that moms look for. Bags with ergonomic unisex styles are more popular than those without because it gives dads the ability to carry it freely in public.
As the travel bags work as carry-on bags and do not go with the big luggage, they tend to be similar to the size of a school backpack. Within this size ratio, these bags include a large number of storage capacities that differ them from the usual backpacks.
Now, the materials used to make these carry-on bags for travel with baby define their lasting ability. The bags made from nylon polyester fabric are popular among the parents and are considered to last longer than bags made from other materials.
Comfortable carrying and easy cleaning
A bag that fits under the seat of a bus or plane, small enough to carry in personal vehicles, and easily carriable is a perfect choice. These travel bags for baby come with durable shoulder straps, top handles, and stroller locks for making carrying them easier.
Moreover, it is normal to have spilled milk, drink or water inside the bag that holds baby stuff. Thus, the bag you opt for should be easy to clean. These bags are not machine-friendly most of the time and are to be wiped clean with cloth in such circumstances.
---
FAQS about Bag for Traveling Mom
Are diaper backpacks and carry-ons the same?
As per Delta, diaper backpacks that measure 22x14x9 inches or smaller can be considered as carry-ons as they can be swept under the seat or put in the overhead storage compartment.
Are their diaper bags for dads?
There are not many diaper bags designed specifically for dads but there are ones with a unisex design that can be carried by both parents.
Are regular backpacks and diaper backpacks the same?
Regular backpacks and diaper backpacks are not the same in the sense that the regular ones do not have many storage sections like the ones for diapers and other baby belongings.
What are the main things that go in a diaper bag?
Countless things go in a diaper bag but among them, diapers, a set of clothes, milk/water bottles, diaper cream, wipes, pacifiers etc. are the main ones.
Can you carry your laptop in a diaper bag?
Most diaper bags include a different big padded or mash compartment to carry a laptop. These compartments are added to the changing pad section of the bag.
When can you stop carrying diaper bags?
Usually, kids stop wearing diapers from 24 months. Still, kids in some scenarios cannot use the toilet till they are 2.5-3 years old. So, after 3 years, you can stop carrying diaper bags for your kid.
Are diaper bags machine washable?
To wash a diaper bag in a machine, you need to select the gentle wash cycle on the machine and if possible, put it in a laundry bag before wash.
---
Conclusion
These were my top backpacks for traveling moms. I hope I have helped you find the finest one according to your needs and tastes.
---