Travelling includes excitement, happiness, nervousness, confidence, and a sense of accomplishment.
Visiting a new country or going back to your own on a long flight brings along food, view, entertainment and sleep.
Suppose you have just finished watching a 'feel-good' movie and want to have a comfortable sleep next. That's when neck pillows enter the chat.
I have shortlisted some best travel neck pillow for long flights here to help you make the long flight hours more relaxing and comfortable.
Why Do You Need Travel Neck Pillows?
No matter how much the airline companies advertise the seat quality of their planes, they often do not match our preferences.
If anything, the seats are mostly stiff, hard and end up making us annoyed. Thus, the need for a neck pillow to support our neck and sleeping position as well. Travel pillows help you prevent the neck from the rough seats, which may lead to severe neck pain.
And if you travel on long flights more often, there is no exception to these pillows anyway. Why let your body suffer when a small investment in neck pillows can save a big amount of medical bills?
Also Read: Top 5 Lumbar Pillow For Air Travel.
---
Top 6 Best Travel Neck Pillow for Long Flights in 2022
1. MLVOC Memory Foam Neck Pillow
This black travel neck pillow from MLVOC is considered to be the best travel neck pillow for long flights by many experts. It is a pack of three where you get a pillow for your neck, earbuds and an eye mask inside a travel pouch.
Tested and reviewed by numerous users, it has proved to be durable for years in terms of providing support. You can also use it for multipurpose needs like; while watching TV, working on a computer, reading a book, sleeping on your own bed, or dozing off on the office table.
Material: Made with memory foam, its magnetic therapy cloth cover, and the microbeads inside the foam resist and soak sweat for maximum relaxation. The locks attached enable adjusting it according to your preference and keep it in place.
Shape and Size: It measures 11×9.2×4.6 inches and weighs around 6lbs. The pouch it comes in squishes its size in half, saving space. Its curved design and 5 seconds return tech prevent it from flattening while allowing easy movement of the neck.
Movability: This travel neck pillow is lightweight and you can carry it anywhere you wish to. The straps attached to the pouch can be locked with a luggage or carry-on bag handle without consuming space.
Washability: After every flight, you can clean it by putting it inside the washing machine or washing it with your hands. The cover of this pillow can be removed. So, either you can wash both cover and foam or only one.
WHY I LOVE IT:
Ergonomic design.
3-in-one package.
Adjustable straps.
Lightweight.
Easily washable.
TAKE NOTE:
Chemical odor reported.
Pushes neck forward sometimes.
---
2. BCOZZY Chin Head, Neck & Chin Supporting Travel Pillow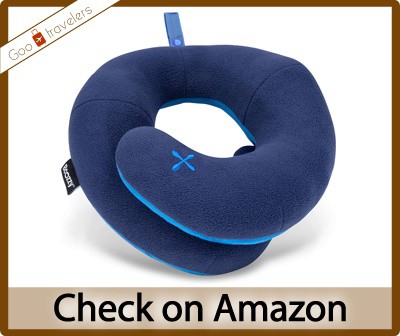 This classic navy-colored large neck and chin pillow from BCOZZY comes in 3 different sizes; small, medium and large. Suitable for both kids and adults, it is a multipurpose pillow. Traveling or sleeping at home, you can bend it in three different ways for your comfort.
Made from high-quality polyester, it is designed ergonomically to support both chin and neck with the help of its adjustable loop. It is washing machine friendly and dries quicker because of its build quality. The straps attached are provided to make carrying it easier.
Material: This pillow is made from HCS (Hollow conjugated siliconized) polyester fiber. It resists mildew and sweat while being highly durable, anti-wrap, and flexible.
Shape and Size: The pillow has 3 different sizes which are small, medium and large. The large-sized pillow 0.39×10.24×11.81 inches in size and fits neck size 16″ or more. It is a curved pillow that you can adjust in a loop, fully one-sided support, or slightly upraised on one side.
Movability: This neck and chin supporter is lightweight and you can carry it effortlessly. The straps of this 6 ounces' pillow work as a lock that secures it with luggage, carry-on bag or anywhere at home.
Washability: It is a washing machine friendly pillow and dries quickly after washing. There is no cover to remove before washing and it will not lose its shape or softness even after many washes.
WHY I LOVE IT:
Durable and adjustable.
Machine friendly.
Three different sizes.
Ergonomic design.
Easily carry-able.
TAKE NOTE:
Strong odor.
Maybe unfit for elderly.
---
3. Cloudz Microbeads Travel Neck Pillow
This mushy and pliable pillow from Cloudz is filled with polystyrene microbeads that do not compress after long-time use. Its dual-sided comfort and pocket-friendliness made it the best travel pillow for long haul flights among a wide number of users. While supporting neck rest, its snap in the front helps the chin stay in one place.
The snaps at the edge work as a lock of this U-shaped pillow, while the soft microbeads prevent pushing the head forward. Appropriate for long flights, you can also use it in your office or home for lumber support.
Material: Millions of polystyrene microbeads covered with a surface of 2 different types. One side is squashy and plushy while the other is spandex. Squashy side for softness and warmth, spandex side for smooth and cool touch to the neck.
Shape and Size: It is a U-shaped neck pillow measuring 12x12x4 inches. It weighs around 5.6oz, making it lightweight for carrying. The ergonomic design of this airport brand pillow allows comfort and relaxation for long haul flights.
Movability: Easy to carry, the snap on its each edge secures the pillow with luggage, backpack or even carry-on bag handles. Its lightweight makes it much more effortless to carry on-the-go.
Washability: It is a pillow with a zipper. You can easily remove the cover before washing. You can wash the cover separately. However, you need a separate pillowcase to put it inside before machine washing as the beads may start popping up due to the high-velocity spin of the machine.
WHY I LOVE IT:
Pocket-friendly.
Easily portable.
Dual-sided comfort cover.
Slip-resistant.
Sweat-resistant.
TAKE NOTE:
Strong chemical odor.
Not kid-friendly.
---
4. Everlasting Comfort Memory Foam Airplane Travel Neck Pillow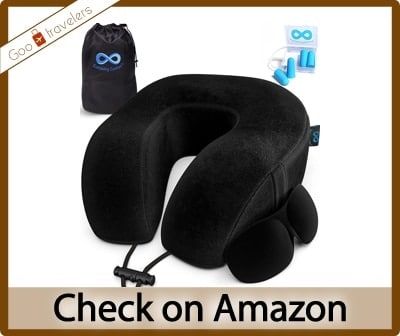 I think it is the best travel neck pillow for airplanes is from Everlasting. This memory foam pillow has a mobile phone pocket and comes in a bag that includes earbuds and a sleeping mask. An adjustable string keeps the pillow in position without letting the head tilt side to side.
It is ergonomically designed to provide ultimate comfort and relaxation to your neck and chin. Washing machine friendly, its velvet cover can be removed before cleaning. Also, it comes with a lifetime replacement policy for your convenience.
Material: This memory foam pillow utilizes body heat to mold the shoulder and neck area while eliminating any probability of stiffness and discomfort. It also has a velvet mesh cover that is soft, smooth and moisture-resistant.
Shape and Size: Ergonomically designed, this 0.9lbs, U-shaped pillow has a unique and stretchy mobile phone pocket. Measuring 12.68×8.35×5.04 inches, its raised lobes feature will allow easy neck tilt without pushing the head forward.
Movability: It comes in a separate bag to save luggage or backpack space. With the help of the bag's strings-like handle, you can lock it with your other bags or carry it in your hand.
Washability: It is a washing machine friendly pillow that you can throw inside the machine with your laundry. You can also wash and air-dry the cover separately as it can be removed.
WHY I LOVE IT:
Design and Quality.
3-in-one pack.
Machine washable.
Lifetime replacement policy.
TAKE NOTE:
---
5. Phixnozar Comfortable Memory Foam Neck Pillow
The next travel neck pillow for flying is from Phixnozar that adds value to the money spent. You can opt for its comfort for both during traveling or lumber support at home or office. It prevents the head from moving around while you enjoy a sound sleep.
Its soft and curved designed memory foam has magnetically adjustable straps to fit and keep your head in place. The raised curves ensure comfort no matter what the sleeping position is. Moreover, you can also place it upside down on a flat surface like an office desk or spa table for head support.
Material: Made from 100% memory foam, this pillow will sink according to your head's position without flattening completely. Its cover is also soft, sweat-resistant and has dual texture on each side.
Shape and Size: This one is more like a rain-drop-shaped pillow that you can adjust to fit your head in with the strap's help. Its curves hold the neck in place, no matter if you sleep in sided position or lay your head flat. 4.7×6.8×7.8 inches in diameter, this pillow weighs only 10.6 ounces.
Movability: It is easily carriable due to its lightweight. You can carry it in your hands or lock its straps with your bag. Either be it bus, train, car, boat, or flight; you can rely on it for comfort and neck support.
Washability: The cover is removable so that you can toss it with your other clothes in the washing machine. Moreover, it is also dryer friendly. So, you air-dry it or put it inside the dryer according to your need.
WHY I LOVE IT:
Fits any head size.
Affordable.
Easily carry-able.
Washing machine friendly.
Dryer friendly.
TAKE NOTE:
---
6. TALLGO Memory Foam Soft Neck Pillow
Ending my recommendations with the last neck pillow for flying which is best in terms of compressing. This TALLGO memory foam travel pillow is designed with curves that provide enough neck support without covering the face. Its dual-textured cover is breathable and soft and its patterns will resist leaving any marks on your skin.
The raised lobes on the rear of the foam reduce any possibility of neck soreness or stiffness. This pillow is appropriate for flight hours longer than 20, and you can carry it locked with your luggage or simply in your hands. Moreover, the brand offers a refund or product replacement in case of inconvenience.
Material: The pillow is of high-quality memory foam that is compressible to a great extent. Supporting your neck position, the memory foam will sink in the direction your neck is in without getting squeezed.
Shape and Size: Ergonomic design with 3 curved points, the pillow measures around 11×5.9×9.2 inches in diameter. It weighs around 11.3 ounces but becomes more lightweight as it is compressed inside the travel bag it comes with.
Movability: With the help of the travel bag the pillow brings with it, you can compress the memory foam up to 5 inches small and carry it in the bag. Both the straps on the bag and straps on the pillow make carrying it easier as you can carry it any way you like.
Washability: The memory foam is not machine friendly. Thus, you cannot toss the entire pillow inside the washer and dryer. However, its soft and lavish velour cover is removable from the foam. It is machine washable and dryer friendly.
WHY I LOVE IT:
Compresses greatly.
Lightweight.
Quality material.
Quality cover fabric.
Soft and gentle to neck.
Reduces neck soreness and stiffness.
TAKE NOTE:
---
How to Select the Most Comfortable Travel Neck Pillow?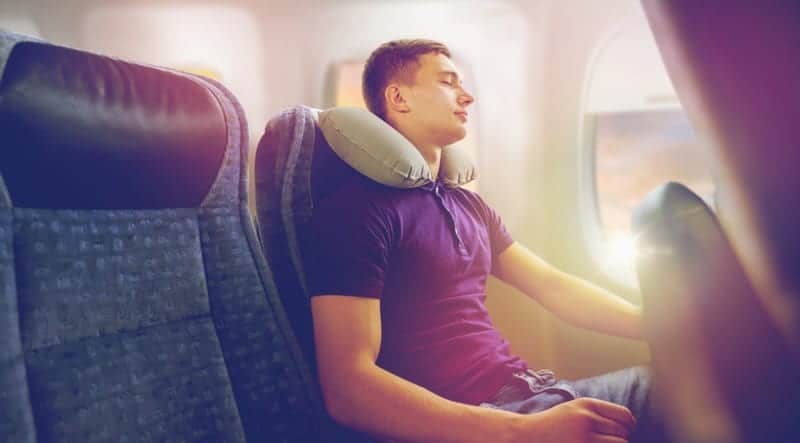 There are some aspects to consider before buying yourself the best neck support pillow for travel purposes. These aspects are:
Your Sleeping Position
While on a long-distance haul, falling asleep only to wake up and see that your destination is nearer than before is satisfactory.
But, seats on transportations like airplanes are not comfortable enough to sleep. Your sleeping position is also a fact here.
You need to choose a travel pillow that will support your upper body, no matter if you like to tilt your head sideways or lay backward while taking a nap.
Either be it a wrap-around pillow or a U-shaped one, you need to make sure that whichever you go for will reduce head movement and provide chin support.
Pillow Material
There are pillows made from memory foam, polystyrene beads and many other core materials. While memory foam ones seem heavy and incompressible, they are soft and sink according to your head position without flattening and restore their shape after use.
On the other hand, the polystyrene beads pillows are soft as well. But they tend to flatten faster than the memory foam ones. Also, the pillows often come with covers made of different materials.
You should buy a travel neck pillow that feels comfortable to your neck, does not store moisture and flatten after a couple of use.
Flexibility and Additional Features
Wrap-around neck pillows are considerably more flexible than U-shaped ones. However, the pillows that come with locks/strings are often considered more by the users as they lock the pillow in a position that results in no stiff or sore neck.
Many pillows offer additional flight accessories like earbuds and eye masks, and almost all of them come under 30 bucks.
In terms of cleaning, the ones that are machine friendly are always a better choice, where the pillows with removable covers are even better.
Ease of Carrying
Some pillows come inside a travel pouch, some don't. Some are compressible, some are not.
The memory foam pillows may seem heavy because of their shape and size, but many pillows are greatly compressible. You can squeeze them inside your luggage and they won't take up much space. They will regain their shape once out of the bag.
Whereas the other pillows like polystyrene ones are designed not to eat up much space inside your bag, and they even fit in carry-ons.
However, pillows that include a travel pouch are the best choice, as you can lock them with your handbag or carry them in your hands while you get on the plane.
---
FAQs about Travel Neck Pillow for Airplanes
Are neck pillows good for travel?
Neck pillows are good because they provide support to our upper body, relieving neck pain, stiffness, and soreness caused by long-haul traveling.
Can you use a travel neck pillow at home?
Travel neck pillows are also usable at home for sleeping on a bed or couch, lumber support, spa etc. They aid in letting you enjoy a sound sleep.
What size travel pillow is best?
Pillows that are 2″-4″ larger than your neck size and have an adjustable string/lock are perfect for your neck.
What travel pillows are good for children?
Small wrap-around pillows are best for children. They are soft, flexible, and are considerably better for their head size.
Do travel pillows reduce neck pain?
Travel pillows reduce neck pain to a great extent as they work as a soft pillar for our cervical spine (neck), eliminating stretching and over-bending of the neck.
What are travel pillows made from?
Pillows for travel are basically made from memory foam and polystyrene. There are other core materials but these two are mostly used.
What is the main thing to consider in a travel pillow?
How much support the pillow can provide your neck and chin while being soft and comfy is the primary thing to consider while buying a travel pillow.
How to carry a neck pillow when traveling?
Travel pillows can be carried inside luggage, carry-on bags, and hands while traveling. There are also travel pouches given with most pillows to make carrying easier.
---
Conclusion
So, here I am at the end of my discussion. Hope my recommendations help you get yourself the best-suited neck pillow for sleeping on plane.
---
You May Also Like:
5 Comfortable Stroller Bag for Air Travel.
6 Most Comfortable Sleep Mask for Air Travel.
An In-Depth Guide About Down Travel Pillow.
---