Hydrating yourself at any given time is imperative, and we all are aware of this fact.
Some people like to carry their own water bottles whenever they are on the go while others do not.
Backpack is the main carrier of their belongings for travelers and adventurers, and they carry their water bottles in them. However, all the backpacks are not considered qualitative regarding carrying a water bottle.
I have researched and shortlisted the following backpacks to help you get the best backpack with water bottle holder for your purposes.
Who Should Consider Getting a Backpack with Water Bottle Holder?
People who are enthusiast travelers, hikers, swimmers, climbers, or school/college going students and feel the need of hydrating their bodies frequently.
They carry their backpack to go on journeys in different parts of the country or world to quest their thirst for adventure and knowledge. They should always consider getting a travel backpack with a water bottle holder.
---
Top 7 Best Backpacks for Carrying Water Bottles in 2022
1. Abshoo Classical Lightweight Multi Pocket Travel Backpack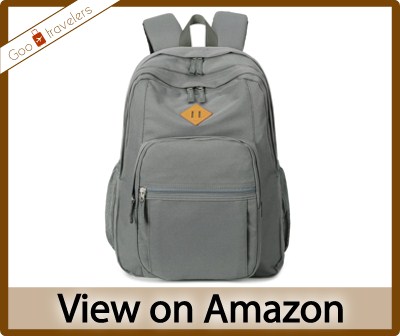 This is a backpack with two water bottle holders on both sides of the bag. Multiple storage compartments, water-resistant, and usable for various purposes are the core advantages of this backpack. From students to professionals, this is an amazing pick according to your convenience.
Material: Made from quality polyester fabric, it is a water-resistant bag that prevents water access inside the bag to an extent. The dual zippers make easy opening and closure of the bag, while the shoulder straps feel comfortable on the upper body.
Storage Compartments: There are several pockets with durable dual zippers that are divided into 4 layers. Along with clothes and other stuff, a laptop or iPad can be easily carried in this. There are 2 elastic side pockets for holding water bottles of any average size.
Size and Design: This bag measures 12.2×5.3×16.5 (LxDxH) inches in dimension and can carry a decent number of belongings due to its reinforced seaming. It is a stylish choice for casual day use, hiking or camping.
WHY I LOVE IT:
Durable material.
Unisex design.
Multiple storage compartments.
2 elastic side pockets.
TAKE NOTE:
---
2. Under Armour Adult Hustle 4.0 Water Resistant Backpack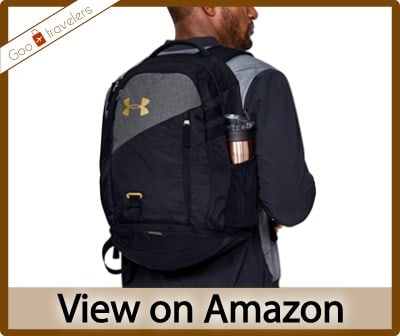 This bag is suitable for those with busy schedule or love to do adventurous activities. Build sturdy, this bag provides a lot of space that is divided for keeping stuff organized. Its 2 exterior side pockets work as water bottle holders and keep the water temperature optimum in any weather.
Material: Made from 95% polyester and 5% elastane, this bag comes with UA storm technology that resists water and tearing up over time. It is a highly durable bag that keeps content inside the bag dry in any weather.
Compartments: There are a total of 9 storage compartments including 2 water bottle holders, 1 iPad/laptop section, 1 shoe/laundry compartment, and many others. You can carry all your stuff in the bag in an organized method.
Size and Design: Measuring 5.9x13x19.3 inches when packed, this bag can carry a volume of up to 25L. Both males and females can carry this bag thanksto its unisex and ergonomic design. Carrying it is easier due to its adjustable and padded straps.
WHY I LOVE IT:
Large in size.
Multiple compartments.
Multipurpose use.
2 exterior water bottle holders.
Ergonomic and unisex design.
TAKE NOTE:
---
3. SHRRADOO Anti Theft Laptop Lightweight Travel Backpack
This water bottle holder backpack comes with a USB port, a luggage strap, and adequate room for storing your belongings. Whether you are a student or a professional, carry all your essentials in this bag with ease. Its sturdy built and easy carrying makes it a good choice for carry-on as well.
Material: Made from quality nylon fabric, this bag will not rip apart after several uses. Its waterproof feature eliminates any access of water inside the bag. The S-shaped padded straps make carrying it effortless while the breathable built material of the bag prevents sweating on the back.
Compartments: There are multiple pockets in different sizes to keep everything organized. Any laptop or MacBook measuring 15/14 inches can be carried in this bag in its separate padded section. A key hook, 2 elastic side pockets or water bottle holders, pen holders, mobile holder, and many other sections are available inside the bag.
Size and Design: Measuring around 18.9×12.6×7.9 inches in dimension, you can take it with you on flights as a carry-on bag. Its ergonomic design prevents back aching and sweating, while both males and females can carry this bag effortlessly.
WHY I LOVE IT:
2 elastic water bottle holders.
USB port.
Multiple compartments.
Ergonomic design.
Metal zippers with lock.
TAKE NOTE:
---
4. VASCHY Classic Water-Resistant Lightweight Travel Backpack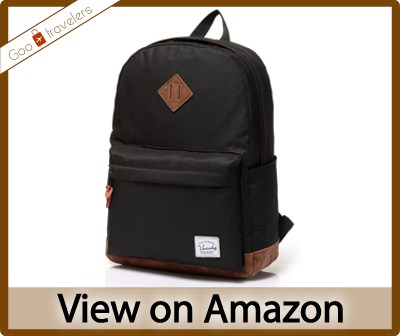 A lightweight backpack with water bottle holder on each side of the bag that can easily fit any sized water bottle. There are various layers and compartments for holding as much as stuff possible while keeping everything in an organized method. A key chain, earphone pocket, mobile pocket, and many other internal zippers are available for miscellaneous stuff.
Material: This bag with a large storing capacity is made from quality nylon polyester that is water-resistant and prevents wear and tear for a long time. The back and straps of the back are padded for comfortable carrying while the zippers are made anti-theft.
Compartments: A backward zipped pocket, padded laptop sleeve, interior zipped pocket, multiple slip pockets, zipped mesh pocket, 2 external elastic side pockets for water bottles, and many smaller storage compartments are available in this bag for convenient storage.
Size and Design: The bag measures 18.5×5.5×12.9 inches in dimension with a laptop sleeve measuring 11.4×11.4 inches and an adjustable 20-39 inches long shoulder strap. It is convenient for carrying by both males and females and the design of this bag ensures comfortable portability.
WHY I LOVE IT:
Water-resistant.
Washable.
Ergonomic design.
2 water bottle holders.
Multiple pockets.
TAKE NOTE:
Irresponsive customer service.
---
5. Nike Hayward Stylish 2.0 Women's & Men's School Backpack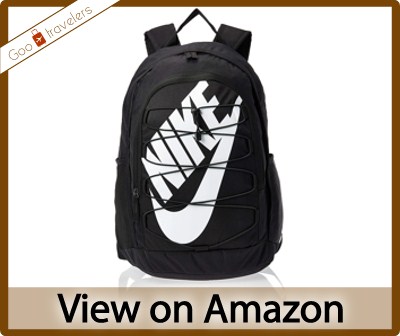 This backpack from Nike comes in misc. size, meaning you can adjust its size according to your need. It can be a great option for sports activities or adventurous traveling. The bag is neither too small nor too large and can be used for daily life activities.
Material: The bag's material is quality polyester that prevents rips and tears for a longer period. The material is durable enough to carry heavy sports or athletic gear. Padded straps and a haul loop on the top provide 2 methods of carrying it.
Compartments: 2 main layers include a laptop sleeve and many extra pockets to keep things organized. 2 side water bottle holders are there that fit any average or small-sized water bottle.
Size and Design: It is a unisex designed bag, convenient for both men and women. Measuring around 17.2×14.96×7.48 inches, you can adjust the size of the bag according to your comfort and needs. It is a stylish backpack with water bottle holder that can be a carry-on bag for any event or going overseas.
WHY I LOVE IT:
Suitable for athletes.
Adjustable bag.
Large storage room.
2 water bottle holders.
Stylish design.
TAKE NOTE:
Not for big water bottles.
---
6. G4Free Lightweight Packable Shoulder Small Hiking Backpack
This is one of the most popular and positively reviewed backpacks among the other small backpacks with water bottle holders. If you are a constant traveler, this bag can come in handy for you. It is a lightweight bag that you can compress in half and carry in the pouch given with the bag.
Material: Made from premium quality nylon, this is a scratch, rip and waterproof bag, made to last for a long time. Zippers are made of durable and erosion-resistant SBS metal, and 2 mesh side pockets can fit any sized water bottle. Shoulder straps are padded with mesh fabric as liner for breathability.
Compartments: The main compartment is big enough to hold gadgets and clothing. Its side mesh pockets can fit any sized water bottle while there are also many other compartments of different sizes for carrying miscellaneous things.
Size and Design: While folded and stored in the pouch, the bag measures less than 6 inches. When unfolded, it measures 8.27×6.30×13 inches. The straps are adjustable accordingly and the bag is designed for both men and women.
WHY I LOVE IT:
Durable.
Lightweight.
Multiple storage slots.
Elastic mesh side pockets.
Adjustable straps.
Foldable.
TAKE NOTE:
---
7. JanSport School & Travel Backpack with Water Bottle Pocket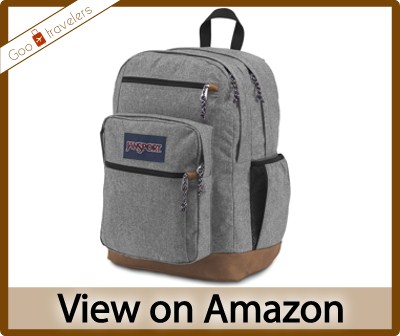 This is a trusted name in the USA for school and travel bags. This JanSport bag is suitable for small trips, camping and hiking nearby. It comes in a stylish look with durability and longevity. It has a huge room to offer for your gadgets and other belongings.
Material: Made from durable, soft, and textured 600 denier polyester fabric with leather bottom. The metal zippers are built strong to bear heavyweight. The S-shaped padded adjustable shoulder strap feels easy on the back while the bag can carry up to 34L.
Compartments: There are a total of 5 storage slots in the bag and a mesh side pocket for holding water bottle. 2 main compartments, and 3 medium and small pockets. Inside the back main compartment, there is a laptop sleeve for carrying laptop/iPad under 15 inches' measure.
Size and Design: The 17.5x13x10 inches bag weighs 0.6lbs and can carry up to 34L. It is an ergonomic backpack with S-shaped padded straps for comfortable carrying. School/College students, travelers, even professionals can consider this bag for carrying their essentials.
WHY I LOVE IT:
Unique design.
Durable fabric.
Reliable customer service.
Multiple storage slots.
Easy to carry.
TAKE NOTE:
---
Things to Look for Before Buying a Backpack with Water Bottle Holder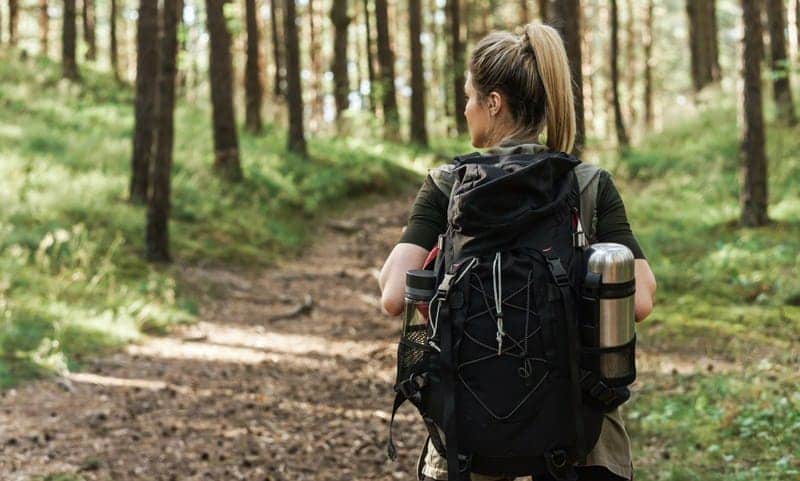 Your Purpose: There are different bags of different sizes available. Some serve all purposes while there are also specific ones. Either you want a bag for traveling or for carrying your books, you have to choose the backpack with good water bottle holder according to your needs.
Type of Water Bottle Holder Pockets: There are mostly two types of backpacks with side pockets available. External ones that are not covered and internal ones that are covered. While external pockets make grabbing the water bottle easier, the internal or covered ones help you keep the water bottle away from sun heat.
Elasticity is also the main thing to consider regarding water bottle holders. Deep and stretchy pockets can fit almost all sizes of water bottles.
Other necessary aspects: Size, material, volume, storage slots, safety measures, etc. are also some other aspects that you need to look for before going for a backpack.
---
FAQs about Backpack with Water Bottle Holder
What backpacks are good for hiking?
Durable and lightweight backpacks with moderate backdrop straps are best for hiking or athletic activities.
How to wash a backpack?
Cover the backpack with a washable bag/pouch and wash it in a washing machine, but make sure the washer is on gently cycle. You can also hand-wash the backpack with gentle or mild detergent.
Which material backpack is best?
Nylon and canvas material backpacks are the best ones in terms of durability and longevity. They are made durable and last for a longer period.
Can you carry a backpack as a carry-on?
Yes. You can carry a backpack as a carry-on while going on flight journeys.
Can I put my backpack in the dryer after washing?
You can wash a backpack in a washer, but you should never put a backpack in the dryer. Air drying the backpack after washing is recommended for preventing any damage to it.
---
Bottom Line
To conclude the discussion, I can agree that there are many backpacks with water bottle holders in the market. I hope my recommended ones help you find the best backpack with water bottle holder that is 100% fit for your needs.
---
You May Also Like:
A List Of my Favorite Stroller Bag for Air Travel.
5 High Quality Vacuum Storage Bags for Traveler.
---