In general, parents bring along a stroller while being on a journey with their children.
However, a stroller can easily get dirty, bend or scratched due to all the pulling and dragging in the airports, damaging your expensive baby carrier. This is why parents tend to go for stroller bags before going on air travel.
In this article, I am going to discuss my picks for the best stroller bag for air travel. Without further ado, let's begin.
Why Opt for Stroller Bag for Air Travel?
To go on long-haul flights with family (including babies/kids), you would certainly have a stroller with you.
Here comes the role of a stroller bag. Stroller bags are there to protect your baby's stroller while traveling.
They work as a cover for the stroller and protect it from dirt, germs, scratches, etc.
Moreover, extra things like jackets, diapers, and other things can also be filled in the bag, which works as padded support for the stroller.
Also Read: 8 Comfortable Travel Bags for Moms with Toddlers.
---
Top 5 Best Stroller Bag for Air Travel in 2022
Here are the finest stroller bags for air travel. Read my unbiased reviews and pick the one that meets your needs.
1. Zohzo Stroller Travel Bag for Standard or Double Strollers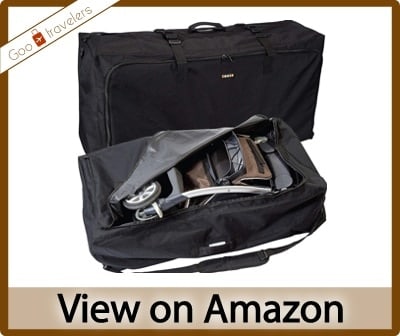 This USA-based company manufactures tools that are required for babies while on the go, and this stroller bag is one of them. It is a durable, water-resistant bag that is easily accessible.
With a speciously sized interior and an extra exterior pocket, it offers plenty of room to hold your big baby stroller and other essentials. Compatible with most of the renowned stroller brands, it is tested and approved for convenient air travel.
Material: Made from premium 600 denier fabric, this bag is water and wear-tear-resistant. A padded handle on top of the bag and a detachable shoulder strap is durable to carry heavyweights, but soft on hands and shoulder while carrying. Its protective rugged feet prevent it from sliding around, maintaining a firm grip.
Compatibility: It has a huge room to offer for storing strollers and baby rear seats. Any standard/dual stroller is easily portable in this bag without having to remove stroller wheels. From 'Baby Jogger' to 'UPPAbaby', most of the popular brands' strollers fit easily in this carrier.
Size and Weight: It measures around 41x12x13.5 inches in dimension and 10x3x10 inches when folded. It is a lightweight bag that weighs around 2lbs when empty but also doesn't feel heavy on hands and shoulders when carrying a stroller inside.
Safety: The firmly stitched high-quality dual zippers are easily accessible and provide a wide opening for loading and unloading the stroller. An ID-card slot also comes built-in with the bag to make identification easier.
WHY I LOVE IT:
Foldable.
Quality build.
Easy to carry.
Multipurpose bag.
Compatible with most brands.
TAKE NOTE:
Big strollers require removing wheels.
---
2. VolkGo Premium Quality Durable Stroller Bag for Airplane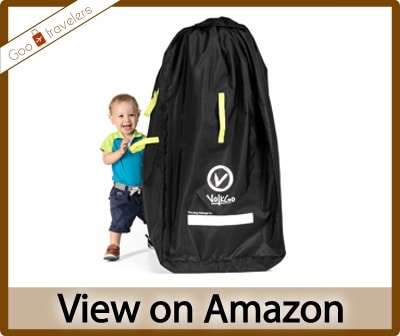 This backpack-styled stroller bag from VolkGo offers a huge storage room for your baby stroller. It fits most strollers' dimensions and leaves extra space for putting in other essentials.
Also works as a gate check bag to save extra expenses, and can fit inside a handbag while folded. It is a weatherproof bag that allows easy carrying anywhere because of its ergonomic design.
Material: The build material of this bag is premium quality nylon polyester that maintains its durability over time. It comes in a sack-like appearance that has a drawstring on top for closure. There are 3 different durable means of carrying the bag and you can carry it according to your comfort.
Compatibility: It goes with most of the stroller brands and leaves space for holding other bulky items like jackets and blankets. Any standard/dual-sized stroller will fit this bag, and its build material will keep the stroller from getting damaged from any outer force.
Size and Weight: This stroller bag for airline travel comes in a large dimension of 47x24x18 inches. It works as a storage compartment not only for a stroller but for other miscellaneous things as well. It is a lightweight compact stroller bag that fits in a pouch while not being used.
Safety: The bag's material is thick yet lightweight and prevents the stitching from coming apart over the years. It is also a waterproof stroller bag that works in any weather and can be tossed into the machine for cleaning.
WHY I LOVE IT:
Lightweight.
Backpack design.
Massive storage space.
Built-in ID-card slot.
3 carrying means.
TAKE NOTE:
---
3. J.L. Childress Stroller Bag for Gate Check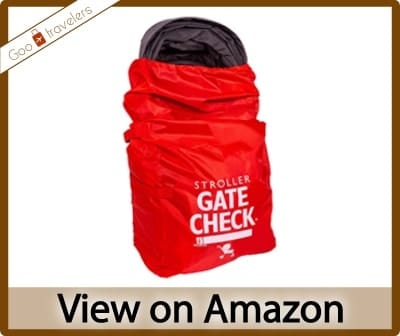 This bright red colored gate check stroller bag comes in an enormous size to hold in a standard or dual-sized stroller. Fits in a pouch, you can carry it inside your carry-on, small handbag or diaper bag backpack.
Made from quality material, it is an ergonomically designed bag that is appropriate for both parents to carry. Compatible with most of the brands, it will save your baby's stroller from dirt and damage in crowded places.
Material: It is a nylon polyester bag with a webbing handle and drawstring closure with locks. Apart from saving the stroller from dirt, damage and germs, it also works as a water-resistant cover for your stroller.
Compatibility: It is good to go with most well-recognized stroller brands like Jogging Strollers, Baby Planet, Chicco, Bugaboo, Combi and Combi Twin, Phil and Ted's, Malaren and Malaren Twin, etc. Removing wheels for loading the stroller in the bag is not necessary.
Size and Weight: Measuring 46x21x13 in dimension, this bag can hold weight from 1lb to 96lbs. When compact, it weighs a couple of ounces and easily carryable in bags. Recommended for gate check only, this bag can store other bulky belongings alongside the stroller.
Safety: As the material is erosion-proof, it is ensured to maintain its durability for a long time. The drawstring closure and thick yet soft material of this bag save the items inside the bag from any harm or damage. Also, there is an ID slot for easy grab-and-go purposes.
WHY I LOVE IT:
Airline tested.
Premium material.
Compatible with most brands.
Enormous room for storage.
Unisex design.
TAKE NOTE:
---
4. MyEasy Durable Stroller Cover for Airplane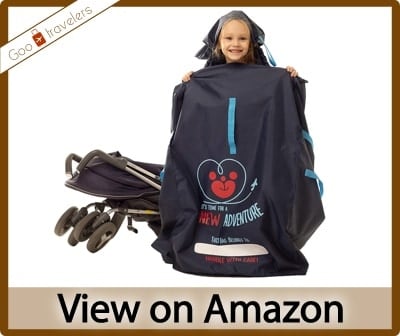 This stroller travel bag from MyEasy is an efficient bag for fitting almost all brands' umbrella stroller, either be it standard or dual sized. The fabric and other materials used in this are water and abrasion-proof, making it suitable for frequent trips.
Designed for both parents, it is a gate check bag that is effortlessly carry-able on long-haul flights. While holding in the stroller, it leaves room for other stuff as it comes in a huge size.
Material: 400D nylon polyester fabric of this bag makes it highly durable for the long haul and frequent journeys. The reinforced seam saves it from wearing away over time while the shoulder straps are soft on the upper body. There are also adjustable pans for your convenience.
Compatibility: It is a universal fit stroller bag, fitting in all brands' stroller. Any standard or dual-sized umbrella stroller can be efficiently fit inside it without having to remove the wheels.
Size and Weight: It is a large bag (47x24x18 inches in dimension) that keeps the stroller inside safe from outer harm. As it is a universal fit stroller, it can take in the weight of almost all the strollers available in the business. When not in use, it can fit in any bag without taking up much space.
Safety: The drawstrings with the lock on top of the bag secure the stuff inside, while the highly durable fabric resists water and other harmful objects. Also, the ID slot is huge, so that identification is easier in crowded airports.
WHY I LOVE IT:
Lightweight.
Premium material build.
Wear and tear-resistant.
Water-resistant.
Unisex design.
TAKE NOTE:
Storing pouch not included.
---
5. J.L. Childress Gate Check Bag for Single Umbrella Strollers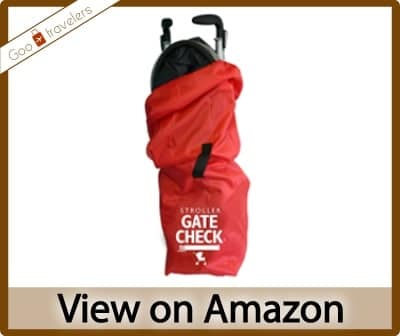 Here's another stroller bag from J.L. Childress, only for single umbrella strollers. It is a bright red gate check bag that fits almost every single stroller efficiently.
All the features of this bag resemble the dual-size stroller bag from the same manufacturer, except for the size. Many parents have also positively reviewed it as the best stroller bag for airplane travel.
Material: Its build material is polyester nylon, which comes with a reinforced seam. The thick yet lightweight polyester is capable of protecting the stroller from outer forces such as dirt and damage, while its drawstring lock on top allows effortless opening and closure.
Compatibility: Compatible with most stroller brands all over the world, it can take in any single umbrella stroller without having to remove the wheels. Also, it is airplane certified, making it convenient to carry around the world.
Size and Weight: It measures around 45×15.5×12 inches, efficient in carrying any single umbrella stroller. Like the other standard/dual stroller bag, it can also bear the weight of a stroller from 1lb to 96lbs.
Safety: The drawstring lock fully secures the things inside the bag, and the polyester saves them from outer damage and substances. With the help of the ID card slot and its bright red color, you can easily detect your bag among other baggage.
WHY I LOVE IT:
Lightweight.
Stylish design.
Single umbrella stroller compatible.
Affordable.
Carrying pouch included.
TAKE NOTE:
---
What to look for in a Stroller Bag for Air Travel?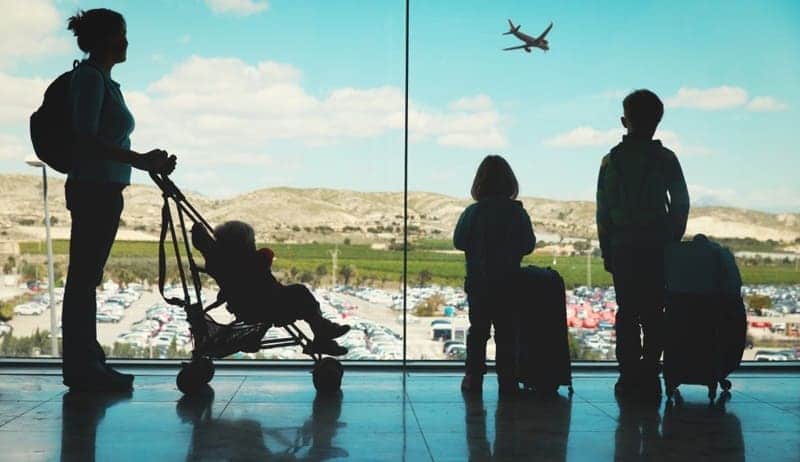 Things to look for before buying a stroller bag for flying are:
Build Quality
Build quality determines a stroller bag's durability and longevity. The better the core material is, the longer it will be useable. Select thick yet soft and lightweight material bags as they are tested and proven to be long-lasting than others.
Safety
Safety refers to both stroller safety and ability to find it among other luggage in the airport or any other crowded place. The bags with zippers are more likely to be safe than those without. Also, the ID slot in a stroller bag must be large so that it can be found easily.
Easy Portability
Backpack stroller bags are easier to carry as you do not have to pull them with you wherever you go. Moreover, the bags often come with an extra pouch that stores the stroller bag when in not use. Make sure to go for one that does not take up much space inside your handbag or diaper bag.
Read Also: My Favorite Gel Ice Packs for Airplane Travelling.
Size
There are different sizes of stroller bags available. They are categorized based on the size of the strollers. According to your baby's stroller, you should go for one that is neither too large nor too small. The best hack is to check the bag's compatibility chart before buying.
Certification
Certification means the clearance of the bag for air travel. Before certifying a stroller bag, it is tested numerous times to meet the requirements of gate check or luggage check of any airline. Make sure you get one with airline certification for hassle-free traveling.
---
FAQs about Stroller Bag for Airline Travel
How can I wash my stroller bag?
Clean the bag with non-detergent soap and normal water. Do not use harsh chemical substances to avoid damaging the bag's fabric.
Can you carry a stroller in an airplane for free?
Strollers are free of charge to gate check before boarding an airplane as they are to be used by an infant passenger.
What sized stroller can I take in an airplane?
Any stroller sized 10×36 inches while collapsed is allowed to carry in airplanes while traveling.
Is carrying a stroller without a baby permissible in airplanes?
Yes, it is permissible. However, you might have to pay extra charge for carrying a stroller without a baby while travelling.
Do air travel damage stroller bags?
The answer is yes. Mostly, if the bag goes in as a checked luggage.
Is a stroller bag necessary for air travel?
Stroller bags are necessary in the sense that they protect the stroller form damaging during the journey.
---
Conclusion
In the end, we all can agree to the fact that stroller bags are undoubtedly an essential part of your journey with children. With that being said, hope my article helped you to find the best one suited for your baby's stroller.
---
You May Also Like:
Top 7 Space Saver Bags for Travel.
How to Choose a Water Bottle Holder Backpack.
---