What if your hairdryer is incompatible with the voltage supply of the country you are traveling to and gets damaged once you connect it with the electricity?
Chaos and unwanted tension, right?
The solution to this unwanted circumstance is a power converter for hair dryer, aka voltage converter for hairdryer.
Here are some of the finest hair dryer converters to help you find the best travel converter for hair dryer according to your preferences.
Why You Need a Travel Converter for Hair Dryer?
As someone said "It feels good to be lost in the right direction", traveling is undoubtedly a mixture of pleasant and exciting feelings.
Capturing all those moments in photos and videos is surely worth it. Getting 'Picture Perfect' ready requires a lot of accessories and a hair dryer is one of them.
But not all the countries in the world go by the same voltage supply level. The hair dryer you are using in the US, can burn out or cause a short circuit in the UK.
That happens because of the different levels of voltage supply in these countries. To prevent damage to your hair dryer, you should get a travel converter and rest assured.
My Top Picks
---
Top 4 Best Travel Converters for Hair Dryer in 2022
1. Upgraded DOACE C11 2000W Travel Voltage Converter for Hair Dryer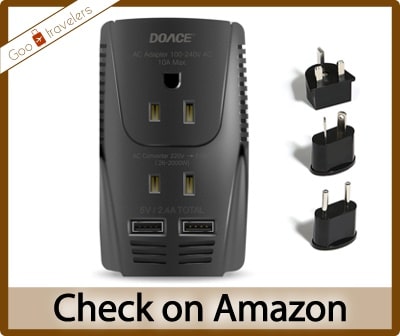 It is an adapter-converter combo that is specially designed for hair devices like a hair dryer or straightener.
If you are traveling from the US to a country that has a power supply of 220-240 volts, you can consider this converter.
Upon purchase, you will get 1 travel adapter-converter-USB combo device, 1 manual, 1 mesh bag, and 3 different plugs for Europe, UK and AU.
Voltage: Works for most dual voltage electric devices. It is designed for US electric devices that can be used in most other countries with its help. Converting 220-240 volts to 110-120 volts, its adapter also can work with most dual volt devices with 10A.
Usability: You can get it working with 4 devices at the same time. It is usable in more than 150 countries and is specially designed hair dryer brands (excluding Dyson).
Safety and Guarantee: The combo is safe to use as it has an auto-shut-off system built-in. It is also certified by ROHS, FCC, ETL, FCC, and CE, meeting its safety standards.
Why I Love It:
Usable in more than 150 countries
Lightweight and small in size
Auto-shut-off safety system
Maximum support 10A
Works with A, C, G, I plug types
Take Note:
Incompatible with all single-volt hair dryers of different brands.
---
2. FOVAL International Travel Adapter 220v to 110v Voltage Converter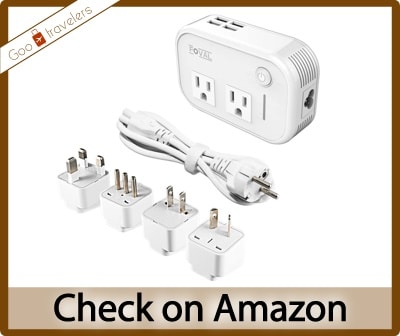 This compact travel adapter is a combo of adapter and converter that works precisely in more than 150 countries. Multiple USB ports, silent operation, 2AC 110V outlets, etc.— are what you get included in the box.
Traveling from country to country, you can get this working without any hassle. You can plug in phones, tablets, laptops, cameras, hair dryer, etc., and let them do their work without worrying about the power supply.
Voltage: This adapter-converter efficiently converts 100-240 voltage input to 100-120 voltage output. It is designed for US electric devices to work in foreign countries.
Usability: You can plug in 4 USB ports simultaneously to charge your gadgets. It is also compatible with working and supply power to hair dryers and other hair care devices without making noise.
Safety and Guarantee: Overcharging, overheating, short-circuiting, etc. are something you do not need to worry about while using this adapter. It has got all the required safety measures in it.
Why I Love It:
Usable in 150+ countries
Compact and lightweight
4 USB ports
2AC output
Advanced safety system
Take Note:
Irresponsive customer service.
---
3. ALLWEI International Travel Adapter & Converter for Hairdryer & Curling Iron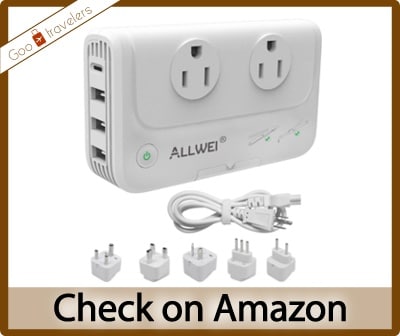 This upgraded version of ALLWEI adapter and converter is specially designed for hair care and styling devices. Hair dryers and other styling devices that are made for use in the US can also be used in more than 150 countries.
Multiple USB ports, input and output outlets, and an advanced security system are all you need to get all your devices charging at the same time. Either you want to put it in your travel bags, luggage, backpacks, or handbag, this small and lightweight device will fit without any trouble.
Voltage: This adapter and converter are made for US standard electric devices. Converting 220-240V to 110-120V will let you use your hairdryer, curler or straightener just like you use them at your home.
Usability: 5 international standard adapters and a 5 feet long detachable cable make it usable in more than 150 most visited countries of the world. Along with hair dryers, you can plug in your communication devices, electric kettle, and digital camera.
Safety: Auto shut-off system is installed in this travel adapter and converter.
Why I Love It:
Universal travel adapters
Easily portable
Upgraded version
Designed for hair dryers
Take Note:
---
4. TryAce Travel Voltage Converter & Adapter for Dryer/Straightener/Curling Iron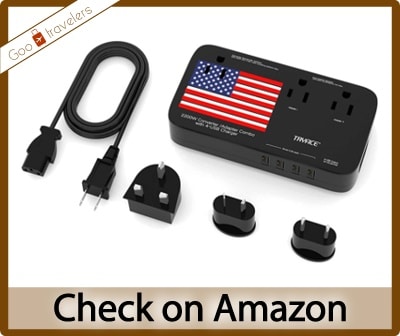 Almost all brands' hair dryers (excluding Dyson) are compatible with this particular converter and adapter combo. However, this TryAce travel converter and adapter are also usable for many other dual and single voltage devices.
You can carry this device to more than 190 countries and use your hair dryer without worrying about any voltage issue or safety precautions. Several USB ports, input and output outlets and a carry pouch are also provided with the purchase.
Voltage: The adapter can work with dual voltage devices from 110-240 volts. The converter, however, works only with 220V-240V. Meaning, you can travel to most of the countries without thinking about damaging your hair dryer in a different voltage system.
Usability: Up to 7 devices can be charged simultaneously and you can also use other high wattage appliances with this converter and adapter. 3 international plug outlets and 4 USB ports can be used at the same time to operate different devices.
Safety and Guarantee: All the necessary safety systems are built-in to save your device from damage. Moreover, a 60-days refund, 24-months guarantee, and 24×7 customer service are also available after the purchase.
Why I Love It:
Converter-adapter combo
Several USBs and output ports
Lightweight and classy design
Money-back guarantee available
Works in 190+ countries
Take Note:
Read Also: A List of My Favorites Travel Document Organizers for International Travel.
---
Things to Consider Before Buying a Travel Power Converter for Hair Dryer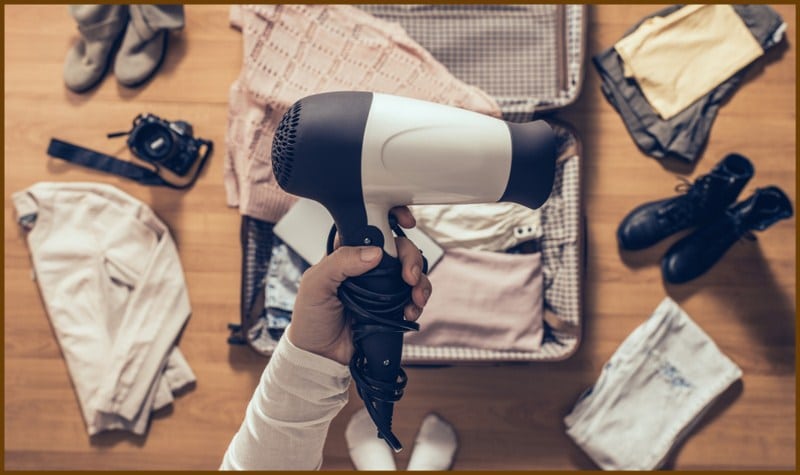 As I am aware of fact that the power supply voltage is not the same all over the world.
Only the North and some parts of South America, Japan and Caribbean Islands use 120 volts of power supply. Other than these regions, the entire world uses 220-240 volts of power supply.
Therefore, moving or traveling to a country that doesn't match the power supply voltage range of yours requires some precautions. Using an everyday electrical device like a hair dryer in this scenario can cause you financial loss, or even physical injury. That is when we need a travel converter.
So, how do I select the best travel voltage converter for hair dryer as there are many available in the market? Simple. You only need to remember some things before getting one for yourself. These are:
Voltage Range
Remember, not all countries have the same voltage range as yours. So, select the one that matches the country's power supply range where you plan to travel.
Find out which portable digital luggage scales are the bestsellers now!
Universality
If it comes with the 'universal use' tag, buy it. This means you can use the converter in any part of the world, regardless of a specific power supply range.
Quality
Quality cannot be overlooked even if it matches the volt range or says 'universal use'. Make sure you get a converter that is made with quality components.
Dimension and weight
The lighter, the better. You might need to carry it from place to place. Therefore, if the converter is lightweight and small, you can easily carry it in your handbag.
Note: Do not keep the travel converter on for a long time after you finish your task to keep both the converter and hair dryer functioning.
I think you'll also love the latest watch carrying case ​available from top brands.
---
Frequently Asked Questions
How many volts does a hair dryer use?
While most US hair dryers use 120 volts, some also use 220-240 volts. Dual volt hair dryers are also available that you can use in any part of the world.
What is the difference between a travel adapter and a converter?
The main difference between a travel adapter and a converter is that a travel adapter helps to fit your devices' plugs into foreign electricity sockets or outlets. On the contrary, a converter converts the power volt range of a foreign country, matching the volt range with the range of your devices.
What is an all-in-one adapter and converter?
An all-in-one adapter and converter do both fitting the device plugin and convert the volt range (if required) in foreign lands where the volt range is different from your home country.
What are universal converters for hair dryer?
Universal converters can work in any country, able to convert power volts in any required range.
Can I use my hair dryer or straightener in foreign countries?
If your hair dryer or straightener says 'Dual Volt' or you have got a good quality travel converter, you can use your hair care device in any country.
---
Conclusion
So, as I have concluded my discussion, I hope this article of ours helped you get the best converter for your hair dryer that you can use while traveling.
---