What if you're to travel somewhere and somehow, let it be your ignorance or misfortune, the watch you're wearing or carrying was damaged?
It can be your favorite regular watch, an expensive Rolex, or a precious memento from your grandfather.
While traveling, whether in a rush or not, we hardly consider watches as belonging to be properly packed. Often, we just roll them around our wrists or throw them at any corner of the backpack.
But you should ensure that your ever-ticking item is duly in a case or a safe place, not even to get a scratch. And by knowing how to pack watches for travel, you can keep the watches safe.
In this article, we'll walk you through the instructions about doing so. So, let's get started.
Is It Necessary to Pack Watches Separately?
If you value your timepiece, you should pack it with caution. Most of us don't do that, and as a result, we're left with scratched, damaged, or nonfunctional watches. With your clothes or other necessities and valuables, watches also need separate packing if you want to keep them good.
Wrist Watches are small items to be carried in a backpack or hand luggage or even in a waist bag. However, the best option is to wear them safely while traveling, if you're okay with that. But if you need otherwise, make sure that they're not mixed up with other things.
An inexpensive watch with straps is good enough in an inner pocket, but it's not the same for all kinds. You wouldn't want a high-priced watch to crack while sitting or in a crowded place or collide with other hard-shelled things inside the pocket.
So, keep these in your mind and take care of your watches while you're up for some traveling.
Which Watches Should I Take While Traveling?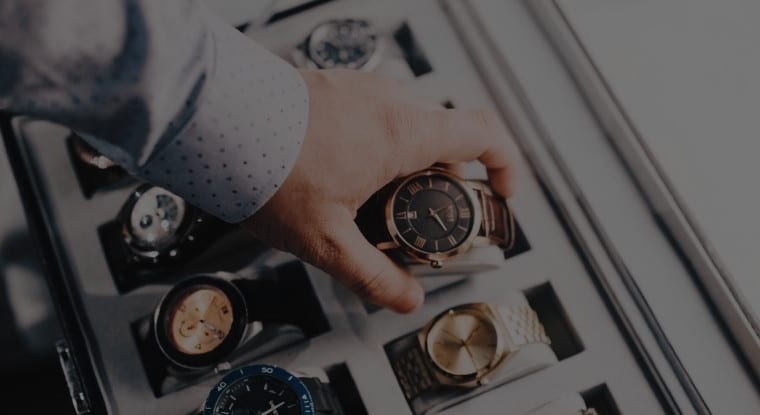 You wouldn't want to carry unnecessary weight while traveling. If you're carrying watches, you'd want them to be more resistant, safer, more comfortable, and presentable while carrying.
So, try to carry water-resistant watches to prevent weather effects. If you're alone and just exploring different countries, carry a GMT watch equipped with a water-resistant feature.
Multipurpose watches are also very convenient because of their versatile uses as a global clock, a compass, or even a barometer. So, we recommend you choose a flexible and long-lasting multipurpose watch.
If you've multiple activities in your travel schedule, you may take different watches for different purposes. A GMT watch if you're crossing various time zones, a sturdy outdoor one if you're out tracking and camping, a classy and aesthetic one for a party, or a decent one to attend for a formal meeting.
And not to mention, a dive watch is a must if you're planning to travel to a beach or perform scuba diving.
Important Note: Always carry working timepieces before you set out because you wouldn't want your watch stopped working during your travel. Additionally, You might opt for classic mechanical or digital ones, but make sure you avail a durable watch for traveling.
On the other hand, having insurance for your wristwatch makes it safe and secure. We recommend you choose the useful ones rather than the fancier ones.
Can I Bring Watches on A Plane
Carrying watches on a plane is entirely normal, and there's no specific restriction for bringing watches on a plane either. But for bringing watches on a plane, you should follow the requirement listed below—
TSA Rules on Airport for Watches
The TSA (Transportation Security Administration) rules aren't consequential against watches rather than any other electronics. And as long as it's a normal watch, there's no chance to send off the watch under a metal detector.
Frankly, regular watches don't contain much metal for detection. Therefore, there're no special rules for carrying watches through the airport.
If you want to carry 3/4 watches for yourself, that's completely fine. But in some special cases, you may have to take out your watches and show the security visually.
How to Pack Watches for Travel
You need to pack your watches promptly and safely, but how should you do that? If you're not wearing them, feel free to put them in any of your bags but cautiously with adequate measures.
Here are some ways how to pack a luxury watch for travel or even any normal watch.
Wrap Them in Watch Cases
Watches usually come with cases or rolls when purchased for safekeeping. You can use them or buy different ones to store your timepieces.
While designed and soft cases are much more eye-catching and lucrative, hard-shelled ones are much more useful when it comes to protection.
Pack Them in Carry-on Bag
Put your watch case or roll in your carry-on bag for better safety. If you're traveling by air, this is better than keeping them in your checked bags because there's more possibility of force-infused damages.
In other means of transportation, instead of tucking them in anywhere, put them in a travel bag on a plane where there's less pressure.
Put Them in Pouch
A watch travel pouch can be a great solution if you aren't going for a long journey. There're a few different scratch-free watch pouches are available in the market.
Fabric, plastic, and leather are common types of pouch material. However, leather is the best; it's durable and extremely protective.
Carry Them in Waist Bag
Waist bags are handy while traveling, and putting your watch in a waist bag can be the best solution for short travels. Waist bags reduce the chances of the watches getting stolen as well since they'll be near you at all times.
If you're just getting started on traveling, you can take a look at the MaxTop large waist bag. It can hold many of your belongings at once, including watches.
Put Them in Dopp Kit
While traveling, you should always look for a portable container that can store lots of accessories. Dopp kits are perfect for this purpose since they can safely store your accessories without damaging or scratching them.
For packing watches, you can check out the Bagsmart Dopp Kit. It's made of premium material and is water-resistant; it is excellent for watches.
Note: Don't forget to get a face mask while traveling on international flights [do you have to wear a mask on international flights]. It's a must nowadays.
Packing Watches While Traveling by Road
Road trips are always a little bumpy, so it's better to take more than one timepiece. Wear one watch and keep the other as a backup in a safe spot of your backpack or luggage, not in the open.
You can get space saver bags if you want the most safety while packing your watches. They're extremely lightweight, small in size, and come with a microfiber cloth, making them perfect for keeping watches.
Packing Watches While Traveling by Boat
You must be cautious while carrying your expensive watches for a boat trip. Because, even though the costly watches are waterproof, you wouldn't want them to get damaged by saltwater effects.
That's why we recommend carrying them in a waterproof hardshell watch case for maximum protection. Also, there're suitable watch cases for traveling you can count on for boat journeys.
Pro Tips for Traveling with Your Watches
Now that you know all about packing watches for traveling let's take a look at some tips and tricks while traveling with your watches—
1. Cautions & Maintenance for Watches
It takes a little effort to maintain the watches you're carrying. While visiting exciting places, usual contaminants like sweat, dirt, or saltwater may affect the maintenance of your watches.
All you need is a bit of hand soap or dish soap to clean it up. We recommend carrying a small soft-bristled brush and disinfectant wipes on a plane [ can you bring disinfectant wipes on a plane] so that you can clean up the watches more easily.
However, you should properly check the working order of the watches if you're planning to take them into the ocean. Because grime, debris, or saltwater may get stuck into the watches' rotating bezel.
In that case, soak it in warm water and dry it out to maintain it properly.
2. Insurance & Safety for Watches
If you love wearing costly and luxurious watches, you might consider wearing them while traveling. But it's most common to see belongings get snatched or stolen while traveling, so you have to be cautious at all times.
Just in case, you should get insurance for your watches. This way, you won't lose as much if your expensive watch does get stolen or taken away.
3. Bring A Watch for Different Occasions
It's always recommended to bring a watch that can be used for many occasions, so you should bring a timepiece that fits every situation.
Typically, you'd want to bring a watch working excellent for day-to-day activities, outdoor adventures, and classy restaurants. These three are ordinary things done almost always while traveling, so bring a watch for these occasions.
4. Don't Bring Too Many Watches
Bringing different watches is recommended, but never bring your entire collection of watches while traveling. You should only bring a maximum of 5 at a time, and get picky on which watch you should bring.
Preferably, bring only 1-3 watches that can fit every situation. That way, you'll have less hassle in both packing and using the watches.
5. Use Hotel Safes
Since there're so many advanced technologies in hotels nowadays, most people stay in hotels while traveling. However, this comes at a risk of your property getting stolen without you ever knowing.
Hotels usually have small safes or vaults to get around thieves and robbers. So, if you're staying in a hotel, always put your personal belongings in a hotel safe.
6. Service Your Watches Before Long Trips
To get the best performance from your watch while traveling for a long time, always service your watches beforehand. Remember to get a fresh battery for quartz watches and tune up your mechanical watches.
---
Frequently Asked Questions
Can I travel with multiple watches?
Yes, you can. If you're traveling with multiple watches, we recommend keeping them in your carry-on bag because there's always a possibility of Airlines misplacing your bag mistakenly. So, carrying them into your carry-on bag makes it safe and secure.
Can you put watches in carry-on baggage?
Yes, watches can be carried on carry-on baggage. Make sure you pack them in a decent watch case and place it in an appropriate position in your carry-on bag so that you can easily reach them out.
Can you put watches in checked baggage?
Airlines usually allow passengers personal electronic belongings containing batteries in checked baggage or carry-on bags. So, you can carry watches in them.
How should I carry my expensive watches while traveling?
It's discouraged to carry your luxury watches in the checked baggage. Wear the watch on your wrist. Or else, you can securely keep it in a case and keep it in your carry-on bag.
Can I carry a smartwatch in flight?
Yes, carrying a smartwatch on the plane is no issue at all. Also, you can switch on or off the airplane mode of the smartwatch anytime you want.
Can I carry an Apple watch on a plane?
Yes, certainly you can. Apple watch is considered as any other electronic device. When instructed, it's suggested that you switch on or off the airplane mode on your Apple watch.
Is it safe to travel with Rolex?
Traveling with this recognizable brand might be a bit risky. Your wrist is the safest place in that case. However, expert thieves can target stealing from your wrist too. So, we recommend being cautious and carrying it with maximum safe packaging.
---
Final Thought
We believe you're now pretty confident about how to pack watches for travel. One thing should be clear enough to you that you need to be cautious while traveling with your watches. How you pack them is up to you— either you can follow the mentioned ways or have your own preferred style of packing.
Nonetheless, your safety comes first. You don't want any unwelcome trouble while being checked or getting robbed if your glittery wristwear catches some roaming eyes. Choose, carry and keep your valuable watches in good order to ensure a secured journey.
---