Traveling in an airplane means going among a lot of people, and increasing the risk of being infected by god knows what viruses and germs.
To discourage the risk, you can always carry some antibacterial wipes with you.
Here are some of the best disinfectant wipes for airplane travel that I suggest you take along with you while traveling.
Why Disinfectant Wipes Are Important for Plane Travel?
While the coronavirus pandemic has put the world in a chaotic yet halted mode, it has also shown us how important it is to maintain hygiene.
As airline companies have imposed strict regulations on maintaining cleanliness inside airplanes, we also must keep ourselves away from harm. At least we can try our best to keep ourselves and our loved ones safe.
Plane seats, trays, seat belts, arm and headrests, bathroom latches, etc. are touched by millions of people. You never know what germ and bacteria lie there. If not COVID-19, then there may be some other virus no one has ever heard of.
And what would happen if you avoid disinfecting these airplane parts or yourselves?
That's a pretty silly question to ask in today's situation, to be honest. Amazingly, however, there is still a group of people who ask these types of questions or nurture these thoughts!
Everyone is somewhat aware of what may happen. It's no breaking news. Getting a pack or two of disinfecting wipes is always better than paying medical bills.
Top 5 Best Disinfectant Wipes for Airplane of 2022
1. Clorox Disinfecting Bleach Free Cleaning Wipes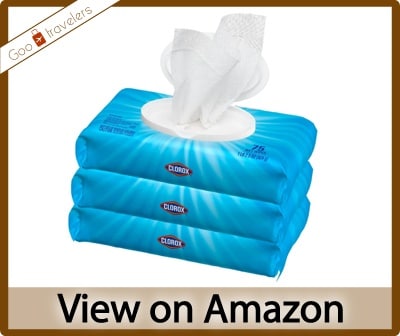 This 3-pack package with a total of 225 wipes is EPA registered and has been proved to kill the COVID-19 virus. For cleaning up surfaces, you can rely on this highly recommended and effective product.
After wiping the places, wait for only 15 seconds and you are good to touch the surface. Disinfect all the places in a plane that you come in touch with by killing 99.99% of germs and bacteria with this wipe.
Usability: Not only for using it on the plane, but you can also clean your home, car, other public transports, toys, and many more. With no bleach formula, no need to worry about your hand and skin health as well.
Effective packaging: The new packaging of this set of 3-pack comes with a safe and airtight plastic lid. Easy to pull up one wipe at a time with one hand only. Once you pull out a wipe, the remaining others will not get dried as the lid does its job precisely.
Travel friendliness: It can fit into small places without giving you any trouble. Handbags, diaper bags, backpacks, duffel bags or even in small pouches, you can carry them however you like to wherever you want.
Things to Appreciate:
EPA registered
Bleach free formula
Pleasant odor
Kills COVID-19 and other viruses
Quick action
Things Can be Improved:
---
2. Lysol On the Go Travel Size Disinfecting Wipes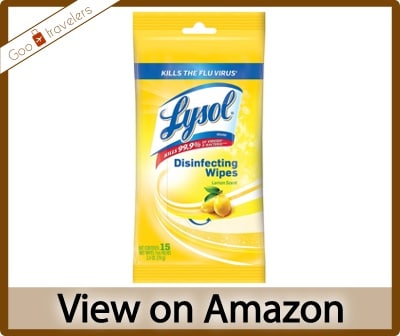 If you are looking for a small pack of antibacterial wipes containing 20 wipes more or less, this one can be a perfect pick. These Lysol travel packs come with 15 wipes each, and there are a total of 6 packs for purchase.
Each wipe sizes 7×6 inches, a handful size for cleaning surfaces and other materials. With the scent of lemon and lavender, these wipes will leave your place with a pleasant scent and a healthy surrounding.
Usability: Airplanes, cars, buses floors, counters, electronic gadgets, and almost every hard surface can be cleaned with these wipes efficiently. Tough and dry stains, dirty substances, and other bacteria hubs can be cleaned up to 99.99% without much effort.
Effective packaging: The packaging is small, making it easier to carry. Pulling out one wipe doesn't bring another one out as many other wipes do. Also, the air-tight seal will protect the wipes from drying for a long time.
Travel friendliness: As it is a go-to pack, you can always keep one in your bag. Fitting in almost all-sized carry-ons and other handbags, it will not occupy a good amount of space inside your carrier.
Things to Appreciate:
99.99% germ-killing power
Kills up to 8 cold flu and viruses
Efficient packaging
Travel size
EPA registered
Micro-pocket pattern
Things Can be Improved:
---
3. Clorox Disinfecting Wipes with Moisture Seal Lid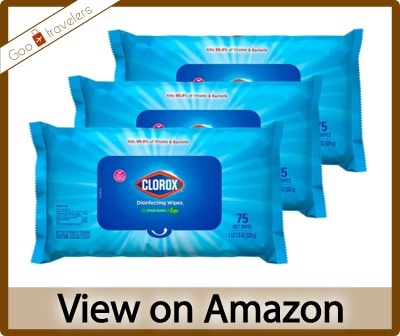 Here's another one from Clorox. It is similar to the other one mentioned above. However, it comes with a different type of packaging. There are 3 packs of wipes, each pack consists of 75 wipes.
Airplane restrooms, tray tables, seat belts, and different rests, etc. consist of millions of germs and bacteria, and these wipes can clean them up to 99.99%. Either in your home or on the way to your travel destination, rely on these wipes to keep you disinfected.
Usability: You can use these wipes on different hard surfaces like floors, kitchen counters, cabinets, door handles, cars, airplane seats, and armrests, trays, restroom knobs, and many more. However, using them on the glass surface is not recommended.
Effective packaging: Like the other pack, this packaging is also leakage-proof at most. The package is made from quality material and its lid is easier to open. Its resealable lid allows you to get only one wipe at a time and also keeps the wipes moist even after multiple uses.
Travel Friendliness: As lightweight it is; you can also put it in a corner of your bag without it reserving much space inside the bag. Keep one pack in your car or carry it to your baby's diaper bag before you decide to step out of the home.
Things to Appreciate:
EPA registered
15 seconds work time
Efficient virus killer
Small and lightweight
Pleasant odor
Things Can be Improved:
Not biodegradable
Not usable on the glass surface.
---
4. Purell 20 Count Travel Pack Hand Sanitizing Wipes
These wipes are mostly made for keeping your hands, cleaning up to 99.99% of germs and bacteria. However, you can also use them to keep your surroundings clean. These wipes come in 6 packs, each pack containing 20 wipes in them.
For traveling by airplane, you can carry them in any bag you wish to for keeping yourself clean and moist. It is a great choice for maintaining the hygiene of your and your family's in public transports like airplanes, buses, and trains.
Usability: A gentle and convenient method to clean up your hands. Dirt, sand, soil, stains, etc. that you get from doing everyday tasks or after getting on an airplane, you can clean them with these wipes within seconds. Also, use them to clean up glass surfaces like mobile, TV, iPad, and laptop screens.
Effective packaging: This dermatologist-approved wipe comes in moisture lock seal packs that you can pull and reseal after every use. The moisture inside the pack stays as it was before opening till you use the last wipe.
Travel friendliness: A small and leak-proof package that you can squeeze and fit in your tiny handbag. The pack is lightweight and the handful-sized wipes allow you to clean up mess wherever you feel to eat, greet, or tweet.
Things to Appreciate:
6-packs of 120 wipes
Dermatologist approved
Gentle on skin
Multipurpose use
Fresh and moist
Things Can be Improved:
---
5. Care Touch Alcohol-Free Hand Sanitizing Antibacterial Hand Wipes
The Care Touch wipes are a great alternative for disinfecting your hands and body after coming in contact with any dirty surface. These wipes come in 6 packs, each pack containing 20 wipes.
Made with skin-friendly formula, these wipes make sure your skin stays hydrated while also being germ-free. Whenever you are on the go, you can put one of these small packs in your bag or coat pocket and use it when needed.
Usability: Use them on skin before and after handshakes, eating, or cleaning up your office desk. After touching tough dirt, sticky liquid substances, or extremely unhygienic surfaces, these wipes work their magic as well.
Packaging and skin-friendliness: The packages they come in are small and handy. In winter or summer, these wipes will keep your skin moist and fresh at most. The aloe extracts and Vitamin E in these wipes will help take care of that.
Travel friendliness: These single-use wipes clean and disinfect unhygienic hands and body effectively while you are traveling by airplane or any other means. The tiny packet is carryable in any bag or even in your coat or pant pockets.
Things to Appreciate:
6 pack of total 120 wipes
Aloe extracts and Vitamin-E included
Moist and pleasant on the skin
Fresh scented
Handful size
For entire body
Things Can be Improved:
Contains no alcohol
Not resealable.
---
How to Choose the Best Sanitizing Wipes for Airplane?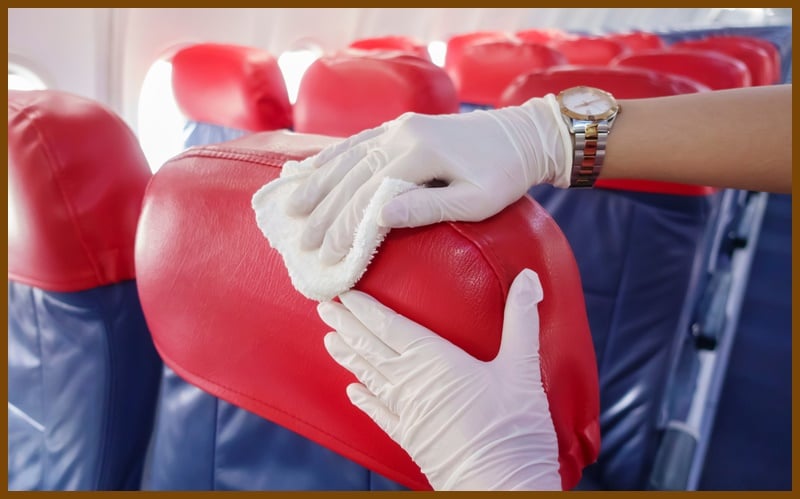 Some wipes serve multipurpose use like using them on both skin and surrounding areas. They are better in the sense that you do not have to carry 2 different packs for one agenda, which is disinfecting.
However, they may contain extra ingredients that are rough on the skin, even if the ingredient amount is little.
For seats and other airplane parts that you have to touch anyway, clean them with wipes beforehand. The packaging of wipes will have the steps mentioned on how to use them properly. After cleaning the seat, tray, and other areas, the area will stay moist for a while. The longer the areas stay moist, the powerful its killing power is.
Many sanitizing wipe brands claim to kill efficiently while it is not entirely correct. Select the brands with EPA registration and CDC approval for better protection. The wipes including alcohol as their active ingredient are more successful in killing germs than those without.
---
FAQs about Disinfectant Wipes for Air Travel
Can I take antibacterial wipes on a plane?
Yes, all types of antibacterial wipes are allowed to carry on a plane. These include baby wipes, sanitizing wipes, makeup remover wipes, etc.
Which part of the airplane is the dirtiest?
The answer is food trays. These trays carry 10 times more bacteria than any other part of an airplane.
Do I have to pay extra for cleaning my own airplane seat?
Unfortunately, yes. To clean your seat and nearby areas, you need to board early, and boarding early requires you to pay some extra bucks.
Which sized wipes are allowed to carry on a plane?
All sized wipes are allowed to carry on an airplane. You can either carry them in your carry-on or checked-in luggage.
Why do I have to wait after cleaning a surface with disinfectant wipes?
After wiping a surface with disinfectant wipes, wait until the moisture is gone. Usually, it takes 15 seconds to 5 minutes for the surface to dry, depending on the wipe. The moisture indicates the wipe's germ-killing power. The longer it takes to dry, the better.
---
Final Thoughts
I hope my recommendations on the best disinfectant wipes for air travel have helped you find the perfect one for you. Please remember being a little extra cautious for your own good is never less important.
---
You May Also Like:
How to Choose A Comfortable Face Mask for Air Travel.
---