Nowadays, getting on a plane without wearing a mask is like getting on a plane without a ticket/boarding pass.
After the COVID-19 pandemic, it has become mandatory to wear a mask not only for flight hauls but for traveling on all the public transports. We know not everyone is fond of those surgical masks or the full-length face shields.
So, based on popularity and comfort, I have researched and picked some of the masks that are labeled as the best face mask for plane travel, and are also applicable for other public transports.
Why Face Masks are Important for Plane Travel?
Why not? In today's pandemic-driven world, using a face mask is the least one can do to help the situation improve.
Airline companies and government officials have also implemented the use of face masks strictly in all the countries of the world. It is needless to say that face masks prevent all the floating germs from getting inside your body.
They also can save others from the droplets that come out from your nose when you sneeze.
Top 6 Best Face Mask for Air Travel in 2022
Let's now check some of the finest face masks and pick the one you like most for your next air travel.
1. EnerPlex 3-Ply Breathable Comfort Reusable Face Mask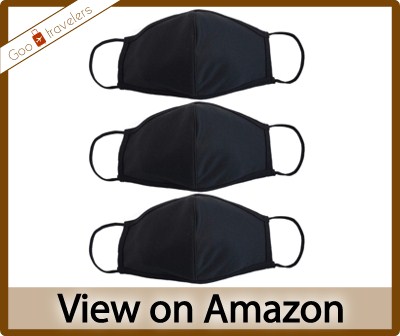 This 3-layered mask from EnerPlex can be an ideal pick for your everyday use. It is large and fits adults of almost all ages. There are also other sizes available to choose from. Moreover, it is also reviewed as the best face mask for air travel by many.
Material: The mask is made with 3 different layers consisting of 3 different types of fabrics. The outer layer is made from DWR 100% Polyester, the middle layer is cotton blend and, the inner layer is made from NanoFine cotton blend.
Ear-loops: The ear-loops matching with the mask color are stretchable at a decent range. Easy to pull off and put on the mask, these loops ensure you a snug fit.
Washability: This breathable mask is reusable and you can machine wash it after every use. Avoid bleaching or dry cleaning the mask as it will result in the mask shrinking.
Things I Like:
Reusable.
Suitable for everyday use.
Breathable and soft.
Meets CDC recommendations.
Things Can Be Improved:
Doesn't include a nose wire.
---
2. FANGTIAN FT-N058 N95 Particulate Respirators Face Mask
This 20-mask pack is NIOSH certified and CCDC listed. No cellulose, latex, fiberglass, exhalation valve, activated carbon are used in its development, making it a popular choice among medical personnel.
Material: Made with 4 protective layers, it makes sure no outer substances can access the mask while providing normal breathability. Its outer layer is made of non-woven polypropylene, modacrylic support layer, non-woven polypropylene melt-blown center layer, and non-woven polypropylene inner layer.
Approvals: Being certified by NIOSH and listed by CCDS, this N95 respiratory is one of the best masks according to the reviews of medical personnel. According to the highest standards of American N95 masks, this mask meets the requirements precisely.
Other Specs: It is an ergonomically designed unisex mask and includes 2 head straps for leakresistance. You can use it for your everyday work, traveling, medical tasks, etc.
Things I Like:
4 layers.
Breathable material.
No exhalation valves.
20-masks pack.
Certified by NIOSH.
2 head straps for fitting.
Things Can Be Improved:
May obstruct eyesight.
Strong chemical smell.
---
3. BeatBasic Cotton Comfy Breathable Cute Outdoor Face Mask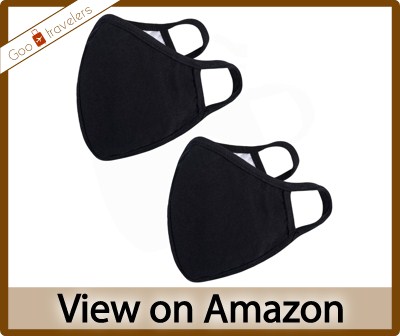 BeatBasic 2-pack cotton face mask can be worn on any occasion. Excellent graphics on the outer layer makes it cool to wear in public. It is crafted for people of every age from children above 12. For those who do not like masks with multiple layers, it can be a perfect choice.
Material: Made from 100% cotton, this 12×5.5 inches' mask pair includes 2 layers of protection. The premium quality cotton is breathable and soft to the skin, eliminating any possibilities of redness under the mask.
Ear-loops: The 2.25×2 inches ear-loops are also made from cotton, but stretchy enough to comfortably put on and off the mask. They are durable and fit perfectly without slipping off of your ears.
Washability: These masks can be hand washed regularly. Wash them with mild detergent and air dry. Avoid putting them in the washing machine or air dryer for longer durability.
Things I Like:
100% cotton.
Reusable.
Soft and breathable.
Ideal for everyday use.
Meets CDC recommendations.
Things Can Be Improved:
---
4. COVAFLU KN95 Pack of 10 Fold Flat Comfortable Face Masks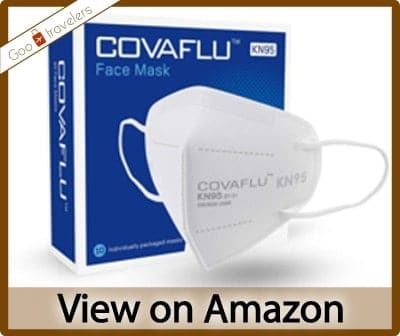 This pack of 10 masks is ideal for everyday use, traveling, or office work. Made with quality components, it features 4 protective layers while being easy to breathe through. Clinova, a British consumer healthcare company started making these masks in 2007 and they meet all the standards required.
Material: The 4 layers of the mask are 2 skin-friendly non-woven outer layers and 2 melt-blown inner filtering layers. Its highly effective filtering ensures 95% protection from germs and other harmful outer substances.
Fitting and Ear-loops: It fits precisely on the face, securing the nose and mouth. With the nose wire's help, you can adjust and secure the position of the mask on your face, preventing itfrom falling off. The non-latex ear loops are made from 70% polyamide and 30% elastane, making it soft on the ears.
Other Specs: The crafting and standards of the masks are approved by health care organizations all over the world. Each come packed individually for hygiene purpose and are usable for day-to-day chores.
Things I Like:
Meets required standards.
4-ply protection.
Comfortable and breathable.
10-mask pack.
Money saver.
Things Can Be Improved:
---
5. Bio-th Reusable 20 Pack 5Ply Cup Face Mask with Nose Wire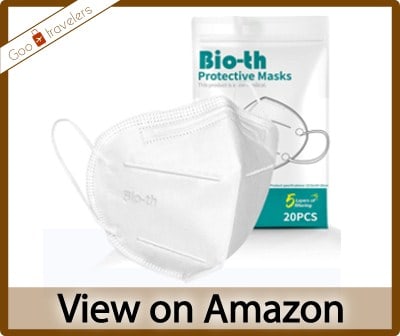 This pack of 20 masks is developed for optimum protection from germs and other harmful airy substances for non-medical personnel. It is a set of skin-friendly waterproof masks that feels comfortable after putting on and resists skin irritation. Moreover, these are reusable. You can refrain from buying new masks anytime soon.
Material: The mask includes 5 protective layers, including a 3S non-woven fabric, 2 melt-blown fabric, 1 hot air cotton and, 3S melt-blown fabric layers. It is flexible to wear while its nose wire helps to keep the mask in place.
Ear-loop: This breathable mask comes with high-density ear-loops that are stretchy to a decent extent and feel soft on the ears. They are not too tight to cause rashes in the outer ear and stay in one place for the duration the mask is worn.
Washability: Wash them with care. These masks are useable for office work, traveling, or attending to everyday tasks. You can hand wash the masks with mild detergent and air dry them after every use.
Things I Like:
5-ply masks.
Premium quality.
Breathable and comfortable.
Optimum filtering.
20-masks pack.
Things Can Be Improved:
Chemical odor.
Not machine washable.
---
6. TRAVELEISURE Adjustable Reusable Washable Face Mask
This anti-wrinkle mask is made from bamboo which feels super soft and smooth on the skin. Wearable in any outdoor activity, it allows normal breathing while preventing harmful air particles from entering the nose and mouth. You can use this mask for months and it will maintain the filtering efficiency as 1st use.
Material: A dual-layer mask with 95% bamboo fabric and 5% spandex. Feeling gentle on the skin, it allows breathability like usual and resists wrinkling up over time.
Ear-loops and nose wire: The ear-loops are stretchy enough to fit perfectly and hold the mask in place. The nose wire prevents anything from accessing the mask, keeping your nose bridge covered all the time.
Washability: Hand wash or cold wash it in the machine with mild and fragrance-free detergent. Upon washing it every time, leave it for air dry. It can be washed more than 50 times which is more than many other masks available.
Things I Like:
Washable and reusable.
Breathable.
Soft and gentle on skin.
Eco-friendly.
Ideal for everyday use.
Things Can Be Improved:
Meeting CDC standards unconfirmed.
---
What Kind of Face Mask Should I Buy for Plane Travel?
Well, that's an answer that mostly depends on your preference. However, most of the time we cannot decide which one to go for. So, let us give you a brief guide on this matter.
Fitting: Select masks that fit and cover from your nose to chin properly. Avoid those that tend to allow gaps on the sides.
Material: Opt for breathable and washable material masks. Masks that are stretchy and can be adjusted accordingly.
Nose wire: Nose wire prevents air from both entering and going out of the mask. Select one with this feature.
Layers: Multiple layer masks are best to prevent germs from your face. Opt for masks that have at least 2/3 layers.
N95/KN95: Avoid N95/KN95 masks as they are to be used by medical professionals. Also, they are not recommended to be washed and reused multiple times.
---
FAQs about Face Mask for Plane Travel
Do I need to wear a mask after being vaccinated?
If you are vaccinated, you may not have to wear a mask while traveling on a plane. However, you have to show your vaccination certificate to the authorities before boarding the plane.
Is wearing N95 mask allowed on plane?
No. All the airlines have made not wearing any N95 or similar masks with valves on plane mandatory.
Can you fly without a face mask?
Before: yes. Now: no. After the COVID-19 pandemic, it is made imperative by the TSA and all the airlines to wear a mask while traveling on plane.
What is the best face mask for flying?
Breathable, stretchy masks with multiple layers are the best type of face mask for air travel.
Do children under 2 need to wear mask on plane?
According to most airline companies, children under the age of 2 are not required to wear a mask before going on plane travel. However, this rule may differ from airline to airline.
---
To Conclude
Considering the above discussion, the necessity of a good, soft and comfortable face mask is unavoidable while going on a plane journey. I hope my guide and reviews helped you find your most comfortable face mask for air travel.
---
You May Also Like:
6 Comfortable Sleep Mask for Plane Travel.
A List of Comfortable Inflatable Footrest for Air Travel.
Top 5 Airline Approved Bow Case for Protect Your Bow.
---