Watches are an integral part of traveling these days either for checking the time or for making a fashionable impression while going out.
The next thing after buying an elegant watch is to find a case to protect it.
You have to be careful enough while choosing one because you cannot let any damage happen to your beloved timepiece. So many watch cases are floating online, hence you may get confused about which one you should spend upon.
If you are still struggling, grab some popcorn, take a seat, and relax. I will show you the list of the best watch travel cases experts strongly recommend buying.
Why Should You Go for a Watch Travel Case?
There are so many tiny necessary things to pack before you head towards a trip. Trust me, a travel case for watches is one of them.
A pocket watch carrying case is urgent for people who bring multiple watches on their trips. You may use one at a time but, keeping the other options in your backpack would be fatal.
Why not keep the watches in a case and be relaxed? It will protect your timepiece from dust and other external damages with many other advantages too.
Carrying a watch case will make you organized and give you the flexibility to use watches according to time, place, mood, and occasion. You get to choose from many available options to pick the suitable one you want. This tendency will help you grow your watch collection as well.
You can also keep other small accessories inside these cases since they have multiple uses. Carrying a portable watch case during traveling will open so many doors in front of you that you would be surprised.
---
12 Best Watch Cases for Traveling in 2022
Here I made a list of the best travel watch boxes from my inspection. Look at the specifications to find out a suitable case for you.
1. Moko Portable Protective Watch Travel Case for Apple Watch
When it comes to protecting your valuable apple watch during travel, very few cases can surpass the black model of MoKo. Having strong durability, it is one of the best apple watch travel cases on the market.
Material and Design
The outer side of the case is premium Polyurethane made and the inner part is covered with soft Silicone. These provide strong durability and protect your AirPod and Apple watch from external damage, scratch, and dust. A carabiner is also there for carrying the case easily at outings.
Compatibility
This compact item is lighter and weighs 3.53 ounces only. You can bring it anytime, everywhere. The charging mechanism is simple due to the presence of a removable holder. Storage is also sufficient to keep your watch and Airpod inside without any hassle. The zipper facility will ensure that you enjoy a smooth use of the case.
Why I Like It
Durable.
Easy to carry.
Protect the watch inside.
Easy charging.
Enough space inside.
Take Note
Charging cable is not included.
---
2. Oirlv Luxury Leather Watch Storage Box Single Watch Case
Oirlv produces some of the best luxury watch travel cases and this model is a glaring example. You can use this luxury case during travel and also as a gift on various occasions.
Material and Design
A mixture of premium leather and velvet, this elegant-looking model is robust and viable. Stitches are handmade with car line craft to make them unique from other cases. The removable pillow inside will protect the watch from external damages. Both men and women can use this model.
Compatibility
The weight of the box is 8.8 ounces only and easily portable everywhere. Facilities also include being water and dustproof, saving the watch from any scratches and all sorts of damage. You can comfortably keep your timepiece within the space.
Why I Like It
Beautiful design.
Compact model.
Enough space inside.
Suitable design for both man and woman.
Strong and durable.
Take Note
The lock is a bit uneasy.
---
3. M Storage Organizer & Display Watch Roll Travel Case for Men
If you are searching for a watch case specially designed for men, then you can surely try this model. Offering double space for two watches, this is one of the best travel watch cases for men.
Material and Design
M Mirage Luxury Travel made this case with high-quality PU leather with a soft interior. The perfect stitching finish and unique design made this case an attractive piece of art. A flat base will prevent it from sliding down. The pillow can hold almost any watch with a wrist size above 6.5″ will comfortably.
Compatibility
Pleasure will be yours when you use this handcrafted piece of art inspired by lavish Swiss brown motif. The interior with velvet is perfect for keeping your watch safe with intact structure. The compartments are suitable for keeping two timepieces easily. The design is decent to take it out during traveling without any hassle.
Why I Like It
Double compartments.
Unique and beautiful design.
Fine leather.
Strong and well-built.
Satisfactory performance.
Take Note
Snaps buttons are not well built.
---
4. M Storage Organizer & Display Watch Roll Travel Case for Women
This model is another stylish case from M Mirage Luxury Travel, this time it has been dedicatedly designed and built for women. A stunning look and quality leather strongly claim this model as one of the best watch holders for women out there.
Material and Design
Like the male's model, this one is also decorated with premium quality leather and a smooth velvet cover inside to protect the watches. Other features include- 3 compartments, diamond stitching, four poppers for protecting the wristwatch inside, and sliding pillows with dividers.
So, you can easily assume how premium and convenient it would feel when you take this case with you while traveling.
Compatibility
This stylish luxury watch case will give a gorgeous look at your outing. The pillows are innovative to keep the watches intact and the dividers are well placed to secure them nicely. Small to large- any wrist size and model would comfortably fit inside the compartments.
You can use this case while traveling, especially when you need to take several watches. The elegant look is followed by sophistication in this one. You can also gift it to your dear ones, they will surely love it.
Why I Like It
Stylish and fashionable.
Three compartments.
Soft velvet covering.
Multiple uses.
Premium level of protection.
Take Note
Not suitable for small size watches.
---
5. Cheopz Travel Watch Single Storage Box for Wristwatches & Smart Watches
This model of Cheopz has the potential to be the best single watch travel case for its high-quality performance and user satisfaction. You can try this model as your go-to-go portable watch case each time you go for a travel.
Material and Design
The outer side of this donut-shaped watch case is made of 6mm solid 1680 Ballistic Denier Nylon. It will protect the watch from any shock or scratch. The concave at the center prevents the timepieces from moving and keeps them in place. Another feature of this spill-proof case is the smooth zipper that allows it for easy opening and closing.
Compatibility
Being only 2.15 ounces, this compact case is easily portable and perfect for carrying on travel or any outing. High-quality 15 mm thick velvet foam will protect the watch inside. You can keep wristwatches of any size and brand into it- be they small or large, doesn't matter.
Surprisingly, you can use it not only as a watch case while traveling but also as a jewelry box because of its artistic design.
Why I Like It
Lightweight.
Gorgeous look.
Smooth user experience.
Quality zipper.
Highly protective.
Take Note
Not a good fit for larger watches.
---
6. ROTHWELL Travel Watch Case Storage Organizer for 2 Watches
If you are looking for a two-watch travel case within an affordable price range, then this model would be a great pick for you. Being a lightweight watch case, this storage organizer is a perfect travel accessory for keeping watches, bracelets, rings, and things alike.
Material and Design
This item is a mixture of premium leather to make the outer side viable and attractive. The inner side is covered with a soft cushion to keep the watches safe. Smooth materials separate the two compartments. Another compartment is also there at the lid to keep rings or jewelry. The design is perfect for both male and female watches.
Compatibility
High protection ability made this case very popular among the users. Especially when you go outside, this double case will cover your beloved watch and also small jewelry. Apart from wristwatches of any brand for both genders, you can also keep rings or fitness trackers inside them. A quality zipper has been added for a smooth experience while opening and closing the case.
Why I Like It
Great design.
Easy to use.
Strong and viable.
Extra compartment.
Compact yet sufficient to hold 2 watches.
Take Note
The face of the watch should be 55 mm at least for a good fit.
---
7. CASE ELEGANCE Vegan Leather Travel Watch Case Roll for 3 Watches
This elegant item of Case Elegance is one of the best 3-watch travel cases for its unique features and outstanding customer service. If you are looking for a multiple box case, you should at least give it a look.
Material and Design
Unlike many other cardboard cases, this case is a mixture of a solid plastic matrix that gives a solid foundation to the lower part. They used high-quality vegan leather with a plastic shade under it to protect the watches inside from possible shocks and scratches during traveling. The dividers will keep the timepieces separated and intact inside this cylinder-shaped case.
Compatibility
They made this case stylish and gorgeous by careful stitching. No doubt this will enhance your fashion sense wherever you take it. It doesn't weigh much, just 8 ounces, you can take this case easily anywhere with you. The compartments are suitable for almost all types of watches. This is a unisex watch case, perfect for both men and women at any outing.
Why I Like It
Strong base.
Soft inner walls.
Enough protection for the watches.
Elegant design.
Easily portable.
Take Note
The pillows are a bit rigid.
---
8. CASEBUDi Vegan Leather Watch Roll Travel Case for 4 Watches
Frequent travelers need watch cases with multiple chambers. Considering their needs, CASEBUDi made this 4-watch travel case to ease your journey while traveling.
Material and Design
The outer side offers high-quality eco-friendly vegan leather that has gained attention for being luxurious. Interior linings are smooth and soft pads around keep the watches well-arranged inside all day long. A leather strap will keep the case compact and ensure secure closing while traveling.
Compatibility
You have the advantage of keeping four watches in four different chambers. Guess the weight of the case? Only 2 ounces. You have every reason to bring this item to your outing to protect your valuable watches from any probable damage. Offering decent durability, it is one of the best leather watch travel cases in my observation.
Why I Like It
Four chambers.
Premium leather.
Belt to keep it compact.
Lightweight.
Value for money.
Take Note
Frequently gets out of stock.
---
9. NEX Leather Watch Box Display Case Organizer for 6 Watches
This model is another exquisite watch carrying case from NEX with six compartments to keep six different timepieces inside. Offering some unique facilities, this is one of the best watch travel pouches you can have.
Material and Design
This case is made with artificial PU leather of high quality with waterproof technology. The inner side is decorated with soft velvet with a comfortable cushion to protect the watches from any type of scratch and damage. There will be enough space between the lid and the base after closing.
The cover is glass-made and you can see your watches inside without opening the case. It's a unique feature that enhances its premium impression for the user.
Compatibility
This attractive watch case is easy to clean. Watches from 30-50 mm will comfortably suit inside. You can also remove the pillow to keep other types of jewelry like rings and bracelets etc. The decoration outside is so polished with gorgeous straight lines that you can use it for different purposes other than using it for travel only. They ensure safety with a lock key that is rare in other cases.
Why I Like It
Great Build quality.
Eye-catching design.
Glass lid.
Key locking system.
Multiple using.
Take Note
Watches bigger than 40 mm are a bit difficult to fit inside.
---
10. Comecase Watch Box Organizer Display Storage Case for 10 Watches
People often search for multiple watch cases when they go out for a family tour. But what if one watch case can do the work of multiple cases at the same time? Well, this is what COMECASE has done. It comes with a good-quality waterproof watch case with a holding capacity of up to 10 watches to make your family journey a smooth one.
Material and Design
The outer solid EVA material will protect the watches from water, dust, scratch, or other shocks. Separate velvet cushions are there for each watch compartment. You can remove them and put them back at any time as per your convenience. Four pockets are there additionally to keep other tiny things, like a watch band. The zipper will also ensure flat and smooth use.
Compatibility
The weight being only 3.53 ounces, you can easily carry it anywhere. Even if you fill all the ten slots, it will stand perfectly. The solid handle will ensure easy use and drag it around. Wristwatches for both men and women are most suitable for these slots. You can use this case on multiple occasions and even gift it to your loved ones.
Why I Like It
Ten compartments.
Perfect separation.
Protective velvet.
Good durability.
Convenient handle.
Easily portable.
Take Note
Watches more than 42 mm would not fit well.
---
11. TAWBURY 8 Watch Box Display Case for Large Watches
TAWBURY produces this extraordinary watch case for large watches to enrich your watch collection capability. You can take your collection to the next level just by buying this artistic case. Whether you want to travel with your watches or keep them safe inside your house, this watch box covers everything.
Material and Design
This beautiful travel watch holder is a mixture of high-quality Faux leather and plush grey velvet. They made it sturdy and long-lasting. You can feel the mark of careful handcraft in each of the stitches and designs. The system of separating watches inside is perfect with due care and, enough spaces are there.
You will find a total of twelve slots of which eight are in the above valet drawer. You can keep jewelry or watch straps there also.
Compatibility
You would be surprised to know that this gorgeous traveling watch case only weighs 5.62 pounds. You can take it out even when it is full of watches. The drawer comes with a handle that is super easy to move in and out. Your timepieces will be safe and secure because of the wide velvet pillows, no matter how many times you shake the case. It could be an ideal choice to store your beloved watches while roaming around.
Why I Like It
Total 12 slots.
Beautiful design.
Sturdy outer side.
Handy to use.
Nicely separates the watches.
Good user satisfaction.
Take Note
Not available all the time.
---
12. WOLF Watch Storage Case
Last but not the least, this one from WOLF comes with so many unique offerings. You can go for this case if you are searching for the best watch travel cases for Rolex. I kept this below only to tell you how unique this case is.
Material and Design
WOLF made this case with high-quality leather and chrome to make it long-lasting and stylish at the same time. The whole item is completely handcrafted with perfect black linings. Inside the case, the watch guards will protect the watches from any damage while traveling. A leather belt is there around the tube-shaped body to keep the case compact.
Compatibility
The inner space of the case is 165 mm and is enough to carry three large watches with two watch guards to separate them. The leather is so smooth that you can comfortably take it anywhere. This well-designed, stylish case will give you a comfortable experience all the way.
Why I Like It
Quality leather.
Belt to keep it intact.
Enough space for three watches.
Stylish design.
Watch guards.
Take Note
Not suitable for small watches.
---
Things to Consider When Buying a Watch Travel Case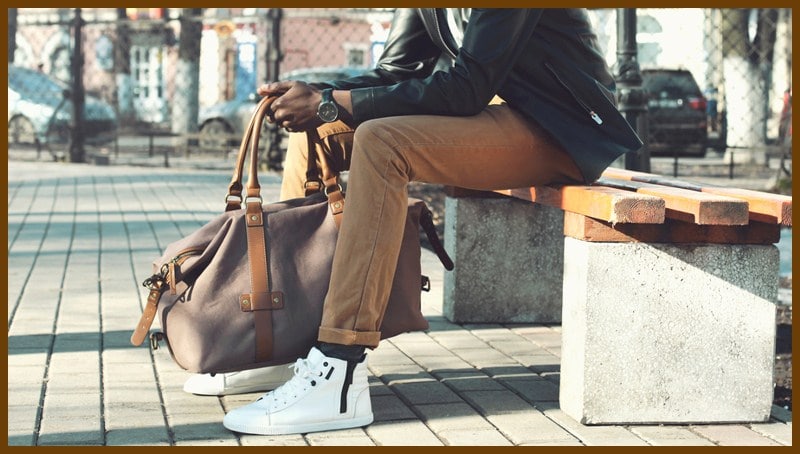 Buying your watch travel case is no way less important than anything before a journey. Like our choices and preferences are different, everyone will choose differently.
Here I will tell you some important factors to look at before buying a watch case.
Material
Before buying a case, you must check the material. Anything like velvet, nylon, or leather is fine and good to go. Pouches made with them are durable and long-lasting. You also need to check the cushions inside as they play the crucial role of keeping the inner size intact for long.
Shape and Size
While traveling, this indicator is one of the most important things to know. You have to suffer for your watches if the case is not easily portable. Shape and size are depending on your comfortability. Expert experience, however, says that half-round pipe-shaped cases with flat bases are easy to carry.
Upper Body
If the upper body of the case is not strong enough, your watches may get damaged. A sturdy upper body is essential to protect your timepieces on an outing.
Number of Slots
Depending on the number of watches you wish to take with you on an outing, you need to pick cases. I would recommend carrying watch cases with multiple slots. You never know when you will buy another watch!
---
Frequently Asked Questions
What is the most usable material for a travel watch case?
They vary from brand to brand. Most of the above cases are made of either Silicon, Leather, or Velvet. Sometimes Nylon is used too.
What is the importance of pillows for a watch case?
Pillows are the most significant element of a watch case. They help the watches stay compact and protect them from external hits, scratches, and dirt.
Are these cases waterproof?
Most of them are water-resistant but not all. You should check the specification before buying.
Do they come with a warranty?
Depending on the brands, the warranty will vary. Even the range of the same brand may also differ if you buy outside from the Amazon store.
How to clean leather watches cases?
The usual cleaning procedure is wiping with a piece of cloth. You can also use wet tissue for cleaning purposes.
---
Bottom Line
I tried my best to get you introduced to some of the best watch travel cases. If you are reading till now, you already know how significant it is to take a watch case during your journey. Following my recommendations will help you find a suitable travel watch case as per your requirements.
---
You May Also Like:
10 Most Comfortable Cardigan for Plane Travel.
A List of My Favorite Denture Travel Case from Top Brands.
6 Finest Travel Wipes Case for Ensure Your Cleanliness & Hygiene.
---