A healthy lifestyle requires certain necessary products, which can ensure your overall cleanliness and hygiene.
Cleaning wipes are one of those mandatory essentials that are pretty much needed for everyday use, especially when you are traveling with your baby.
Not only for wiping babies, but these are also necessary for cleaning hands and messes.
Protecting those wipes from drying out is a bit challenging task. Here comes the urgency of a travel wipes case. Most wipes cases out there lack durability and quality support. You have to find a perfect container thereby.
So, we have compiled this list of the best travel wipes cases to help you find the suitable one you need.
How Useful a Travel Wipes Case is?
In simple words, the answer would be- It is essential. Especially when you are carrying a baby, you will need this anyway. No matter what, you have to wipe your baby several times each day while you are on a travel. During that period, a portable baby wipes case will come in handy for sure.
Whether you take your baby with you or not, these cases are also indispensable in any journey. Oftentimes you will face situations where there will be no water around you. What could be the best solution other than using travel wipes there?
Carrying a travel-size baby wipes case will exempt you from uncomfortable experiences at your outing.
Also Read: A List Of Our Favorite Antibacterial Wipes for Travel.
6 Best Travel Wipes Case in 2022
Here we sorted the top 6 travel wipes cases from our observation. Have a close look and figure out the one that suits your needs.
1. ULVBABI Portable Travel Wet Wipes Dispenser Cases
This portable and refillable wet wipe pouch from ULVBABI will be a perfect reusable wipes case for traveling. Having a great user experience, this one is one of our favorites from the list.
Material and Design
The components which are used to make this wipes case are safe and skin-friendly. Manufacturers have used premium quality ingredients to keep this BPA-free and eco-friendly too. The layer is thick with no leaking or scratching. The nylon loops will provide you an easy hand touch experience each time you use the wipes.
The design enables a zipper facility and flip-up system so that you can keep wipes in and take them out easily without making them dry. You can have sufficient wipes inside the space as it comes with a large capacity. You can also refill and reuse it when the case gets empty.
Compatibility
It comes with ideal size and lightweight features to allow you to use it at home and outside both comfortably. Weighing just 2.39 ounces, it can be carried almost everywhere you go while traveling.
The loops will help you to wear them around your wrist. Attaching with other things like backpacks or purses is also easy. Especially for moms having kids, this will be super convenient to use and clean while traveling.
Why We Like It
Skin-friendly
Easily portable
Refillable and reusable
Keeps the wipes soggy
Smooth in and out system
Suitable size
Take Note
Check the availability
The brand name will be visible on the body.
---
2. ULVBABI Travel Wet Wipes Carrying Case Holder
This model is another eminent travel wipe dispenser from ULVBABI with high holding capacity and comfortability. Whether you are traveling with your baby or not, this product will be handy to take with you on any journey.
Material and Design
Like other wet wipe travel cases of ULVBABI, this case holder is also suitable for your skin since it is BPA-free and super eco-friendly. The stylish design of this model is famous for its practicability.
This model also provides a nylon loop with an option to wear it around your wrist or attaching it anywhere. Due to its thick layer of components, it will not leak easily. The wipes inside will always be moist for the zipper and flip-up system. You can take out wipes easily without getting the rest dry in this model.
Compatibility
ULVBABI manufactures their wet wipes cases in a way that customers can conveniently use them anytime anywhere. This model is also no exception. Being a lightweight case, it can still carry a good amount of wipes in it. A pack of 6 weighs only 7.05 ounces. This perfect size and lightweight feature make it easily portable while traveling.
You can fill it up and reuse it any time. Since the wipes are always wet and moist, the user experience is also quick and smooth. Unlike many other wipe cases, this model is easy and fast to use. It can be your perfect go-to-go travel baby wipes casesince its eco-friendly components and practicality ensure maximum convenience while traveling.
Why We Like It
Fast and easy to use
Lightweight and easily portable
Wipes remain always fresh inside
Skin-friendly
Reusable
Take Note
The top may detach if you grab them wrong.
---
3. OXO Tot On-the-Go Wipes Dispenser
If you don't like flexible soft cases for their 'prone to damage' vulnerable nature, then this is a perfect model with a hardcover case. We had to keep this product on our list of the best travel wipe containers for its strong durability and customer satisfaction.
Material and Design
Most parts of this product's build material are silicon. Due to the silicon tether, you can easily attach it with your strollers or backpack straps. The design contains a large button that is responsible for the opening and closing of the case. The smooth body will perfectly match any travel bag for its slim shape.
Compatibility
The button enables smooth dispensing each time you take a wipe from the case. Weighing just 6 ounces, it ensures easy portability wherever you go on a travel. The holding capacity is also decent, allowing you to keep 25 wipes inside, which should be fine for a day.
The wipes remain moist for easy opening, offering you the optimal service as you require. Even if your bag gets squeezed accidentally, that hardcover will protect the wipes inside. This product is compatible when you go out in a public place with your baby in one arm.
Why We Like It
Portable
Large opening with button
Hardcover case
Easy to grab and use
Silicon straps
Take Note
Wipes will dry out if not closed properly
25 wipes may not be sufficient for a long trip.
---
4. FEBSNOW Baby Wet Wipe Holder
FEBSNOW is another great travel-size baby wipes case with handy experience and durability. Coming with high capacity and smooth using features, this holder case can easily become your traveling partner to ensure cleanliness.
Material and Design
When it comes to build-material, this wipe holder is made of skin-friendly, BPA-free ingredients. You can use it without giving a second thought as it will not leak or break. The design also comes with a strong zipper with a sleek opening for smooth wipes dispensing every time you go for it.
This model also offers a nylon loop to attach easily with any diaper bag or purse while you are outside. The weight of this case is just under 5 ounces. Being that lightweight, it can easily ensure a great user experience while traveling. The capacity to keep near 60 wipes is also another striking feature of this gorgeous model.
Compatibility
Compared to plastic containers, this holder is pretty less bulky, yet can hold more wet wipes than regular wipe packs. The opening access is so smooth that you can easily dispense one wipe at a time. You will receive a set of 4 in a single purchase with high capacity for everyone. If you want a great volume of wipes, then this would be your best bet.
Why We Like It
Skin-friendly
Easily carriageable
Refillable
Easy opening with durable zipper
Great capacity
Take Note
Often gets out of stock
Failing to close rightly will make the wipes dry.
---
5. FEBSNOW 4 Pack Baby Wipe Dispenser
This one is one of the multiple models of refillable wipes case from FEBSNOW. Having almost similar specifications, this model is also popular and vastly used as a wipes case. People like using it during traveling with babies.
Material and Design
The manufacturer made this item skin-friendly. You can have several body designs with colors. The zip system is introduced here to lock it securely and comfortably. Even after having such a compact size, it has a large capacity to hold around 60 wipes inside.
The flip cap ensures you get one wipe at a time for convenient usage. It weighs only 4.6 ounces that makes it perfectly portable anywhere you go. Though it's quite flexible than a hardcover dispenser, yet it is more durable than many other available options out there on the market.
Compatibility
As this case is refillable, you can use this case by filling again once it gets empty. You can attach it with diaper bags or stroller anytime with the given nylon loops and also wear it around your wrist if necessary. Having such a high capacity inside, anyone can easily make it their reliable wipe case for a trip of two or three days.
The body will protect the wipes inside and keep them moist and wet as they should be. Let your wiping worries get disappear with this flexible and comfortable wipe case from FEBSNOW. If you are looking for a quality wipe dispenser with huge capacity, then this baby wipe travel case is for you.
Why We Like It
High capacity inside
Durable
Weighs less
Easy user experience
Keeps the wipes wet and moist
Take Note
Check the availability
It may get broken if you grab them wrong.
---
6. Buti-pods Zippered Refillable Wet Wipes Case
We couldn't end our list of travel baby wipe cases without mentioning the refillable wet wipes case from Buti-Bag. Perhaps, this is the lightest product on our list and thereby perfect for using in any travel.
Material and Design
The company made this product with non-toxic PVC materials to make it totally safe and skin-friendly. You will feel that it's soft and flexible from outer and inner sides both. It may look thin at the first look, but the practical thickness will show you that this case is durable and sturdy.
They made the model suitable for various types of usage. You can keep baby wipes, makeup removing wipes, and even hand cleaning wipes for adults in this one holder.
Compatibility
Weighs only 1.28 ounces, this case is super flexible for use when you are traveling. You can keep it anywhere in your bag or even in your hands. This model is reusable. Whenever it is empty, you can refill it again. The air circulation is maintained perfectly due to the compact design. The wipes last longer for this very reason.
The zip is very smooth and ensures easy offloading wipes while using. As we have previously mentioned, you can keep verities of wipes both for kids and adults in it. If you don't want to carry more burden after packing your bag full, this 2-pack model can be your go-to-go choice without even a worry.
Why We Like It
Less weight and easily portable
Smooth user experience
Keeps wipes moist
Multiple-use
Transparent surface
Take Note
The capacity is only 12-15 wipes for every pouch.
---
How to Choose the Best Baby Wipe Dispenser?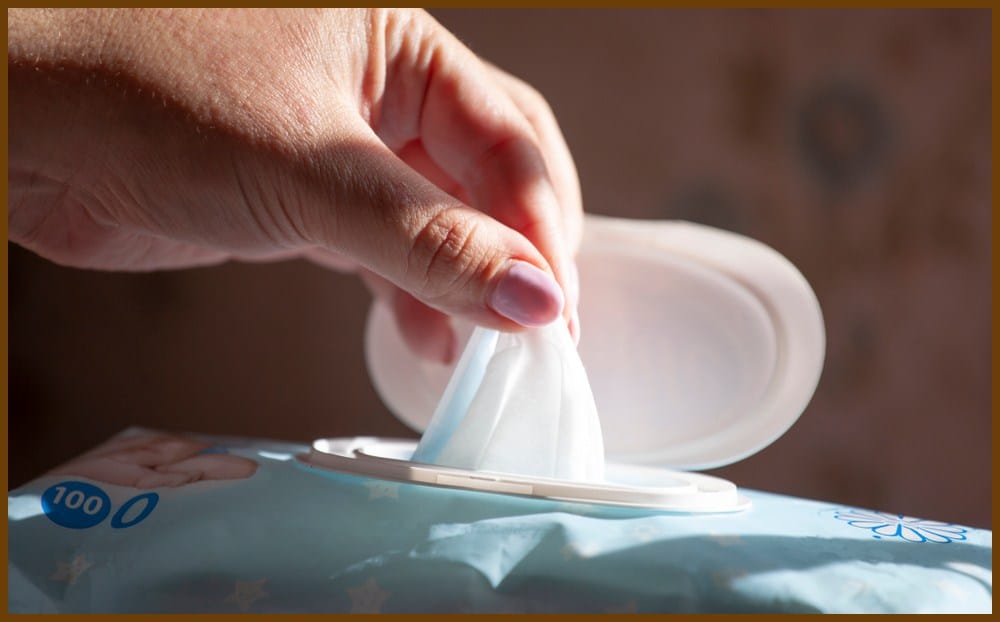 People often face difficulties while buying wipes cases and suffer later while traveling. So, it is important to remember some key factors before spending bucks on a travel wipe case. We noted a few of them here-
Material and Design
The building material must be skin-friendly and BPA-free. The holder must be durable otherwise there will be scratches and leaks after few days. It must have an easy opening and locking system for convenient usage. However, the design should also allow you to attach it to your desired place.
Functionality
A primary function of a wipes case is to keep the wipes wet and moist. If any leak happens, the wipes will dry out. It will ruin their purpose of use. Choose a case that controls air circulation perfectly.
Holding Capacity
This is also one of the most important factors to consider. Though an average case can hold up to 30-40 wipes in it, this is not the case with every other case available on the market. Having a good capacity to hold more wipes is pretty much beneficial as it will save you from unwanted awkward situations, especially when you are traveling with a baby for more than a few days.
Compatibility
Don't forget to check out if the case is lightweight or not. The less the weight will be, the more you will feel comfortable carrying it. However, less weight shouldn't be preferable when the case is not durable enough. Some prefer sturdy cases since the wipes will be more secured inside them.
Having a refillable feature is also important if you don't want to spend your money on cases for each travel.
Try following these indicators to have a great travel wipe dispenser.
You'll also love the latest watch travel cases available from top brands.
---
FAQs about Travel Baby Wipe Case
What are the materials used to make a travel wipes case?
Most of the quality cases are made of flexible plastic materials which are less vulnerable to damage.
How many wipes are there inside a travel wipes case?
It fluctuates and depends on the brand. An average travel wipes case contains 30-40 wipes in a case.
How many cases should I carry during traveling?
It depends on how many days you are going to spend while traveling. A case containing 60 wipes should be perfect for a 3-day long trip. You can take two for extra safety.
What is the most common concern with a travel wipes case?
The most common concern people have is keeping the wipes moist. Many cases leak early and it makes the wipes dry. You can avoid this by purchasing a quality product.
Can I use my baby wipe travel case for other wipes?
Of course. You can keep any wipes in these cases, no matter if they are for babies or adults.
---
Conclusion
Packing your backpack without a wet wipe case would be a mistake. You will need it for sure, especially when you are traveling. This tiny product turns out to be an essential packing element for multiple uses. We hope you will find the best travel wipes case for you from one of our recommendations above.
---
You May Also Like:
How to Pick A Perfect Disinfectant Wipes for Airplane.
Most Accurate Digital Luggage Weighing Scale for Saving Extra Fees.
---