Antibacterial wipes are important to avoid unwanted and unknown germs. To keep yourself away from these bacteria, these wipes help to a great extent.
Today, I am going to discuss the best antibacterial wipes for travel to help you choose your shield before you board your plane or get on your bus.
Why Antibacterial Wipes Are Important for Traveling?
Let's be honest. The COVID-19 pandemic has made our lives more difficult and hassling.
Efforts on keeping yourself away from germs and bacteria have upgraded to a whole new level now. The most complex situation arises during traveling.
Surely, you are in completely new surroundings and have to take each step cautiously. Along with other protective shields against germs, antibacterial wipes are also essential. They keep your face, hands, mobile phone, glasses, water bottle, coffee mug and almost everything you touch on your way to your destination.
Therefore, there is no denying the role of best travel wipes for COVID or for general purpose in keeping you safe.
My Top Picks
---
Top 6 Best Antibacterial Wipes for Travel in 2022
1. Wet Ones Fresh Scent Antibacterial Hand Wipes
This set of hand wipes include 20 wipes in 10 small packs (2 wipes in each). Capable of killing 99.9% of germs, they are great for using in school, outings, home, office, or traveling long hauls.
Material: These wipes are made with benzalkonium, alcohol, fragrance, aloe extracts water and other antibacterial contents that work behind keeping you and your surroundings germ and bacteria-free. These ingredients are good for the skin, and the wipes are paraben-free as well.
Travel Friendliness: As there are 20 wipes in 10 packs, it is highly convenient and pocket-friendly. You can opt for these wipes in your long-haul travels as well as other destinations.
Why I Like It:
Paraben-free
99.99% bacteria killing efficiency
Hypoallergenic
Travel size wipes
Take Note:
---
2. Clorox Disinfecting On The Go Bleach Free Travel Wipes
Here's one for you to disinfect your home. These wipes from Clorox are suitable to use on the floor, kitchen appliances, toys, gadgets, and many more things at your home.
Capable of killing germs up to 99.99%, these wipes will leave your hands harm-free while keeping your surroundings healthy. There are a total of 216 wipes in 9 packs, each pack containing 24 wipes.
Material: These wipes contain alcohol, chloride, and other essential active ingredients in an optimum amount. They are also harmless as they contain no phosphorus.
Travel Friendliness: As these are divided into 9 packs, you can easily carry them in your handbag while traveling. They work great for cleaning bags, mobile, glass surfaces, keys, cars, plane seats and desks, and other places you are planning to go.
Why I Like It:
Disposable wipes
Huge quantity
Healthy to skin
Easily carry-able
Usable on almost all items
Take Note:
---
3. Wet Ones Anti bacterial Fresh Scent Travel Pack Wipes
If you are looking for a pack with multiple wipes in it, this may be the one. This pack from Wet Ones contains 20 wipes together, making it easier to carry.
The wipes keep your hands moist and germs free for a longer period whenever you are indoor or outdoor. Moreover, you can clean desks, chairs, and other surrounding things with these wipes.
Material: As other Wet Ones wipes, these also contain benzalkonium, alcohol, fragrance, and other active and inactive ingredients. These materials are safe to use on your skin as well as your surrounding things.
Travel Friendliness: All the 20 wipes come in one pack so no need to carry multiple packs of wipes in your journey. They efficiently kill germs and bacteria that may come in contact with your hands.
Why I Like It:
20 wipes in one
Pocket friendly
Healthy to skin
Multipurpose usability
Take Note:
---
4. TRIP Alcohol Free Hand Sanitizing Antibacterial Hand Wipes
There are 30 wipes in this pack, all packed individually. Perfect for traveling or using them at home, you can keep both your hands and your home appliances clean with these wipes.
Made environment friendly, these wipes can kill 99.9% of germs and bacteria. For those who love citrus scented wipes, this can be your perfect pick.
Material: These wipes do not contain alcohol and paraben. Benzalkonium Chloride is the active ingredient in these wipes along with other harmless and antibacterial ingredients.
Travel Friendliness: As these come in individual packs, you can carry either the entire box with you or simply put the required packs in your bag. Easy to open and use, leave worrying before or after a handshake or using your phone in a crowded space.
Why I Like It:
Individual packaging
Decent scent
Easy to use and carry
Keeps hands moist
Multipurpose usability
Take Note:
---
5. Diamond Wipes Alcohol Free Hand Sanitizing Wipes
Made in the USA, this Diamond Wipes pack includes 360 wipes in 12 small packs. These 8 inches wide and 4 inches long wipes are capable of keeping your hands protected whenever and wherever you need them.
Either in home, office, school, or during traveling, these wipes are easy to use and are also disposable. Not to forget the huge amount of wipes you get in this pack for days ahead.
Material: The main ingredient of these wipes is Benzalkonium Chloride. These do not include paraben or other unhealthy substances and are also alcohol-free. Aloe Vera and Vitamin E are also present in these wipes to keep your skin healthy and fresh after every use.
Travel Friendliness: As there are 12 small packs each containing 30 wipes, only one pack can be sufficient throughout your traveling. They are standard-sized wipes that will effortlessly fit in your bag, backpack, or even pockets.
Why I Like It:
Healthy ingredients
Travel friendly
Pocket friendly
Multipurpose use
Large quantity
Made in the USA
Take Note:
Does not contain alcohol.
---
6. Lysol Lemon and Lime Blossom Disinfecting Wipes
In search of the best sanitizing wipes for travel, Lysol disinfecting wipes are a great option. This brand has a reputation of serving better and healthy disinfecting essentials and these wipes are one of them.
This particular pack includes 15 lime-scented wipes that measure 7×6 inches each. For long or short hauls, you can rely on these wipes for protecting you from the enemy invisible to the eyes.
Material: This EPA registered wipe pack includes all the essential ingredients that are required to protect you. It can fight up to 8 flu and cold viruses like Influenza A Virus H2N2 and others.
Travel Friendliness: Put it in your pocket or handbag, you can carry this pack easily anywhere. Easy to open and use, make sure you close the seal fully to prevent the wipes from drying out. You can also use them on home appliances, furniture, kitchen counters, or vehicle seats.
Why I Like It:
EPA registered
Standard size
Healthy on skin
Holds skin moisture
Fights 8 flu and viruses
Multipurpose usability
Take Note:
Not reseal-able after multiple uses.
---
How to Know Which Wipes Are Best?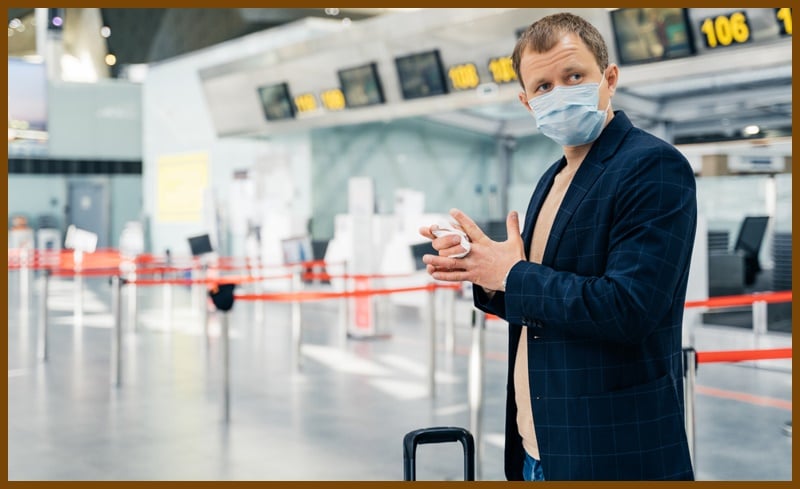 There are a lot of antibacterial wipes available in the business, almost everyone trying to be the best. But not all are highly effective in putting germs away. Some aspects need to be considered before buying a set of wipes.
The first and foremost aspect is the amount of alcohol in them. According to CDC (Centers for Disease Control and Prevention), at least 60% ethyl alcohol or 70% isopropyl alcohol should be used in making wipes and other hand rub products.
Another important matter you need to consider is how much moisture they leave on your skin. Make sure the wipes you select make your skin moist and soft as it also helps to keep the skin healthy.
Other essential aspects are the fragrance, size, and amount of the wipes you select. Go for odorless or less scented ones if you are allergic to a strong odor. Depending on your travel duration, select the amount and size of the wipes.
---
FAQs about Antibacterial Wipes for Travelers
What wipes kill viruses?
Wipes that have 'Disinfectant' labeled on their packaging can kill viruses. The EPA (the United States Environmental Protection Agency) has all the registered wipes brands on its website that kill viruses.
How much alcohol should wipes include?
Antibacterial wipes should include no less than 60% ethyl alcohol or 70% isopropyl alcohol.
Are wipes with only Benzalkonium effective?
Only Benzalkonium wipes are not as effective as those which have a mixture of Benzalkonium, ethyl alcohol, and isopropyl alcohol.
For how long should hands be washed?
Wash hands for at least 20 seconds before eating or touching essentials. Keep your hands clean always but also choose disinfectants that are not too rough on the skin.
How long should the surface stay moist after using wipes?
After using wipes on hands or other surfaces like seats, counters, etc. the surface should stay moist or wet for 5-10 minutes. It depends on the wipe you are using and its ingredients.
---
Conclusion
Travel wipes are great protectors but that doesn't allow us to rely completely on them or other antibacterial shields.
In this COVID-19 pandemic period, make sure all the possible measure is taken before you step out of your home. I hope my recommendations have helped you find the best disinfectant wipes for travel according to your needs.
---
You May Also Like:
An In-Depth Guide about Travel Wipes Case.
5 Effective Disinfectant Wipe to Clean Airplane Seat & Space.
---