As someone who likes to fall asleep during long-distance traveling but cannot get sound sleep, and wakes up feeling neck, head or sometimes entire upper body pain, I can vouch for the importance of a good quality travel pillow. Among all the pillows available for traveling purposes, I believe goose downs are a better choice and down travel pillow reviews also recon my opinion.
So, here are experts' recommendations and a thorough discussion on these pillows to help you find the best down travel pillow.
Who Needs a Goose Down Pillow?
Our answer: Everyone.
We all know that good and comfortable sleep is no joke, especially for overall good health. People of different ages, suffering from injuries, work-from-home individuals, travelers— everyone needs a good quality pillow.
A good pillow is not essential only for sleeping in-home or on a long journey, but for support while sitting, reading, conversing or watching a movie.
---
Top 3 Best Down Travel Pillow in 2022
1. ComfyDown Goose Down Travel Pillow for Plane, Car & Home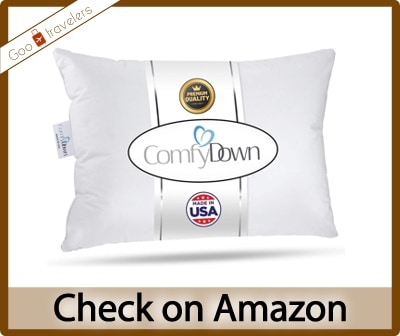 Made from a 100% goose down, this is a pillow that will not flatten upon being inside of a bag. During long-haul flights, it will support your neck, spine and head as an extra aid on stiff seats. While sinking according to your head position, the pillow will resist flattening even after years.
Its 300-thread-count cotton cover provides a smooth and silky touch to your skin and initiates an ultimate feeling of relaxation. For a sound nap during journeys, it is a good option as a 100% down pillow that comes under 50 bucks.
Fill power and composition: It is a 100% goose-down soft, smooth, fluffy and breathable pillow that prevents aches and irritation in the upper body. It keeps up with your expectations and maintains composure. Fill power up to 800 makes it inflatable even after being squeezed in handbags or luggage.
Certification: Certified by RDS and OKEO-TEX, it is manufactured abiding by the standards and laws of wildlife welfare and environment friendliness. It is also tested several times to ensure that there is no possibility of allergic reaction.
Support and Durability: Designed to provide neck, back, shoulder, and lumbar support during sitting or sleeping and measures around 16x12x5 inches. Weighing 1.01lbs, it will easily fit into carry-ons and small luggage. It is machine friendly and you can air-dry it before washing. After uses and washes for years, the down inside will not pop out as the cover fabric is made wear and tear-resistant.
WHY I LOVE IT:
Breathable and soft.
Lightweight.
100% down pillow.
Premium quality cover.
Machine washable.
Suitable for all ages.
TAKE NOTE:
Might be smaller in size.
---
2. All About European Ethically Raised Goose Down Travel Pillow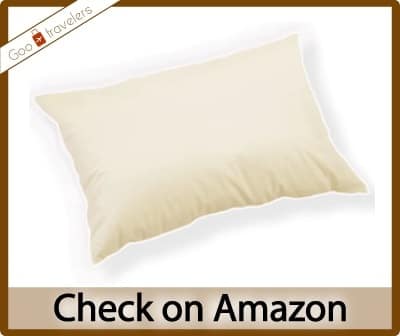 All about Down travel pillow keeps up with its name as this one is made from a 100% goose down. Ideal for those who like to sleep on their back, its medium-firm level is suitable for bus, train or flight seats. Due to squishing while on the go, this pillow will maintain its loft once out it is of the bag.
Covers are made from premium quality cotton fabric that is soft and gentle to the skin and is hypoallergenic. People suffering injuries or chronic pain in the upper body can benefit from this pillow as it is not too soft nor too firm and maintains a steadiness while sleeping.
Fill power and Composition: The fill composition is a 100% quality goose down that restrains the pillow from flattening over time. 4oz of 800 fill power is used to make it a medium-firm pillow. However, firmness can be adjusted according to your liking, by contacting their customer service.
Certification: The pillows are tested many times and have been certified by animal welfare and environment friendliness standards. The goose down for these pillows are collected from authorized farms, and their covers are also made keeping the environmental standards in conscious.
Support and Durability: This pillow is available in different sizes for people of different ages. Either for camping or traveling, this can fit in any suitcase or handbag, but will not lose its loft level. Also, it is durable enough to stay inflatable and intact even after a long time of supporting your upper body.
WHY I LOVE IT:
Lightweight.
Different sizes available.
Quality material.
Medium firmness.
Easy to carry.
TAKE NOTE:
---
3. Lincove Goose Down Travel Pillow for Travel & Toddler
The next pillow on my recommendation list comes with superior comfort and guaranteed satisfaction from the manufacturers. A 100% goose down used to make this pillow that goes with an ultra-smooth, silky and breathable cotton cover.
From toddlers to older people, it ensures head and neck safety with perfect body alignment for everyone. Moreover, it is available in different sizes and you can contact their customer service in case of any inconvenience.
Fill Power and Composition: 800 fill power goose down pillow that maintains its loft for a long time of use while feeling comfy and relaxing to the upper body. It is made from goose down only, ideal for a sound sleep anywhere while eliminating any possibility of flattening after every use and wash.
Certification: Certified by RDS (Responsible Down Standard), the pillow's down is collected from legal farms that prohibit any harm and animal abuse. Due to the certification, every piece of down and cotton thread used in making this pillow is ensured to be worth the money spent.
Support and Durability: During traveling or sleeping at home, this pillow will support your upper body alignment, and will reduce neck, shoulder or back pain. It is a medium-high loft pillow that will sink but not shrink after use. You can hand wash it or put it inside the machine in a laundry bag, and it will pop up to its regular size upon drying.
WHY I LOVE IT:
Lightweight.
RDS Certified.
Fits in travel bags.
Suitable for any age.
Machine washable.
800 Fill power.
TAKE NOTE:
---
Things to Look for In A Goose Down Pillow
Why can't we forget the feeling of sleeping on fluffy and smooth pillows of the hotels even though they serve the same purpose as the ones at home?
It's because the materials differ. The hotels' pillows are mostly made from goose down, which aims to provide their sleepers a peaceful and relaxing nap while maintaining a proper balance throughout the body.
To get one for home or long journeys, you need to know some aspects before purchasing. Such as:
Fill Power
Fill power resembles how much space 1oz of down consumes in a pillow shell. The more space it consumes the better and higher loft is attained. There are also 3 different levels of loft available in goose-down pillows. High loft for side sleepers, medium for back sleepers and low for those who like to sleep on their stomach.
Fill Composition
Fill composition means what is used to make the pillow and how much ratio. Some pillows are made from a 100% goose down and those with a combination of down and feather. The 100% goose-down ones are comparatively more expensive and softer than the combination ones.
Cover Material
The pillow shell defines the comfort and its feel on the skin. Shells made from cotton are more preferred than the ones made from silk or other materials. Cotton covers are breathable, hypoallergenic, and gentle to the skin, allowing the head to stay in place without slipping around.
Certification
OKEO-TEX and RDS (Responsible Down Standard) are two certifications that any down pillow manufacturer needs to obtain to introduce their product. The RDS certification indicates that the downs collected are from authorized farms where animal cruelty is not allowed, while OKEO-TEX ensures environment-friendly production of the textile industry.
Durability and Washability
Most of the down pillows offer a longer life span, lasting for 2-3 years or more if cared properly. Their lasting period depends on the material used by the manufacturer.
On the other hand, washing these pillows can be complicated as not all are authorized to go inside the washing machine or dryer. The best way to clean most of these pillows is hand-washing and can be air-dried.
---
FAQs about Down Travel Pillow
What is goose down?
Goose down is the soft and warm web-like layer under the geese feather. These downs are noticed mostly in the neck area and help to keep the waterfowl warm in a cold environment.
What is the difference between a down and down-feather pillow?
Down pillows are made completely from goose down and covered with a cotton shell, whereas the down-feather pillows are a combination of goose down and its feathers.
What is the best goose-down travel pillow size?
13×18 inch is the standard size of a goose-down pillow that is suitable for traveling or camping. This size of pillows easily fits into handbags and trolleys, and is lighter to carry.
Is 800 fill goose down comfortable?
The average fill power for a down pillow is 550. Fill power of 800 is much more comfortable and stays in shape for a longer time.
Why are goose-down pillows so expensive?
These pillows tend to be expensive than the regular ones as goose down is a thin layer of plumage on a waterfowl skin and is collected only from authorized farms worldwide.
Are goose-down pillows good for stomach sleepers?
Although down pillows are superior in comfort and found in different loft levels, they are mostly not for stomach sleepers. These pillows sink and mold according to head position and stomach sleepers may find their head too much leaned downwards, straining their neckline.
Are down pillows good for health?
Down pillows are good in the sense that they sink according to your head position, maintain a proper balance on the upper body, resist neck and headache, and are soft to the skin.
---
Final Words
There is always a question of either goose-down pillows are ethical or not.
For this reason, the manufacturer is bound to carry certifications from certain organizations.
As these pillows are good for health, feel gentle, multipurpose, and last for a long time; people opt for them anyway.
So, if you are planning for a long journey and looking for a super comfy down pillow, I hope this article help you find the finest one according to your preference.
---
You May Also Like:
Top 5 Lumbar Pillow For Travel.
Top 5 Travel Neck Pillow For Long Flights.
---