We know sleeping during air travel is not something everyone gets peacefully even though they are fond of.
Changes in time zone, bright sunlight through the windows, or even the dimmed lights inside the airplanes can make it harder for you to get a sound sleep.
That is when you feel the need for a sleep mask.
Check out my best sleep mask for air travel recommendations to find the preferred one for your next travel.
Why Should We Consider Sleep Masks for Air Travel?
The primary reason? Comfort.
Sleep masks can help you to get a comfortable sleep, no matter the hour of the day. The darkness to your eyes provided by the sleep mask will allow you to catch the zzz's faster, boosting the level of melatonin in your body.
Easy to carry and put in action, you can undoubtedly rely on a good quality sleep mask if you wish to sleep anywhere, anytime.
To beat off the nearby hustling, lightings, and whatnot—a sleep mask can be quite an effective accessory for your travel.
Also Read: Long Lasting Ice Packs for Air Travel.
6 Most Comfortable Sleep Mask For Air Travel in 2022
Let's now check some of the finest sleep mask and pick the one you like most for your next plane travel.
1. MZOO Sleep Mask Soft Comfort Eye Shade Cover for Travel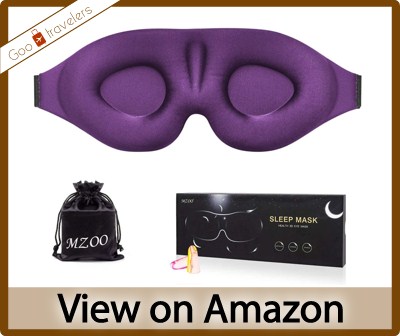 This eye mask is an ideal option for long-haul air travel. 1 small travel pouch that fits easily in carry-ons, and 2 earplugs are also provided with the purchase.
A full 60-days refund is also available in case you face any inconvenience while using it.
Moreover, it has also proven to be effective for those suffering from insomnia.
Material: A 3D memory foam eye mask with cupped eye sockets. These eye sockets do not put any pressure on the eyelids and allow enough space to blink. Sewed with hands, it will prevent tearing up over time and provide longer durability.
Design: Designed ergonomically, both men and women can wear this eye mask at any place. The material used is soft and comfortable on the skin, while its latches are adjustable and do not tangle with long hair.
Washability: It is better if you wash the mask before 1st use. The mask will not shrink or lose its effectiveness if washed regularly for months. You can hand wash the mask with water under 40˚C temperature for maintaining its longevity.
Things I Like:
Easily adjustable.
Weightless on the eyes.
Blocks light.
Nose wire for fitting adjustments.
Affordable and Comfortable.
Things Can Be Improved:
---
2. LKY DIGITA Comfortable & Soft Sleep Mask for Air Travel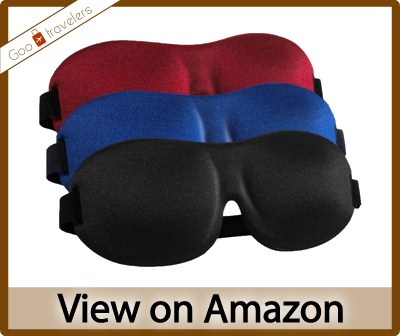 It is an ideal pack for frequent travelers or as a gift item for family and friends.
This lightweight eye mask pack includes 3 masks of different colors and can be used by both kids and adults.
Apart from travelers, medical personnel, office workers, students; everyone can use this mask as it is easy to fit and adjust.
Material: High-density memory foam is used to craft this mask. It is slim and weighs only 0.4oz. 6cm in thickness, this mask allows enough breathability and prevents the eye area from sweating. The soft and easily stretchable elastic band fits tightly on the head but feels comfortable at the same time.
Design: Designed for men, women, and kids.It includes 3D tech and cupped eye area. The eye area is wide enough to allow blinking inside the mask while granting complete darkness.
Washability: Cold water and mild detergent is advised to use for washing the masks. Hand wash them and let them air dry completely. Avoid putting it inside the dryer as it will make the mask shrink.
Things I Like:
Ergonomic design.
Lightweight.
Soft and Comfortable.
3 masks in 1 pack.
Different colors available.
Things Can Be Improved:
Customer care is often irresponsive.
---
3. Mavogel Cotton Eye Mask Comfortable Sleep Mask for Travel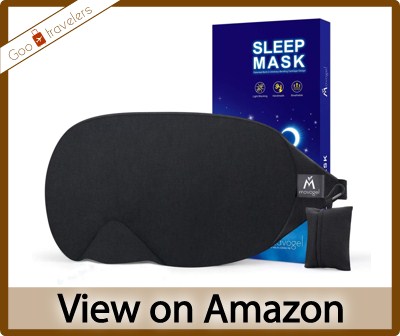 With 5 layers of fabric, this eye mask has earned its position as the best travel sleep mask by many of its users.
New and updated design allows you to doze off anywhere without stressing over bright lights.
For those who do not prefer masks with cupped eye area, it can be perfect for them.
Material: The 5 layers contain cotton, elastic sponge, and modaier which resists your skin from feeling irritated. Soft and gentle on the skin, this mask is made with hands only, including quality seaming for better longevity. The elastic headband is more flexible than its previous design, allowing easy adjustment.
Design: Designed for both men and women, it is more functional, comfortable, and effective than before. The triangle nose piece of the mask lets your eyes enjoy complete darkness and you do not have to move it frequently to adjust it.
Washability: A gentle hand wash with mild soap and cold water is all you need to do to keep it clean after every use. Also, air drying is advised rather than using a dryer. The mask comes in a handy travel pouch for saving it from outer substances and carrying convenience.
Things I Like:
Breathable fabric.
Gentle on skin.
Blocks light.
Effortless adjustability.
Washable.
Things Can Be Improved:
---
4. MUSICOZY Headphones 3D Bluetooth Wireless Sleep Mask for Air Travel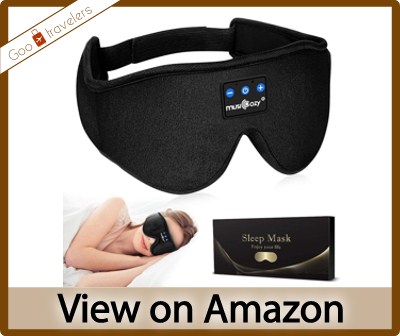 This eye mask can be a great purchasefor those who like to fall asleep listening to music or ASMR while on air travel.
With comfort to the eyes, this mask saves you from the hassle of carrying extra headphones.
As one of the best eye covers for sleeping, this is very popular among teens and gadget lovers.
Material: Premium quality breathable memory foam is used to build this mask. With smooth ice silk lining, this mask does not feel heavy on the eyes and allows relaxed sleeping. The built-in headphones are adjustable to set them on ears and have a breathable cover that will resist warming your ears up.
Design: The stretchy headband is flexible, smooth, and will not tangle with your hair. As it can be already told, it is designed for those who love to listen to music, ASMR, or audiobooks and sleep. Unlike the traditional eye masks, it has wide space to cover your eyes fully from distracting lights.
Washability: You can use a washing machine to clean this mask after removing the built-in Bluetooth and earphones. Gentle hand wash is also applicable for this mask. After washing, let it air dry and set the Bluetooth and earphones afterward.
Things I Like:
Bluetooth earphones attached.
Breathable fabric.
Washable.
Unisex design.
Great gift for family and friends..
Things Can Be Improved:
Battery overheats frequently.
---
5. Jersey Slumber Silk Comfortable & Super Soft Eye Sleep Mask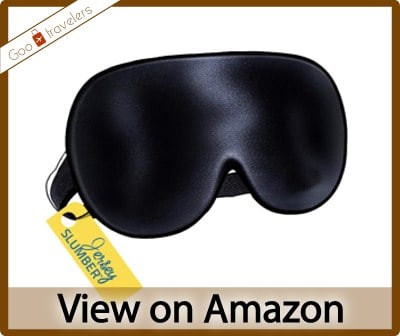 Another one that made to my recommendations is this mask from Jersey Slumber. Maximizing your comfort, this mask helps with migraines, insomnia and blocks light fully. It is a mask with luxury touch on your skin and feels soft on eyelids for as long as you prefer to sleep.
Material: It is a 100% Mulberry Silk mask that will enhance your REM sleep quality. The fabric maintains optimum breathability and is hypoallergenic. Its slider clasp is fully adjustable and you can fit it according to your comfort without much trouble.
Design: An ideal travel accessory for both men and women. If you are a side sleeper, stomach sleeper, or back sleeper, this mask will stay at its place and won't keep moving every time you change your sleeping position.
Washability: Hand washing the mask is better than machine washing. Also, avoid putting it inside the dryer as the heat will damage the quality of the masks. Let it air dry and you are good to use it the next day.
Things I Like:
Premium quality silk fabric.
Washable.
Ideal for long haul flights.
Hypoallergenic.
Comes under $10 bucks.
Comfortable headband.
Things Can Be Improved:
Stains bedsheets and pillow covers.
---
6. ZGGCD 3D Luxury Light Blocking Sleeping Eye Mask for Flight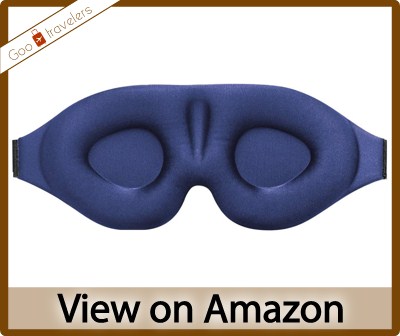 This premium quality memory sponge mask comes in a 3D shape and is designed for both men and women. It has proved to be a great sleeping accessory to many of its users.
If you are looking for a comfortable, breathable, and easily adjustable eye mask before boarding your flight, then you can give this mask a try.
Material: A 100% memory sponge mask with a soft and silky woven fabric cover. It touches your eye area without causing irritation to the skin. The headband is wider and longer than many others available in the market.
Design: The contoured and cupped eye area allows you to blink under the mask while blocking any source of light access. To provide a long and relaxing sleep time, this mask will stay firm at its place even after you change your sleeping position.
Washability: Before the 1st use, wash the mask with cold water. You can use mild soap or detergent but squeeze out the access soapy water completely before air drying.
Things I Like:
Contoured and cupped eye area.
Great as a travel accessory.
Comfortable and breathable.
Hand washable.
Fits accordingly .
Things Can Be Improved:
Shape may change due to shipment packaging.
---
How to Choose a Perfect Sleep Mask for Plane Travel?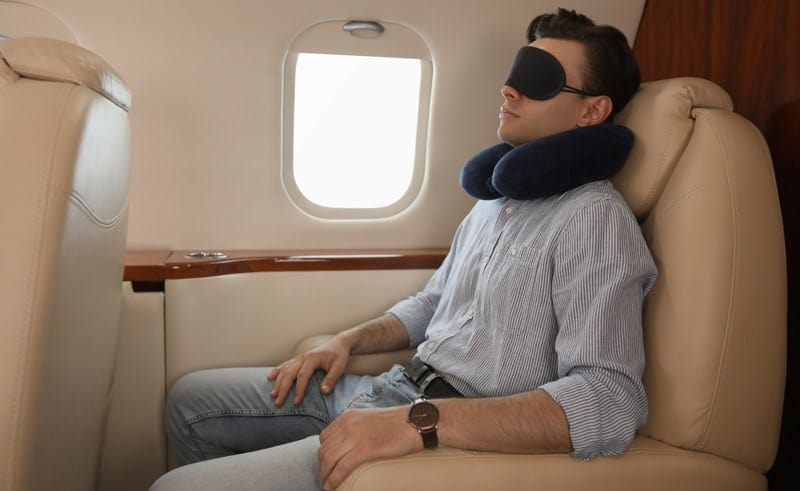 While in search of the best sleep mask for plane travel, try to go for the easily stretchable ones. These sleep masks can fit your upper face despite your age or face shape.
Masks that include padded eye pockets are recommended as they do not make your eyelids feel heavy.
Go for a mask that can be adjusted on the bridge of your nose and have easily stretchable straps or belt.
For the material of the mask, pick the one that you can wash often or regularly if needed. The material should be smooth, breathable and soft but be able to block any light accessing through it.
Padded masks are great in this sense. They are preferred mostly by females as these do not end up messing with their eye makeup.
---
FAQs about Sleep Mask for Air Travel
Can I wear a sleep mask on international flights?
Yes, you can. Sleep masks can be worn at any place at any time of the day and international flights are no exception.
Do sleeping masks damage eyelashes?
Yes, but not all the masks are damaging to the eyelashes. Sleeping masks without padded eye pockets are more capable of damaging eyelashes than the ones with.
Should you wear sleeping masks when you have makeup on?
You can wear breathable sleep masks over light makeup coverage. Heavy makeup under sleep masks can cause clogged pores, acne, and breakouts due to the humidity.
Can sleeping masks protect eyes?
Sleeping masks protect the thin skin above your eyes from dust, polluted air, and other possible harmful substances while also preventing light rays from disturbing your sound sleep.
Do I need to wear a sleep mask at night during air travel?
You can wear a sleep mask at night time of your air travel as many of the airplanes do not provide enough dimmed light ambiance for a deep sleep time.
---
Summing Up
Sleeping masks are one of the best companions you can take with you during any air travel. Air travel can be tardy and to allow yourself to doze off peacefully, sleeping masks help greatly. I hope I helped you to find the most comfortable sleep mask for air travel that will help you to win over jetlag.
---
You May Also Like:
5 Top Quality Inflatable Leg Rest For Flights.
6 Most Comfortable Face Mask for Air Travel.
Find A Comfortable Neck Support Pillow for Air Travel.
---