If you are a travel freak or have to go on long-distance journeys for personal or professional responsibilities, you know how much uncomfortable the car/plane/bus seats can be.
These seats are stiffer and straighter, and sitting on them for a long time can cause back pain, fatigue, and chronic spinal issues.
A travel lumbar support pillow is the ideal solution to this misery. Investing on a small travel pillow is better than high medical bills, isn't it?
Here are my top picks of the best lumbar pillow for travel that are reviewed by users and recommended by physical therapists.
Why is a Lumbar Support Pillow Necessary?
With aging, comes various uninvited physical health issues.
Many people have to sit at a place for a long time, either be it at the office or home or transports. Young individuals who have to go on long-distance journeys back and forth, face back pain at an early age. Moreover, those with injured back feel sitting in a chair uncomfortable the most.
Good lumbar support pillows can help them all. These pillows are designed to provide a proper posture, back support and comfort for a long time.
They are an important item while traveling or camping, and can also be used as a sleeping pillow if necessary.
Top 5 Best Lumbar Pillow for Travel
1. Rest-A-Camp Lumbar Pillow for Car & Airplane Travel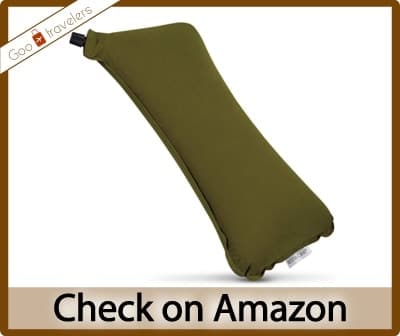 As a portable lumbar travel pillow, this one from Rest-A-Camp is preferred by many users over the years. The features it provides along with supporting your back or lower back make it ideal for home use or traveling.
It is also easily manageable for office, daily use, or camping. The size is spacious enough to hold your back but also small to fit in chairs or vehicle seats. It is a blow-up pillow, holds the air tightly, and you can adjust the firmness of the pillow according to your liking.
Material: The outer material is made from premium quality TPU fabric that ensures a long-lasting lifespan with flexibility. After blowing up the pillow, its valve prevents any air leakage. The cotton cover of this pillow includes an extra layer of soft fabric and is outdoor proof.
Size and Weight: While deflated, this square pillow weighs only 4ozs and measures 5×3 inches in size. It takes only 5/6 seconds or 4-6 deep breaths for it to acquire its ideal pillow size, which is 15x12x4.5 inches in dimension.
Washability: Washing it is easier as the cover of the pillow is removable. You can put the pillow cover inside the washing machine and air-dry it later on. In case of any stain on the pillow while without the cover, you can just wipe it clean with a damp cloth.
Carrying and Multipurpose uses: It is a compact and lightweight pillow that fits in hand palm after deflated. A sack/pouch is provided with the pillow and you can fit it inside your backpack, handbag or even carry it in bare hands. Office chairs, bed, transport seats or sleeping bags, it fits perfectly in any of these without seeming squeezed.
WHY I LOVE IT:
Ultra-lightweight.
Removable cover.
Compact pillow.
Relieves back and lower back pain.
Easily carry-able.
Blow up pillow.
TAKE NOTE:
---
2. Therm-a-Rest Lumbar Travel Pillow for Travel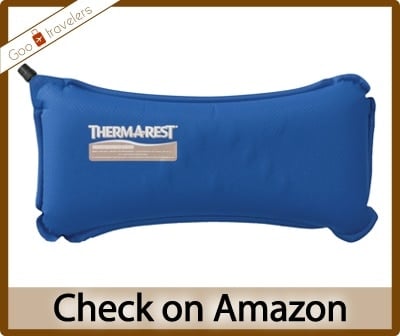 For those who suffer from back/lower back injury, this is an effective pillow for lumbar support. During journeys or long hours of office work, you can put it on your back and relieve yourself from pain or ache.
Made from high-quality materials, this self-inflating pillow can be easily adjusted with its one-hand air safety valve. Recommended by therapists, it helps in reducing strain and ache on the upper body, created from sitting in a position for a long time.
Material: The exterior of this pillow is made from 2 fabric types. The top part is made of 50D polyester while the bottom part is made of 75D polyester. Made in the USA, this pillow's fill is urethane foam, suitable for reducing pressure on the spine.
Size and Weight: This square-shaped pillow measures around 16x7x2.4 inches in dimension and weighs around 0.10kg. Once deflated, it comes down to 8x7x2 inch which fits easily in any means of carrier.
Washability: Although, it doesn't include an extra cover, cleaning it is an easy process. Wipe it clean or hand wash it with gentle detergent and let it air-dry. However, secure the valve tightly before cleaning to avoid any water access inside the pillow.
Carrying and Multipurpose uses: As you deflate it, carrying it for any purpose is effortless. Put pressure on the pillow to let it inflate and adjust the firmness level according to your comfort. Deflating is also easier by just rolling it from the end till all the air is out.
WHY I LOVE IT:
Self-inflatable.
Easy to carry.
Premium polyester material.
Urethane foam fill.
Ideal for injuries.
Ideal for chronic pain.
TAKE NOTE:
Cover not included.
Storing sack/pouch not included.
---
3. SmartTravel Lumbar Support Pillow for Airplane Travel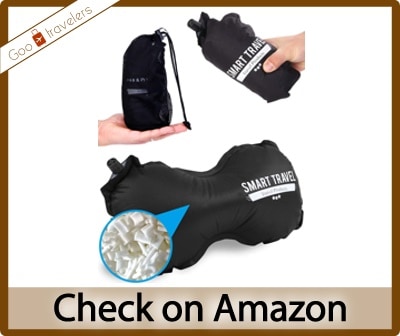 This ergonomic travel pillow is made from quality materials for longer durability and is designed for providing support on the upper, mid or lower back. It helps to relieve neck, shoulder or back injury, especially while traveling.
Maintaining a properly balanced spine area, it provides comfort to the upper body while being gentle on the skin. The manufacturer provides a 1-year guarantee as well as a 30-days money-back policy in case of any manufacturing default.
Material: This 8-shaped pillow's outside material is water-resistant 5D (poly pongee) TPU fabric. On the inside, small pieces of BAYER high resilience memory foam make this pillow self-inflatable. Also, there is an elastic back strap that stretches up to 21 inches.
Size and Weight: While deflated, it measures around 4.5×8.5 inches, and 14×8.5×3.5 inches and weighs around 5.64ozs. To inflate it, leave the valve open and put pressure on the pillow for it to absorb air. To adjust the air and firmness level, you can blow air with your mouth and attain the expected softness level.
Washability: For cleaning it from dirt or stains, use mild detergents and normal water and hand wash it. You can also wipe the surface of the pillow with a piece of damp cloth or tissue if you feel the need during traveling or camping.
Carrying and Multipurpose uses: Fold or roll the pillow from the opposite side of the air securing valve until all the air is out and put it inside the small bag provided. You can attach the pillow bag to your handbag or luggage with the help of the spring hook on it. It is easily portable and is usable in any required circumstance.
WHY I LOVE IT:
Ergonomic design.
Durable material.
Compact and Easily portable.
Maintains back posture.
Reduces back strain.
TAKE NOTE:
---
4. Tempur-Pedic Travel Lumbar Support Pillow for Car
This pillow falls in the stiff category but feels soft and comfortable on the back. While working for hours or sitting on a long-haul flight, this can be an ideal pick as it is inflatable and will not lose its shape over multiple times uses.
Travelers, work-from-home individuals, individuals with back pain, or pregnant moms; it is a suitable sitting support pillow for everyone. There is also a limited warranty available on this pillow if purchased from the manufacturer or any authorized retailer.
Material: This is a memory foam pillow, and its curved shape works as a perfect lumbar support for any occasion. Its allergen-resistant cover feels comfy and soft while the pillow sinks just as much as needed to provide back support.
Size and Weight: It is a 10×9.75×2 inches square-shaped pillow with a raised arch on the front. Weighing around 1lb, this pillow fits in an average-sized handbag or trolley bag during journeys.
Washability: The allergen-resistant cover is removable for easy wash. You can toss it in the washing machine and dryer, or hand-wash it. The pillow can be sun-dried for better durability.
Carrying and Multipurpose uses: As it is made from memory foam, it cannot be compressed in bags or pouches smaller than its size. However, for traveling or using it at home or office chairs, it is designed to maintain a proper posture while backing with lumbar support.
WHY I LOVE IT:
Ergonomic design.
Removable cover.
Multipurpose uses.
Memory foam pillow.
TAKE NOTE:
Non-compact.
Strapless back.
---
5. GNR Health Wonder-Roll Self Inflating Travel Lumbar Pillow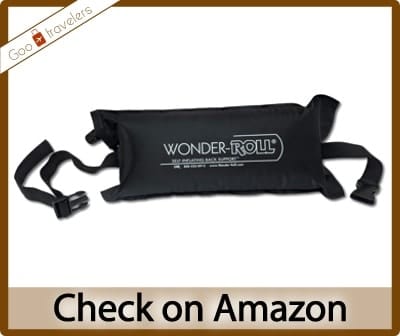 This self-inflating pillow secures the air tightly and is easily adjustable. It is an ergonomically designed pillow for any means of traveling or home/office furniture; and recommended by many therapists
To provide optimum support to your lower back, you can inflate it in seconds by opening the air valve and adjust its firmness accordingly. Easy to carry along, this pillow's material is wear and tear resistant and will provide longer durability.
Material: The pillow is made from premium quality nylon polyester. It also includes an elastic strap for fitting purposes. The material ensures to be wear-tear and water-resistant while being serviceable for a long life span.
Size and Weight: The elastic strap is 28 inches long but is adjustable and 2x stretchable than its actual size. The pillow while fully inflated, measures around 11.5x5x12.5 inches in dimension and weighs around 4.8ozs. However, you can adjust its size by inflating it according to your need.
Washability: Due to its water-resistant feature, it will prevent stains from appearing on the pillow. Also, you can put this inside the washing machine for cleaning purposes and air-dry it later on.
Carrying and Multipurpose uses: To deflate, just roll it from the opposite side of the valve, let the air out and it becomes compact sized for carrying. You can also attach the strap with your body and take it wherever you go. Car/airplane sits, office chairs, or camping, this pillow can be used for any scenario and relief back pain.
WHY I LOVE IT:
Lightweight.
Machine washable.
Elastic back strap.
Nylon material.
Self-inflating.
Easy to carry.
TAKE NOTE:
---
What to Consider Before Getting a Lumbar Travel Pillow?
Many lumbar pillows available in the market and all of them come with a variety of features. Many hold the same features while some have 1/2 extra advantages to offer.
To get one for yourself or your loved one, there are some aspects you need to consider before making the purchase. They are:
Material
Pillows made from memory foam, memory foam pieces and foam fills are some of the most common for travel. There are also blow-up pillows that are self-inflatable, and ones that you can inflate with mouth breaths.
Durability
A pillow's durability depends on its design and manufacturing material. Different pillows provide different life-spans and their usage also marks their durability limit.
Size
Opt for a size that easily fits in any chair or seating area. Also, many pillows come with adjustable firmness and sizes, applicable for different chairs and seats.
Portability
Some pillows can be deflated without much effort and fit in a small pouch/sack. Easily compactable, included back strap etc. are the main things in a travel lumbar pillow for hassle-free portability.
Washability
Pillows with removable covers are the best for washing or cleaning them. Most pillows are not washing machine and dryer friendly but the removable covers are. Also, polyester pillows can be cleaned by wiping them with a damp fabric or tissue.
Multipurpose Uses
As these pillows are made for lumbar support, make sure you get one that provides multipurpose uses. Sitting, sleeping or working as a hand/footrest; many lumbar pillows for air travel offer these multipurpose uses.
---
FAQs About Lumbar Support Pillow for Travel
Is sun-drying a lumbar support pillow good?
Sun-drying a pillow without its cover is the best way to increase its longevity. It allows the pillow to regain its actual shape and form while eliminating odor.
What is the best size of a travel pillow?
Pillows measuring 14×20 inches or under are the best fit as a travel pillow. They can be carried easily and fit perfectly on transport seats.
Can you use lumbar pillows for your neck?
Not all lumbar pillows are appropriate for the neck as most of them have an arch-shaped top, designed for the spine curve. Pillows that are adjustable in size and firmness can be used as a neck pillow.
Where to place a lumbar travel pillow?
A lumbar support pillow should be placed on your back, especially the lower back. These are made to support the spine while maintaining a proper posture and balance.
How to prevent a lumbar pillow from slipping around?
The pillows with back straps work great as they are made slip-resistant and fit tightly on chairs. The straps are made of elastic and can be adjusted accordingly.
---
Conclusion
What is the best lumbar travel pillow? — depends on your preference. At the end of the day, the most important things are your health and comfort.
With that being said, I hope that from my recommended lumber pillows for travel, you get the one that serves you the best.
---
You May Also Like:
My Favorite Travel Neck Support Pillow for Airplanes.
10 High Quality Cardigan for Feel Cozy & Comfy Your Next Trip.
---