Maybe your next flight schedule is not so far and you are worried about sleeping on airplanes. Trust me, this article literally can help you to learn how to sleep on a long flight. Also, by following these below-mentioned tricks and tactics, you will make your upcoming long-haul flight more comfortable.
Here, you are getting to know 12 insights by which you can make a plan for your trip to the next level.
12 Crucial Things You Should Concern about Sleeping on A Plane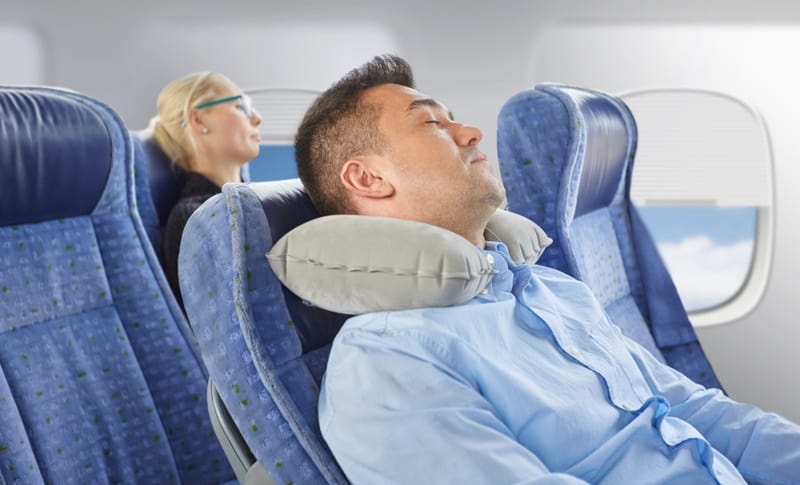 Our sleep is related to our body condition and if you adopt proper sleeping equipment and tricks, you can have a sound sleep no matter where are you laying. So, ensure the following things while you are preparing for a long plane journey.
Select Your Seat Wisely
Are you already conscious to choose a suitable seat! Then you are a forward-thinking guy. Most people don't feel bothered about their seats on the plane for seat shortage or lack of concern. But, you must have to think about a comfortable seat when you are going on a long trip.
Try to grab a window seat if you can; it will give you more convenience for relaxation. You will have extra control over window shade. So, you could grab catnap in your flying periods.
Take A Cozy Travel Pillow
Are you thinking about why I'm talking about this bedroom's stuff! Certainly, you have to ensure your comfortability for your sound sleep on the plane journey.
Because of that a travel neck pillow is one the most important things for your relaxation. A comfy pillow can give you a pleasant experience for a good sleep on your tour.
Take A Suitable Sleeping Mask
Like a travel pillow, a sleeping mask is another vital kit for your deep sleep on a long-haul flight. You can pick a black sleeping mask with you.
The reason behind selecting black, black can absorb all kinds of lights effectively and you will get pure dark. So, it can make the environment for your deep sleep like your dark bedroom. And most travel experts think this is the best way to sleep on long international flights.
Take A Travel Blanket
You can carry a travel blanket because you don't know whether the temperature inside of the airplane is suitable or not for you.
So, it would be better if you take a blanket with you. When you feel cold you can use it.
Wear Comfortable Clothes
You can't avoid the matter of comfy clothing. If you think dresses are less important for your relaxation and sleep, you are just missing a vital thing. Therefore, you have to wear well-fitting dresses for your coziness, which can help you go for a sound sleep. It's better if you wear cotton clothes. Because cotton-made fabrics are comparatively soft and comfy than any other fabrics.
Besides, a perfect shirt or pants will enhance your confidence level. So, you could stay calm and relaxed.
Free Your Feet From Shoes
It's a controversial issue. If it is possible to take off your shoes before sleeping time, just check how amazing a feeling it is! Because, when you free your feet from shoes, your blood could circulate over your feet efficiently and it could make you calm. So, you can get heavenly comfort for your sleep.
Skip Taking Caffeine
Caffeine is one of the major reasons which help to stimulate our nervous system and it keeps the sleep away. When you are on a flight, perhaps flight attendants will offer you some drinks and chocolate which contain caffeine. Therefore, you have to skip those snacks which have caffeine at night.
Decrease the Amount of Meal
In the flying period, you should decline the amount of your meal. It can help you stay hassle-free. As a result, you will able to sleep easily. So, don't jump on much food even if you find it mouth-watering.
Moreover, taking heavy food not always good for health. Especially, when you're on a flight, you need to be stress-free. If we take a lot of food, our bodies have to work on it. Our vital organs will be engaged to digest the extra foodstuff. So, you should reduce your meal's quantity to avoid this hustle and bustle.
Read Also: An In-Depth Guide about Stroller Covers for Air Travel.
Try to Take Aid
If you have any medical issues like hypertension or high blood pressure, you may spend a sleepless night. That's why, you need to take your essential medicines.
Moreover, lack of sleep on travel is quite normal for some people. If you think you are in this group, you can take a melatonin pill just before a few hours the air journey.
Use Earplug
Earplug is an effective solution if you are disturbed by surrounding noise. You can put on your Earplug and can enjoy a quiet background.
At this time, some earplugs have Bluetooth or infrared features, by which you can listen to audio from your playlist. But, always listen to the soft sound or a story-type audio as we tend to sleep in the middle of a story. Interesting, isn't it?
Avoid Screen Before Sleeping
If you think you need a sound sleep, you have to sacrifice to watch films or Netflix before sleeping time. The digital screen is a great factor in the sleeping disorder of people. It's can also irritate your eyes if you have a severe eye issue. So, you must evade it before your napping period.
Try to Do Some Breathing Exercise
Breathing exercises may give you a positive feeling. Before a few moments of sleeping, you can try it. You can take a long inhale. Also, you should try to hold your breath as long as you can. After that, you have to exhale slowly. This breathing exercise will refresh your lungs and calm your body which leads to a sound sleep.
---
Conclusion
The aforementioned tips for sleeping on a plane are not the only strategies for following on flight. You can use your six senses for making your plan.
However, sleeping on a plane is not a tough job though some people find it hard to do. So, I have provided some best ways to sleep on a flight. You can follow these tricks for making a flight interesting and enjoyable.
Have a safe and peaceful journey.
---
You May Also Like:
How to Pick a Perfect Down Travel Pillow.
5 Comfortable Lumbar Support Pillow for Airplane Traveling.
---