Stealth camping is a unique type of camping. It's a fantastic way to enjoy a quick trip without grabbing anyone's attention and get a sound sleep. Therefore, you need to buy the best tent for stealth camping to make the most out of this exciting tour.
To get a secure night lodging in a quiet place, you can get the best stealth tent that fits your requirements from the five affordable stealth camping tents I've reviewed below. Let's see.
What Is Stealth Camping?
Before going to the review section, it would be best to get a clear idea about stealth camping. In simple words, it's one kind of secret camping in a private or public place so that you don't get bothered by the hustle and bustle of other people, vehicles, and animals.
However, you have to leave the spot on the following morning without being detected to accomplish a successful stealth camping.
Top 5 Best Tents for Stealth Camping in 2022
Going to a broader range will waste your time, and you may get puzzled. Therefore, I've highlighted only five handpicked tents designed for stealth camping. Peek below to see my picks and grab the most suitable one.
1. OneTigris Waterproof Backpacking Tent with Canopy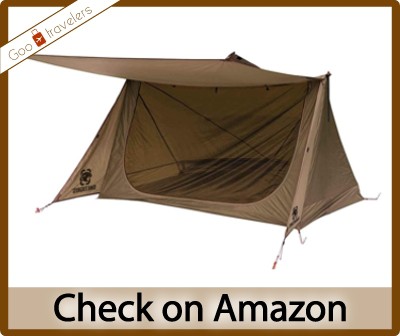 Make the most out of your stealth camping with the well-known brand OneTigris. There are various reasons behind the popularity of this tent to potential buyers at present.
First, this ultralight tent is made with 75D Nylon fabric to achieve the outstanding capability to withstand odd situations. Besides, this sturdy tent is a four-season tent too. So, you take the tent anywhere at any time of the year. Keeping the option of zipping system entrance, OneTigris makes the tent very much accessible.
With the Coyote Brown color, you can easily disguise yourself with the surrounding natural color. This is very important for stealth camping too. Moreover, it comes with reinforced Tie-out points to offers better flexibility in use and has a waterproofing capacity of up to 1500mm.
In addition to having simplicity, it is very easy to set up. You don't need any pole or tarp to assemble the tent. Surprisingly, by using two nearby trees and some pegs, you can quickly build up your cherished resting palace. Besides, anyone can carry this portable tent as it weighs only 3.2 lbs.
By virtue of the military graded tent's double-layered entrance and mesh door without bug, you will enjoy refreshing airflow. Plus, the lower window keeps the rainwater out of tents inside. Besides that, it has a larger dimension of 7ft (Length) *4ft (Width) *3.8ft (Height).
Highlighted Features
The weight of the tent is 3.2 lbs.
Easy zipper system door and mesh windows.
1500mm waterproof capacity.
It is made with 75D Nylon fabric.
---
2. OneTigris Lightweight Iron Wall Stove Camping Tent
Camping with tents from the OneTigris brand has changed the whole scenario, especially for friends and family fun, and that's why I've chosen the 2nd tent on the list again from OneTigers.
This iron wall stove tent with inner mesh allows you to get close to nature. Nothing can be so exciting than residing in the countryside and enjoying the charming sight. It will undoubtedly be a thrilling and joyous experience indeed.
With the Coyote Brown color, this Iron wall stove tent offers better usage in all aspects. By comparison with rivals, this tent has way better performance in camping history.
This extraordinary camping shelter is made of 20D Silicone-coated Nylon, and it got a water-resistant technology with a 2000mm waterproof rating. With uncomplicated functionality, it is straightforward to set up anywhere, and everyone can carry it comfortably.
Besides that, the tent weighs only 1900 gm. The new Iron wall model comes with an adjusted inner mesh and zipping system too.
Moreover, the tent is wind resistant and heptagon shaped, having reinforced stress points for solid and high resistance. By virtue of the tent's double chamber design, you will have both a sleeping space and a room for a fireplace. For enough airflow, it has two windows as well.
Highlighted Features
The weight of the tent is 1900g.
Very time-convenient assembly.
The tent has water-resistant technology of 2000mm.
It is made with 20D Silicone-coated nylon.
---
3. GEERTOP Portable Lightweight 1 Person Tent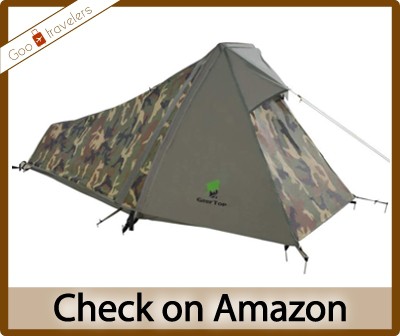 Some people prefer traveling alone. All they need is a book, a mug of coffee, a calm environment, and an only-me-time with no disturbance. If you are one of them, this Geertop tent is the right match for you.
Geertop introduces a one-person, 3 to 4 season heavy-duty tent. It is very lightweight, only 1.5 kilogram, which is less than 4 pounds. Additionally, its package size is 14 inches x 4 inches x 4 inches. Super portability! Isn't it?
It doesn't just stop there; with great portability, it also comes with two flysheet windows, two vestibular to keep your belongings. Vestibular's area is (1.7+1.7) square feet. The floor dimension is 84 * 38 inches, and the area is about 23.2 square feet. Its height is 36 inches. So, it's plenty of room for one person. What do you think?
Just having enough space isn't everything you need. Fabric is a critical component to focus on. Its flysheet is made of polyester fabric, and it's 210T PU2500mm polyester fabric; it's UV protected and fire retardant too.
Now, let's check the inner side fabric. It's also polyester fabric and grid yarn too. It's UV protected as well. The floor is crafted with 210T polyester fabric, PU2500mm. Pole material is aluminum.
Highlighted Features
It's great for one person stealth camping, 3-4 seasons bivy tent.
Lightweight, small packaging, and easy to carry.
Easy to assemble and disassemble.
It includes a mesh storage pocket and a two-way zipper for more convenience.
---
4. Snugpak Bunker 3 Person Tent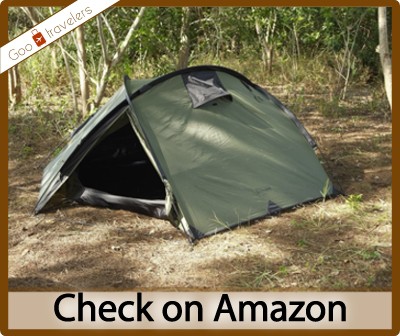 If you are looking for long-term use, say in a basecamp, Snugpak Bunker 3 Person Tent is the exact choice. This tent is built in a unique way to fight longer against rough weather. Two of the vents control the moisture inside. You will find a total of six mesh pockets on the sides to keep things organized.
Its floor and flysheet have a 5000mm waterproof coating and taped seams to get rid of rainwater. An interesting thing is the floor is designed like a bathtub which is beneficial to weatherproofing and repels water that rolls over.
Surprisingly this tent's weight is only 6.7 pounds, and it has 19 aluminum stakes with DAC poles to pin the whole tent in the ground. You can use this tent in all four seasons, and a fly-first design is useful in keeping the tent dry in the rain.
The most important thing is the tent's inner side is black, which prevents light from getting inside. So, it lets you sleep without thinking about outside conditions. To make the tent more user-friendly, Sungpak also included a repair kit too.
Highlighted Features
Spacious tent size.
Flysheet has 210t polyester.
The inner side of the tent is made of 190t nylon.
All the seams are taped.
---
5. Surplus French Military F1 Tent
The surplus brand offers the best and advanced quality in the F1 military tent. This two-men tent was first produced for the army of France. However, it includes a clever design with an integrated rainfly.
Notably, along with side vents, it has reinforced pockets for the poles and even on the lower part of poles, keeping them safe from mud or snow. Also, the zipped door makes it super easy to use.
With the integrated rainfly, this tent comes with seventeen steel stakes, and the fabric is nylon. You will get two aluminum poles with a spring for assembling accurately.
Not only that, the set is accompanied by a stuff sack and another separate one for stakes as well. You will also get six nylon tie-outs with the product. Besides that, with Olive Drab color, you can use this tent for low-profile camping in the woody area or desert sand for exclusive entertainment.
The rectangular-sized tank dimension is 84 inches in length, 40 inches in height, and 58 inches in width. The total weight of the tent is approximate 5lbs 12 oz.
Highlighted Features
It is made of waterproof nylon to get rid of rain, wind, and excess heat.
Doors with the mosquito net can be zipped anytime.
The floor is bathtub-style which protects from moisture infiltration.
It comes with one storage bang and one extra sack to carry poles and stakes.
---
How to Choose the Perfect Stealth Camping Tent
Stealth camping is different from the usual camping so do stealth tents. You have to consider some essential factors while buying a tent for the stealth camping trip. Let's see them…
Durability
Without getting a heavy-duty tent, you would fall into deep trouble in the middle of stealth camping. It would be best if you got a tent made with top-notch fabric and poles. Make sure that its seams are adequately sealed to stop water leakage. Also, ensure that the rainfly and flysheet are crafted with robust material to last longer.
Assemble and Disassemble
Sometimes speed is your only ally. In stealth camping, you need to set up the tent quickly and leave the camp as fast as possible. So, a hassle-free tent set up and pack up will be handy.
Tent's Color
You need to choose your tent color according to the surrounding of your camping area. It will help you to blend in with your surroundings. Buying a camouflage color tent will be the best option if you don't know how your camping spot will be. Please don't buy a bright color tent as a vivid tent easily catches people's attention.
Tent's Size
This is an essential consideration of stealth camping as a higher number of campers increases the chance of being caught while doing stealth camping. So, you need a compact tent without having any unnecessary space.
Weight
Stealth camping requires quick movements and bulky tents will restrict or slow down your speed. So, a tent weighing less than 8 pounds will be an ideal option for your secret expedition.
Read Also: A List of Comfortable 6 Person Waterproof Tent for Rain.
---
FAQs about Stealth Camping Tent
Here are some common questions and their answers. Read these answers to know more about stealth camping and Stealth camping tents.
Is stealth camping illegal?
It depends on the law of the region you are living. However, in most cities of the USA, Stealth camping is not illegal.  Maybe this is the reason behind the emergence of the term "stealth camping".
What happens if you camp illegally?
If you camp illegally, that means you are breaking the law of that city. Therefore, you will be penalized for doing this unlawful act if you are caught red-handed. Also, you may have to pay a hefty fine for illegally camping on that spot. So, be careful.
Can you put a tent up on wet grass?
Even if you are doing stealth camping, you must place your tent in a suitable place to avoid unwanted dilemmas. However,  putting up a tent on the wet grass is fine. You just need to keep the inside dry as possible. Do not forget to add some pegs if it's also windy outside.
Do tents lose their waterproofing?
Many of the tents come up with a joint that is sealed; sometimes, the sealed part can wear out. As a result, water leaks through these joints. That time you may need a rag to solve the problem. Also, you can give a waterproofing coating on the tent's surface to tackle water problems.
Does my tent need a footprint?
Footprints are not that significant for a tent, but if you have a footprint on your tent, it will help the tent's floor last longer. The footprint is used in ultralight tents mostly.
---
Final Verdict
You will appreciate a charming stealth camping experience if you pick the best tent for stealth camping. The tents I've discussed above are excellent stealth tents in terms of durability and convenience. As all the tents are ideal for your secret outing, you can choose any tent that attracts you and suits your budget.
Have a stealthy stealth camping to enjoy life to the fullest. Good luck.
---
You May Also like:
A List of Top-Rated Affordable 4 Season Tents.
An In-Depth Guide about Cheap 6 Person Tents.
Top 6 Inexpensive 4 Person Tents For Hassle-free Camping.
---