Big tents offer lots of advantages to making your camping memorable. These tents are ideal for any mid-size family or a group of professional campers. The fun of any tour becomes exceptional when traveling with your besties.
Buying an expensive tent could be an unwise decision for beginners as they can't make the most out of these temporary houses. Therefore, getting one of the most affordable 6 person tents can be a splendid decision.
Scroll down to read some of the best 6 person tent under 100 reviews and pick a suitable one.
Also Read: Top 5 Comfortable Tent for Stealth Camping.
---
The List of Best 6 Person Tent Under $100
Considering essential factors such as space, durability, build quality, and comfort, these are the top 4 cheap 6 person tents I have come up with. I hope you find a good fit here!
1. MOON LENCE Waterproof & Windproof 2/4/6 Person Family Tent
I'll start things off with a bang! This extraordinary camping tent is exactly the right one for you as it offers both durability and performance. Moreover, this spacious guy's premium features make it an excellent choice for serious campers.
You can store this stylish and perfect tent in a carry bag and take it to any corner of the world without any hassle. Yes, it is suitable for a sudden camping trip. Plus, this product weighs less than 6 lbs. That means the tent's lightweight nature will provide you the most enjoyable tour experience with less fatigue.
Apart from being lightweight and portable, this tent very straightforward to set up and disassemble. It wouldn't take much time too. Moreover, Moon Lence's comfy interior makes it suitable for people of all ages and provides enough room to house up to six-person without any problem. The double-layer design will help the tent to stay unharmed during inclement weather conditions.
The tent is equipped with a 1000mm water-resistant removable rainfly that works excellent against rain. Also, some small mesh pockets, a ground vent, windows, and a D-shaped door ensure more comfort while camping.
Highlighted Features
Enough for six-person to stay smoothly.
Perfect dimension and lightweight.
You can easily carry it in a bag.
It has a zipper system door and fiberglass poles.
---
2. Alpha Camp 6 Person Family Tent With Carry Bag & Rainfly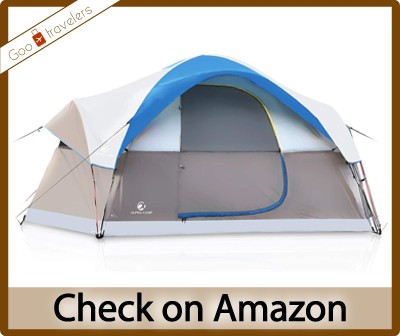 Next up is the Alpha tent, which comes with a double shelter flysheet to fight against storms or any other bad weather. This alpha camp tent is waterproof and water-resistant and strong enough to stand against little rain or stiff winds.
Additionally, it has a top mesh window to let you comfortably use this tent for camping, hiking, or doing outdoor activities in summer. This feature also creates a relaxing and safe environment inside the tent. Even the wind also does not get a chance to disturb your peace.
Also, It seems like a spacious room where six adult people can sleep and keep their luggage as well. You can place two queen air mattresses without any issue. The D-shaped door enables easy and smooth access to the tent.
The hook design allows you to hang your light and clothes smartly, while the Inner pocket can safely store your mobile, charger, headphone, and private things. You will also get enough headspace as this tent is 72-inch high at the center part. Overall, it is one of the best 6 person dome tents with such a budget-friendly price tag.
Highlighted Features
Spacious interior with two-bed space.
D shaped door and two windows.
It takes 5 minutes to assemble.
Extra inner pocket for keeping valuable small things.
---
3. Wnnideo Pop Up 2/4/6 Person Family Portable Instant Tent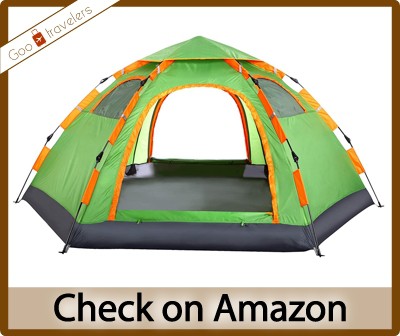 Here comes my most unique tent on the list. It takes only 10 seconds to set up fully. This portable instant tent has double-layer water and windproof capacity for camping and outdoor activities of all seasons. Wnnideo painted it green to match with the natural environment.
Simultaneously, having 9.25 pounds of weight, six adult people can use this special tent in any outdoor gathering without any dilemma. The fiberglass pole construction and 210T durable Polyester fabric make it suitable to use throughout the four seasons of the year.
D-shaped door's simplicity lets you easily take some natural refreshment while sitting in your own tent and looking outside. Honestly saying it is one of the easiest tents you will ever see in terms of assembly and disassembly. It also has several intelligence details and features for your flexibility in the tour.
A stunning combination of four windows, two doors, and a spacious roof with ventilation make it exceptional. Besides, the pyramid-shaped structure of the tent will provide aerodynamic advantages to withstand inclement natural conditions.
Moreover, the hexangular welded floor system and inverted seams keep the shelter dry while offering long-lasting performance.
Highlighted Features
Extra storage pocket to keep small items securely.
The door, window, and ventilation system provide supreme comfort.
It is crafted with rain resistant and polyester fabric.
Proper dimension with hook facilities for hanging objects.
---
4. Outbound 6-Person Festival Tent for Camping with Carry Bag & Rainfly
This is the last tent on my list, and it is from the brand Outbound. This 6 person backpacking tent offers the best of both worlds in camping, hiking, or any other outdoor activities. You can easily carry it in a zippered duffle storage bag. Having rain fly and water-resistant technology lets campers relax in a more convenient way than ever before. The color of the tent is green.
Not only that, the zipping system lets you open and closes the tent quickly and easily, making it a smart choice for beginners. Almost six people can fit inside without any problem. But, you can't place a queen air mattress in the tent. So, you have to use separate air beds for every individual.
It is made of high-quality polyester fabric for long-lasting performance. The weight of the item is only 11.46 pounds, and top-grade fiberglass is used as pole material. Moreover, the tent is designed with water-resistant materials and leak-proof seams for immense protection from foul weather.
The tent consists of a D-shaped door, a couple of windows, and a proper ventilating system to let you enjoy the outing to the fullest. Plus, this tent also got an extra storage pocket for personal use.
Besides that, the spacious teepee tent is eleven ft in width with a height of seven ft, including all other necessary components.
Highlighted Features
Easy to carry in a storage bag.
Made with good quality material.
Super design and simple set up process.
Great tent for warm weather.
---
Must-Have Features of 6 Person Tent Under 100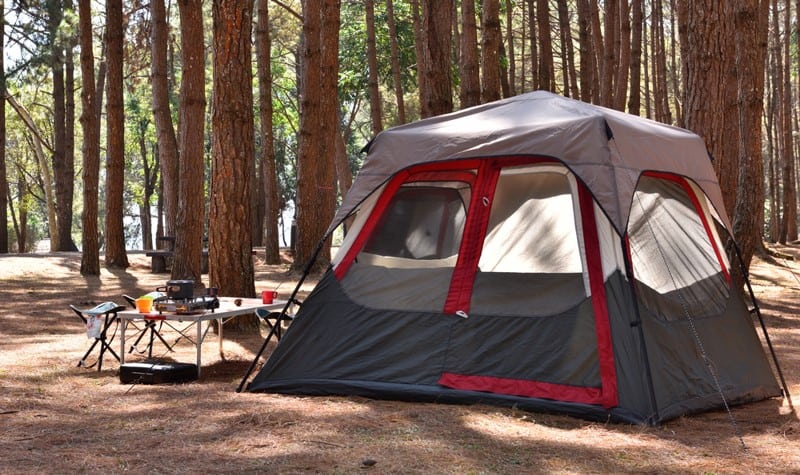 It would be best if you consider some crucial aspects while buying a tent. Here, I've provided these vital virtues so that you can choose the perfect one that ticks all the boxes of your requirements.
Build Quality
We all know that a heavy-duty outdoor product won't disappoint its user. This is true for tents as well. You must buy a tent that is crafted with durable fabric; otherwise, you may face extreme inconvenience in the middle of your tour, and you will find yourself in deep trouble.
Also, the shelter should incorporate rigid poles, and all the essential accessories should be made with high-quality materials to withstand any odd situations.
Assembling Comfort
The second important factor that you should look for is how quickly and easily you can set up the tent completely. After a long walk or journey, everyone needs to take some rest. After going to do camping, you would feel fatigued, and it would be tough to set up a tent with a complicated assembly design.
Also, you will enjoy a tent that sets up quickly within 15 minutes. Make sure that you have properly followed the instruction manual during the setting up process.
Easy Carrying Facilities
A heavy tent may offer many features, but you will forget all the pleasure of your memorable tour once you recall the horrible experience of carrying it to the camping spot. The good news is that numerous lightweight tents in the market offer all the attractive characteristics of a comfy tent. Also, they come with a comfortable carry bag.
So, grab these less weighty ones to have a lovely trip to the places where your heart wants to go.
Also Read: A List of Top 4 Season Tent Under 200 Dollars.
Adequate Ventilation System
Make sure that your chosen ten have a proper ventilation system. Tents having mesh windows and ventilation ports remain cool and refreshing. Well, ventilated tents keep foul odor out of the tent while letting fresh air enter the tent. The appropriate ventilation system will create a healthy atmosphere in your tent.
Additional Features
Rainfly, tent pegs, ropes, and footprint should include the tent pack so that you don't have to go through the hassle of buying them separately. Also, ensure that your tent comes with at least one storage pocket to keep small things. And, having a hanging hook and an E-port will make the tent further user-friendly.
---
Frequently Asked Questions (FAQs)
Here are some commonly asked questions and their answers to help you know more about 6 person tents. So, without further delay, let's see these question answers.
Which Color attracts the most heat?
This is an interesting question. Many campers don't consider the tent's color and suffer the consequences in the summer days. Therefore,  Violet attracts the most heat, followed by indigo, blue, green, yellow, orange, and red. Only white color does not draw heat since white objects reflect all waves of light.
What does minimum trial weight mean for a tent?
Minimum trail weight means how much the tent's weight without the non-vital parts. At least there should be the poles, tent body, and rain fly. Some producers take in stakes and guy lines as well in the list.
How long should a tent last?
A ten should last for at least five years if you take care of it. You can use it continuously for five years. However, longer-lasting performance depends on some essential factors (mentioned in the buying guide)  that increase the tent lifetime.
---
Final Verdict
Camping is an excellent way of enjoying natural beauties while staying away from all the stress of our daily life. It's a splendid means of refreshment. The tour will become more fruitful with a heavy-duty tent.
I'm hopeful that this guide will help you find the best 6 person tent under 100 dollars as all the four tents I've reviewed here are the best in the market in that price range.
---
Also Read:
Top 5 Affordable Family Tents Reviews.
6 Top Quality Camping Cot for Comfortable Sleep in a Tent.
---