After a long day of tracking and adventuring, you want to catch some sleep. This is when a tent comes into play. A tent shelters you from storms, snow, and bugs.
But, with 3 season and 4 season tents available in the market, choosing the right tent may be a challenging job for many. So, what's the difference between 3 and 4 season tent? 
It sounds like a 3 season tent is for only three seasons, and a 4 season tent is for all seasons. The idea is, however, slightly twisted. It's all about the weather and environment of the place where you fix your tent.
Here is how they are different and which one you should choose.
Difference Between 3 Season And 4 Season Tent
3 Season Tents
If you're preparing for travel at any time of the year, you may face different weather conditions. Moderate rain, wind, and snow – a 3 season tent can easily withstand these conditions. They are lightweight yet endure light to average weather conditions. They also have mesh to get you enough air and to prevent mosquitos and other bugs at the same time.
Here are some key features that define a 3 season tent:
Withstanding Weather Conditions– They are primarily designed for withstanding moderate rain, wind, and snow. Harsh weather conditions are too hard to handle for a 3 season tent.
Ventilation- 3 season tents have mesh panels and vents that ensure enough airflow, which also means that there is a lesser chance of evaporation and condensation. This amazing feature ensures your breathability and comfort.
Rain Fly- The rain fly plays a significant role in terms of getting rid of water on the tent. If the sky is clear, then you can rest assured without using the rain fly. However, you need to pack it as you don't want to take any risk.
Durability- They are made of thinner walls and floors. The poles used for setup purposes are also lighter. These elements being lighter and thinner eventually make them less durable, especially when the environment is not in your favor.
Weight- As mentioned earlier, 3 season tents are lightweight, which means they have thinner cloths, lighter fabrics, and fewer poles. Being lightweight, they are easy to pack and carry.
Those were some key features that differentiate a 3 season tent from a 4 season tent. But what makes a 4 season tent standout? Let's take a look at this as well.
Also Read: 5 Budget Friendly Top Quality 4 Person Tent.
---
4 Season Tents
4 season tents are designed for the harsh weather of the winter season. They can withstand strong gusts of wind, rain, and snow. The heavy clothes of these tents and the number of solid poles make them firm in harsh environments.
The following features show how a 4 season tent standouts from its tri-seasonal counterpart:
Withstanding Weather Conditions- While a 3 season tent can withstand moderate rain and wind, a 4 season tent performs even better in terms of these weather conditions. They can also bear heavy snow as they have stronger poles and heavier clothes.
They use fewest to no mesh panels, which means you don't have to worry about the cold; a 4 season tent also provides you warmth, thanks to the manufacturers.
Breathability- As they don't have mesh panels, 4 season tents are less breathable. You will, however, find 4 season tents of different constructs; double walls are more breathable than the ones that have a single wall.
Rain Fly- While the rain fly of a 3 season tent doesn't go all the way to the ground, the ones used on a 4 season tent do. They prevent rain and wind from coming inside.
Ease of Setup- More poles mean you need more time to set up. Fabric sheaths improve firmness, but they also make it time-consuming. Some tents have clips instead of sheaths; this will, however, take lesser time.
Another way of making it easier is to use a single-wall tent. But it's not all about the ease of setup.
Durability- Heavier walls and floor elements make a 4 season tent more durable than its counterpart. They also use more poles, making the tent even firmer.
Weight– 4 season tents use heavier cloths and more poles. These elements not only make them heavier but also make them hard to pack and carry. When a 3 season tent weighs 3 to 6 lbs., a 4 season tent weighs 8 to 16 lbs.
After knowing the key features, you may still be struggling to make a decision.
---
The Choice: 3 Season vs 4 Season Tents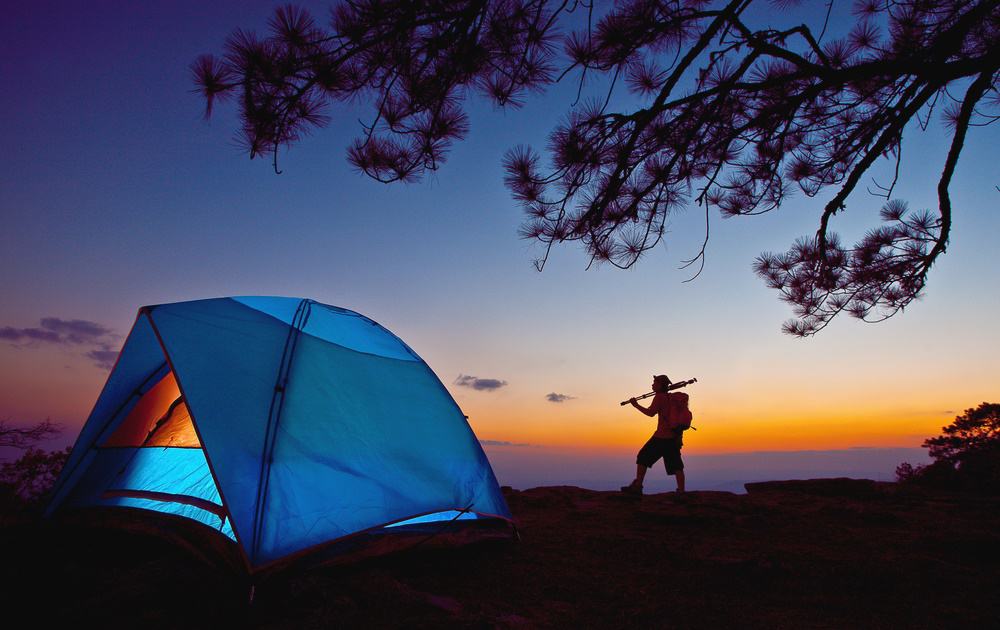 The Winter season doesn't look the same in every place. In some countries, especially in Asia, winter seems somewhat different. You feel shivering cold but still don't see any snow. This type of environment is bearable for your 3 season tent.
But, in other regions, more exclusively in Europe, you face gusts of wind as well as tons of snow. This means you need a stronger tent.
A 4 season tent is used for serious weather conditions. If you're planning to travel to a place where you have to face a harsh environment, you can go for a 4 season tent. Remember that it depends on the environment rather than the season.
However, 4 season tents come with a greater expense, but not more than your trip. It depends on your whole tour- where you go and how you organize it.
If you're backpacking, then a 3 season tent is better. Given that they are lightweight and easier to pack, they eventually make your tour a lot easier and more fun. If you feel a little bit cold, you can still depend on your sleep bag. However, they are not capable of withstanding harsh weather.
Read Also: A list of Favorite 6 Person Tent in your Budget.
---
Conclusion
The confusion about '3 season tent vs 4 season tent' fades away when you understand their key features.
Each type of tent has different features that make them more suitable for distinguished environments. You can, however, use any of the tents in moderate weather. But, if the weather conditions are too harsh to withstand, better use a 4 season tent.
Yet, they perform the best when you use them in the right environment in terms of safety and comfort. When it comes to a '3 season or 4 season tents' debate, you need to make your own choice, depending on the features discussed above.
Have fun and discover more beauty of our plan.
---
You May Also Like:
A List of Top Rated Camp Bed for Bad Back.
Our Favorite 6 Person Waterproof Tent for Rainy Season.
---