On weekends or any other type of vacation, stealth camping is one of the most preferred weekend activities by people who love to release their stress and the pressure of workloads. They become more energetic and refreshed to get themselves ready for the next working days.
Therefore, stealth camping tips and tricks can help them achieve successful and hassle-free camping. Previously stealth camping was famous only to passionate travelers and bicyclists. But in recent times, this special camping seems to get famous among all classes of people.
Stealth Camping Tips and Tricks (for Tent Camping)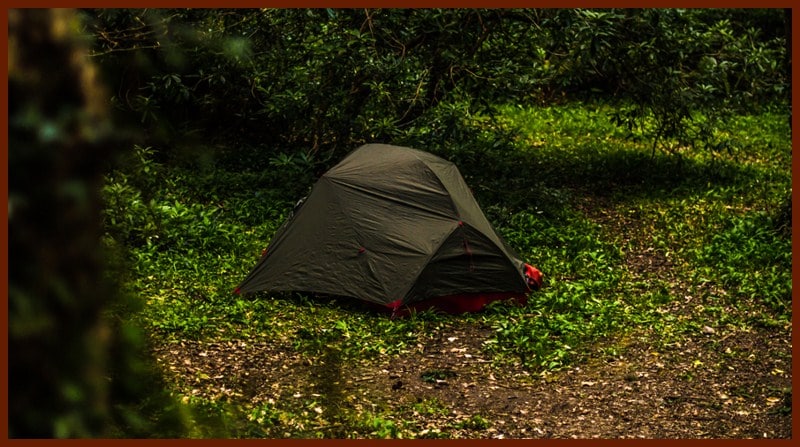 Stealth Camping or sudden tent camping means usually camping at an unestablished wilderness site. Stealth camping requires good campsite selection skills as camps will be set up in areas that are typically safe and that tents will not be encountered with any natural calamities or wild creatures attack.
Here you are given the ten most effective tips and tricks for stealth camping.
1. Camping at any higher place
While walking or driving on the road, people rarely look up; besides, it is quite difficult for them to climb uphill. So, none will come searching for you if you are staying at high lands. Also, if you set your camps at higher places, you can easily realize others' presence by peeking down and silently move away from the spot before people arrive at your camping spot.
2. Covering Your Tracks
It is essential to ensure that you have covered-up footprints or bike tracks leading towards you may disturb the calmness you are enjoying at your stealth camping. Also, do not disturb your campsite's natural surroundings as it can grab others' attention towards your stealth camping tent.
3. Don't make unnecessary fire
If you make fire for some reason in your campsite that causes light and smoke, it can attract the attention of others. As a stealthy camper, fire and smoke can spoil your stealth camping, and you can be easily spotted.
4. Using similar colored tents that usually mix up with your surroundings
Camouflage usually works very well when it comes to stealth camping. If your color of the tents usually got mixed up with the color of the greenish or brown toned surroundings, then it will be hard for anyone to identify your tent and you can easily enjoy your stealth camping.
You'll love the latest six person tent for rain available from top brands.
5. Look up for animal tracks in the camping spot
It is very important to select camping areas which avoid locations where several types of animal's like bear, wolves, raccoons, skunks, and others may frequently use. Because, if the camp is set in those areas, there is no chance for you to enjoy your stealth camping. You may either get disturbed by their sounds or you may get attacked by those animals.
6. Not making camp nearing any river, estuary, or canal
It is usual for any camping to have the precaution against any natural haphazard. Usually, for stealth camping, remote areas are chosen to set up camp, and it would sometimes backfire the excitement and pleasure that people use to expect in a stealth Camp.
If they choose to set their campsite nearer to any river, estuary or canal. Because it may then lead to situations like flood overnight and cause you to get stuck.
7. Don't forget necessary First aid kits
It is essential to have self-dependency while you go stealth camping because none sees where your location is. So, emergency kits will be helpful whether you hurt yourself and get sick or otherwise getting into trouble.
The matter of worry is that you will be alone there to help you get yourself out of that situation. So, you should take necessary first aid medicines and other vital tools like knives, ropes, etc., which can come in handy to any unwanted situation.
You may also enjoy reading about camping cot for bad back.
8. Knowing specifically about the law
For stealth Camping, different countries or places or states have different laws as their attitude towards it varies. It is very common and usual for some areas of the earth, and similarly, it is quite illegal for some places for a variety of reasons like securities, wildlife preservation etc.
So, it is very necessary for you to research properly about the place you choose for stealth camping, whether it is legal to camp there or whether there are restrictions on camping in those places.
9. Choosing time correctly for setting up camp
It is vital to start setting up your camp for stealth camping, usually when it starts to get dark. Because if you start setting up your camp very early, especially at morning times, then there is available sunlight, and you might get noticed by people or animals easily, which then disturbs the serenity you are supposed to enjoy at your stealth camping.
10. Tips for using lights and type of the tent
Stealth camping is something like camping in undercover like a spy (ex- James Bond, Jason Bourne etc). So you should try as best you can to not to get noticed by any living being of your surroundings of the places you choose for stealth camping unless you don't find the full excitement and fun of stealth camping.
So, you should try to use as little light as you possibly can. Also, you should not set up complex types of tents for camping. Instead, it would be best if you focused on making your tent as simple as possible so that you can quickly close and set up this.
Find out which six person tents under 200 dollars are the bestsellers now!
---
Final words
Here you have just read about the ten most effective tips for stealth camping. I hope these stealth camping tips and tricks will make your secret camping more flexible and enjoyable. So get yourself ready with your backpacks and start to create your own stealth camping. "BE SAFE AND HAPPY CAMPING"!!!!
---