Camping with family is refreshing. It gives us a way to forget our daily boring activities and enjoy our life staying near nature for few days. However, you may face several unwanted natural incidents during your expedition, and rain is the most common among them.
 But, if you buy the best 6 person tent for rain, your camping won't be hampered by light or heavy shower. Yes, it's not easy to find the perfect tent for camping in the rain, and that's why I've reviewed six person waterproof camping tents to help get one. Let's see…
Read Also: Top-Rated Affordable Six Person Tents Reviews.
Best 6 Person Waterproof Tent in 2022
If you have six or fewer members in your family and don't take a 6 person waterproof tent for camping, you may face many inconveniences due to rain. Also, you may find yourself in deep trouble because of rough weather conditions. Therefore, you need the best 6 person waterproof tent for hassle-free camping.
Without further ado, let's see more details about these tents.
1. OT QOMOTOP 6 Person Waterproof Camping Tent with Top Rainfly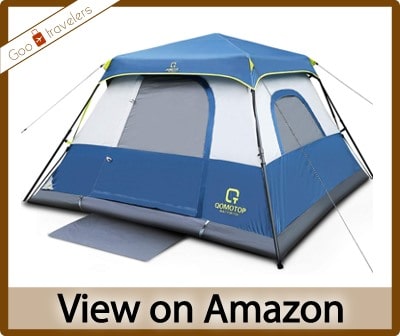 The first thing to look at is its spacious interior; the tent can allow six adults to sleep inside using sleeping bags. Or, you can fit one queen-size airbed for a smaller group. Moreover, starting from the rainfly down to the bottom areas, all seams are fully taped. So, you get your tent always dry.
More interestingly, you can set up this tent in only sixty seconds with poles made of steel in a few short steps. Don't worry; the tent will stand very firmly in its place.
However, this tent has a separated rainfly which can keep the tent's roof away from leakage. So, you need not worry about the sleeping bag getting wet in the rain. Plus, it is equipped with a large front door and an excellent welcome mat to make your entrance special. As a result, you can keep your shoes to keep your tent tidy.
Notably, an upgraded ventilation system has been used in this tent. On top of that, an adjustable ground vent can maintain a favorable temperature inside for all seasons. Additionally, the E-port allows you to connect an extension cord to your tent for electrical power.
Highlighted Features
Durable 68D Polyester fabric made product.
Tent Poles are made of telescoping steel.
Separated rainfly for solid rain protection.
Require only 60 seconds to set up.
---
2. Ayamaya 6 Person Waterproof Family Camping Tent for Rain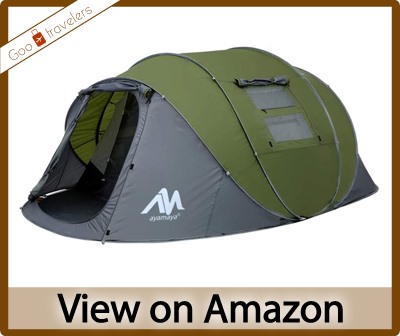 If you are looking for a spacious 4–6-person pop-up tent with a vestibule floor, this Ayamaya guy is a good choice. Its interior consists of 12.5 x 8.5 feet on the floor, enough for your 5–6-member group to live in. Also, the center height of the tent is 53.5″.
Its electrical ports can be used to supply electricity from outside for your personal use. Besides, the storage pockets and lantern hook are essential to keep the tent neat and clean.
With the virtue of a double-layer design, it can offer you additional ventilation in the summer or spring to make you relaxed. You will be glad to know these tents are shipped with pre-assembled poles and can be assembled pretty quickly. You will also get a carry bag for easy transportation.
Ayamaya Pop-up tent has two large front doors and four zipper system mesh windows. Both doors and windows have a double panel, and you can completely open any side you want. Impressive, isn't it?
However, mesh material allows hot air to escape, and you can keep small items in the mesh pocket. You can use the zipper system while going out of the tent as it is enabled on both sides.
Highlighted Features
1190t polyester fabrics offer supreme durability.
The ground material is of 210D oxford.
3000 mm – 4000mm waterproof.
All the edges and connections have heat-sealed seams.
---
3. Pacific Pass 6 Person Family Dome Tent with Removable Rain Fly
The Pacific Pass tent with a spacious area has the capacity for six people. The center height is suitable enough for tall fellows, and it's a great 6 person tent for wind and rain.
The second vital thing to consider is this tent is stable and safe to use. It has a waterproof capability of 1200 mm. This tent is one of the best while you are in family camping. With a convenient design, it includes two mesh storage bags. You will find a hook inside to hang lights and necessities. For the electrical device, you will get an e-port as well.
However, it's easy to set up and carry. With eight ropes and eleven stakes, it only takes 5 minutes to set up. The weight of the carry bag is 13.3 lbs. Additionally, this tent is lightweight and portable. You can use supplied carrying bag for smooth and easy transportation, and this light tent is suitable for everyone.
This tent is made of top-quality material that can show durability and stability throughout your camping, so you can give extra focus on making memories. The rain sheet of the tent is durable and keeps you dry in all weather conditions. So, enjoy this brilliant tent on your camping trip.
Highlighted Features
It has the sleeping capacity for six-person.
The weight is only 13.3lbs.
Heavy-duty rain sheet.
Attractive design.
---
4. HUI LINGYANG 6 Person Waterproof Family Tents for Camping, Hiking & Traveling
Introducing the Hui Lingyang tent, which is very easy and quick to set up. This is an instant pop-up tent that comes with pre-assembled poles for setting up in seconds.
The spacious interior makes this product more unique. The floor is 12.5 x 8.5 feet. Therefore, 4-6 people can sleep using sleeping bags, or 3-5 adults can fit in with their luggage. The center height of the tent is 53.5″.
Also, it has an excellent venting system with a big mesh window on both sides of the tent. These windows allow more airflow to come in and making it comfortable to live in. For extra ventilation, the tent comes with a ground vent that will keep you cool in the summer seasons.
Moreover, you will remain dry in any season using this pop-up tent while camping. Its waterproofing material, properly venting with integrated rainfly, and advanced heat-sealed seams can keep you dry all the time. No more hassle even on rain time as well.
Overall, this tent is ideal for seasonal camping, hiking, resting near your palace, any festivals, recreational arrangements, or beach enjoying.
Highlighted Features
The tent is made of 190T Polyester fabric.
The floor build with 210D Oxford PU3000.
3000mm-4000mm waterproof tent.
Storage Bag, Wind Rope, and Stakes come with the tent.
---
5. CAMPROS 6-Person Waterproof Family Tent with Top Rainfly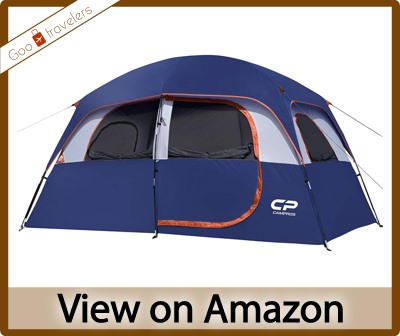 Campros tent is a camping tent that can also effortlessly fit six people. This tent is perfect for family camping, and experienced campers love this renowned brand. The tent's measurement is 11′ x 7′ x 72″(H).
Fortunately, you can incorporate one queen-sized air mattress or six sleeping bags to sleep inside the tent. This tent is ideal for car camping or site camping too.
The family tent is crafted with stable and high-quality material. It is made of 185T polyester and can guarantee you up to 1000 mm of water resistance. More importantly, this Campros guy can keep you dry under the rain while keeping you warm enough to have sweet dreams at night. This is ideal for camping in any weather condition.
However, it's easy to set up, and no particular skills are needed to set up. Two people can easily set up this pop-up tent. It may take only 5 minutes. An accessible transportation option is available for the tent as you have a carry bag with it in which you can store the whole tent after use.
In the meantime, you can use this bag as a sleeping bag as well. Yes, sleeping bag, you read it right! It has both-sided zippers and quality poles. On the other hand, this portable tent has a big mesh door and four mesh windows for proper airflow circulation. The weight of this tent is 12.8lb. So, you can easily carry this using the bag anytime.
Highlighted Features
Robust tent for all season.
Very lightweight and Portable tent.
The peak height of the tent is 72″(H).
It is equipped with steel made poles.
---
6. UNP 6 Person Waterproof Family Camping Tent for Rain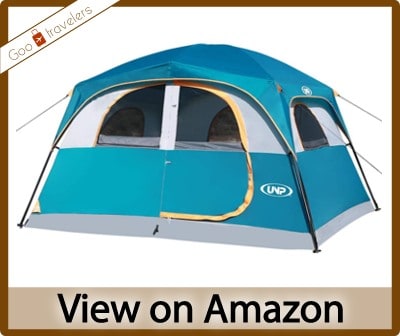 This is the last tent of our tent, and the first and vital thing you will notice is its quick and easy setup procedure. You do not need any kind of particular skill or tool to set up this guy. Plus, only two men can easily assemble it within three minutes. In addition to that, it has a double-sided zipper and sturdy poles to withstand inclement weather situations.
UNP provides a large carry bag (24.6X8.26X8.26 inch) with this tent. Therefore, you can store the tent into the carry bag effortlessly. It has two vents on the roof and one side vent placed in the lower part as well. Mesh paneling and doors are of great use to explore outside and enjoy the fresh air. You can adjust the zippers to adjust the vents of the tents.
To connect with an external power source, you will have an e-port. This port allows power cords to come inside the tent and provide power for your electronic devices. Besides, this special tent has enough space to fit six campers at a time. You can certainly stand up inside of the tent as it has 78 inches of center height. The measurement of the tent is almost like a room (10ft x 9ft).
Plus, UNP Tent is made of high-quality material, and they are weatherproof too. The tent is made of 185T polyester. In terms of coating, it can offer up to 1000mm. However, it is fully waterproof, and you will get four steel poles too. The roof of this tent is rectangular. Undoubtedly, this tent is strong, durable, and windproof as well.
Highlighted Features
Six adults can use it without any issue.
One mesh door and five mesh windows.
The peak height of this tent is 78″.
Steel made poles ensure a solid structure.
---
Things to Consider Before Buying A Waterproof Camping Tent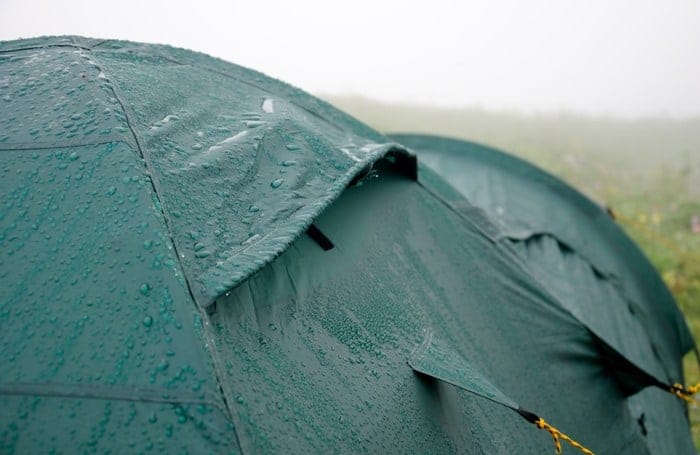 If you want to hand in the best and right waterproof tent for the perfect camping, you must follow some checking before you buy. So, let's get into it-
Tents with High-Quality Materials
The first and foremost advice to follow is to search for the one with quality materials. Thus, making it more reliable and robust for challenging situations and regular use. Moreover, when you are choosing a tent for a wet monsoon, never rely on cheap tents.
Quick And Easy Setup System
The second most important factor on the list is to get a tent with quick and easy setup methods. It will save a lot of your valuable time. Also, tents with lightweight facilities are always admired for their usefulness in transporting and relaxation indeed.
Ventilation Facilities
You will need such qualities in any season with your camping tent for enough fresh air circulation. Some tents come with extra vents included and are always great to use.
Seamless Design
Especially for the rainy weather, seamless tents are a must. Tents with taped seam are great to use in wet conditions too.
Spacious Tent with Welded Floor
When it's wet outside, you need some extra space for you and your children as well cause children often need broad space for playing. Moreover, you will surely need the welded floor feature with your camping tent to ensure a dry and comfortable environment.
---
FAQs about Camping Tent for Rainy Season
Can you touch the sides of a tent?
It is always the right choice not to touch the sides of the tent. In bad weather, the side of the tent may become damp. Any kind of touch on the side of the tent can cause the seeping of water. These things happen mostly on polycotton tents.
Can a tent be washed?
Washing a tent is definitely not a good attempt to look for. You may think of a washing machine to use, but this is not the best idea; it can harm your tent, damaging some valuable components. So never try this!
Are any tents waterproof?
No, some tents are waterproof while others are only water-resistant. Waterproof tents will keep you completely dry, but water-resistant tents won't give total protection against rain. Therefore, buy a waterproof tent for complete rain protection.
---
Final Verdict
Rain is an extraordinary natural occurrence that fills our hearts with tranquility. Enjoying rain with family while camping near a deep forest or riverbank is pure joy. But, without having the best 6 person tent for rain, your most awaited family outing can be spoiled. And, nobody wants such situations.
To avoid such inconveniences, I'd suggest you buy any of the above-mentioned waterproof tents and have a memorable camping. Good luck.
---
You May Also Like:
6 Comfortable Person Tent Under $100.
6 Most Comfortable Camping Beds for Bad Back.
---