Are you looking for the best 4 season tent under 200$ that provides both durability and convenience to make your camping comfortable?
Well, four Season tents offer top-notch features to keep you safe and sound in diverse natural conditions and let you enjoy the beauty of mother nature in every possible way. Maybe that's why they are expensive too.
Fortunately, I have found five first-class and affordable 4 season tents that will satisfy your camping needs besides fitting your budget range. Let's see..
Read Also: Top 5 Comfortable Family Tents Under $200.
---
Best 4 Season Tent Under 200 Dollars
Here, I have handpicked only 5 budget-friendly 4 season tents and reviewed them thoroughly so that you can decide the most appropriate one for you with less effort. Take a peek below..
1. GEERTOP Backpacking Camping 4 Season Tent for 2 Person
The first tent of my list is from GEERTOP. It's a 4 season backpacking tent perfect for 2 People. Its exquisite build quality along with exceptional features will deliver mind-blowing performance during your campaign.
This dome-shaped tent inherits a durable and innovative double-layer design that ensures proper ventilation and weather protection in all seasons.
Additionally, GEERTOP has crafted this tent with 210T anti-tear breathable polyester and high-density nylon mesh. So, it will be your best buddy in the summer, winter, and rainy seasons.
Moreover, the tent weighs 6.4 lbs., which makes it super flexible to carry wherever you want. Furthermore, it comes with outer vestibules and storage pockets to offer your supreme comfort.
The tent has free-standing poles, and its interior dimension is approximately 78x55x41 inches. Therefore, it provides space to accommodate two adult people.
What's even better, the tent's UV resistance and PU 3000mm waterproofing abilities keep the sunlight, snow, and rain from harming the tent. And, it will take only a few minutes to set up the whole thing.
Overall, it could be the best two-person tent if you are going on a camping trip, hiking or trekking shortly.
Highlighted Features
Weight on 6.4 lbs.
Double layer with zipper system.
Waterproof and breathable polyester.
The floor sheet is built with PU 5000mm Oxford fabric.
---
2. GEERTOP Portable 4 Season Waterproof Tent for 2 Person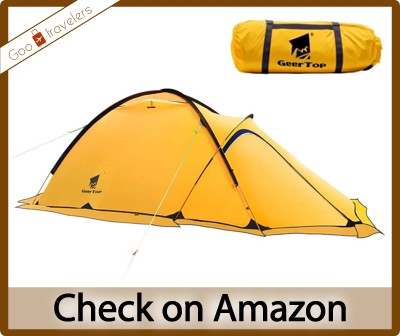 Here is another Geertop's 4 season tent. It weighs less than 7 pounds. So, the super-strong 2-person tent is extremely lightweight too.
The fabric of this tent is really awesome. The interior part of the tent is made of 210T breathable polyester. And, the floor and flysheet are seam taped and crafted with 210T fabric. Also, its sturdy poles are made of Aluminum to withstand powerful storms.
Apart from these features, the tent is equipped with two vestibules, one on each side. These allow you to put your things like muddy shoes, flask, laptop, etc. It comes with a velcro ventilation system that lets the wind come into the tent and makes a comfy environment.
As I said, two people can comfortably share this tent at a time, and you can fully assemble the tent pretty quickly. It also includes one flysheet, four waterproof reflective ropes, folding aluminum poles, one storage pocket, and one large carry bag.
Don't worry; this guy is completely water-resistant and has a double-zipper system that makes it further user-friendly.
Highlighted Features
Strong and lightweight at the same time and easy to carry.
Super ventilation system with a velcro latch.
Made of standard quality fabric.
Storage pocket allows one to keep necessary things.
---
3. Forceatt 4 Seasons Waterproof & Windproof Tent for 2 and 3 Person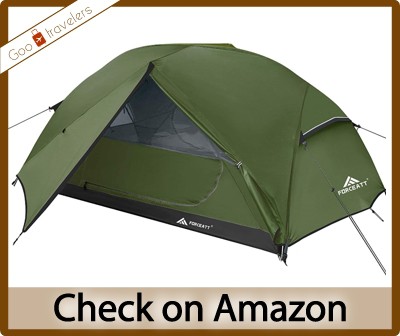 Now hikers can set up their tent in a flash. Forceatt introduces a tent for 3 people, which is lightweight, waterproof, and comes with a sturdy double zipper zip design.
The materials of this tent are superb. 7001 series aluminum rod gives it the ultimate strength to stand against the strong wind. The 75D polyester fiber of the tent's fabric combined with a 200T waterproofing coating makes it waterproof and windproof at the same time. It comes with four ropes that provide extra support during natural disasters.
Thankfully, the tent's internal part is as good as its outer side. It has 2 D-shaped doors, windows on the upper side, and two ventilators to keep the internal environment comfortable. Internal size is 220cm x 130cm x 110cm which is big enough for 2-3 people. No mosquitoes, bugs, or harmful flying insects can't enter through the micro mesh high-density fiber.
You can set up this 4 season family tent within 5 minutes. Not only that, it takes even less time in disassembling. It saves your time and allows you to have a hassle-free outdoor camping experience.
Besides easy assembling and disassembling, its portability is another thing to talk about. It weighs 5.68lb. So, you can carry it effortlessly anywhere you go.
Highlighted Features
Super easy to assemble and disassemble.
Low weight and smaller size give you more portability.
It's completely waterproof and windproof.
Durable dual-use zipper for easy access.
---
4. SEMOO 4-Season Double Layers Lightweight Camping Tents for 3 Person
If you want a low-priced 4 season tent without compromising its quality, this SEMOO product will meet your demand.
Apart from having a low-price tag, this camping tent is spacious enough to accommodate 3-4 persons effortlessly. Therefore, if you have a small family, it will allow your whole family to stay inside one tent and double the camping fun.
The tent's upper fabric is made of polyester, and the rainfly and the floor are crafted with polyethylene. So, rain and groundwater won't get any chance to reach the interior section of the tent. Its fiberglass poles are rigid too.
It features a D-shaped door, mesh windows, small storage pockets, and gear loft with a lantern hook for ensuring more comfort and convenience. Also, you can put up the tent pretty quickly without any issue.
Everything comes with the durable tent promise to offer top-notch performance in any season. So, heavy rain, scorching heat, and extreme snowy conditions can't hamper your camping comfort.
Highlighted Features
The spacious tent can house four people at a time.
Very breathable and user-friendly.
Includes all necessary equipment.
Very sturdy construction to withstand inclement weather conditions.
---
5. Naturehike Cloud-Up 4 Season Lightweight Backpacking Tent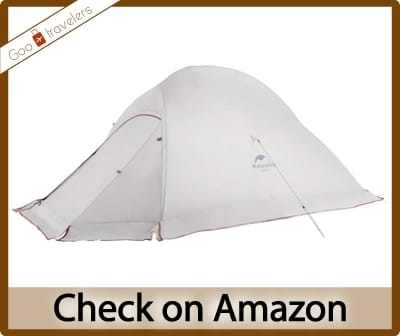 Introducing the last 4 season tent of today's list, and it's a heavy-duty tent from Naturehike. This thing will keep you safe and secure no matter how bad the weather condition is.
To offer you a durable service, the manufacturer has designed the tent's different parts with top-grade materials. Its silicone-coated 4000mm waterproof rainfly and floor are crafted from a 20D rip-stop nylon, whereas the poles are made of 7001 aluminum. As a result, you will get a breathable and healthy environment inside the tent.
Besides that, you won't face any dilemma carrying this beautiful backpacking tent to your camping site as it weighs only 3.75 lbs. You will be glad to know that the tent is super easy to put up as you can assemble the entire tent within 5 minutes.
The robust double-layer walls help the tent to guard you and your belongings in harsh conditions. Don't worry; you won't feel suffocated inside the tent due to this thick design.
Plus, this fantastic tent ships with a carry bag, footprint, Wind ropes tent stakes, gear-loft loops, and storage pockets to offer you a remarkable user experience.
Highlighted Features
Pu 4000mm water-resistant is very effective against rain.
Sturdy built quality ensures long-lasting performance.
Super quick and easy to set up.
Lightweight and user-friendly.
---
Things to Consider Before Buying an Affordable 4 Season Tent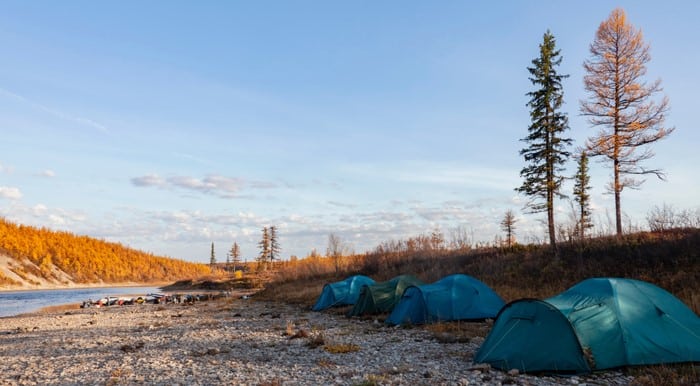 Before purchasing expensive or cheap 4 season tents, you must emphasize some highlighting features; otherwise, you will be very disappointed with the tent's performance. Let's check them out before ordering a new camping shelter.
Tent type
Mountaineering, basecamp, and treeline are three main types of 4 season tents, and you have to pick one according to the expedition you are up to. If you intend to stay on top of a hill or mountain, you should buy a mountaineering tent as they are lightweight and designed to perform well in such places.
Also, you can have a basecamp tent that is sturdier and heavier than a mountaineering tent and offers more comfort with more space and ventilation. However, a treeline tent would be an ideal option for those who don't want to stay on any mountain's surface.
Durability
Without long-lasting performance, a 4-season tent would be worthless. These kinds of tents have to endure diverse weather conditions and withstand the burning heat of summer, the shivering cold of winter, and rain and storms of other seasons. So, this is an important criterion to have a robust tent for a safe outing.
Build quality
Quality materials show high performance, and the 4 season tents are no exception. Make sure that the tent you are buying is crafted with heavy polyester fabric and high-density nylon mesh. Also, the heavy-duty aluminum pole will provide more stability to any tent.
Moreover, check the tent's doors, windows, and floor are not made with cheap elements.
Tent size
Tent size is crucial, and it is directly related to the comfort and convenience of your trip. First of all, big tents will offer ample inner space for hassle-free roaming and storing your necessary pieces of equipment. In addition to that, large tents are also very stable.
On the flip side of the coin, big tents possess more weight, and it would be tough to carry them by hand.
Ventilation and Waterproof
Ensure that your tent has proper ventilation so that you don't feel too cold or hot inside the tent. Also, the tent should have an ergonomically placed canopy to stop rainwater and irritating sunlight from coming inside. Plus, no water should leak through the tent surface.
Find out which camping cots for bad back are the bestsellers now!
Interior pocket and E-port
Interior small pockets will allow you to store lots of small things inside them so that you can have a well-organized trip. Also, having an e-port will enable you to run an electrical wire into the tent.
---
Frequently Asked Questions
Can you use a 4-season tent in the summer?
Yes, you can use it during summer. However, some 4-season tents are made to tackle extreme cold seasons and become too hot on a sunny day. So, make sure that your tent has proper cooling systems.
How heavy should a tent be for backpacking?
Backpacking tents are very lightweight, and they are specially designed for easy carry and transportation. That's why these tents should weigh no more than 5 lbs. Their ideal weight should be around 2.5 lbs.
What color tent is best?
Different tents come in different colors. And, people choose their tents' color according to their preference. However, light color tents such as white, green, yellow tents consume less heat from the sun, and their inside doesn't become scary dark in the absence of light.
Can you sleep in a tent during a thunderstorm?
Yes, you can, if you have a heavy-duty tent. However, it would be best if you take shelter under any nearby solid structure or home during thunderstorms as deadly lightning can struck the tent at any time and take your life. So, it is better to play safe.
---
Final verdict
A high-quality 4 season tent will encourage you to explore beautiful places worldwide regardless of weather conditions. I believe these in-depth reviews about the best 4 season tent under 200 will help you pick the most appropriate one for your next expedition.
All products on the list are excellent, but if you ask me to single out the best of the best, I would go for the Forceatt tent as it is spacious, sturdy, and set up straight away with less hassle. This is one of the best camping tents in the business. Have a safe tour. Good luck!
---
You May Also Like:
Top Rated 4 Person Tent Under $100.
How to Choose A Cheap 6 Person Tent for Camping.
---