When you think of your essential apparel for traveling, a warm item always makes its way to the list.
And among many preferable options, a cardigan is such a warm attire which is known to be the first choice for many travel enthusiasts.
Whether traveling to a cold country or a hot region, it's always a wise decision to pack a suitable cardigan into your backpack. You never know, things can get rough all of a sudden and you might need one!
Choosing a perfect cardigan will not only keep you warm in difficult weather but also will give you a stylish look.
Most cardigans out there take bulky space of your travel bag. It makes them a bit inconvenient to carry. If you are facing the same problem, you have come to the right place. Have a look at my recommendations for the best cardigan for travel to find out the suitable one for your need.
Why Is It Important to Have A Cardigan while Traveling?
Nowadays, cardigans are not only worn while visiting colder regions, but they are also quite preferable in other climates too.
Keeping a cardigan sweater in your backpack is a sensible decision no matter where you travel. You may need it any time.
Whether you are traveling by bus, train, or plane, a cardigan will keep you warm at any necessary time. It will make you feel cozy and comfortable during your journey.
A lightweight long cardigan could be a perfect choice for you to keep yourself warm and look stylish at the same time. You can call it the best travel cardigan since you can easily carry it. Whether you want to wear it for traveling comfort or as a sense of fashion— in both ways a cardigan has its significance.
Top 10 Best Cardigans for Travel
I have listed here some of the best women's travel cardigans from my research and observation. You can pick any of them at your convenience.
1. GRACE KARIN Solid Open Front Long Knited Cardigan Sweater for Women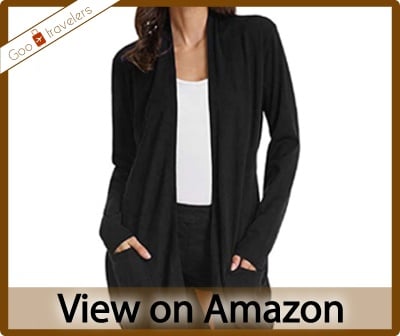 If you are looking for a versatile and comfortable cardigan, you can easily go with this one from Grace Karin. A splendid look is blended with cozy fabric to provide you desired comfort and style. You can wear it while traveling and even use it for any formal or casual occasion.
Material
This open-front cardigan sweater is a mixture of semi-synthetic Viscose (65%) and transparent Acrylic (35%) fabric. The blend perfectly ensures suitable stretch and makes it breathable enough to wear in any given situation. Being neither too thin nor thick, it will comfortably fit you.
Compatibility
Weighted only 13.62 ounces, you can easily carry it wherever you travel. Two front pockets with hem give you the advantage to keep things if necessary. The best part of this cardigan is, you can wear it with any kind of apparel from jeans, leggings, boots, to casual tops.
Things to Appreciate
Perfect for both light warm and cold weather
Cozy and comfortable
Gives a stylish look
Sizes are available from S to XXL
Many colors to choose from
Fit easily
Take Note
Not machine washable
Often gets out of stock.
---
2. MEROKEETY Women's Long Sleeve Knit Ribbed Neckline Cardigans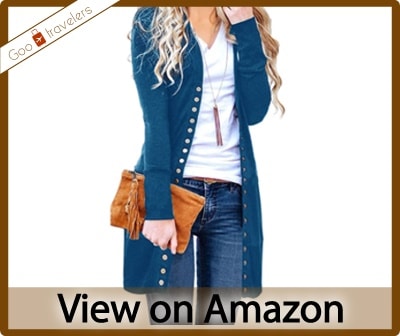 When it comes to the long cardigan for travel, only a few brands can stand out in the race of quality and comfort. MEROKEETY is well known for its knit ribbed long sleeve neckline cardigans. With excellent customer satisfaction records, this can easily come into your warm apparel list for the next travel.
Material
With an accurate mixture of mostly synthetic fiber Rayon (60%), Polyester (35%), and a bit of Spandex (5%), this is a lightweight and smooth fabric. This cardigan has good elasticity due to the presence of spandex and is thereby perfectly stretchy. The neck is V-shaped, hem and cuffs are ribbed with covering up to your hips.
Compatibility
Being smooth and soft, this item will give you much comfort while you are traveling. You can also carry it anytime since the weight is only 7.05 ounces. Whether it is summer, fall, or winter, you can wear this anytime! You also have the advantage to suit the color with your jeans, tops, or boots since there are many color options.
Things to Appreciate
Comfortable
Buttons give a casual look
Perfect for any weather
Easy to carry
Several sizes and colors
Machine washable
Take Note
Should not rely solely on it in extreme cold.
---
3. MEROKEETY Long Sleeve Soft Chunky Knit Sweater Open Front Cardigan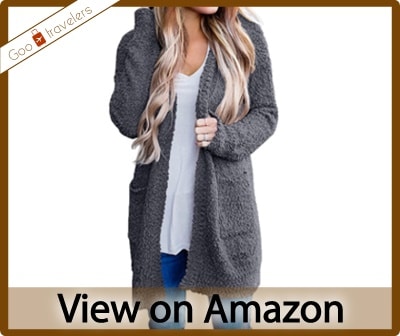 Let's check another lovely lightweight travel sweater from the same brand MEROKEETY to make your traveling experience more enjoyable. It will look almost the same as the former one, yet it is unique to some specifications.
Material
Coming with 100% Polyester fabric material, this cardigan is strong, resilient, and will last longer than you may expect. Like other cardigans of MEROKEETY, this one is also comfortably stretchy with good elasticity. Featuring a popcorn yarn component of high quality, it will give you protection from cold.
Compatibility
You can wear it on any kind of occasion with any other apparel. The layers will feel cozy and will give you such a smooth touch that you may not even feel its existence. Taking it in your backpack will not weigh more since it is also 7.05 ounces only. This cardigan has the advantage of a loose fit with two big front pockets to put your fingers in at any time.
Things to Appreciate
Cozy and comfortable
Lightweight
Suitable for all seasons
Flexible size with a loose fit
Front pockets
Matches well with other clothing
Take Note
Hand wash only
Avoid any bleach.
---
4. Bluetime Women's Casual Lightweight Open Front Cardigan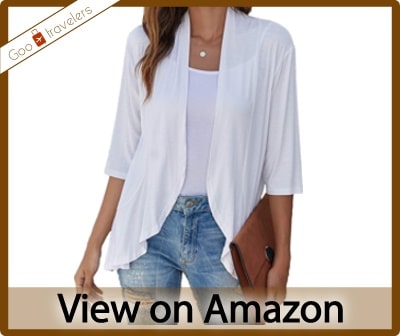 This cardigan is a great pick for those who want to have a smooth traveling experience during summer. The costume will also enhance your personality and style in relatively warmer places with desirable comfort.
Material
This cardigan might seem like a T-shirt or even thinner than that. The item is a blend of 95% Viscose and a small amount of Spandex (5%). You can comfortably wear it anywhere anytime. This fabric will not harm your skin at all. The bottom of the cardigan is a bit flattering and adds a unique charming female look.
Compatibility
Weighted only 6.38 ounces, it is super light and soft. Even in the summer, you will not feel the heat much. The ¾ sleeve will favor you a lot while traveling. The thickness of this cardigan is also perfect for any other season either it is fall, spring, or summer.
Things to Appreciate
Comfortable
Lightweight
Stylish and charming
Fit with any dress
Perfect for any occasion
Various sizes available
Take Note
Not for extreme cold
It may get wrinkled easily.
---
5. GRACE KARIN Long Sleeve Open Front Cardigan Sweater
With a long sleeve, this is another latest cardigan sweater from GRACE KARIN. Especially if I make a list of the best cardigan for plane travel, this cardigan will be there at the top.
Material
This cardigan is a combination of smooth fabrics with high elasticity. You can have a pleasant experience wearing this item since it is soft and highly stretchable. Make it your traveling companion wherever you go. The material is comfortable enough to lounge in and also designed well to make you look stylish.
Compatibility
This long sleeve cardigan will give you a charming look, suitable enough to wear on any formal or casual occasion. The use of this cardigan is diversified. You can wear it anywhere whether you are on a plane journey or spending time on a beach. The weight of this item is also not that heavy, 11.36 ounces only.
Two pockets at the front will give you the advantage to keep your hands inside or any small thing. You will also look a bit tall and fit for the vertical lines.
Things to Appreciate
Cozy
Easy to carry
Versatile use
Useful front pockets
Matchable with any T-shirt
Fashionable
Take Note
Not warm enough for absolute cold weather.
---
6. Tickled Teal Women's Soft Long Sleeve Pocket Cardigan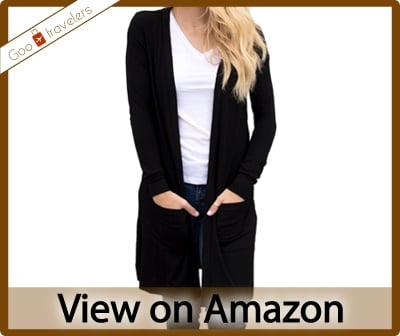 I could not ignore this item for its trendy design and superb comfort. You may call it one of the best travel cardigan sweaters for its immense popularity and satisfactory user experience.
Material
Coming with 5% Spandex material, this cardigan is soft enough to give you desired comfort. The weight is only 15 ounces, not that heavy to feel any burden while wearing or carrying. This long sleeve cardigan is for those who look for a slim-fit outfit. You can also get sizes if a loose fit is your choice.
The manufacturer ensured high quality while making this cardigan. You can check user satisfaction that reflects the statement.
Compatibility
The outfit of the cardigan will easily match your body structure if you have average fitness. You can have a comfortable experience while traveling wearing a piece like this. Apart from being comfortable and easily portable, this will give you a trendy look that you may want the same product again with a different color.
Things to Appreciate
Pleasant and comfy
Perfectly fit
Various sizes and colors
Long pockets
Trendy
Take Note
---
7. Newchoice Womens Casual Lightweight Long Sleeve Open Front Cardigan
You must have a look at this when you are searching for the best travel sweaters. This lightweight cardigan can be your classic go-to go packing item during any journey. Make it your daily companion wherever you go from formal to occasional gatherings- home, business meetings, outdoor wedding, office, and travel, etc.
Material
This open-front, long sleeve cardigan is a perfect mixture of semi-synthetic Viscose (95%) and 5% Spandex. The knit is more like a T-shirt or a jersey. The manufacturer made this item super-thin and not roomy at all. Thanks to its lightweight fabric material, you may not even feel any burden while carrying or wearing it.
Compatibility
This cardigan has versatile use. You can perfectly match it with any other cloth you want for any kind of occasion. It weighs only 7.69 ounces that makes it suitable enough to carry inside any travel suitcase. You also have the option to choose from many available colors based on your suitability.
Things to Appreciate
Soft and comfortable
Usable at any season
Lightweight and easily portable
Various colors and sizes are available
Gives a cooler look
User Satisfaction
Take Note
Never bleach or iron for the first wash
Check the colors carefully.
---
8. Simlu Long Sleeves Lightweight Open Front Cardigan Cardigans for Women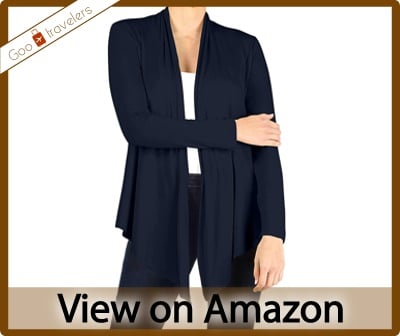 This long sleeve cardigan from Simlu is a well-known accessory, especially for traveling for its loose open front and perfect height up to the hip. Keeping a piece like this in your suitcase will give you some extra comfort you may miss otherwise.
Material
Coming with a blend of cellulose fiber Rayon (95%) and a small portion of Spandex (5%), this cardigan ensures desired softness and stretch. The layer is surprisingly thin, yet provides a durable experience. The black color will bring a charming feminine look to you. They use high-quality fabric to make this cardigan not see-through.
Compatibility
Being neither absolute loose nor tight, this item will give you excellent comfort. Weighing just 5 ounces, it can be called the most lightweight cardigans on my list. You can easily carry it anywhere during your traveling. Be it summer or fall, the cardigan will be perfect for every season and occasion.
Things to Appreciate
Perfect match for almost all body size
Easily portable
Match with any cloth
Smooth and soft
Stylish
Machine washable
Great customer satisfaction
Take Note
Check the size carefully
No pockets.
---
9. GRACE KARIN Long Sleeve Button Down Vee Neck Sweater Knit Cardigan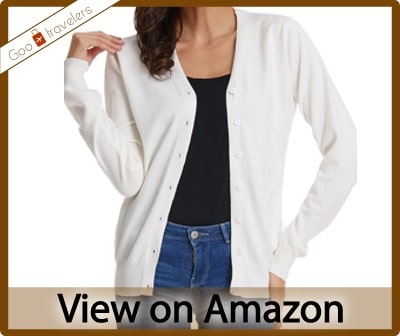 You may wonder why I come up with this brand over and over again! Well, simply it is worth it due to its quality products and customer satisfaction. If you are searching for a classic cardigan for traveling, you may try the 2022 edition of the GRACE KARIN cardigan. This V-shaped button-down cardigan might be the best travel sweater for you.
Material
Like other cardigans of this brand, this product is also a blend of mostly Viscose (65%) and Acrylic (35%). The colors of this button-down sweater are solid and classic. The company made the design easily fitted for anyone. The thin fabrics will ensure a comfortable experience while traveling.
Compatibility
You can easily carry this lightweight cardigan since the weight is only 8.82 ounces. Any type of tops and jeans will perfectly match with it if you choose like color. Summer or spring nights, plane or train journey, you can wear it everywhere. You will also feel confident enough while wearing this for its classic look.
Things to Appreciate
Smooth and soft
Light to carry
Versatile use
Suitable for any weather
Various colors
Attractive buttons
Take Note
Only washable by hands
Be careful with the size that may vary from Amazon.
---
10. Pastel by Vivienne Long Sleeve Jersey Cardigan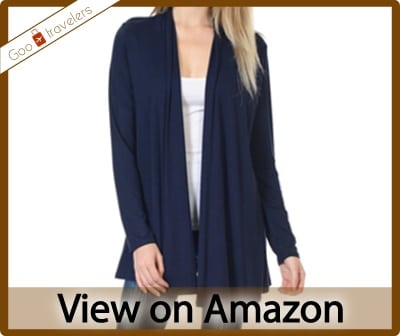 When choosing the best travel cardigan, I cannot end my list without this product from Pastel by Vivienne. Just because I put it at the end of my list that doesn't mean it's having the lowest specifications and less comfortability. Rather, it's the opposite of what you may think of it, a quality surprise at the end.
Material
Pastel by Vivienne is vastly famous for providing sweaters with premium quality fabrics which they choose carefully. These are perfectly stitched and uniquely designed with a mixture of Rayon (95%) and some Spandex (5%). The prints at the front are mostly polyester (92%). They use soft jersey knit to create this open-front cardigan.
Compatibility
This brand simply doesn't compromise quality and comfort. The drape is carefully suited to make you look confident and charming during your journey. You can pack and carry it comfortably since the weight is 8.01 ounces. If you ever wear this product, you will understand how carefully they prepared this item.
Things to Appreciate
Super comfortable and cozy
Perfectly designed
Carefully aligned stitches
Portable
Great quality and long-lasting
Various colors
Take Note
---
How to Select the Finest Cardigan for Travel?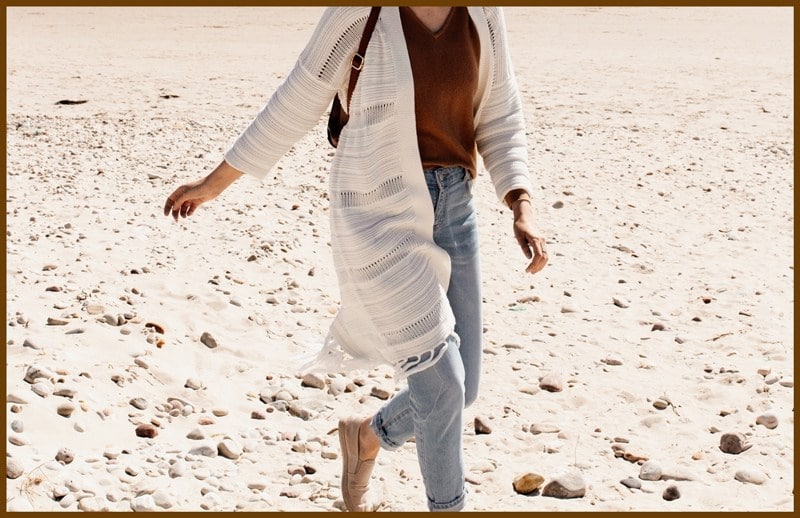 Your cardigan for day-to-day using might not be suitable for a journey. Choosing a perfect cardigan for travel is a bit tricky task. You need to look at some specific factors to find its effectiveness. Here are some notable factors to know.
Material
The fabric material must be smooth and soft for having a comfortable experience. Where many experts advise sticking only with natural fibers like wool or cashmere, other synthetic threads having Acrylic, Rayon, and Polyester are also not bad. As long as the cardigan is easily breathable and skin-friendly, you are good to go.
Size and Weight
Before buying a cardigan, you must check the size as per your body structure. Often during online shopping, the shapes of the brand store are different compared to the website. A fit cardigan is necessary to make you feel confident. In case of weight, always try to buy a lightweight product which can be easily carried. Who likes to carry a highly loaded backpack while traveling?
Other Specifications
Some other key factors are also there that you shouldn't ignore. You also need to check the patterns, seams, stitches, and designs. You will have an idea about the quality of the fabric and manufacture if you keenly observe the pictures, descriptions with user reviews. Last but not least, pick the color which will match your personality.
Follow these simple tips to get to wear a perfect cardigan while traveling.
Also Read: 12 Watch Travel Case for Protect Your Favorite Watches.
---
FAQs about Cardigan for Plane Travel
Do international flights allow cardigans?
Cardigans are allowed for any international flights. The most important advice is to wear it instead of packing it into the luggage. Your luggage will be lighter. You will also get warm during the plane journey.
How to fold a cardigan for travel?
You can fold a cardigan just like other sweaters or pullovers if it is thin. Zip up the buttons (if available), lay it front down. Then keeping the two hands collateral, fold them one after another, and right at the middle at last.
How to bring a stylish look wearing a cardigan?
The most important piece of advice is to always wear simple. Exaggerating with colors and dresses will not make you stylish. Always remember- the key to be gorgeous is being cozy at first.
How to look thinner and taller wearing a cardigan?
In that case, try to wear a cardigan without any fasteners. Something that has long stripes and not many extra decorations and pockets will help you look fit. You can also pick long sleeve and long-length cardigans that will give a taller impression.
How to wash a cardigan?
Carefully notice whether it is machine washable or not. Some brand forbids using any bleach. You can hand-wash your cardigan using a mild detergent with water or dry-wash it. While the machine washes, be careful with the cycle settings and make it delicate.
---
Summing Up
I tried to give an elaborate idea about travel cardigans. I hope my recommendation about the best cardigan for travel helped you find the perfect cardigan. Pick any of the above cardigans as per your suitability, and enjoy a comfortable and smooth journey.
---
You May Also Like:
An In-Depth about Folding Sneakers for Travel.
A list of My Favorite Sand Free Beach Blanket.
6 Top Quality Travel Clothesline for Indoor & Outdoor.
---