The inflatable footrest is an excellent tool to make boring long hours of flight relaxing and comfortable.
To beat off jet lag, you need an inflatable footrest to accompany you throughout the journey.
The haul of selecting the best inflatable footrest for airplane before boarding a flight is a great concern for some, while others are unaware of its existence.
If you are one of the unaware travelers, I have got your back. I have researched and picked some of the finest ones that can come in handy even at home or on road trips.
Without further ado, let's check them out and find the finest.
Why Inflatable Footrest?
The primary reasons are that these footrests are inflatable and provide you with the comfort that your body would expect in long-haul flights.
Easy to carry in planes. You can inflate it anytime you want to have a good nap. Imagine sleeping in an economy class seat of a plane like you would sleep on your bed, legs stretched straight.
Aching in the back, legs, or even the entire body can be caused if you sit in one position for a long time. Flight hours are no exception in this case. If you are a frequent traveler or uncomfortable sitting in one place for a long time, you should get one footrest for yourself.
Also Read: 6 Most Comfortable Sleep Mask for Air Travel.
Top 4 Best Inflatable Footrest for Air Travel
If you are looking for the best inflatable footrest airplane, you'll surely be benefited from my airplane footrest reviews that I've put together. So, please scroll down to know more about them.
1. Sunany Inflatable Foot Rest Pillow for Airplane Travel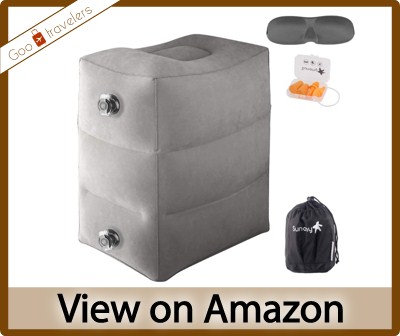 This inflatable footrest can be adjusted in three different heights accordingly. With its ergonomic design, it will help you prevent leg or knee pain while you are on a flight haul. You can use it for multipurpose like setting your foot or using it as a nighttime bed for your child.
Material: Made from PVC flocking, this footrest feels soft and plushy when you rest your foot on it. Durable enough to last for years, while valves make the inflate and deflate process effortless. It will maintain its shape for days once inflated as it is a leak and tear-proof tool, and will provide you with multipurpose usability.
Dimension: This footrest is 7×4.2 inches in size once deflated. Once inflated, it weighs around 0.8lbs and measures 17.7x15x9 inches in dimension which is adequate to work as a footrest on the plane without blocking the aisle. Its three adjustable heights are 45cm, 30cm, and 15cm— making it easily convertible.
Portability: You will receive a drawstring pouch with the purchase to carry it along. At home, office, car, train, or plane— it will fit inside your carry-on bag without taking up much space. You can blow up the footrest by your mouth, no need to carry a heavy and noisy air pump.
WHY I LOVE IT:
3 adjustable heights.
Soft on skin.
Good for physical comfort.
Multipurpose use.
2 earplugs, 1 eye mask, 1 dust cover included.
Easily portable.
TAKE NOTE:
Not machine washable.
Not approved by all airlines.
---
2. Maliton Inflatable Travel Foot Rest Pillow for Airplane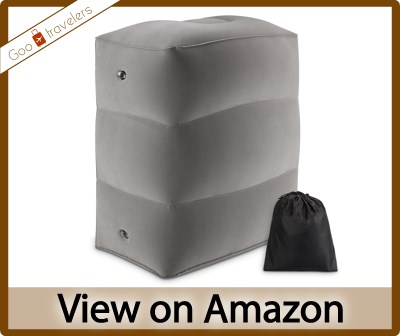 Maliton footrest is the one you can use as a pillow or ottoman while at home or office. It is a big footrest block that will take up the entire foot space in front of your plane seat, making it an ideal bed for kids to sleep in.
With its purchase, you will get a 6-month after-sales service from the manufacturer in case of any malfunction.
Material: High-quality PVC flocking fabric is used to make this footrest block. Feels soft and smooth on the skin, its fabric will resist your leg from sliding away from its position. Durable against wear and tear, you will also get a 6-month after-sale service from the makers if any malfunction occurs.
Dimension: After compression, it weighs 0.8lbs. and measures around 8.5x6x2.5 inches in dimension. You can carry it compact inside the drawstring pouch that is provided with the purchase. Once inflated, it measures 17x12x18 inches which takes up the entire front space of an economy seat.
Portability: It is a multipurpose use footrest that you can use for camping, office, home, car, or flying comfortably. In the drawstring bag that comes with the purchase, you can fit in the compressed footrest and put it inside your carry-on bag.
WHY I LOVE IT:
3 adjustable heights.
After-sale service available.
Compact and portable.
Multipurpose use.
For all age
TAKE NOTE:
Not machine washable.
Not approved by all airlines.
---
3. Koala Kloud Inflatable Adjustable Airplane Footrest
This cylindrical-shaped footrest is a great pick for long-haul flights or home use. You will get a footrest that is tested for 24 hours before shipment.
No need to carry a pump to inflate the block as you can blow it by your mouth within 1 minute.
Material: This airplane footrest is also made from premium quality PVC flocking fabric and includes a dust cover to save it from germs and dirt. The block's fabric is eco-friendly soft, smooth, and plushy that lets you rest your feet comfortably. Its air-tight valves intake and inflate the block in 1 minute, faster than other footrests.
Dimension: A lightweight leg rest that measures only 4x4x7 inches when compressed. Upon inflating, it measures 12x17x18 inches, a perfect fit as a toddler's bed. The three levels of height are 18″, 13″, and 7″. You can adjust the height accordingly and enjoy your journey.
Portability: You can pack it inside the drawstring bag and carry it in your hands or put it in your carry-on bag. It is not suitable only for air traveling but also using at home, office or anywhere necessary. A great travel accessory for kids as well.
WHY I LOVE IT:
Easily adjustable levels.
Convertible as kids' bed.
30-days money back.
Fits in small bags.
TAKE NOTE:
Not machine washable.
Not approved by all airlines.
---
4. Maliton 2 Pack Inflatable Travel Foot Rest Pillow for Air Travel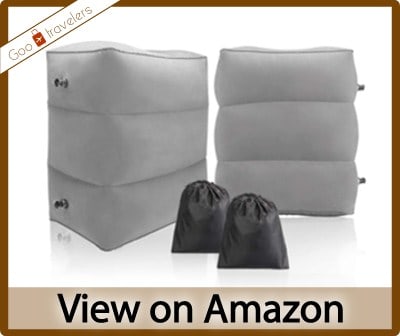 This Maliton 2-pack offer includes 2 footrest pillows that can easily fill the space in front of 2 seats. Your kids can play, sleep or just sit on the footrests, looking over the plane window comfortably. With a 6-months promised warranty, you can trust this accessory to be of service for years ahead.
Material:Maliton footrest is made from quality PVC flocking fabric with 2 durable valves. While the fabric is eco-friendly and comfortable on the skin, the valves are designed to intake air without wasting time. 2 covers are included with the footrests to save them from dust, dirt, or marks.
Dimension: Both the pillows measure 17x12x18 inches when inflated. After deflating them within seconds, these will compress to 8.5x6x2.5 inches and weigh near 0.8lbs. each. Perfect for parents and kids, you can adjust the height levels by inflating 1, 2, or all the chambers at once.
Portability: Carry them in the drawstring bags provided with the purchase. You can fold them like paper, and they will not take up much space inside any small or big luggage. Suitable for multipurpose use, you can carry these 2 footrest pillows with you and your family whenever you are on the go.
WHY I LOVE IT:
2-footrest pack.
Fits in any luggage.
Easily inflatable.
For all age.
3 adjustable levels.
TAKE NOTE:
Not machine washable.
Not approved by all airlines.
---
How to Select the Best Inflatable Footrest for Air Travel?
To select the best inflatable leg rest for flights, there are some important aspects you should consider before purchasing.
Your choice of height, angle, or purpose of getting one are the main ones. Go for the ones that include an adjustable height feature.
Some are usable by all age travelers, from kids to elderly. These inflatable leg rest or footrest are portable easily inside carry-on bags and you can inflate it once inside the airplane. Many provide a storage pouch with the purchase while many don't.
Some footrests are usable at home, office, or in your vehicle. If you wish to buy a multipurpose one, the main thing you should look for is the size of the footrest.
Read Also: A List of TSA Approved Bow Case for Airline Travel.
---
FAQs about Inflatable Footrest for Plane
What is footrest used for?
A footrest is used to maintainproper and comfortable postures while sitting in a place for a long duration. Footrest helps you relieve jet leg fatigue, knee pain, and other physical aches that are caused from sitting in a stiff position.
Can you use inflatable footrest on plane?
Yes, but not in all planes. Some airlines allow using inflatable footrests between takeoff and landing, while some do not allow at all.
Are inflatable footrests allowed on planes?
Yes. Footrests are allowed on many airlines but not all. As the footrests differ in size and can block aisle and walkway sometimes, you should check with your airlines if they allow one on-board.
Does footrest eliminate back pain?
Yes, footrests help in eliminating back pain as they help in maintaining a proper, comfortable, and relaxing posture during long hours of working or traveling.
What is the perfect angle for a footrest?
45cm in width and 35cm in depth footrest is ideal for use. It should be adjustable up to 11cm and have a surface with 5˚-15˚ adjustability.
---
Final Words
As you can see, footrests are not only an essential tool for travelers but also for people who work for long hours sitting in one place.
In your quest to find the best footrest for air travel, I hope my article helped you with all the necessary information you need to know to find the finest.
---
You May Also Like:
A list of My Favorite Ice Packs for Air Travel.
6 Finest Face Mask for Your Next Plane Travel.
6 High Quality Travel Neck Pillow for Sleeping on Plane.
---