Bow cases are essential if you wish to travel overseas with your bow and arrow set. You can find many cases in the market but all are not suitable for airline travel.
We have researched and recommended top bow cases to help you pick the best bow case for air travel.
Why a Bow Case is Important?
Bow cases are one of the most important pieces of equipment in an archer's carrier. Either a professional or a hobbyist, whoever owns a bow set has to own a bow case as well. Especially in the case of airline traveling, there is no compromise for carrying a bow case to protect the archery gear.
In airports, the bow cases are considered as check-in luggage and handled roughly most of the time. That is why these cases are designed to prevent the bow set inside from moving around or breaking apart. According to the size and weight of the bow case, you can add extras like cloth or padded support inside the case to keep the arrow set away from damage.
Therefore, the bow cases allow an archer to carry his/her archery equipment without hassle while going for adventurous trips, national or international tournaments.
Also Read: 6 Most Comfortable Face Mask for Plane Travel.
Top 5 Best Bow Case for Air Travel Reviews of 2022
Let's now check some of the finest bow cases and pick the one you find perfect for your needs.
1. Plano 108110 Bow Guard AW Bow Case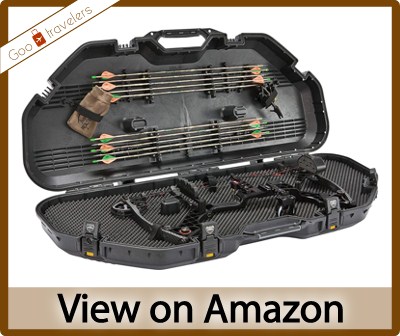 For your compound bow, this air travel approved bow case from Plano is our 1st recommendation. It is built rigid and crush resistant, keeping in mind the luggage management of airports. You can store a fully loaded quiver in this case with an adequate amount of safety.
Material: Its exterior is constructed of thick-wall with a rugged texture. The PillerLock system and rubberized seal prevent the case from crushing, water access or any other harm. Its elastomeric arrow container can store both fiber or standard arrows securely, while the high-density foam-padded interior prevents the bow from moving around inside the case.
Dimension: On the exterior, this case measures 40×20.75×7.5 inches. On the interior, this case measures 46.5x16x6.75 inches, including the interlocking foam. It weighs 21lbs. which is appropriate for carrying it as check-in luggage in airplanes.
Other Specs: Approved for airline travel, this case comes with an ergonomically designed handle that is easy to carry in airports. Dual-stage latches provide extra protection for your compound bow set, while the padlock tabs inside the case allow convenient carrying.
WHY WE LOVE IT:
Decent sized case.
Airline approved.
Durable construction.
Weather-resistant seal.
PillerLock system included.
TAKE NOTE:
Not for use in California.
Mounting bracket not included.
---
2. Plano Mil-Spec Fieldlocker Compound Bow Case
Another bow case from Plano meets the military specs. The case is easy to carry due to its dual handles and inline wheels. Either for traveling on flights or for everyday use, this bow case is a decent carrier for both scenarios.
Material: The exterior of this case is made from highly durable plastic, and the interior is made of pluck foam. Durable exterior and its Dri-loc gasket save the compound bow set form outer elements. The interior material of the case allows organizing and customizing the arrows according to your convenience.
Dimension: It is 46.45×18.11×7.08 in dimension on the exterior and 43.7×16.14×5.90 on the interior. Suitable for carrying most of the compound bows, this case provides padlock tabs for protecting your archery gear.
Other Specs: It includes a set of easy-glide wheels and 2 handles (1 on top and 1 on the side). Meeting the military specs, it is a weatherproof case and includes a pressure release valve as well.
WHY WE LOVE IT:
Airline approved.
Suitable for everyday use.
Padded interior.
Weatherproof seal.
Dri-loc Gasket.
Wheels for easy transportation.
TAKE NOTE:
Not for use in California.
---
3. Plano Parallel Limb Hard Bow Case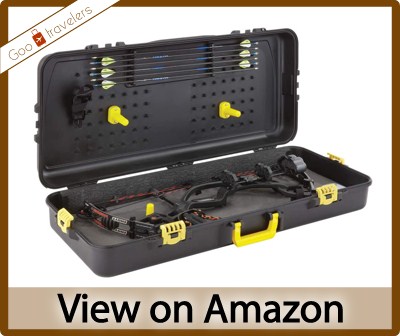 Since 1952, Plano has introduced a series of carriers for firearms, archery gears, etc. This parallel limb hard bow case is designed for every archer and their bow set, regardless of the bow type or model. Approved for carrying on airplanes, this bow case will protect your archery gear from outer harm in any scenario.
Material: The outer shell of this case is made from high-quality plastic that is crush and weather resistant. No matter how the case is handled by the luggage management at airports, the bow set will stay in place protected due to its pluck foam interior.
Dimension: It is 41x17x7 inches on the interior and 43x19x7 inches on the exterior. This case is black with a yellow accent that includes an ergonomically designed handle for carrying it.
Other Specs: This case feels lightweight to carry, yet is built durable enough to sustain rough luggage handling. A fully customizable case that will allow you to carry any type or model compound bow anywhere according to your convenience.
WHY WE LOVE IT:
Parallel limb bow case.
Lightweight yet durable.
Pluck foam interior.
Protects your gear efficiently.
Airline approved.
Fully customizable.
TAKE NOTE:
---
4. Plano SE Pro 44 Bow Case with Arrow Case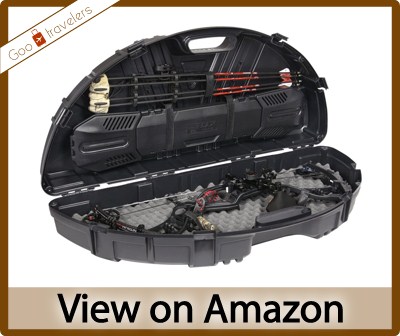 The next bow case from Plano is a 44 inches SE Pro case that comes in an arch shape. This case is a huge case for arrows 32 inches' axle to axle and stabilizer up to 8 inches. It offers plenty of straps to protect your gear while the padded interior prevents the bow from moving around.
Material: Like the other Plano products, this bow case also features a durable plastic exterior with a crush-resistant PillerLock system. Individual slots for additional accessories are also available in this case. The interior is padded with dense foam to protect the bow set form outer damage.
Dimension: 43.9×15.3×8 inches in outer dimension, this bow case can fit any compound bow sizing 32 inches' axle to axle. A standard stabilizer up to 8 inches can fit efficiently in this bow case. It is a 12lbs. sturdy construction product for everyday or long-haul flight use.
Other Specs: A bow max arrow case of $30 bucks is included in the purchase. An ergonomic molded-in handle allows easy transportation of the case while the numerous straps secure the arrow gear tightly into its position.
WHY WE LOVE IT:
Lightweight.
Airline approved.
Crush and water-resistant.
Includes a $30 arrow case.
TAKE NOTE:
Not for big compound bows.
Does not include wheels.
---
5. SKB Cases iSeries 3614 Portable Limb Bow Crossbow Case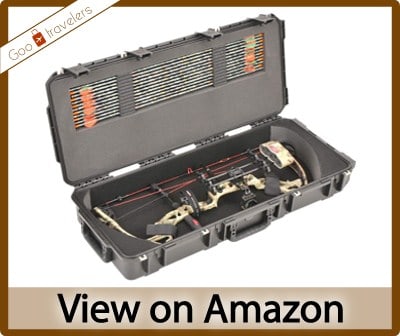 This bow crossbow case from SKB iSeries is a waterproof and easily portable case, approved by TSA. It is a bow crossbow case that fits the most well-known archery gears and protects the content inside with proficiency.
Material: The outer shell of the case is made from hard and water/fungus-resistant plastic. The inner material is padded with customizable foam to carry any sized bow set. The 3 handles come with a cushion grip for convenient carrying. Also, it comes with durable wheels to roll it while on the go.
Dimension: This black bow case measures 40×17.5×7 inches in exterior dimension while measuring 35x14x4 inches in interior dimension. It weighs 17.39lbs., which is considerably a lightweight carrier for carrying in airplanes.
Other Specs: Meeting the Mil-standards, it includes a pressure releasing valve. Moreover, it is a dust, water, fungus, and corrosion-resistant case that is approved by the TSA. It protects the bow gear with its latches from moving around due to outer forces.
WHY WE LOVE IT:
Military standard case.
Customizable foam interior.
Hard and durable exterior.
Lifetime warranty.
TSA approved.
TAKE NOTE:
Not for use in California.
---
What to Look for in a Bow Case for Airline Travel?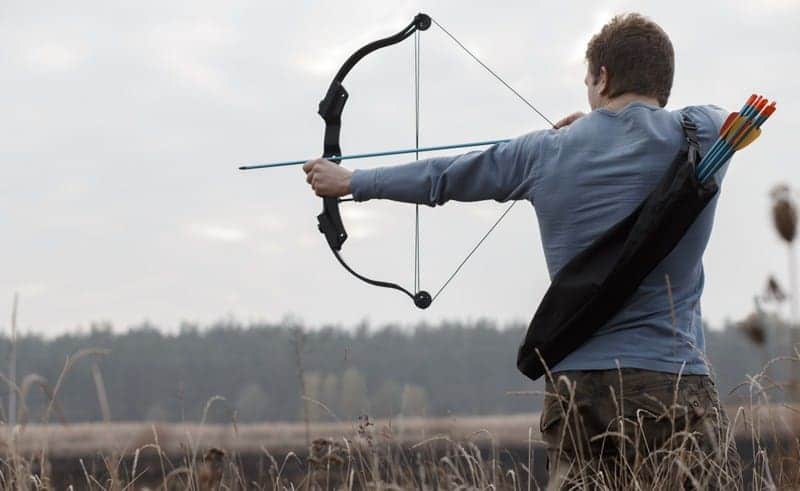 Before picking your best bow case for airline travel, one must consider a couple of things. These are not your usual luggage and you need to choose the best one for your gear, not the best one available in the market.
Size and Weight
The main things of a bow case that matters are the size and weight of the case. Different airlines allow different size and weight limits.
Some cases may be oversized or overweight for one airline while may not for another airline. It is better to check the luggage weight and size limits of the airline you are going to board beforehand to avoid extra charges.
TSA Approved
There are also bow cases that are approved by the TSA (Transportation Security Administration). TSA-approved cases are comparatively better than others.
These cases come with a lock system that can be accessed by the airport authority. They can check the case with the special key they are provided if needed.
Material
The inner material of the case matters more than the outer material regarding bow cases. These cases can be of hard, soft, or semi-padded exterior, but the interior is required to be fully padded and include straps.
Cases with wheels alsoare more popular and easier to carry than the ones without.
---
FAQs about Bow Case for Airline Travel
Are bows and arrows allowed on plane?
Bows and arrows are allowed on planes as checked luggage. You cannot carry them with you on planes as carry-ons.
What exterior bow case is good for air travel?
Both types of bow cases are good for air travel. However, hard exterior cases weigh more than soft ones.
What if your bow case is not TSA-approved?
If you do not have a TSA-approved bow case, you may be called by the airport authority through the announcement system if an inspection is needed.
Can you carry your bow case as a carry-on on airplane?
No. You can only carry your bow and arrow in a case as checked luggage. You can get an airline-approved bow case for carrying the gear conveniently.
Can I pack my bow sight in my bow case?
It is better to avoid packing your bow sight inside the bow case. It may cause damage to the bow sight.
---
Summing Up
To sum up the discussion, we can agree to the fact that not all bow cases are appropriate for air travel, and you should select the one according to your gear's size and features.
We hope our article helped you find the best bow case for air travel to carry your archery gear anywhere you want.
---
You May Also Like:
How to Choose A Perfect Sleeping Eye Covers for Air Travel.
---