During air travel, bringing food and other stuff that require cold storage can be troublesome.
Getting the best ice pack for your icebox is often confusing as well as there are so many claiming to be the 'Best'.
Moreover, ice packs not only serve for storing food but also for relieving pain or injuries (and many more things).
In this article of ours, I will review some of the best ice packs for air travel to help you select. So, let's begin.
Why Ice Packs Are Necessary for Air Travel?
For carrying food while traveling by air, ice packs are helpful to a great extent.
If you are someone who likes to have homemade sandwiches or juices while traveling on a plane, ice packs are for you. They are also used for medical purposes as we are aware.
These packs are mostly made of gel so no worrying over moisture after several hours. The gel absorbs any ounce of moisture, keeping both food and lunchbox dry. Ice packs help to maintain the temperature of the food, preventing them from rotting after being in the lunch box or cooler for the entire flight duration.
Also Read- A List Of High-Quality Collapsible Reusable Water Bottles for Travelers.
Top 7 Best Ice Packs for Air Travel
1. LIVE 2DAY Nice Packs Dry Ice Pack for Shipping Frozen Food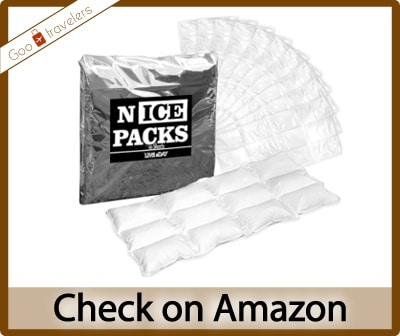 Here's a 10-sheet ice pack bundle from LIVE 2DAY that you can effortlessly customize, fit in cooler, small lunch boxes, or waterproof bags. You can soak the sheets with water and put them inside the freezer the night before you decide to use them.
These ice packs will prevent the ice from melting, keeping the inside of the carrier clean and dry. As they are non-toxic and flexible, you can carry them with you during air travel as well.
Material: Made from non-toxic and environment-friendly materials, you can reuse these ice packs multiple times. The material used to make the packs will absorb and lock the water without any possibility of leakage.
Size and Weight: There are 10 large sheets of ice packs, each sheet consisting of 12 packs. The sheets measure 17×8.5×2 (LxWxH) inches each in size and weigh 0.2lbs. If needed, you can cut the number of ice packs from a sheet and use them accordingly.
Longevity and Durability: The cooling power of the packs remains up to 24-36 hours. The quality material will also prevent any leakage and you can use the sheets more than 2 times.
Why I Love It:
Air travel friendly
Customizable and reusable
Flexible
Leakage proof
Long-lasting cooling power
Take Note:
---
2. Cooler Shock Reusable Long Lasting Ice Pack for Coolers & Lunch Bags
This 4-pack combo of ice packs from Cooler Shock is a time-saver, with long-lasting cooling efficiency. From keeping your food/snacks/drinks cool to soothing your pain, this does the job.
Medium in size, you can place them inside the cooler or lunch box without worrying about the ice melting soon. All you need to do is only fill it once with water and freeze it before every use.
Material: Made from high-quality plastic, this pack is confirmed to resist wear and tear over multiple uses. The nylon reinforced technology makes its use easier and mess-free.
Size and Weight: There are 4 medium-sized ice packs in this combo, each measuring 1x9x10 (HxWxL) inches. Weighing around 12ozs, these packs can hold the ice efficiently without any leaking moisture.
Longevity and Durability: There is no need to look for a new ice pack after every use, as they can be used multiple times after filling it with water once. In terms of holding the coolness, these packs efficiently maintain the temperature at -9˚ for about 48 hours.
Why I Love It:
Filling water only once
Reusable
Standard size
For food and medical needs
48 hours cooling power
Take Note:
Takes up space in small coolers.
---
3. Fit & Fresh Cool Coolers Reusable Ice Packs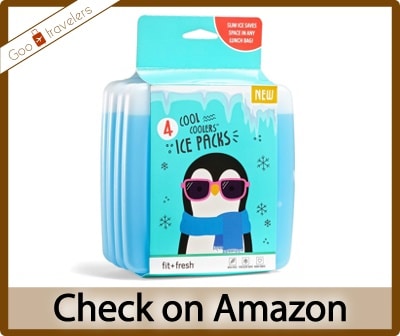 If you are on the hunt for slim-shaped coolers that will do their job without occupying your cooler much, this one is for you. These coolers ice packs come in a 4-pack combo and you can reuse them for a long time.
Clear in appearance, these coolers ice packs are designed to give maximum cooling power without being too heavy. Whether it is office lunch or picnic snacks or food for air travel, you can fit them in your tiny cooler and fit all your essentials in as well.
Material: Made from plastic, these packs are non-toxic. Being BPA-free, it will not contaminate your food with any kind of toxicity. Also, the pack's tight sealing capacity prevents leakage or melting of the ice.
Size and Weight: Each pack measures 5×4.75×0.5 (LxWxH) inches in dimension and remains of the same size after freezing. Around 1lbs weight makes it easy to carry and its slim shape allows it to fit in tiny boxes as well.
Longevity and Durability: With cooling power for up to 24 hours, you can use these packs for air travel, picnic, school, office purpose etc. The hard plastic exterior eliminates the chances of any leakage while giving you the option of reusing it.
Why I Love It:
Slim in size
Lightweight
Suitable for multiple purposes
Reusable
Non-toxic
Take Note:
---
4. TOURIT Ice Packs for Coolers Reusable Long Lasting Freezer Packs
Don't want the trouble of filling the ice packs with water? Consider these ice packs from TOURIT. These are gel-filled packs that hold the cooling power for longer than your everyday ice cubes or water-filled packs.
These panel-like packs can be set together or individually inside the cooler according to your need. Your task is to only freeze them before putting them inside the cooler.
Material: BPA-free, non-toxic plastic is used to build this product. The gel-filled inside is powerful enough to hold cooling power for hours. Tight cap sealing and quality plastic make it worth the money.
Size and Weight: 1.25×1.5×8.75 (LxWxH) in measurement, you can place these slim ice pack panels below or above your food in the cooler. All the 4-packs combined weight is near 1.5lbs, which is lightweight for carrying along anywhere.
Longevity and Durability: As mentioned earlier, these packs are reusable and do not require opening the tight seal at all for refilling. 8 hours in the freezer and these are good to go inside the cooler while saving extra space.
Why I Love It:
Panel like design
No need to fill water
BPA free and non-toxic
4 in one combo
Lightweight and slim design
Take Note:
Irresponsive customer service.
---
5. Bentgo Ultra Thin Ice Packs for Lunch Boxes & Coolers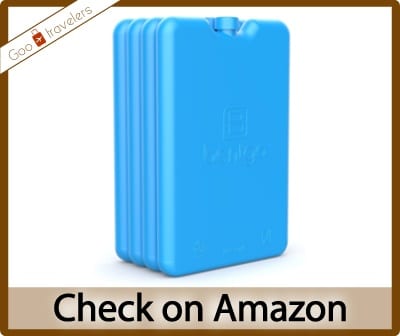 From small lunch boxes and bags to big-sized coolers, you can fit these Bentgo ice chillers without hassle. Slim and sleek in design, these chillers fit inside your food carrier without taking up much space.
This chiller is perfect for short flight hauls and trips. Moreover, if you buy these chillers, a percentage of your money will be donated to families and children fighting hunger.
Material: This rectangular-shaped chiller is made with 100% BPA-free and non-toxic plastic. The solution inside the chiller is capable of maintaining the cooling power for more than 4 hours.
Size and Weight: In size, these chillers measure 6.5×4.25×0.3 (LxWxH) each and weigh around 1.5lbs. As they are slim and sleek. you can put them below your food or just slide them at the side of the lunch bag.
Longevity and Durability: The manufacturer provides a 1-year warranty in case of any defect. Its solution is capable of freezing faster and holding the cooling power for a long time. Also, it is a pack of reusable and leakage-proof chillers.
Why I Love It:
Reusable
Slim and sleek design
1-year warranty
Ideal for short journeys
Fits in any small-sized lunch box
Worth the money
Take Note:
Not ideal for long journeys.
---
6. Healthy Packers Slim Long-Lasting Ice Packs for Lunch Box & Cooler Bag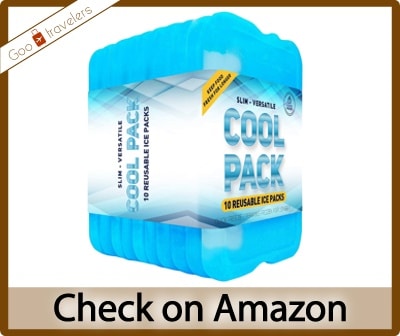 Here is another pick that will work for maintaining the freshness and taste of your food. Healthy Packers ice packs are ideal for use on long or short journeys.
In any average everyday lunch bag, you can place these ice packs in layers, keeping your food in between. This will help the ice packs to work more efficiently for a longer duration.
Material: Premium quality plastic that brings along no chemical substance or smell, is used to make these ice packs. No need to fill it with water as well, as these come with gel solution. To clean them, just wipe the ice packs with a wet cloth and no stain will be left behind.
Size and Weight: These packs are 7×4.7×0.5 (LxWxH) in size, making them usable for a large range of coolers. Altogether, these 10 ice packs weigh about 4.25lbs. However, you can separate them before placing them in the freezer and your bag later on.
Longevity and Durability: As there are 10 ice packs in this combo, you don't need to worry about having to buy another set anytime soon. These packs are designed to last longer and provide years of functioning.
Why I Love It:
Unique design
Moisture-proof
Slim and sleek design
10 ice packs in one
Non-toxic and BPA free
TSA approved
Take Note:
---
7. TrekProof Lunch Ice Packs Reusable Freezer Cooler Bag
In my search for the best ice packs for travel or air travel, this set of 4 ice packs also meet my researched standard. Available in multiple colors, these traditionally designed packs include engraved snowflake shapes on them for better grip.
To bring your kid's food with you or simply putting it in his school bag, these packs can fit in any moderate-sized food carrier. Their moisture and leak-proof build will keep the carrier's interior dry while keeping the food fresh and tasty for hours.
Material: Made especially for kids, these packs are designed and build with 100% non-toxicity and are BPA-free. The solution inside holds the optimum temperature needed to keep any food fresh. Because of its sturdy built, the possibility of the solution slipping or leaking is none.
Size and Weight: These are rectangular-shaped traditional ice packs that measure 4.2×6.3 (WxL) inches and weigh 1.6lbs. altogether. These are lightweight to carry wherever you need and easily cleanable as well.
Longevity and Durability: Although they are made especially for kids, you can carry them with you in airports as well because of their TSA approval. These packs will go a long way in keeping your food healthy and fresh, whenever you need it.
Why I Love It:
Standard size
Designed especially for kids and traveling
TSA approved
lightweight
Unique design
Multicolor packs
Non-toxic
Take Note:
Ideal for short-haul traveling only.
---
What to Consider Before Buying Ice Pack for Air Travel?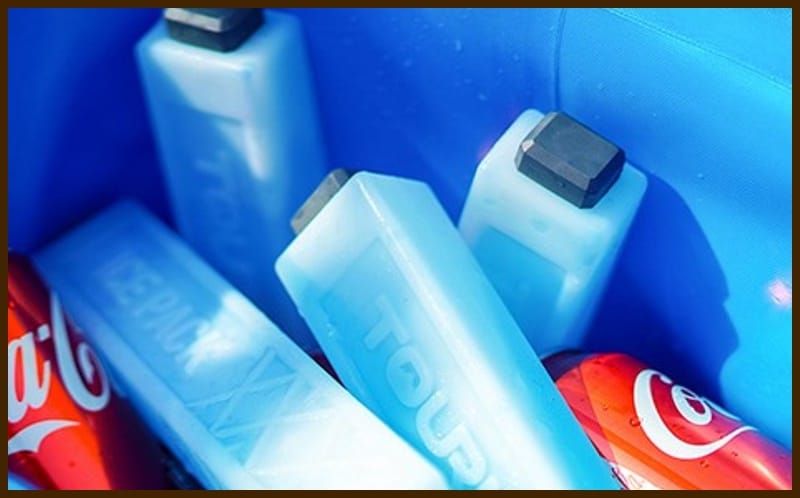 You cannot just buy ice packs. There are certain things and specifications that you need to look for before buying. The things you need to consider are:
Size and Type
There are mainly 2 types of ice packs available. Soft-sided ones or blanket ice pack sheets and hard-sided ones. Soft-sided ice packs are flexible to use while hard-sided ones need to be placed vertically or horizontally inside an icebox.
These ice packs range is from 5″(w)x5″(l) to 11″(w)x14″(l) in measurement. They weigh between 0.5oz to 5lbs. You need to select the one depending on your needs and the size of your lunchbox or cooler.
Durability and Temperature
If you are on the verge of a long journey that will last more than one day, you should opt for the bigger ice packs. They will hold the cold temperature more efficiently than the smaller ones. As they are reusable, select the ice pack which has a quality outer layer or material. This way, you can prevent any leakage from taking place on the ice pack upon several uses.
Read Also: 6 Most Comfortable Sleep Mask for Air Travel.
---
FAQs about Ice Packs for Flying
Are ice packs allowed in checked baggage?
Yes. Ice packs are allowed as checked baggage while traveling in an airplane. Although, you can carry them in carry-on bags as well under certain instructions.
What is a TSA-approved ice pack?
Ice packs weighing 5lbs or less are approved by the TSA as checked baggage. For carry-ons, ice packs must weigh 3.4oz or less.
Can you take instant ice packs on a plane?
Instant ice packs are allowed as both carry-on and checked baggage on a plane as they are used for medical needs.
How to place the ice packs in a cooler?
Place the ice packs above food inside the cooler. It will help the pack stay frozen for a longer duration.
For how long do the ice packs remain frozen?
Inside a cooler, ice packs last for more than 30 hours in general. However, if kept at room temperature, they will remain frozen for 2-6 hours depending on their shell.
---
Final Words
These were my picks for the best ice packs for flying. I hope you have already got the one you need for your air travel from my top selection list.
---
You May Also Like:
Most Comfortable Face Mask for Air Travel.
List of My Favorite Comfortable Inflatable Footrest for Airplane.
---