Sometimes people get confused about which one is best for their camping either a rooftop tent or a ground tent. People confuse rooftop tents with ground tents and the other way around.
Because of this, I want to share everything about rooftop tents vs ground tents in this article. You'll get the most accurate information about these two popular camping options. And I will also share with you the pros and cons of both tents that you may pick the right one for your journey. Please stay with me until the end!
Roof Top Tent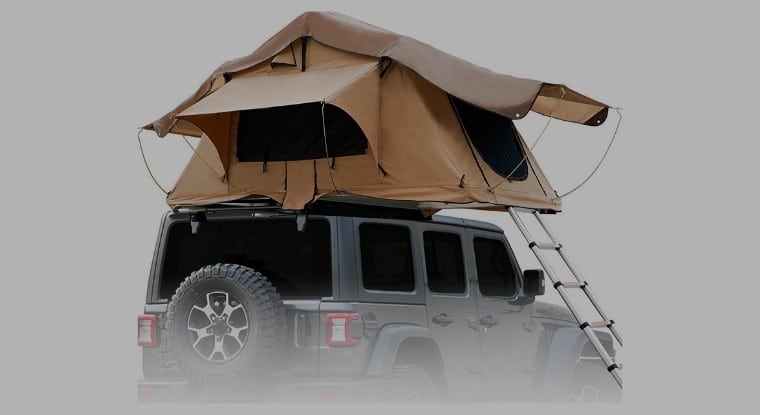 A rooftop tent is an excellent tent that mounts towards the vehicle's roof bars or roof rack. While driving, the tent collapses or folds down into an aerodynamic package that remains mounted on top of the roof of your vehicle. If you want to go camping, you will have to unfold your tent or pop it up. Often you may get a pretty foam mattress with a rooftop tent.
Moreover, there is a ladder which is included in the bed for climbing up. The rooftop tent is mounted towards 4×4 Overlanding or expedition vehicles.
Pros of Roof Top Tent
Here I am mentioning the advantages of rooftop tents.
Easier And Faster to set up:
You will see that a roof tent is easier and faster than a ground tent for setting up. It will require less effort and time. And also a hard shell RTT can be set up by a person within a minute. What has to be done is unlock a few safety latches therefore pop up the tent with the support of a crank mechanism or gas struts. A rooftop tent of hard shells takes a little physical energy to open.
Easier To Get A Campsite:
The rooftop tent requires a smaller place for camping and flat ground to park. There is no problem with a rooftop tent if the place is lumpy, muddy, rocky, covered in vegetation or snow or it is wet. If you want to change your place, you can drive your vehicle and go to another beautiful place quickly.
More Comfortable:
You will get a mattress with a rooftop tent. It integrates a pretty mattress into your tent's floor. There is excellent variety among the mattresses of rooftop tents too.
Storing Advantage:
Many rooftop tents offer space while closed. This space may help you to store your pillows, blanket, and sleeping bag. It can help you to save your effort and time.
Rooftop tents offer other advantages such as better view and ventilation since it is lifted off the ground, they remain clean.
Cons of Roof Top Tent
However, rooftop tents do have some drawbacks as well. The downsides of rooftop tents are thereof:
Generally, a rooftop tent is manufactured for two-man sleeping you can compare it with a two-man ground tent. Some models of rooftop tents are limited to your vehicle's roof such as pop-up models. Rooftop tents also have limited living space.
A rooftop tent is more expensive if you compare it with a ground tent. Many rooftop tents are heavy, therefore it is hard for one to lift a rooftop tent. Some rooftop tent weighs 50-100 KG, which is huge to lift.
You need a ladder to enter your rooftop tent. It might be a considerable problem for elderly people and disabilities.
---
Ground Tent
A ground tent is a very classic tent you see. And it is a most famous tent that provides shelter and a place for sleeping. When you want to purchase a ground tent you will see you have a lot of options to choose from. It offers different brands and styles.
As you see the name of this tent it works accordingly. A ground tent is generally set up on the ground which provides huge space for campers. After reading the pros and cons of a ground tent you can decide whether it is better or not.
Pros of Ground Tent
Here I am mentioning the advantages of a ground tent.
Cheaper
These types of tents are extremely affordable. You can purchase a ground tent of two-man for $100-$300. A basic ground tent may cost $30. A ground tent of a big style may cost $750. It is one of the best upsides of the ground tent.
Ample Living Space:
You have known that rooftop tents are limited to your vehicle's roof but in here ground tents have a huge space to stand or set up. You will see that a large ground tent has sufficient space for more than 8 people. For those who want to travel with their family ground tent is an ideal option for them.
You Can Camp Far From The Vehicle:
It is an excellent favor for the campers that they can separate from their vehicle for the ground tent. You can go to the heart of the forest and pass the night with your family where you can not drive your vehicle. If you choose a rooftop tent then you might miss this trill of passing nights in the heart of the forest.
Easy And Fast Setup:
You will see a modern tent is incredibly easy and fast to pitch. If you are in hurry you can set up a simple ground tent within two minutes which is better than a softshell rooftop tent which may go more than eight minutes.
Easier Access:
You do not need a ladder to get into the ground tent. You can easily leave and enter the tent without any difficulty. A ground tent sets up on the ground therefore it is auspicious for elderly persons and disabilities.
Takes Less-Space:
A ground tent is extremely compact. Backpacking ground tents of two-man can be packed into an excellent cylinder, which measures approximately 18"×6". A large ground tent of eight-man might take space approximately 30"×12". So, it is quite simple to carry.
And ground tents have other advantages also such as lightweight, better wind-performance, it can be cleaned easily and more.
Cons of Ground Tent
Here I am mentioning the downsides of a ground tent.
Experts share their experience with a ground tent that is less comfortable than a rooftop tent. The reason for that is a sleeping pad.
I have previously mentioned that rooftop tents are safer than ground tents due to wild animals in the forest. So, ground tents are more dangerous.
Moreover, Ground tents are less durable and less-consistent sleep. Setting up the ground tent is more time-consuming and difficult. Also, a ground tent can get easily dirty and might be colder.
---
Conclusion
In the above discussion, I have discussed- rooftop tent vs ground tent. Additionally, I have discussed the benefits and challenges of each tent. Hope you can now reach a more fitting conclusion for your tent buying journey. Wish you the best!
---
You May Also Like:
Hard Shell Vs Soft Shell Roof Top Tent – Which One Is Best for You?
---