Toyota 4Runner is popular among adventurous people. They offer excellent off-road performance, comfort, safety, and large cargo area.
It is also suitable for a roof top tent. Adding a roof top tent in 4Runner will take the trip to the next level.
But without the best roof top tent for 4Runner, you cannot get the benefits and fun of using a rooftop tent.
Consider the tent capacity, construction, and compatibility. Do not forget to check the comfort and safety it offers. You should also check the weather resistance and installation simplicity. Some additional features such as a ladder, LEDs, and others will also help.
What is RTT 4Runner?
RTT 4Runner is a kind of tent designed for mounting on the roof of 4Runner. It lets you sleep and rest with comfort and safety above the 4Runner. You will also get additional space free in the internal load space.
A good RTT 4Runner will keep you dry in the rain, cool in hot weather, and warm in cold conditions. You will also get protection against UV, mosquitoes, and other harmful insects.
Also Read: A List Of Our Favorites Toyota Tacoma Roof Top Tents.
Top 7 Best Roof Top Tent for Toyota 4runner in 2022
It is impossible to go through all the options available to find the best roof top tent for Toyota 4Runner. We have created a shortlist and come up with these 7 tents for you.
1. Overland Vehicle Systems Nomadic 3 Extended Rooftop Tent RTT
Overland Vehicle RTT is one of the most popular 4Runner tents. Its construction, comfort, and easy-to-use make it a perfect choice for campers.
The marine 600D rip-stop polyester cotton is more durable and offers superior water protection. It also has a 420d polyester oxford waterproof rain fly that protects you from rain.
Your main objective to install the tent is to ensure comfort while sleeping and resting. The 3″ high-density foam mattress offers higher comfort. You will get memory foam pillows for head support. It also has a quilted cotton cover for added support and hygiene.
The best roof top tent for Toyota 4Runner should ensure proper ventilation. That is why this one comes with breathable 110g fade-less windows and an insulated base. You will stay cool in hot weather and warm in cool conditions.
Packaging the tent during the trip is a hassle. Thanks to the Fold n' Go design, this one comes to solve the problem. Installing is easier as well. It takes only 60 seconds or less to set up. You can do it even yourself with its no-drilling design.
The hardware is also marine-grade, making it durable and strong to withstand any weather. Its 1000g transportation cover protects the tent from UV rays and keeps it dry when not in use.
A tubular telescoping ladder is there to eradicate the need to buy an additional ladder. It can handle up to 350 lbs. Six built-in storage pockets with a storage loft let you keep your things organized on the trip. A handheld led light and led velcro strip to help you in the dark.
Things We Like
600D rip-stop polyester offers resistance against water
Steel construction prolongs the longevity
Packaging and setting up is easier
LED lights with led velcro strip helps you in the dark
Insulated base with breathable window ensures proper insulation
Things Can be Improved
Mosquito netting should be there
No tie-downs for strapping anything.
---
2. Tepui Explorer Kukenam Rooftop Tent
A green roof top tent can help you mix with nature smoothly. Tepui Explorer green Kukenam Rooftop Tent is the ultimate choice if you wish to do so.
This large tent comes with an open footprint of 56″x96″ and a closed footprint of 48″x56″. That means two people can easily sleep or rest here without compromising comfort.
The upper polyester materials keep you protected from UV rays and water. A rainfly is also there to keep you dry during rain or foggy conditions.
You must need a comfortable mattress to enjoy the camping on your 4Runner. It costs too much if you want to purchase a separate mattress. That is why this one comes with a comfortable mattress to let you enjoy the time.
A ladder also saves the cost of purchasing an additional ladder. It makes climbing easier than ever.
Installing takes about 10 minutes with one person. It includes opening all the windows as well as rainfly. Shutting down is easier as well.
Things We Like
Green color helps to mix with nature
Easy set up reduces the wastage of time
Large footprint to comfortably move inside the tent
Durable construction suitable for UV and water protection
Comfortable mattress for sleeping and resting
Things Can be Improved
Not suitable for tough weather
Not suitable for a family with three or more people.
---
3. Raptor Series 100000-126800 Camping Rooftop Tent
Raptor offers some excellent RTT in the market, and the 100000-126800 series is one of the finest tent for 4Runner. This standard size tent is suitable for 2 people to sleep comfortably.
It comes with a high-density comfortable 78 by 48-inch foam mattress with a load capacity of 750 pounds. You and your partner can enjoy spending time inside the tent.
The frames are made of durable aluminum that makes them durable yet lightweight. You can easily take it for its lightweight and portable design.
Setting up and closing takes seconds. It is engineered with a unique design that eliminates any additional setup needs. You will also get an 8-foot heavy-duty telescoping aluminum ladder for easy climbing.
Aerodynamic engineering can easily handle shed rain and heavy winds. You will also get a heavy-duty cover to keep your tent dry and dirt-free when not in use. This makes the tent suitable for all seasons.
Keeping your accessories organized in the camp is really challenging. But this tent makes your life easy with hanging shoes and storage pockets. You can even roll up and store them with ease.
The best 4Runner roof top tent should give you enough ventilation and airflow. To make that happen, this 4Runner tent features a door that rolls from top to down. You can keep it open to get proper airflow and close to protect from elements.
A built-in awning is there too that creates a beautiful panoramic view. Your experience will be better when you have a pleasant view of nature.
Things We Like
High-density mattress for higher load capacity and comfort
Easy to install without taking help from others
Aerodynamic design for heavy wind and shed rain
Built-in awning for an amazing panorama view
Proper ventilation to stay warm and dry
Things Can be Improved
No mosquito nettings
Instruction manual could be better.
---
4. Smittybilt 2883 Overlander XL Roof Top Tent
Smittybilt Overlander XL Roof Top Tent is another excellent hard shell roof top tent 4Runner. The anodized aluminum frame poles with stainless steel hinges make it extremely durable against any weather. You can also expect a longer life expectancy due to this construction.
Its heavy-duty 600D ripstop polyester is completely waterproof. You will stay dry even in heavy rain due to this cover. It also protects you from harmful UV rays.
With an open size of 122″ W x 76″ L x 51″ H and a load capacity of 770 lbs, this one allows 3-4 people to sleep. You will also get a 60mm high-density foam mattress to add more comfort to rest and sleep. It even eliminates the need to purchase a separate pad.
A cover is there so you can maintain hygiene even in camping. Simply remove the cover and wash it to get a clean bed.
The mosquito screens protect you from mosquitoes and other harmful insects. You know how dangerous the insects in the jungle are.
Climbing up the tent seems problematic for some people. But this 4Runner tent features a telescoping aluminum ladder that makes it smooth to climb up.
Dark comes soon in the jungle. You might want some light in your camp. The LED strip interior light will light you up and let you enjoy the night in the jungle.
Installation is easier as well, thanks to the mounting brackets. You can do it without even taking help from others. Overall, this tent makes camping a lot easier for travel and adventure lovers.
Things We Like
Aluminum and steel construction makes it extremely durable
Heavy-duty cover keeps you dry and protected
Installation is simple with its mounting brackets
LED strips remove the darkness in the jungle
Mosquito netting keeps mosquitoes away
Things Can be Improved
Mattress might be a bit thin for extended trips
Shoe pockets are not available.
---
5. Overland Vehicle Systems Nomadic 2 Extended Roof Top Tent
Simplicity with durability and comfort- that is the thing we all want from a roof top tent. This Overland Vehicle Systems Roof Top Tent offers exactly that.
Its marine-grade 600d polyester-cotton body protects you from UV rays and water. The 420d polyester oxford waterproof rain fly keeps you dry during heavy rain. You can enjoy the rain sitting in the middle of the jungle.
The marine-grade stainless steel hardware withstands tough wind and heavy rain. Its 1000g transportation cover keeps the tent dry and fade-free when not in use. This durable construction prolongs the durability of the tent.
Lots of people feel suffocated in the tent. To solve the problem, this tent comes with 110g fade-less gaze breathable windows with an insulated base. It will keep the airflow running to make the inside environment cool and dry.
3″ high-density foam mattress will add more comfort on the inside. You can comfortably sleep and rest here. A quilted cotton cover helps you keep the bed clean all the time. Memory foam pillows are also included to support your head. Installing the tent is easier thanks to its drill or modification less design.
Keeping your items organized in the camping is really tough. But this one features six built-in storage pockets with a storage loft to make your life easier.
Darkness comes first in the jungle. And you might not have the power source or lights to face the darkness. This 4Runner tent is equipped with a power bank pouch, LED Velcro strip, and a handheld led light. You can light the inside up and enjoy the environment.
A tubular telescoping ladder is also there to eliminate the need to buy an additional ladder. It is made of aluminum that ensures strength. See, you will get comfort, safety, and ease of use to enjoy your trip completely.
Things We Like
Inexpensive compared to others
Suitable for all weather for its durable construction
Strong ladder to easy climbing to the tent
Breathable design for proper airflow
Comfortable foam with cover for sleeping and resting
Things Can be Improved
No mosquito net for mosquito protection
Not suitable for a large family.
---
6. TMBK 3 Person Roof Top Tent with Rain Fly
TMBK 3 Person Roof Top Tent is a lightweight tent suitable for small families. 3 people can easily sleep and rest inside the tent with higher comfort. High-density foam will provide more comfort for your family.
But it weighs only 100 lbs despite its large capacity. So you can easily carry it in your car without damaging the rack. Its aluminum construction with steel hinges is what makes it durable yet lightweight.
It also offers sturdy aluminum insulated construction with 110g fade-less gaze breathable windows. This keeps you dry and cool in cool and hot conditions.
The marine-grade 600d waterproof body and 420d polyester rainfly make it perfect for rainy and summer weather.
A cotton cover helps to maintain the cleanliness of the mattress. The transportation cover helps to keep the tent dry and clean all the time, even when not in use. You will even get an 81" adjustable ladder for easy climbing.
The installation requires no drilling or modification if your car is equipped with any kind of factory or aftermarket roof rack. A few tie-downs are there to help you mount something else.
Things We Like
Large window for a panorama view
Tent cover to keep it dry and clean when not in use
Drill or modification free design for easy installation
Aluminum construction for higher load capacity
Waterproof design to save you from heavy rain
Things Can be Improved
Lack of mosquito nets
No shoe pockets.
---
7. Smittybilt Overlander Tent
Next is the Smittybilt Overlander Tent, which offers large space with higher loading capacity. The 84-inch x 60-inch Annex provides ample space inside for sleeping, cooking, or even changing clothes.
You will also get a high-density 92″ x 55″ mattress with a 661 lb. load capacity. 2-3 people can comfortably sleep or rest there. A 2.5cm aluminum sandwich base offers ample support to you as well. To make your environment more soothing, this one comes with interior LED strips.
This Toyota 4Runner roof top tent features a 600D heavy-duty waterproof top and rain fly like any other top-class tent. Side windows are also there to let you enjoy the panorama view. A mosquito netting is integrated with the window to protect you from harmful insects.
The anodized aluminum tent frame poles can withstand wind and heavy rain. A telescopic ladder is also there to help you climb up the tent. The ladder is made of anodized aluminum that makes it lightweight and durable.
You do not want to waste too much time installing the tent. That is why this one comes with the dual aluminum track, so you can easily install it within minutes.
There are some other facilities such as shoe storage bags, travel bags, and others to make your trip more enjoyable.
Things We Like
Large space for cooking, sleeping, resting or changing clothes
Easy installation saves time
Durable aluminum construction withstands rain and wind
High-density mattress for comfortable sleeping
LED strips to make the tent environment soothing
Things Can be Improved
No handheld LEDs
No tent cover.
---
How Do I Turn My 4Runner Into a Camper?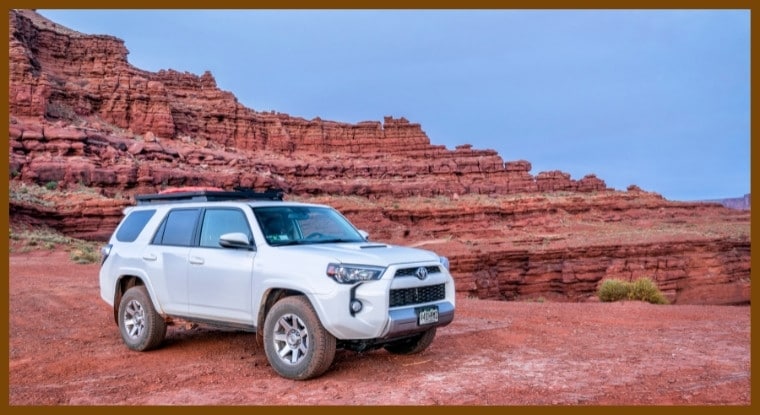 You can turn your 4Runner into a camper in two ways. Follow the methods below.
Using A Bed Inside The 4Runner
The basic design is to trade off your 4Runner headroom for storage space. To do that,
Build a wooden or steel frame out of 2 by 4s.
Add legs to it
Make sure the height is enough to store items underneath
Place them over the above all the pans and pots or anything you put in the back
You can use an old carpet over it
Add a comfortable bed over the frame for maximum comfort.
Using A Roof Top Tent
Using a rooftop tent is the best way for sure. For that,
Pick the right tent suitable for your 4Runner
Mount it over the vehicle
Use additional sleeping pads for maximum comfort.
---
Frequently Asked Questions
Still, got some questions in mind? Check the section below.
Can you put a roof top tent on a 4Runner?
Yes, you can put a roof top tent on a 4 runner as long as the weight limit permits. If the weight is higher than the capacity, it may break the rack and damage your car.
How much weight can a 4Runner roof hold?
The static load capacity of a 4Runner is up to 600lbs, whereas the dynamic load capacity is up to 300 lbs.
Are rooftop tents worth it?
Rooftop tents are great for the on-the-go trip. If you want to avoid any hassle of camping on the ground, it is perfect. This tent will keep you dry, safe, and comfortable in the jungle.
---
Conclusion
A roof top tent is mandatory if you want to take your trip to the next level with your 4Runner. But to enjoy the maximum benefits, pick the best roof top tent for 4Runner. Only then will you get ample space, comfort, and durability.
To pick the right tent, consider the construction, weather resistance, and comfort. Do not forget to check ease of use, mounting system, and, most importantly, compatibility. It is also essential to check other features such as mosquito netting, LED strips, etc. Do invest some time and put maximum effort into picking the right one. This simple effort will make your trip awesome like never before.
---
You May Also Like:
5 High Quality Toyota Tundra Roof Top Tents.
5 Top Quality Rooftop Tents for Toyota Fj Cruiser.
---