"How to heat a tent with a candle"!! is one of the most common question that arises in the mind of those who used to go camping and traveling. The good news is that people used to go for frequent camping and occasional traveling can literally solve this problem without using electricity or portable heater. They can make their tents warmer by just using candles. Let's see how?
Heating a Tent with a Candle: Two Effective ways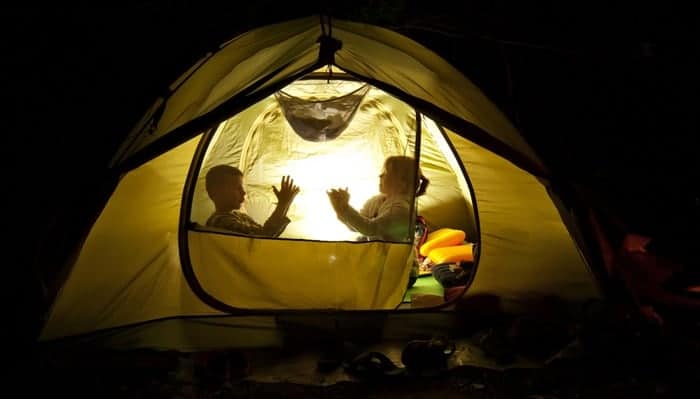 Although candles are not able to make your tent warmer like an electric tent heater when you make camps in remote places far from urban facilities or electricity, you now have the solution of getting rid of shivering cold by using candles to make your tent warmer.
Read Also: 5 Affordable Four Person Tent in Your Budget.
Safety First
Using candles to heat your tent always comes with an essential cautionary statement that is maintaining safety. As it is obvious that being slightly careless may lead to serious accidental phenomena.
Obviously, a slight moment of carelessness may lead to serious accidental haphazard's while using candles inside a tent. Camping candle-heater or candles may cause the tent to set on fire as tents are made of fabricated clothes. So to get rid of this problem, there is only one solution: to remain fully aware and be extra cautious while using candles for warming the tent.
First way of heating a tent while camping
Now comes the question of how you can make your tent warmer by using candles. There are two possible ways you can make your tent warmer by using readymade candle lanterns or prepare an instant candle heater all by yourself in the camping.
Using a readymade candle lantern is a good option for making your tent warmer amidst winter camping. Over some centuries ago, despite the invention of electricity's candle lantern was one of the most common solutions to see in the dark. People use then candle lanterns for both seeing in the dark and making their homes warmer in cold times.
Now in the time of 21st century available flow of electricity's making candle lanterns obsolete. But the old invention never gets faded away. They can somehow find their places in the spare of time.
Imagine you set your mind to travel in one of the most challenging camping spots of your locality. The spot is so awkward that it seems pretty remote to have usual urban facilities. So in those places carrying a readymade candle lantern can make your tent warmer, and also this item can sometimes be used to make your foods to get heat and boil water.
With the slight touch of modern technologies to the ancient times, candle lantern is now become so much favorite to people go for frequent traveling and camping. These candle lanterns have aluminum bodies in their structures. There are different types of candle lanterns like wax, beeswax, and citronella candles, which are often used to get rid of mosquitoes.
Advantages and Disadvantages
Using a camping candle heater to make a candle warmer has quite a good number of advantages. It is probably one of the easiest and safest ways to make your tent enlighten and warm tents. It may also use to warm foods and boil water.
Moreover, candle lanterns are the safest way to use candles without electricity as the probability of a possible accident is relatively lower in this type of lantern.
Despite having such advantages, these lanterns have some disadvantages. Such as it may sometimes bit costly than other possible ways for using candles to make tent warmer. Also, these lanterns sometimes failed to produce enough heat to make your tent warmer enough in the time of shivering cold.
Also Read: 5 Six Person Backpacking Tent in Your Budget.
---
Another Fascinating Way of Heating a Tent While Camping
The second option to make your tent warmer by using candles is to make your own candle lanterns. This method is relatively cheaper than using readymade candle lanterns and makes your tent warmer than ready-made candle lanterns. To make this you need some items which are
A clay made pot without hole
A bigger pot with a hole in the bottom
A container to hold candles
Four to six candles
Now to make this self-prepared camping candle heater, you need first to set these candles inside the container. Then, flipping the pot without the hole upside down and placing it over the candles.
If the pots are not suitable enough to rest on the container using a brick or something to keep the pot over the candles, make sure that candles get enough oxygen. Without oxygen, they can't be able to lit.
Now the last step is to flipping the pot without the hole and placing over the previous one to complete the task.
How These Self-made Candle Works?
Now you may find suspicious about my instructions for preparing this self-made candle heater, which is will it really work? If it is, then how?
Well, don't get worried; it really works. Though the candles don't produce enough heat, the placement of the inner pot gets enough heat and then passes it towards the next bigger container that receives the heat rapidly and makes the tent warmer.
Advantages and Disadvantages
So using these candle lanterns have some advantages and disadvantages too. The benefits are that it is less costly and makes your tent warm enough than using a readymade candle lantern; it can also be prepared with regular household items. The disadvantage of using this that being a bit careless may lead to a serious accidental situation.
---
Final Words
Congratulations! Now you know how to make your tent warmer while camping. I believe any of the two solutions mentioned above will be sufficient to make your tent warmer and give you a bit of comfort while camping.
However, you must make sure that you are cautious enough not to create any fire haphazard as it may lead to a serious downfall of your camping experience. SO BE CAUTIOUS and HAPPY CAMPING!!!!!.
---
You May Also Like:
How to Pick A Cheap Family Tent.
How to Choose a Perfect Tent for Stealth Camping.
---