A refreshing family tour to a classy wonderland is fascinating. The fun of the outing becomes double when you decide to stay on that beauty spot. That's where a family tent comes into the equation.
I know top-notch tents come with a hefty price tag, and it's tedious to find out some of the best family tents under $200. Don't worry; I've done the hard work for you and single out five affordable family tents. So, keep scrolling to know more!
Also Read: Top Comfortable 4 Season Tent Under 200 Dollars.
Top 5 Affordable Family Tents Reviews in 2022
Your long-awaited outdoor adventure can go in vain if you fail to pick a perfect family tent that ticks all your requirement.
Let me give you the glad tidings. Guess what? Here, I have crafted a thorough review discussing five inexpensive family camping tents. So, let's have a look
1. CAMPROS 8-Person Waterproof Windproof Family Tent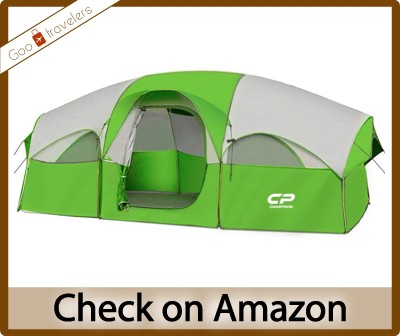 Let me start things off by introducing a genuinely spacious tent that can effortlessly accommodate 8-9 people. As a result, you won't face any issue placing eight sleeping bags or three queen air mattresses inside this 14ft long, 9ft wide, and 6ft height. Plus, you can make two separate rooms inside the tent with supplied curtain.
To make your camping special, CAMPROS allows you and your family to enjoy your favorite videos projecting on the curtain. Thanks to 5 mesh windows and a large mesh door, you can enjoy the natural beauty of the camping spot while allowing the breeze to come in and create a fantastic atmosphere.
In addition to that, this tent is crafted with 185T polyester and PU1000 water-resistant materials to offer extreme durability in diverse weather conditions. You can effortlessly set up the tent with the help of a 2-way zipper and rigid fiberglass poles, and it usually takes no more than 5 minutes. Also, the quick restoration of the tent in its bag ensures a hassle-free pack-up and carry.
Moreover, you will get a rainfly, an inside storage box, fourteen fixed stakes, a carry bag, and six guylines with this catchy family camping tent.
Highlighted Features
Top-notch 184T polyester and water-resistant fabric.
Curtain separated room system for privacy.
Easy to set up, pack up and carry.
Five mesh windows provide coolness.
---
2. Coleman 8-Person Tent with Easy Setup for Outdoors
Are you one of those who hates a zip and unzip system tent door? Well, to avoid this irritating design, Coleman has come up with this ultra-durable hinged door-style family tent.
The sturdy build quality and long-lasting performance of the beautiful tent make it an ideal choice for occasional campers. Take off the rainfly to enjoy the beautiful stars and the moon moving around the quiet, dark, and charming night sky.
Don't worry; you can quickly put on the rainfly if it starts raining all of a sudden. It also features inverted seams and welded corners to stop the rainwater from coming inside. During summer times, the tent stays pretty cool, and the breeze quickly gets inside through the angled windows.
To tackle thrilling weather conditions, this waterproof tent is crafted with a strong frame. So, it can stand still even if the wind blows above 35 Mph. Besides, the door-awning and double-thick fabric of the tent witness its robustness even further.
The easy setup and roomy (16 X 7 X 6(H) feet) interior of the tent allows eight persons to stay comfortably in it. Additionally, it includes some storage pockets to keep small things organized while camping.
Highlighted Features
Hinged door with extended awning.
Heavy-duty frame with double-thick fabric.
Handy E-port to run an electrical cord into the tent.
Inverted seams and welded corner.
---
3. Coleman Evanston Dome Tent with Screen Room
Here is my 2nd Coleman tent of the list, and its Dome-shape structure offers more aerodynamics and can withstand powerful winds.
To keep the rain from away, this great tent comes with patented welding floors and inverted seams. For further weather protection, Coleman has provided a top-quality rainfly too. Also, the extended awnings ensure that you get proper air circulation to have a relaxing camping experience.
The separate screened-in room or screen room makes the tent more user-friendly and convenient. Therefore, you can use this 10 X 5 feet bug-free lounging room to take a calming sleep. Plus, it could be a handy covered storage room for your necessary things.
The 10 feet long and 9 feet wide main compartment of the dome tent offers 5 feet 8 inches center-height. So, you can smoothly place two queen air mattresses in this spacious compartment. Moreover, the wind-responsive frame and polyester taffeta 75D fabric of the family tent delivers long-lasting performance.
Thanks to the small mesh pockets, you can keep your gear well-protected and organized. Also, it takes only 15 minutes to set up, and pack it up is not overexerting.
Highlighted Features
Zipper cuff and inverted seams for rain protection.
Separate screen-in room.
Dome shape for more stability.
Durable small mesh pockets for more storage.
---
4. Core 9 Person Extended Dome Tent
Presenting the largest and one of the best family tents under 200 dollars, which is so spacious that nine adult people can comfortably sleep inside the tent. So, you can place three queen air mattresses inside the dome. Its center height is 72 inches which means it won't create any issue for a 6 feet tall people.
The 16X9 feet wide tent also has two additional poles to maximize the inner space so that you can roam inside it smoothly. To offer long-lasting performance, Core has made the tent with durable 68D polyester fabric. And, the floor fabric is crafted with 115gsm P.E material.
Apart from that, the poles are made with traditional fiberglass to give a rigid structure to the tent. Core also made the tent waterproof by adding water-resistant PU-coated fabric and heat-sealed seams to stop water leakage through the seams. You can quickly put on the rainfly over the tent if it starts raining suddenly.
To keep well-vented and cool, the dome is equipped with adjustable air intake vents on its lower part. You will also enjoy the privilege to run an electrical line inside the tent through its E-port. However, you won't face any dilemma carrying and assembling this 18-pound tent.
Highlighted Features
H2O block technology.
Huge interior space.
E-port and air intake vents.
Huge inner space.
---
5. CAMPROS 6-Person Waterproof Windproof Family Tent with Top Rainfly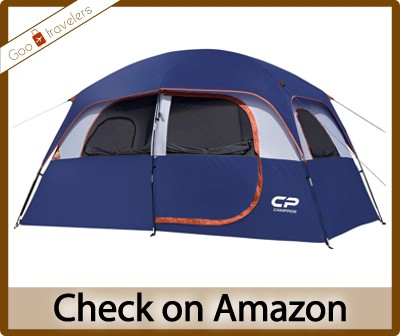 The last low-budget tent of my review is another Campros tent. It will be your best bet whether you are planning for camping, hiking, or fishing. The overall dimensions of the tent are eleven (11′) feet in length by seven (7′) feet in width and seventy-two (72″) inches in height. A perfect setup for six individuals to sleep in comfortably. 
In addition to that, the high-quality polyestercoating ensures water-resistant up to 1000 ml. Therefore, this tent is the perfect choice for camping in any weather conditions.
The tent is lightweight; it's about 12.8 lbs., So, it's going to be effortless to carry. It's easy as pie to set up the tent, and you can do it in 3 to 4 minutes. The carry bag is quite spacious; you can quickly restore the tent in the bag and put it in your car.
The camping tent's doors and windows are well protected with mesh that restrains the mosquito and flies out and provides proper air ventilation. Moreover, the two-way zipper attachment is well-made & functions smoothly.
This Campros tent offers a long-lasting service no matter how many times you go camping with it in a season. So, It's a worthy investment.
Highlighted Features
Water-resistant and suitable for any weather conditions.
Good air ventilation & bug protection system.
Lightweight, easy to carry, and set up.
Robust two-way zipper system.
---
Things to Consider Before Choosing the Budget-Friendly Family Tent
Luxurious family tents come with some flabbergasting features, but it doesn't mean that cheap family tents offer nothing. You can find a robust family tent without breaking your bank if you consider the following crucial aspects.
Tent Type
There are several categories of tents out there, but three unique types of family tents are trendy among campers. They are – Cabin tents, Dome tents, and teepee tents.
Kids love teepee tents most, and it's suitable for 2-3 people. If your family consists of 5-8 people, you should buy family tents that are bigger and wider. In such cases, Dome and Cabin tent would be a better option.
Tent Size
Tent size includes the tent's length, width, and height. Camping in a spacious tent means you will have plenty of interior area to keep your necessary things well-organized. Also, tents having more height will ensure more headroom so your head won't touch the tent's ceiling.
Another advantage that most of the large tents offer is the curtain-separated room system. This setting will give you more privacy.
Weather Condition
This is a crucial factor, and if you don't consider this point seriously, you will surely pay the price. Therefore, it is better to know the temperature and other weather-related information about where you are going to camp and buy your tent accordingly.
Waterproof family tents will stop rainwater from getting in. Also, if that place's temperature and humidity are going to be high, get a tent with 5-6 mesh windows.
Portability
A lightweight tent will offer more portability, and you won't become too exhausted carrying it to the camping spot. A Tent weighing between 15lbs to 18lbs or less would be a fantastic option. Also, ensure that the tent includes a comfy carry bag.
Stability
An unstable tent can hamper your beautiful tour, and these tents are insecure too. Dome tents are pretty stable due to their aerodynamic shape. No matter what type of tent you pick, it should be tough enough to withstand high air pressure or any storm.
Easy Assembly
Your tent shouldn't take more than 15 minutes to fully assembled. Also, it must have a simple pack-up system. Also, purchase the tent, which requires no special skills to assemble.
---
Frequently Asked Questions
Since we've reached this far, I'll also focus on a few common questions that campers have when looking for the best family tents. Take a quick peek below:
Can I put a heater in a tent?
Yes, it is entirely safe to put an electric heater in a tent. However, you must ensure that the heater you choose should have all the safety features and no water gets in touch with it.
Is it dangerous to sleep in a tent?
No, you won't face any hazardous issues while staying in a good-quality tent. However, you shouldn't go camping in a place where wild beasts may attack your tent.  Also, avoid natural disaster-prone areas too.
Should you put a tarp over your tent?
Now, almost all tents come with waterproof features. But you will find many campers who are complaining about water leakage problems while using top-notch family tents. So, if you use a tarp over your tent, you won't suffer from rainwater.
What do you put under an air mattress in a tent?
Though tents have a thick floor, you can place wood, foam, rug, foam, blankets, or tarps beneath the air mattress in a tent.
Should I put a Groundsheet under my tent?
To protect the tent's bottom and keep the tent warmer, you should add a groundsheet under your tent. It will help the tent to last long.
---
Final words
Camping is a stunning recreational activity that refreshes our bodies and minds. A top-notch tent will ensure all the comfort and convenience while living in a remote area. Here, I have made every possible effort to assist you in finding the best family tents under $200. Now, it's your turn to pick the most appropriate family tent for your next expedition.
However, if you ask me to choose a winner, I will go for the Core extended dome tent as it offers the aerodynamic stability of a dome tent with huge interior space.
---
You May Also Like:
How to Choose a Perfect Stealth Tent.
A List of Top 6 Person Tent Under 100 Dollars.
A List of My favorite Camping Cot for Bad Back.
---