Tent camping is one of the most amazing experiences on your trip. But, it gets very unpleasant sometimes when you can't have the best sleeping experience. Apart from that, you may struggle to find a suitable place to camp. If you want to know how to make tent camping more comfortable, this article is for you.
The good news is you can make your tent camping comfortable by taking some easy steps.
How to Make Tent Camping More Comfortable: Essential Tips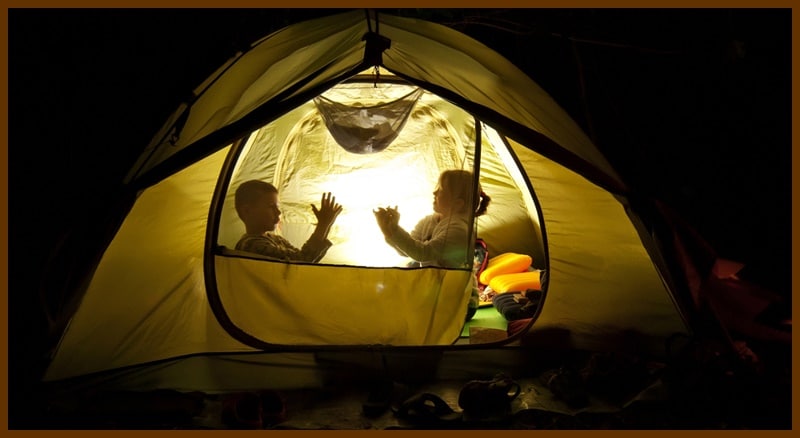 Staying in a camp could be extremely difficult for you and your family if you don't consider the small but important aspects of living in a tent. That's why, I've come up with these tips. Let's have a look.
Find A Good Campsite
Choosing a campsite where you can go nearer to nature is the most adventurous thing on your trip. However, you don't want to hear the unpleasant sound of mosquitoes. Mosquitoes, flies, and other bugs can ruin your sweet moments.
As you don't want to camp in a place where you have to deal with these irritating and unwanted creatures, you have to choose a place where you can get away with those problems.
Besides, you want to have fun and at the same time, get a learning opportunity for the kids. National parks, safari parks, and other spots with a camping ground could offer a good time for you and your kids.
If you're camping with friends, the choice may be somewhat different. Swimming, hiking, and exploring nature are the opportunities you don't ever want to miss. And when you have your friends and family with you, the amusement gets to the next level.
Make sure you set up your tent nearer to the areas you want to explore- closer to nature, yet away from dangers. Needless to say, you will choose a spot that is dry and plain.
Read Also: 6 Most Comfortable Camping Cot for Back Pain Sleeper.
Right Gears for a Comfortable Tent Camping
Sleepless nights are not something of an adventure. You'll often get tired, and your tent will be your only place to find comfort. But if you don't bring enough sleeping gears, you will be frustrated at the situation you've put yourself in.
Following pieces of stuff, however, will offer you a comfortable camping experience.
Sleeping Bag
Two things to consider when you bring a sleeping bag: The Shape and the temperature it provides.
In the winter season, you may need a heavy-duty sleeping bag to withstand cold weather conditions. In summer, you would like to have a lighter sleeping bag. When it comes to camping outdoor, however, the season doesn't dictate that much.
As long as you are aware of the climate and weather conditions of the place where you want to camp, you can take steps accordingly. Secondly, each shape of the sleeping bags has something unique to offer. So, Pay heed to your preferences.
Mummy Sleeping Bag
If you camp in a place where you will possibly face extreme weather conditions such as cold, you will love a mummy sleeping bag. This type of sleeping bag includes a hoody; keeps you warm and comfortable.
Double Sleeping Bag
Snuggling in your sleeping bag is something you don't want to miss. Consider a double-wide bag; it provides enough room for two persons.
Rectangular Sleeping Bag
Rectangular bags provide you more space than other sleeping bags. You can make a large one bag out of two bags, one with a right-hand zipper and the other with a left-hand zipper.
These are wide bags that provide you the ultimate comfort. You don't feel like you're constrained in the bag.
Sleeping Pad
To get an even more comfortable sleeping experience, consider packing a sleeping pad with the other kinds of stuff. This will protect your back from a hard and rough surface, making your bedtime more comfortable.
Pillows
A pillow can make a big difference when it comes to sound sleep. Consider packing an inflatable pillow; it is easy to pack and saves space.
Eye Mask
An eye musk is recommended for those who want to sleep in the morning or anytime during the day. An eye mask builds a barrier between your eyes and the sunlight.
Ear Plugs
Some may love to hear the birds chirping, yet others may don't, especially when it's bedtime. To avoid all the noises, put the earplugs in your ears. Now you don't hear every unpleasant sound except for the alarming ones.
Find Out Which Cheap 6 Person Tents are the Bestsellers Now!
---
Some More Tips for Comfortable Tent Camping
Comfortable camping doesn't only mean the sleeping part, but it includes foodstuffs, comfortable clothing, and more.
Improve Your Camp Kitchen
Cooking is one of the most fun parts of tent camping. Yet, it may be challenging for the new campers.
To make it more fun and less of a challenge, bring the necessary cooking materials such as bowls, mugs, spoons, a knife, a cutting board, and the stove. When you've got the essential items, you can have a hassle-free cooking experience.
Besides, bring a portable camp table if your campsite doesn't have one for the campers. For an awesome barbeque party, bring a charcoal grill, tongs, grill brush, etc.
Having the necessary stuff, you can cook delicious foods to make the tour more memorable.
Keep Water Nearby
Campers must have access to an open water supply. Always keep hydrated, and cleanse and cook foods with fresh water.
A Pair of Sandals
It's a simple thing, but most people forget to bring. A pair of sandals would help you comfortably walk around your campsite.
When you come back to your tent, you don't want to keep boots or trainers on your feet, you will love something lighter instead. A pair of sandals could help in that case.
Toilet
Tent camping cannot be comfortable without having a clean and always accessible toilet. Try to camp somewhere you can have a hygienic shower and evacuation. Don't ever undermine this issue.
Besides, bring enough toiletries with you so that you don't run out of them in the middle of nowhere.
You'll Love the Latest Affordable Family Tents Available from Top Brands.
---
Conclusion
A comfortable camping experience depends on the campsite, the sleeping gears, and a few more factors. If you improve your sleeping gears and camp somewhere you feel you like; you'll get the real taste of camping outdoor. The food, the beauty of nature, and having fun with friends and family- everything creates good moments and memories. Now that you know how to make tent camping more comfortable, you can finally say 'goodbye' to your sleepless camping nights.