Bronco sport is popular among on-the-go trip lovers.
You can take the vehicle off-road and camp anywhere you love.
But the mud, rope, and insects can destroy the fun of camping.
Does that mean you will leave camping?
Not at all.
Roof top tents can be a life savior. But you have to pick the best roof top tent for ford bronco sport. Otherwise, it may not be compatible with your sport. Even if it does, you might not get the utility you expect from it.
Can You Put a Rooftop Tent on A Bronco?
Bronco comes with the facility to install a rooftop tent. But the problem comes with the load capacity. It generally has 110lbs dynamic and 450lbs static loading capacity. That means the tent, along with you and your family, has to be less than 450lbs.
You need to consider some other factors when it comes to putting rooftop tents on Broncos. Height is another important factor. A rooftop tent will add height to your Bronco. Also, make sure you have the proper clearance. If you fulfill all the requirements, a roof top tent is ready to put on.
Top 3 Best Roof Top Tents for Ford Bronco Sport in 2022
Finding the best Ford Bronco Sport rooftop tent among thousands of options seems impossible. To make your life easier, I have come up with the top 3 roof top tents suitable for your bronco sport.
1. Smittybilt Overlander Tent
Smittybilt Overlander Tent can be the perfect option for your ford bronco. Its standard size design of 84-inch x 60-inch offers plenty of space for sleeping.
High-density, 2-inch thick foam with 92″ x 55″ size makes sleeping and resting more comfortable. It offers a 661 pounds load capacity, which is suitable for 2-3 people.
Thanks to its waterproof top and a rain fly with 600D thickness, you will be dry in rainy conditions. A sunroof is also there for sub and UV protection.
The side windows offer a panorama view where its mosquito netting keeps you safe from mosquitoes and other insects. It also ensures proper airflow for better breathability and calm conditions.
This tent is constructed with anodized aluminum poles. It makes the tent lightweight to carry yet durable to withstand any conditions.
Entering the tent is more effortless. All credit goes to the telescopic ladder. It is also aluminum made for easy maneuvering, and can be stretched up to 6 1/2 ft. The installation and taking down is simple too.
It is featured with interior LED strips and can help you make the internal environment soothing. You will also get a thick PVC cover to keep the tent dry. It also protects the tent from UV rays and dirt when not in use.
Things to Appreciate
Suitable for 4 seasons use
Easy to install and takedown
Lightweight yet durable construction for longevity
Long yet lightweight ladder for easy entering
LED strips to remove darkness and make the environment soothing
Take Note
A handheld flashlight would be better
Instruction should be clearer.
---
2. Smittybilt Overlander XL Roof Top Tent (2883)
Sometimes we need a big tent with bronco sport for our family. Smittybilt Overlander Tent comes in 122″ W x 76″ L x 51″ H size, which is large enough for sleeping. 3 to 4 people can easily accommodate, sleep, and change dresses in it.
A combination of stainless steel and anodized aluminum construction will support the tent to stand firmly against the weather. You can use it in the rain for its heavy-duty, thick, and waterproof 600D ripstop polyester.
Smittybilt always cares about comfort. They offer a 60mm high-density foam mattress that can easily handle up to 770 pounds. You can enjoy sleeping and resting inside the tent. A removable cover comes with it to keep it clean and hygienic during camping.
LED strip interior light eliminates the need for using a lamp inside. But the light may attract insects and mosquitoes in the jungle. To protect you from that, this tent features mosquito screens.
Getting into the tent was never easy, thanks to its telescoping ladder. It is aluminum made which makes it durable and lightweight.
Installation is easier as well for its mounting bracket. You can take it on and off without taking help from others.
Things to Appreciate
Large size suitable for a small family
High load capacity with good weather resistance
Easy to get into for its ladder
A removable cover keeps the mattress clean
LED lights soothe the inner environment
Take Note
The mattress could be thicker for heavy people
Large size takes time to install.
---
3. Campoint 2-3 Person Sunroof Rooftop Tent
The best roof top tent for ford bronco should offer maximum comfort with higher safety. That is precisely what Campoint Rooftop Tent offers.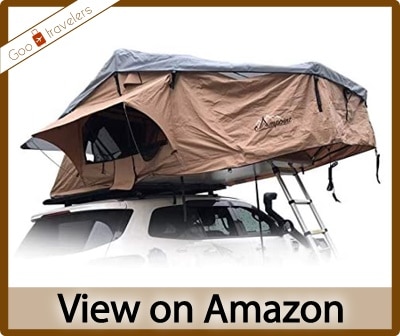 High-density 92″ x 55″ thick foam mattress offers smooth and comfortable sleeping and resting experience. Since it has a 661 lb. max load capacity, 2-3 people can easily sleep there.
This 4 Season's tent comes with side windows so that you can enjoy the panorama view. Mosquito netting is also there for mosquito protection as well as proper airflow.
Rain, UV rays, and wind are the main problems in the jungle. You will get stainless steel hinges and anodized aluminum poles for durability and longevity. It also helps the tent withstand wind and heavy rain.
It features a 600D heavy-duty non-rip waterproof polyester top with a large rain fly to protect you from rainwater. Equipped with a sunroof, you will also get protection against UV rays.
Getting into the tent is simpler than you think, thanks to its 6.5 ft aluminum telescoping ladder. You can easily set up and carry it due to its lightweight design. Both side entrances make the entrance even easier.
This tent will stay UV-protected and dry when not in use because of its PVC rooftop cover. You can easily set it up and take it down for its user-friendly design and mounting brackets.
Things to Appreciate
A thick mattress offers maximum comfort while sleeping
Suitable for all 4 seasons
Durable construction ensures longevity
Easy to install and takedown
Accessible entrance for its ladder and both side entrances
Take Note
Instruction could be better
No tie-downs for.
---
Frequently Asked Questions
Have you still got some questions in mind? Then have a look at the sections below.
Does the bronco sport come with a tent?
No, bronco sport does not come with a tent. You can install a tent compatible with the bronco sport in terms of weight and loading capacity. The total weight, including the tent, you, and other members, should not be more than 450lbs in static mode.
Can you sleep in a bronco sport?
Absolutely, you can sleep comfortably in a bronco sport thanks to the 3 feet, 7 inches space. You can even utilize a 10inch elbow room if needed.
Which ford bronco has the tent?
No Ford Bronco has the tent. But it allows you to install a rooftop tent suitable for it. Make sure the weight and height are compatible with your car.
What is the Ford Bronco Sport roof rack capacity?
The Ford Bronco Sport roof rack can handle 110-150lbs of dynamic weight. It has a static capacity of around 450lbs.
---
Conclusion
Ford Bronco Sport offers superior off-road performance, making it popular among trip lovers. And you make your trip more exciting with the help of the roof top tent.
Make sure to pick the best roof top tent for ford bronco sport so that you can enjoy maximum utilities from it.
Consider the tent quality based on the canvas and construction materials. Ensure your tent features mosquito netting and proper insulation. LED lights, additional tie-ups, and a ladder will add more fun to your camp.
Try to get a good tent with a large inside area. You should also consider the installation and take-off process. Only then will it be possible to get the fun of a roof top tent.
---
You May Also like:
An In-depth Guide about Honda CRV Roof Top Tent.
---