Very few cars can compete with Ford Ranger when it comes to on-the-go trips. It offers a powerful engine, large backspace, and excellent off-road performance.
But what if you go somewhere without any camping facility?
Or what if you love a place, but there are not enough camping facilities?
A rooftop tent can solve the problem.
But not all tents are suitable for a Ford Ranger. You need the best rooftop tents for Ford Ranger that is compatible and can provide safety and comfort.
Consider the strength to withstand weather, inside space for the living environment, and comfortable mattress for sleeping.
Top 3 Best Rooftop Tents for Ford Ranger in 2022
Considering all those factors, I have come up with these 3 tents with their features, pros, and cons. It will help you make the right decision.
1. Smittybilt 2883 Overlander XL Roof Top Tent
Smittybilt Top Tent is one of the best tents you can have for your Ford Rangers. It comes with quality steel hinges and anodized aluminum frames. This construction will stand firmly against heavy rain and wind.
But rainwater may come through the tent. This tent features a heavy-duty 600D ripstop polyester cover to protect and keep you dry. It is completely waterproof and UV protected as well.
Rain is not the only problem here. Insects, especially mosquitoes, can be life-threatening in the jungle. That is why it is equipped with mosquito screens.
You may want to have ample space inside the tent. With 122″ x 76″ x 51″ open size and 770 lbs. load capacity, 3-4 people can easily accommodate themselves comfortably in it.
What about comfort? Well, it comes with a mattress with 60mm thickness that will deliver maximum comfort. A removable cover helps you keep it hygienic all the time.
The internal environment places a vital role in your comfort. Equipped with a LED strip, it ensures such an environment.
Featuring a telescoping aluminum ladder, you can easily climb up the tent. It also eradicates the need to purchase additional ladders.
The best roof tent for Ford Ranger should be easy to install. That is precisely what this tent offers. You can simply fold out the tents within seconds and mount them on the ford range without taking any help from others.
Why I Love It:
Durable steel and aluminum construction for longevity
Suitable for all weather for its waterproof design
Easy to install with mounting brackets
High-density mattress for added comfort
Aluminum ladder and LED strips for a soothing environment
Take Note:
No tie-downs for installing anything else
Handheld LEDs should be there.
---
2. Overland Vehicle Systems Nomadic 3 Extended Rooftop Tent
Weather is the main enemy for rooftop camping. Your tent has to be durable enough to withstand heavy wind and rainwater. Overland Vehicle Systems Nomadic Rooftop Tent will give you that.
Marine-grade, top-class 600d polyester-cotton canvas ensures prevention against water. But that might not be enough for heavy rain. Thanks to its waterproof polyester rainfly, it can easily handle heavy rain. You will stay dry from rainwater.
What about the sunlight? It may fade out of your tent. 110g breathable, no-faded windows in this tent work as a shield to prevent that. 1000g transportation cover will be there to keep the tent dry and fade-free when not in use.
Equipped with a 3″ high-density foam mattress, it will provide ample comfort for sleeping and resting. Keeping it clean is easier for its quilted cotton cover.
The insulated base with breathable windows keeps airflow running all the time. You will stay relaxed and comfortable even in hot summer.
Designed with stainless steel, marine-grade hardware, this tent offers maximum stability and durability. You will also get a tubular telescoping ladder for smooth climbing.
With its six built-in storage pockets and storage loft, you can easily keep your things organized. It also includes a handheld led light, unlike the previous one. But you will get a Velcro strip to soothe the inside environment.
Installation is simple thanks to its no drilling or modification design. If your Ford Ranger is equipped with an aftermarket rack, you can do it within hours. Velcro Straps for storing the tent enhance the convenience of using the tent.
Why I Love It:
Durable waterproof and fadeless cover for all-season use
Easy to install for its drill-less design
Rugged construction for maximum longevity
Handheld LED and LED strips to get rid of the darkness in the jungle
Proper insulation for maximum convenience
Take Note:
No mosquito netting available for mosquito and insect protection
Rainfly make noise during strong wind.
---
3. Smittybilt Overlander Tent
Another excellent consideration for the best Ford Ranger roof tent is Smittybilt Overlander Tent. This Standard-sized tent offers enough space to sleep 2-3 people. With its 661 lb. max load capacity high-density 92″ x 55″ foam, you can enjoy quality time inside.
Rain is not a problem thanks to its rain fly and top made of 600D heavy-duty canvas. It is also equipped with anodized aluminum tent frame poles to withstand heavy rain and wind.
But that will not make you suffocate. All credit goes to its windows with mosquito netting. It also ensures protection against insects in the jungle.
A telescopic ladder makes it easier to enter the tent. It is wider compared to many other standard ladders. Installing and taking down is easier as well. You will also get interior LED strips for a soothing indoor experience.
This one features a heavy-duty PVC cover to protect the tent from UV rays and water. You can keep it dry and not fade when not in use. A mattress cover also helps to maintain hygiene.
Finally, you will get a heavy-duty travel bag with it. A shoe bag is also included for more convenience.
Why I Love It:
Excellent rain and water protection
Mosquito and insect protection
LED strips to remove the need for a lamp or flashlight
Easy to take on and off
Suitable for a small family
Take Note:
The instruction manual is not up to the mark
No tie-downs to tie anything else.
---
Can You Put a Rooftop Tent on A Ute?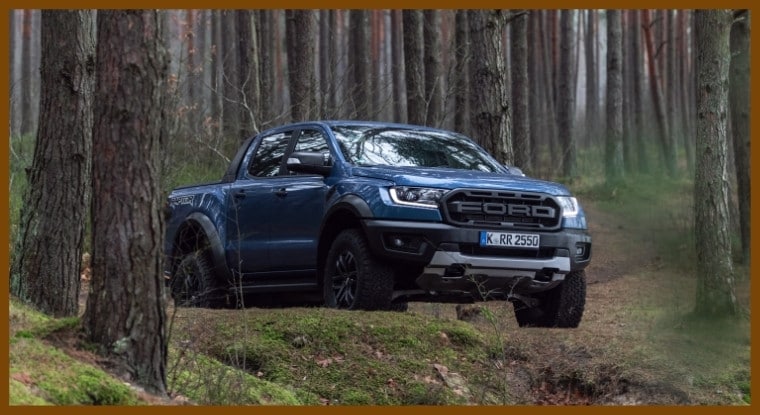 Yes, you can put a rooftop tent on a ute. But it depends on the model of the ute. Some utes come with a built-in roof rack that can support the weight of a rooftop tent. Some utes may require you to purchase a roof rack.
Ford Ranger ute is suitable for rooftop tent installation. But you need a rack to mount the tent on the ranger, so it does not fall off.
You'll love the latest rooftop tent for ford f150 available from top brands.
How To Put a Rooftop Tent on Your Ford Ranger Ute?
Here are a few steps to help you get started:
Measure your roof to find out the best location for your rooftop tent.
Make sure to pick a rooftop tent compatible with your Ford Ranger ute.
Purchase the necessary mounting hardware and accessories if not included with the tent.
Read the manufacturer's instructions carefully before installing the rooftop tent.
Now remove the screws from the cover of the luggage rack.
Lift and place the rack on the ute of the ranger.
Put the screws back into the rack.
Position the tent on the rack and make sure that the holes line up.
Mark the holes on the car with a marker if needed.
Put down the rack and tent.
Drill the holes in the car with a drill. You may not need it if the tent comes with a drill-less design.
Put the rack back on the car and insert the screws properly.
Secure your tent to the rack with the buckles.
Test the tent to make sure it is installed properly.
Find out which rooftop tents crossbar are the bestsellers now!
---
Time to Wrap Up
Ford Rangers are getting increasingly popular day by day. You can add a little extra sleeping space or storage with a rooftop tent. Installing is relatively easy as well and can be done within hours. Some tents do not even need drilling or modification in your car.
But the problem arises when it comes to picking the best rooftop tents for Ford Rangers. You need to consider the space, construction, and functionality. Mosquito nets, breathability, and LEDs are some factors worth considering. Do not hesitate to put max effort into picking the right tent. Remember that you can turn your Ford Ranger into a comfortable camp with some preparation and effort.
---