Going for a trip and spending a night there requires multiple arrangements.
A good camping cot is something among them you cannot overlook.
To keep the back pain away and enjoy a sound sleep by the river, a camping cot is all you need to bring along.
Today, I am going to help you get your best camping cot for bad back. Take a look at my discussion below and pick the one you think will work best as your adventure companion.
Why You Need a Camping Cot?
The adventurous trips where you need to sleep in a tent at night can be tiring and uncomfortable.
You will most probably lack a sound sleep if sleeping arrangements are not done accordingly. This may eventually lead to back pain, and even an entire body ache.
That is when you need the most comfortable cot for camping. These camping beds or cots are manufactured to provide you a good and relaxing sleep while you are away from home, enjoying your trip.
6 Best Camping Cot for Bad Back in 2022
1. ALPHA CAMP Oversized Camping Cot- For Oversize/Big Physique
In my search for the best camp bed for bad back, this camping cot is a perfect fit for those with a large physique and less than 6.2″ in height. It is an off-the-ground cot that provides ample side space for the sleeper to doze off or take a rest.
The height of this cot allows enough storage space beneath the cot for keeping your necessary items. It also comes in an additional carry bag so that you don't have to arrange a bag of its size every time you go hiking or camping.
Material and Design: This is cot is made with highly durable steel frames and 600D polyester fabric that can take up to 600lbs. load. It has slip-resistant feet and its triangle structure distributes weight evenly for better grip on the ground. The cot also includes multiple side pockets for storage purposes.
Size and Weight: It is 74.6×26.4×13.8 inches in dimension and weighs less than 15lbs. This camping cot can take a load of up to 600lbs. The 13.8 inches high cot provides adequate space under the bed to secure your belongings while assuring extra walking space.
Portability and Setup: This cot comes in a carry bag, making it easily portable while on the go. The straps in the bag secure the cot so that moving it from one place to another won't cause any damage. Moreover, setting up or unfolding the cot when needed is a matter of moments.
Things to Appreciate:
Ample bed space.
Storage pockets included.
Easy setup.
Slip-resistant feet.
Things Can be Improved:
A bit heavy to carry in hand/back.
---
2. Coleman ComfortSmart Cot- For Oversize/Big Physique
Here is another pick that is suitable for people with a large physique. Coleman ComfortSmartsteel frame cot is easily fordable and portable from one place to another.
It is one of the most comfortable camping cots with thick sleeping foam that helps eliminate backache. Its firmness prevents slipping or swaying of the cot while letting you enjoy camping.
Material and Design: This cot is also a steel frame cot but it includes a soft and thick foam instead of a fabric surface. The three steel stands ensure that the cot stands steadily on the ground, and can hold up to 300lbs. of load.
Size and Weight: This cot measures 80x30x15 inches and weighs around 8.9 kilograms. The space under the bed can be used to keep bags, sheets, clothes, and other useful stuff without blocking air circulation.
Portability and Setup: Unfolding and setting up the cot takes seconds. Just set it on a leveled ground and it will be ready to sit or sleep on. Once folded, you can fit it inside any car's trunk without hassle.
Things to Appreciate:
Firm and steady.
Soft and thick

sleeping pad

.
6.6″ maximum height.
1- year limited warranty.
Things Can be Improved:
A bit heavy to carry in hand/back.
---
3. REDCAMP Folding Camping Cot–LightweightFolding Cot
This camping cot is built with quality materials for durable and long-lasting use. Either you want to carry it for camping or resting on it during office break, it has got your back.
A single person can lie down on it without having trouble moving freely. The solidly structured cot brings along a pillow and a sidebag for convenient use.
Material and Design: The cot is made with thick and sturdy elliptical-shaped steel tubes and 6000D oxford polyester fabric. With high durability and strength, it includes slip-resistant legs and a unique design.
Size and Weight: It measures 75x28x15 inches in size and weighs around 14.7lbs. when unfolded. While folded, it measures 41.3×9 inches in size. It can support up to 500lbs./226 kg load, making it suitable for users of all ages.
Portability and Setup: As it becomes 41.3×9 inches in dimension after folding, you can put it in your car's trunk and carry it wherever you wish to. Setting it up takes less than 15 seconds, faster than many other cots.
Things to Appreciate:
Durable material.
Pillow and Side-bag available.
1-year limited warranty.
Multipurpose use.
Things Can be Improved:
---
4. Coleman Camping Cot- Air Bed with Side Tables &Battery-Operated Pump (Combo)
For those who prefer air beds over fabric cots, it can be a great purchase. This queen-sized air bed from Coleman is one of the most comfortable sleeping cots. It is suitable for holding and providing enough sleeping space for 2 people.
No matter if the ground is even or uneven, it holds the weight on it precisely with durability. You can opt for this air bed for your next camping trip without any hesitation.
Material and Design: The bed includes multiple steel legs and the air mattress sits on a sturdy steel frame. The mattress sheet is attached to the bed, but you can remove the mattress effortlessly if you wish to. It also includes 2 side tables, 1 on each side.
Size and Weight: The bed measures around 78x59x2 in size once unfolded and weighs 41.9lbs. As it is a queen-sized bed, it offers great stability and support to your back while you enjoy a sound sleep.
Portability and Setup: Like a tent bag, you can put this bed in the carry bag with wheels that is provided with the purchase, and take it with you without trouble. When needed, just bring the bed out of the bag and set it up within seconds.
Things to Appreciate:
Queen-sized bed.
Easy to carry.
Durable and Lightweight.
Includes side tables.
Things Can be Improved:
Not for use in California.
---
5. EVER ADVANCED Folding Camping Cot- LightweightPortable Cot
If you are looking for a camping cot that is not too high from the ground once unfolded and can fit in any average-sized vehicle after folding, this is a cot you can consider.
This green EA camping cot is designed with unique features and specifications to make your camping experience better. Coming under an affordable budget, it is wide and steady enough to provide adequate space to a person.
Material and Design: The green EA camping cot is built with 6000D oxford polyester fabric, 2 steel support bars, and 5 steel support legs. This classic-style camping cot can be used in narrow and limited spaces or on open grounds as well.
Size and Weight: When folded, it measures 27.6×8.7×3.5 inches, and 76×25.6×7.9 inches when unfolded. It weighs 11.8lbs., and can hold up to 250lbs. of load at any given time.
Portability and Setup: A carry bag is provided with the cot and you can carry it in your hand with the help of the straps on the bag. The fabric, support bars, and support legs come separate in the package and you need to assemble them with the help of the setup guide.
Things to Appreciate:
Lightweight and Easily portable.
Quality material.
Standard size.
Meets the CA65 standard.
Things Can be Improved:
---
6. ARAER Camping Cot
ARAER Camping Cot is another one of my picks that meets my criteria for a standard portable and lightweight bed.
It comes with a unique design and premium materials that can go a long way for your needs.
Designed for any age individual under 6.8 inches in height, you can get this cot for any adventurous trips or temporary occasions. Easy to carry along, it is also effortless to setup.
Material and Design: 25mm square tubes provide better and stable force. The concave-convex design of this cot distributes the weight evenly. The 6000D oxford polyester fabric is breathable and helps to sleep peacefully.
Size and Weight: Its size when unfolded is 74.8×26.4×13.8 inches, and 38.6×7.9 when folded. It weighs 7.2 kg and can take up to 450lbs. of load when unfolded.
Portability and Setup: A durable nylon carry bag is also given with the cot upon purchase. You can effortlessly move the cot from one place to another with the help of this bag and set it up in seconds when needed. Store the cot in a dry place so that it can be your adventure companion for a longer period of time.
Things to Appreciate:
Unique design.
Quality material.
Easily portable.
Lightweight.
Includes side-bags.
Things Can be Improved:
Comparatively narrow space.
---
How to Pick a Good Camping Cot?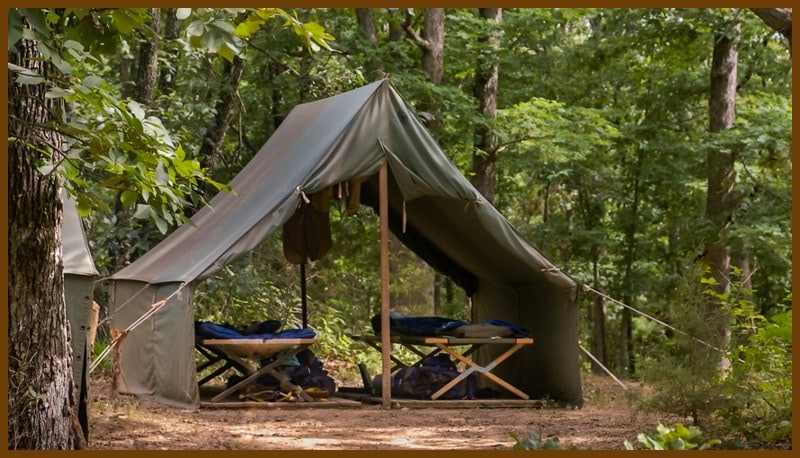 Finding the best travel cot for bad back is not that easy.
After being exhausted from walking, hiking or doing adventurous activities, all you would want is to just lay in a comfy space and let your body rest.
For this purpose, it is recommended to get portable cots for camping that will meet your needs during your stay in tents.
While searching for the best camping beds for bed backs, you need to consider some features. The things you need to consider before getting a camping cot or bed are:
Size
There are camping beds available in different sizes. Pick the one that will give you enough side space to move around, and long enough to prevent your legs from hanging in the air when you lay straight.
Find out which 6 person tents under $200 are the bestsellers now! Click here!
Weight
Camping cots are heavy. Some are made with aluminum or steel frames. Choose an easily foldable and lightweight camping cot that you can lock with your backpack and carry.
Height
Those made with aluminum or steel frame are great options for storage purposes. You can put your belongings under the bed, saving space inside the tent. These cots will also allow comfortable sleeping, regardless of the cold or hot weather as they are placed above the ground.
I think you'll also love the latest family tents under $200 available from top brands.
---
FAQs about Camping Cot for Bad Back
What is a camping cot used for?
Camping cots are lightweight and portable beds that are used for camping purposes or somewhere where compact sleeping beds are needed for sleeping.
Are off-the-ground camping cots good?
Off-the-ground camping cots are good in the sense that they serve extra storage space under the bed while compact mattresses don't. They also don't block air circulation, preventing sweating.
Is a camping cot comfortable?
A camping cot is a comfortable sleeping option as it will provide you a soft sleeping space when you are camping. This may not be as spacious as your bed at home, but definitely worth the money.
Are camping cots heavy?
The steel or aluminum frame camping cots are characteristically heavy than the other types of cots available.
Are camping cots better than sleeping bags?
Sleeping bags are easier to carry than camping cots. However, camping cots provide more space to lie down than sleeping bags.
---
Final Words
In your search for camping cots for bad backs, I hope this article helped you find the finest one that meets all of your needs.
---