A pocket food scale for travel is an effective instrument if you want to keep track of your diet.
It shows the usual amount of food you take and helps you stick with your regular diet routine. Nowadays, travelers consider this type of scale an essential part of traveling gear.
You will find many types of portable food scales available everywhere. Not many can pass the standard bar in terms of accuracy, durability, and usability.
I have chosen here the five best travel food scales based on these criteria. Selecting any one of the products below will ensure the best service and a great user experience.
Importance of a Travel Food Scale
Sticking to your usual diet and nutrition is one of the most challenging parts of traveling.
Because your daily routine changes a lot while traveling and lack of access to the equipment you use at your home is another major issue. They compel you to start all the fitness and diet plans all over again after returning home.
The amount of food provided in restaurants is hard to track. They usually become much bigger than the house-made ones. Since you have not prepared them, it is hard to tell the weight, size, and ingredients. Here comes the importance of a food scale for counting macros.
You may or may not use a food scale in your daily life. I would still suggest using one when you are on a go-to outdoor adventure somewhere. Calculating macro information and nutrition will help you maintain your usual diet routine even if you are on an outing. Such a device can help you keep your fitness and diet goals alive.
Top 5 Best Travel Food Scale in 2022
Out of several travel food scale models everywhere, I have chosen the best five here. I selected them based on the building materials, usability, portability, and user experience. All of them gathered large-scale popularity for their durability and quality of service. Here are the top five travel food scales according to my opinion.
1. Escali F115 Stainless Steel Compact Portable Kitchen Scale
Escali brand is famous for making stylish kitchen and body scales that ensure high accuracy. This exceptional model is also there in those items. It gained popularity all over within a short amount of time for offering precise measurement. If you are looking for a model which is at the same time durable and accurate, this is one of the good choices you can make.
Material and Design
The building material is high-quality stainless steel that makes it sturdy and durable. This durable product will serve you for many days. It runs with one CR2032 battery that performs really well. The dimensions are 9 x 0.5 x 2.75 inches with an expansion ability up to 7.5 inches wide. The platform provides enough space to keep most of the utensils comfortably.
This model can carry loads up to 11 pounds (5000 g) and it comes with a weight reading increment accuracy of 0.1 oz (1 g). You can get multiple measurement units from it like g, oz, lb., etc. with liquid measurements as well. It also comes with touch-sensitive sensors for smooth functioning and to make things easier.
Usability
Unlike most other heavy kitchen scales available online, it is lightweight. The weight is only 5.4 ounces. You can easily carry it with you anywhere in your outdoor adventure. The compact design also ensures that it takes minimal place to save spaces for other necessary things.
The single smooth surface of the touch screen provides excellent compatibility while you use it. Cleaning is also easier for such a type of design. This model adds great convenience for the presence of the tare feature. It can read the material's original weight by subtracting the mass of the container.
The running mechanism is also pretty convenient due to the automatic shut-off function. It can easily be the best small food scale you are searching for.
Things to Appreciate
Durable and sturdy
Compact design
Lightweight
Touch-sensitive controls
Easy cleaning
Take Note
---
2. Joseph Joseph 40071 Compact Folding Digital Kitchen Food Scale
Joseph Joseph has been producing contemporary kitchenware since 2003. The specialty lies in making innovative and stylish products that helped them grow so fast. This 40071 model is quite popular among users all over the world. You can give it a try since you aim to find the best pocket food scale that is stylish and effective at the same time.
Material and Design
Made with high-quality plastic material, this model is durable and long-lasting. The tri-scale provides a solid base or platform suitable for any type of utensil. Most of the regular kitchen food store material will smoothly fit on the surface whether it is a bowl or plate.
When closed, the dimensions are 4.5 × 14.9 × 2.1 centimeters. It becomes 21.9 × 20.2 × 2.1 centimeters when you open it. It runs with a CR2032 battery of 3V. This battery ensures smooth performance especially when you are traveling outside.
The maximum weight taking capacity of this model is 11 pounds. Try not to put more load beyond this level. The device will perform better for longer periods if you maintain this practice.
Usability
Joseph 40071 models offer good usability with some unique and effective features. After using the device when you fold, it becomes perfectly compact ensuring the protection of screen control. It will take only a few spaces inside your luggage. Weighing only 0.15 kilograms, this model is lightweight and easily portable too.
It contains an LCD which shows the reading clearly. The controlling mechanism is simple with an easy touch-sensitive system. The auto power-off feature ensures hassle-free use. It can measure the reading in pounds, grams, fluid ounces, and milliliters. The cleaning process is also easy with wiping.
Things to Appreciate
Lightweight
Compact design
Good load capacity
Clear display
Auto power-off feature
Take Note
It may fall apart if an excessive load is on it.
---
3. Weigh Gram Digital Small Pocket Kitchen Scale
Weigh Gram comes with this uniquely designed model along with some useful features. It became available in the market first in July 2017. Since then, it achieved a lot of appreciation and soon became one of the popular kitchen scale models globally.
A large amount of customer satisfaction will speak in favor of the statement. This 100g series model will be one of the best food scales for travel and a great choice to add as travel gear.
Material and Design
This black-colored digital kitchen scale is pure stainless steel. Being strongly built, it will serve for many years. It has a maximum capacity of 100g load with 0.02g readability. This capacity will ensure to provide reading with high accuracy.
The dimension of the product is 7.64 x 6.02 x 1.22 inches. It runs with two AAA batteries. The measuring units are also flexible for better understanding. You will get the weight reading in four different units- g/ oz / ozt / dwt. The surface is smooth. You can measure any metals like gold, silver, bronze, coins, jewelry, and other small kitchen utensils.
Usability
This scale contains a protective flip cover as security. Weighing only 100 grams, it is an excellent portable food scale for travel. You can carry it anywhere without problems. The size is also compact and it will take less space inside your baggage.
The running mechanism is easy with touch button system. Blue LCD backlit display will show the reading clearly with large digit size. Even at night, you will be able to see the weight reading clearly. It also contains the tare function that offers to measure the original weight of the product except for the case. The battery life also becomes longer due to the auto-off function after 60 seconds.
Things to Appreciate
Durable material
Excellent accuracy
Flexible reading units
Lightweight
LCD backlit display
Take Note
---
4. TriTree Compact Highly Accurate Foldable Digital Kitchen Scale
TriTree made this foldable kitchen scale targeting especially travelers. This model launched in March 2021. It offers some innovative technology to function better than many. Material, design, display, function everything is made smooth and unique. Taking this item during traveling will be a wise choice for its durability, accuracy, and portability.
Material and Design
Made with premium plastic material, this portable food scale for travel offers durability and serves for years. The design is more like a tree shape with three different sides with a base handle. The reading meter lies at the bottom of the base. This model comes in a gorgeous black color. It has dimensions of 8.27 x 1.42 x 0.47 inches.
It runs with a powerful CR2032 lithium battery of 3V and can also function with low battery life. It can measure weight up to 5 kg/ 11 lb. and comes with an overweight alarm exceeding the level. This scale is not for commercial use purposes. You can comfortably choose it for the kitchen works or while going outside.
Usability
This scale becomes very compact when you fold it. It saves a lot of space inside your travel bag and is easy to keep inside your kitchen drawer. Being 0.353 ounces, it is lightweight and easily portable too. It comes with a great LCD where the weight reading can be visible clearly.
The operation of the device is easy with an intuitive key control system. It can measure weight in multiple units for the convenience of the users- lb., gm, ozs, mls, and fl. ozs. The battery is rechargeable with a longer lifespan due to the auto-off function.
Among other notable features, it comes with tare functions too. This function allows the scale to measure multiple elements on the same dish while cooking.
Things to Appreciate
Unique design
Overweight alarm
High battery life
LCD
Intuitive key control
Take Note
---
5. Fuzion Portable Digital Pocket Travel Food Scale
This traveling food scale is another great model in my list from the Fuzion store. It also offers many useful functions that you will fall into a puzzle comparing it with the above models. This product is at the same time durable, strong, accurate, and portable. It will help keep tracking of your diet plans and make new plans too. Using it will come in handy while measuring foods outside. It could be the suitable product you are looking to buy.
Material and Design
This scale is a product of stainless steel with a long-time serving ability. It contains the dimension of 2.99 x 0.79 x 5.04 inches. The maximum weight taking capacity is 1000 grams with an increment of 0.1g. The lowest weight limit that it can measure is 0.5g. It has high-precision sensors that ensure an accurate reading. Due to this feature, you can expect good accuracy from every reading you take.
This scale works with two AAA batteries to ensure smooth function. It has an alarming facility at the time of low battery life, putting excessive weight, and being unstable. It offers six different units of measurement- g, gn, oz, dwt, ct, and ozt.
This model also enables a protecting lid to make it durable enough. Choosing it means you will get a precise food scale for dieting that can also work for the kitchen, coins, jewelry, and other metals.
Usability
Being 0.25 pounds, this model is lightweight and easily portable anywhere. The compact design also requires less space inside your backpack and spares you from unnecessary hassles. The LCD of the model provides clear visibility of all readings and is easy to catch.
It operates with a simple button system saving a lot of your time. Like the previous models, it also offers a tare function. You can get the original weight of anything below 1000g with this scale by making the reading zero. The battery life is longer with an energy-saving facility due to the auto-off function after 180 seconds.
Things to Appreciate
High accuracy
Strong battery life
Flexible measuring units
Protective flip case
LCD
Tare function
Take Note
---
Things to Notice Before Buying a Travel Food Scale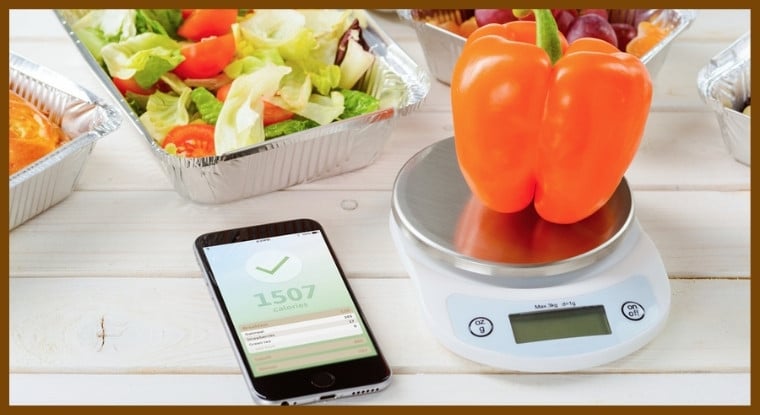 When you buy a travel food scale, there are a few things you should not overlook. Finding the suitable scale suiting your needs is crucial otherwise, the intention will fail. Here are a few such basic things to notice before buying a scale.
Weight
Selecting a lightweight scale is a must. Since the primary time of using the scale is on traveling, the weight must be light enough to carry. There's no point in carrying a heavy scale and suffering when hassle-free enjoyment is the thing you want.
Accuracy
Giving precise measurement of weight reading is one of the crucial factors to check. Many scales are there that give wrong readings and different measurements of the same thing at different times. Cross-check the accuracy several times before paying the bill.
Ease of use and cleaning
A travel food scale has to be simple. No one wants a complex running operation for a simple food measurement. Try something that runs with a single button system or touch sensor. Cleaning being another factor, go with one that you can clean by wiping with clothes.
Size
You will not want your travel food scale to take a large space inside your travel bag. Selecting a compact scale is very important. Go with something that is foldable and remains compact. It will save a lot of space inside your backpack for other things.
---
FAQs about Portable Food Scale for Travel
How to wash a travel food scale?
You can wash a scale with a piece of cloth by wiping. Keep in mind that most of the scales are not waterproof. You can clean the top surface with soap and water but make sure water doesn't get inside.
How to measure weight by a scale?
Make the reading zero and select the measurement unit. Depending on the design and structure, place the thing you want to measure at the center. The reading will appear on the screen.
How to reset the scale to zero?
Most of these scales come with tare functions. You will see the words "zero" and "unit" below the screen. Pressing zero will tare the scale and get back to zero.
Can these scales convert to calories?
They are weight measurement scales. Other calculator functions are not included.
---
Final Words
Keeping a pocket food scale during traveling will help you in many ways. People are becoming more eager now to take such type of a scale with them on an outing. I tried to give you a comprehensive idea about it and suggested my top-five picks. Sticking with one of them will get you one of the best travel food scales to help you keep track of your diet plan.
---
You May Also Like:
How to Choose A Perfect Keurig Coffee Maker for Travel Mug.
---