Relaxing at the sea beach during the weekend tour is one of the most desirable experiences people love enjoying.
But this comfy expectation can turn into an annoying reality if you don't take some protection against beach sand. Only a sand-free beach mat can help you, in this case, to get rid of the trouble.
Considering effectiveness, it is a handy vacation gear that you must carry before heading towards your favorite beach.
While so many blankets are available online, you should check some important criteria before making the purchase. My list of the best sand-free beach blankets will help you choose the right one for your need.
Why Do You Need a Beach Blanket?
You may have a picnic blanket or beach towel already, but you still need a beach mat that sands fall through easily after every usage.
The primary purpose of these blankets is to provide you a comfy experience while resting at the beach and to give you a surface where you can keep your accessories easily.
However, they don't just keep you dry but also help you stay away from annoying sands and protect your skin thereby. These blankets are made of fabrics that can repel the sand easily with just a simple shake without letting the sand stick to the cover.
Without a sand repellent beach blanket, you will discover yourself in an ocean of sand since the wind blows heavily at the beaches. You will find many beach gears that are being developed over the years, but a sand-free beach blanket is still irreplaceable.
Taking such a blanket is imperative when you go to the beach to enjoy yourself with your mates.
Also Read: A List of My Favorite Lightweight Long Cardigans for Traveler.
---
8 Best Sand Free Beach Blankets in 2022
I have chosen some of the widely used beach blankets that are very popular among beach lovers. Go through them below to find out which one matches your requirements.
1. ISOPHO Waterproof Sandproof Beach Blanket for 4-7 Adults
Being sand and moisture resistant, this sand-proof beach blanket from ISHOPO is an ideal product to take with you every time you go to the beach. Get rid of unwanted sticky sand problems and make your beach journey enjoyable with this blanket conveniently.
Features with Design
Made with 210T polyester parachute material, it is smoother than silk that makes it suitable for your skin. It remains cool even under the hot summer heat and does not get sticky. It also dries quickly and you can easily remove sands and other messes with a light shake.
The size is perfect for 4-5 adults, meaning it can cover your whole family. They use their exclusive technology with stitches to make it durable and completely waterproof.
Compatibility
Weighing only 0.35kg, it is a lightweight and portable option to go with. You can easily fold and load it inside the bag. The grey and orange color is visible from a long distance so that you find your mates easily.
This blanket contains four anchors that will fix the four corners of the blanket to the ground. No matter how dynamic the wind is, it will remain compact due to this strong fixation. Apart from using it as a mat, you can also use it as a rain cover or a ground cover when needed.
Things I Love
Skin-friendly
Enough space
Highly visible
Four anchors
Water and sand proof
Multiple uses
Be Careful
Be careful while washing by a machine.
---
2. Wekapo Extra Large Lightweight Sand Free Beach Blanket
If you are looking for something that will rescue you from the displeasure of beach sands, then this could be the right choice. Being 30% larger than other competitors, this beach gear perfectly fits 5-7 persons easily and thus it gives you more space to keep your necessary items safe from sands.
Features with Design
This sand-resistant beach blanket is made of pure parachute nylon material that will cause no harm to your skin. It is also water-resistant, heat-resistant, and moisture-resistant. Even when you are sweaty, it will not stick with your body. This blanket is triple stitched for a strong, durable performance for years.
Thanks to its breathable fabric that makes the wet surface dry faster. It also comes with six metal stakes for four anchor hooks to keep it attached well with the ground. Luckily, it contains four corner pockets for storing sands or any other heavy material to keep it firmly in its place when there is a strong wind.
Compatibility
Unlike most blankets out there, the space is enough and will easily cover your whole family. You can remove all the sands with just a light shake and clear everything in no time. They kept the design simple but with a gorgeous color, perfect for a beach outing.
You can pack this blanket within a compressed sack and carry it around without hassle since it is lightweight.
Things I Love
Large space
Heat and sand proof
Four anchors with six metal stakes
Compact bag
Durable
Be Careful
Be aware of the hooks that may cause feet injury.
---
3. POPCHOSE Waterproof Large Sandfree Beach Blanket for 4-7 Adults
Being sand, water, and wind-resistant, this pocket-size picnic blanket can be a perfect pick for your outing, ensuring a comfortable experience all the way. Due to its bigger size and multidimensional features, you can easily take it to almost any outdoor tour where you need a relaxation period on the ground.
Features with Design
Made with ripstop polyester, this is breathable, durable, and sturdy. The fabric is water-resistant and dry so quickly that you don't need to wait for too long. The size is large enough to cover 4-6 adults comfortably.
It comes with five sand pockets to fill it with sand and keep the mat flat. You can also keep your other valuable accessories or any heavy material instead. It also contains six ground stakes with hooks to keep them attached to the floor.
Compatibility
Weighing only 13.44 ounces, it is easily portable and you can carry it anywhere without any trouble. You can also use it as a protection cover from rain or extreme sunlight.
POPCHOSE made triple stitches to make it sturdy and suitable for any given condition. This green blanket is an ideal gear that you can use in hiking, camping, and picnic with convenience.
Things I Love
Attractive color
No sand sticking
Sand pockets and ground stakes
Easy folding
Multidimensional usage
Be Careful
Never keep it inside water for long.
---
4. ECCOSOPHY Sandproof Lightweight Oversized Beach Mat
If you want to enjoy a sand-free experience at the beach, then this is one of the best sand-resistant beach blankets you will find online. Maintaining excellent quality, ECCOSOPHY achieved a good amount of customer satisfaction for this product.
Features with Design
Like other beach blankets, it is also made of rip-stop parachute nylon material, known for resisting heat and not being sticky. The fabric is so soft and breathable that you will have a pleasant experience as you expect it to be.
You can remove the sands easily by shaking the blanket and it will be okay to use again. The design is compact while packing but there will be enough space for your mates when you open it.
Compatibility
It weighs only 1.5 pounds. You can carry it almost anywhere like- on a beach, camping, picnic, or even hiking. Being heat resistant, the blanket dries up in no time. The color combination is bright enough so that you can keep an eye on your materials even when the wave takes you far away.
It contains sand pockets at the corners to prevent it from flying. When you unroll it on the ground, you can also use stakes.
Things I Love
Bright color
Lightweight
Soft fabric
Sand proof
Suitable for multiple occasions
Be Careful
Be careful about the stakes on a windy day.
---
5. WELLAX Oversized Lightweight Waterproof Sandproof Beach Blanket
When an oversized beach blanket is what you are searching for, you can give it a shot. Many people consider this the best waterproof and sand proof beach blanket because it is durable and long-lasting.
Features with Design
No more tension with the beach sand if you have this blanket since it is parachute nylon-made and breathable enough. Brushing off the sands is easy because it is not sticky with sands at all. This blue-colored blanket is water repellent and heat resistant, thereby perfect for use on several occasions.
Another interesting fact is, you will get a lovely waterproof phone case as a gift with this product.
Compatibility
The measuring size will cover your entire family. When you compress it for packing, it becomes compact and weighs only 1 pound. You can make it your essential travel partner without carrying much load.
It contains four pockets to keep it well spread on the ground with four metal stakes. You can also have your preferred color from three different color options.
Things I Love
Large space
Compact and portable
Long-lasting
Soft for skin
Dries quickly
Be Careful
Never wash in deep cold water.
---
6. Famiry Durable & Compact Sand Free Extra Large Beach Blanket
If you go through the sand-proof beach blanket reviews online, you will find this item almost everywhere. Offering high water-resistant ability with an extra-large size, this could be the best beach blanket for sand.
Features with Design
Famiry made this blanket with tear-resistant polyester to make it sturdy and long-lasting. It contains a large pocket with a zipper to store your valuable accessories like- phone, keys, ornaments, and many more according to your convenience.
Like other models, it also has four pockets to be filled with sand or heavy materials. Coming with six anchoring stakes, it will keep your blanket standstill. Sands will go off with a light shake or just by sliding the mat.
Compatibility
You will find more than enough space for your entire team on this extra-large beach blanket. Even then, it is super compact and easily carriable when you pack it inside your bag. Due to its multidimensional features, you can take it almost anywhere for picnic, camping, hiking, and obviously for beaches too.
Ensuring durability, comfort, and effectiveness, this will be a great travel partner for you. The company also provides alluring ten years of customer service in case any problem arises.
Things I Love
Extra large
Sand proof
Zipper pocket
Multipurpose uses
Durable
Be Careful
Discomfort while folding.
---
7. URBANECO OUTDOORS Oversized Sandproof Beach Blanket
UrbanEco comes with this beach blanket that has supporting stakes to give you a trouble-free and relaxing beach experience with your family. This extra-large blanket is a great choice and a handy beach gear that you should not miss at all.
Features with Design
The entire blanket is made of polyester parachute fabric that will remove all the sand right away with light shaking. If the sands are wet, a water spray will be enough to clean it up.
This blanket is water-resistant and dries quickly. You don't have to wait for too long after washing it. It also comes with six stakes and four corner sandbags to keep it flat on the ground even in windy weather.
Compatibility
It weighs around 2 pounds and with the compact design, you can carry it anywhere comfortably. The packing and unfolding process are not that difficult too. You will have enough space to sit, lie, and play with your kids on it.
The design of this beach blanket is unique to provide you a comfortable and pleasant experience all the way.
Things I Love
Sand proof
Dries quickly
Great design
Comfortable
Zipper storage
Suitable for different occasions
Be Careful
Not 100% waterproof
May get hot.
---
8. HighLandy Sandproof Oversized Portable Picnic Beach Mat
Offering suitable design, durability, and quality, this is a popular one on my list and certainly one of the best sand-free beach blankets available online. Due to its exciting features and multipurpose uses, it has generated so much popularity that I could not exclude the item from my list.
Features with Design
Made with 100% polyester parachute nylon fabric, it is a strong, sturdy, and breathable blanket. The fabric contains an anti-sand element and it is not sticky with sands both in dry and wet conditions.
It also doesn't get hot due to the presence of insulation. So, you can easily expect a comfy experience even in the peak summer. This waterproof blanket also comes with four anchors to keep it attached to the ground well.
Compatibility
Being lightweight (0.72 pounds), you can carry it around easily. It also contains enough space for 4-7 adults to sit and keep their accessories with convenience. The fabric is perfect and skin-friendly with a fast-drying capacity. You can remove the sand without any trouble by only shaking it off.
The unique design is suitable for different occasions like camping, hiking, picnic, and so on.
Things I Love
Lightweight
Oversized
Waterproof
Not get sticky
Breathable and durable
Be Careful
Be careful when you go for machine wash.
---
Things to Know Before Buying the Best Sand Proof Beach Blanket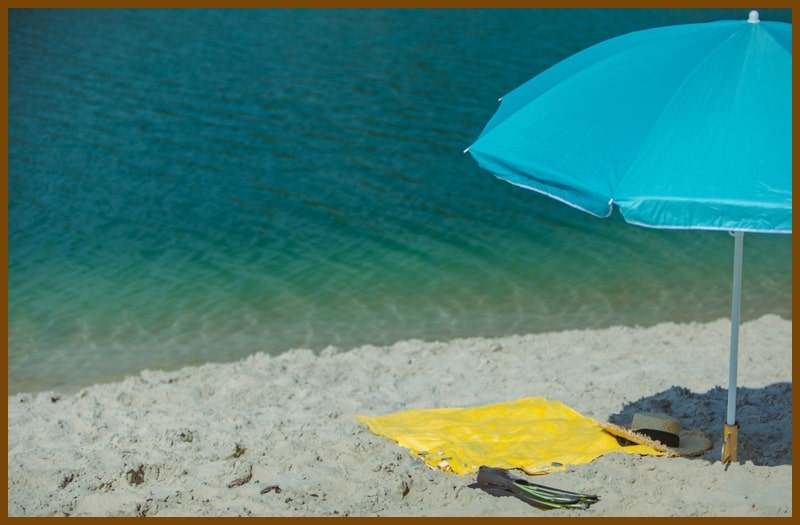 Buying any beach blanket will not feed the purpose if you do not look at some requirements. Here are some of such considerable things you should look at before buying one:
Shape and Size
Based on the number of your family members or friends, you need to choose the right size of the blanket. Most of the family-size beach blankets are square or rectangular but, the size varies. You will find small blankets for two persons to large ones for 10+ people as well.
Fabric
Checking the fabric is the most important thing since it is related to your comfort. Most blankets are made of parachute nylon and polyester. Whatever the material is, make sure it does not harm your skin and is water and sand-resistant. Sand may stick to the blanket otherwise.
Compatibility
Check how comfortable you will be while using the blanket. Other attributes like easy packing, fast-drying off, and less heat-absorbing capability should be there as well. Never forget to check how the anchors and stakes work to keep the blanket attached successfully.
Portability
The blanket you choose must be lightweight and easily portable. Try to ensure that it does not add excessive weight to your baggage, otherwise you will face troubles carrying it.
---
FAQs about Sand Free Beach Blanket
What is the difference between a beach
blanket and a beach towel?
The purpose of a beach towel is to wipe and dry you off. You can also seat on it though it is not sand proof. A sand proof beach blanket, on the other hand, is for comfortable sitting on the beach. You can also keep your accessories on it.
Do they practically work?
Of course. But yes, some products may exist out there which are not successful in removing sands away. However, most of the blankets do the job pretty well.
How to remove the sands off the blanket?
You can remove the sands with light shaking. If the sands are wet, a water spray will remove the sands and make the blanket perfect for sitting again.
How to clean an anti-sand beach blanket?
Most of them are both hand and machine-washable. You can easily clean them with water. See the cleaning instruction from the user manual and do accordingly.
---
Bottom Line
So, coming down to my bottom line, I believe this comprehensive guide about beach blankets helped you choose the right product.
Being a necessary beach gear, you should not miss carrying a blanket which can make your relaxing time at the beach more pleasant.
Whether you pick the best sand-free beach blanket from this list or from elsewhere, don't forget to check my buying guidelines. Enjoy the sunny and sandy beach!
---
You May Also Like:
How to Choose Foldable Slippers for A Traveler.
An In-Depth Guide about Portable Adjustable Travel Clothesline.
---