Often people get worried about their rooftop tent, least it gets stolen. This is because of the lack of security.
In the early 1930s, rooftop tents became popular in Western Europe, changing campers' plans and adding new aspects to them.
However, the rooftop tent is counted as one of the expensive accessories. So, you need to secure it from getting stolen and other detriments.
In this article, I will share with you how to secure a roof top tent. Lastly, I will provide some valuable tips that might help you to avoid likely negative outcomes. Please stay with us until the end.
Six Tips to Secure Your Roof Top Tent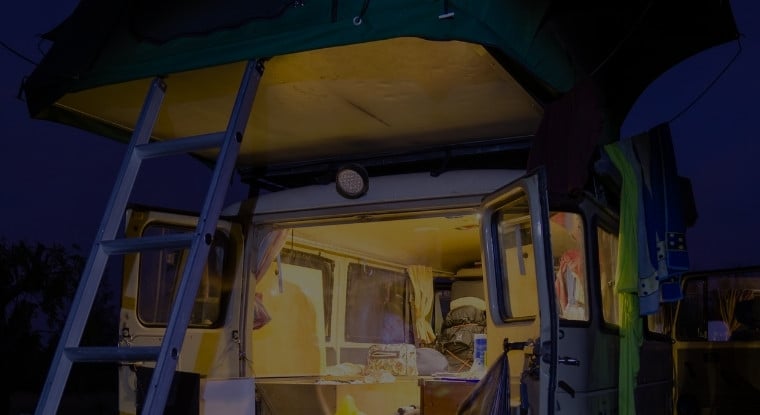 Here I am mentioning the six most effective methods to secure a rooftop tent from being stolen.
1. Use Locking Nuts
Sometimes you might find the locking nuts with your rooftop tent. If you get locking nuts with your rooftop tent it will be very favorable for you to fit it perfectly.
Looking nuts are good for safety measures. The roof tent is tightened to your rig's roof rack and the vehicle's metal frame using these. Taking into account that, the more stable the roof tent is, the more stable it will be for a person to carry.
In case, you don't find any locking nut with your rooftop tent, then you need to purchase it from your nearby hardware store. You can also purchase looking nuts from the internet. Just, you have to make sure that you are picking the accurate size to match the bolts of your tent.
2. Locking Bars
A locking bar is one of the best security measures. These bars are generally used while the rooftop tents are closed and stored. With specially made locking bars, you are assured of high security, durability, and resistance to rust.
The locking bar works as a strap when you will use a set of it. It may go above the vertex of your rooftop tent and adjoin it towards the bracket under the tent.
Once your tent is in its case, simply place your locking bars on top. After that, mount the brackets so that you can lock up the tent.
3. Locking Straps
Strap is one of the famous accessories you will in your house. You may use it to tie your necessary fittings down. Or one may imagine that, can straps be used for locking?
Yes, straps can be used for locking. However, the straps, which are used for locking are not nylon straps. You might know that nylon straps are manufactured with nylon threads densely woven.
locking straps are better security for your rooftop tent because you can not cut it. It is made from stainless steel. It can withstand a knife as well.
If you want to purchase a locking strap, you will find there are various colorful straps. Pick as you prefer for you and you may purchase a set of black ones for yourself. You can lock it with a key. The locking straps can provide you with tension-free camping.
4. Install A Car Or Vehicle Alarm
You will see vehicle alarming system is the most effective method. It is an electronic device that is installed into the car or vehicle to discourage vehicle theft itself. It operates by emitting sound of high volume. It will be a better option against thieves and bandits.
Most vehicles of newer models come with standard car alarms. In case, your vehicle or car doesn't have a standard alarm, you may install one. You can do it home. But, people generally feel uncomfortable performing this job at home.
Therefore, you can take an expert collaboration. Furthermore, you need to explain to them how they can install an alarm in your vehicle to prevent theft of your rooftop tent.
5. A Security Camera
Security cameras are very simple as well as user-friendly. You can install a security camera by yourself. If you can not able to install a security camera, there are several companies that can help you to install security cameras and a few of them offer easy security camera accomplishment.
However, security cameras can not prevent theft alone. If anyone attempts to take or steal your tent, a security camera can provide you with evidence.
Some security cameras offer monitoring systems, these have an app or software where one can monitor his camera. One can easily access to check footages which are recorded on his camera. If you wish to purchase such a security camera, you may purchase a Ring Security Camera.
Some models have memory cards, you can remove this internal card and insert it to watch the recorded footage.
You can also set up a security camera which will record everything constantly. This type of security camera will guarantee you that it is recording everything. Also, you can set up a motion sensor security camera for your rooftop tent.
6. The Buddy System
Camping with friends is unparalleled. Good friends are good guides for life. Your camping will be secure and enjoyable if you choose a friend of yours as an observer of the camping or you can divide teams among you and alternate one team after another.
Though, sometimes it might be a hassle for you. But remember that security is the first point before enjoyment. So, make sure your rooftop tents are secure and out of bandits plan.
To conclude my core discussion, I would like to suggest that you put the tent away when you are done using it. You will see many people leave their rooftop tent set up all the time though it makes no sense.
You should pack it up when you are not using it and in the sleeping hour you will set up it again. It's easier to set up your rooftop tent than to lose it.
---
Conclusion
In the above discussion, I have explained how to secure a rooftop tent. Additionally, I have added six excellent tips that you can use to secure your rooftop tent. Good luck.
---