Packing a backpack might be the most important part of traveling, especially if you are traveling by plane. There are only so many things you can carry in a backpack, but you always want to carry more. So, learning to pack a backpack properly is very important for air travel.
Not only is packing a backpack important for traveling by airplane but knowing what things you should pack is also important as well. Without this particular knowledge, you will probably pack unnecessary things in your backpack, making your journey less enjoyable.
Let me help you by explaining how to pack a backpack for air travel and what things you should pack in it.
How to Pack A Backpack for Air Travel – 4 Simple Steps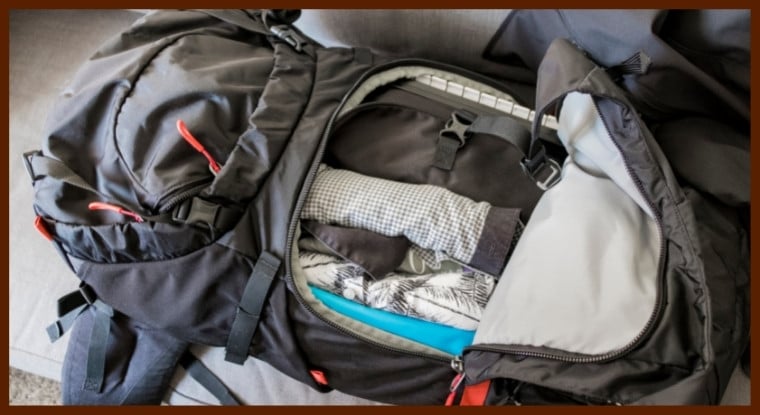 Just knowing how to pack a carry-on backpack is half the job done. All there will be left is the act of packing the things in it. So, without any further ado, let's dive right into it.
1. Pack Things According to the Destination and Airline
Packing for airline travel solely depends on where you are going and what airline you have chosen for your travel. For example, traveling to a country where the temperature is cold means you have to pick warm clothes such as jackets and shoes that keep your feet warm. On the other hand, if you are traveling to a warm country, the choice of clothing will be entirely different, like t-shirts, sandals, and shorts.
Also, you should know what restrictions have been put in by the airline that you are traveling in. Every airline has its weight limit, crossing which may result in some of your things being left behind, or worse, you have to pay a fee that you shouldn't have had to. So, keep the weight of your backpack within the weight limit.
2. Don't Pack Unnecessary Things
Almost all of us are guilty of packing unnecessary items in our backpacks at least once in our lives. Especially gadgets take up a lot of space in backpacks which could have been utilized otherwise. If you are not using the gadgets on the plane, then don't pack them in your backpacks. Knowing how to pack a backpack for international travel eventually comes down to what things you should not pack in it.
3. Lay Everything Out on Your Bed
After you have decided what things to put in a backpack, lay them out on your bed. It will be better if you have a list written on paper. After you have laid out the things to carry in your backpack, pack them according to that list.
4. Pack Your Things in the Proper Places
Now comes the moment of truth. After you have decided what to put in a carry-on backpack, you must put them in the correct places.
I. Packing Electronics
Put the electronics and other items that are sensitive in the smaller, exterior compartments of your backpacks as they are susceptible to damage. If you have expensive electronic devices, make sure to put them inside a case or wrap a towel around them. Nowadays, almost all backpacks have specialized compartments for laptops, put your laptops in those.
II. Packing Toiletries
Second, if you have toiletries such as lotions and stuff that can spill outside, place them in a plastic bag and seal them properly. That way, even if they are spilled, the other things in your backpack will not be spoiled.
III. Packing Phone Chargers
Always make sure to bring your phone charger with you. They don't occupy much space and also they can cost quite a lot if you need to buy them at the airport. Although you may not need your phone once you are abroad, you can never be too careful. You may face some sort of emergency when you are in another country, so you will need your phone to make an emergency call.
IV. Packing Your Valuables
It is better not to pack too many valuable things in your backpacks while you are traveling. If you have a watch, keep it worn all the time. If you are not going to wear your jewelry all the time, don't pack them. While traveling abroad, you must have your passport with you. So, keep it in your pocket instead of your backpack.
In the case of money, don't pack all of them in the backpack. In the unfortunate event that you do lose your backpack, suddenly you will find yourself without any money. If for some reason you do pack your valuables with you, make sure to keep them in a safe or a closet or a wardrobe in your hotel.
You'll love the latest travel bag for your mom available from top brands.
---
Can I Take A Backpack on A Plane?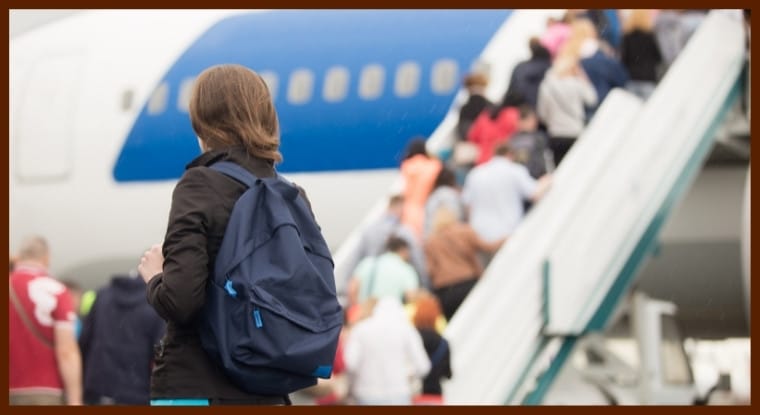 The answer to this question is a bit complicated, to be honest. If your backpack is small enough to fit under the seat that is in front of your seat, it will be termed as a personal item.
If it doesn't fit under the seat but does in the overhead carrier, it will be a carry-on bag. And if it doesn't even fit in the overhead bin, it will be called a checked bag. So, the fact that a bag looks like a backpack has little to no influence on what it will be termed as.
---
Final Words
As simple as it may seem, the process of packing a backpack for air travel is anything but. You have to choose what you will pack, decide what you will leave behind, put them in the right places, and hope that your backpack is not too big to carry with you. So, when traveling by plane, make sure that you pack your backpack carefully and responsibly.
---
You May Also Like:
How to Choose A Perfect Space Saver Bag for Traveler.
---