A journey by plane can be quite a hassle. It is even more true if you are north of 30 years old. Standing in a long line and running towards the correct terminal is bad enough, then most of the time you have to get seated in a place where you can't even move your legs. At this point, your legs are screaming for some help.
Footrests have been invented for this particular purpose. You can either prop your feet up in a little hammock or you can use an inflatable pillow to rest your feet. Both these methods require you to elevate your feet.
Now let's take a look at how you use an airplane footrest effortlessly…
How Do You Use an Airplane Footrest in an Easy Way
Suppose after all the standing and running around, you are finally able to sit down in your seat. But now you are faced with the consequence of all that legwork, which is immense pain in your feet. To reduce the pain and to ensure proper blood flow, you will have to elevate your feet. But how do you elevate your feet on a plane? By using footrests, that's how.
There are a couple of common types of travel footrests, the foot hammocks, and the inflated pillows. Without any further ado, let us get acquainted with them.
How Do You Use A Foot Hammock on A Plane?
The first step of knowing how to use travel footrests is to know about the most common travel footrest there are the foot hammocks. It is surprising how easy it is to use and carry around.
Follow these simple steps to use a foot hammock on a plane :
Unpack the hammock and unroll it.
Take the strap and put it over the tray of your seat.
Put your feet on the hammock and relax.
The hammock can be used while the tray is both closed or open. Depending on the state of the tray, the height of the hammock may increase or decrease a couple of inches, which will not matter much.
Pros
Can be rolled up, making it much easier to carry.
They are very lightweight.
Their straps are adjustable, so you can adjust the height you need to elevate your feet.
Cons
As it hangs from the tray that is attached to the seat that is in front of you, sometimes the added weight can disturb the passenger in front.
If you continuously shift your position, the sling can move to an uncomfortable position.
---
How Do You Use Inflatable Pillows on A Plane?
Inflatable pillows are another commonly used footrests for travel. They are way bigger than the hammocks, so you can not always use them in travels.
For using the inflatable pillows on a plane, follow the steps below :
Unpack the pump and the pillow.
Insert the pump into the inlet of the pillow and start pumping air with your hands. It will take about 4 or 5 minutes to fully pump the pillow. You can also fill up a part of the pillow according to your need.
Put the pillow on the floor and put your feet on top of it.
Pros
Can be used to put babies to sleep.
They have more stability than foot hammocks which allow you to move them around according to your liking.
They are more versatile as you can use inflated pillows in planes, trains, buses, boats, and all sorts of vehicles.
Cons
Takes up much more space than foot hammocks and is much heavier.
If you blow some models up to their full capacity, they might not be able to fit between seats.
---
How Do Plane Footrests Work?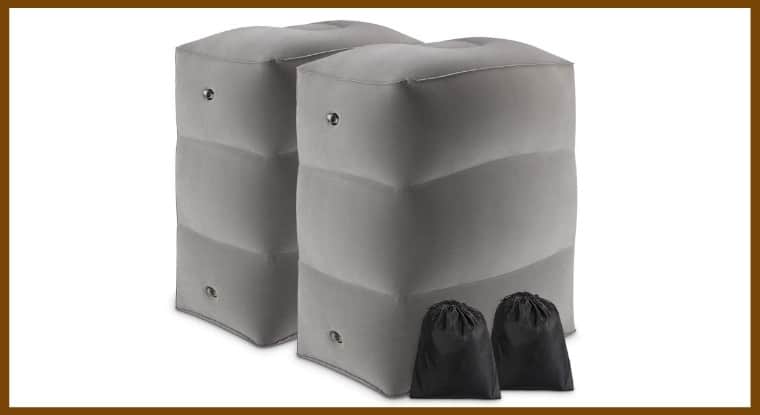 When your legs have gone through a lot of stress, they tend to swell up right after. So, you need to ensure there is proper blood circulation in your feet when you can rest. The best way to do so is to elevate your feet at least a couple of inches from the ground.
The footrests work to ensure that your feet are getting enough blood. As you put your feet on them, they will make sure the blood is flowing properly in and out of your feet, preventing them from swelling up.
---
Are Inflatable Footrests Allowed on Planes?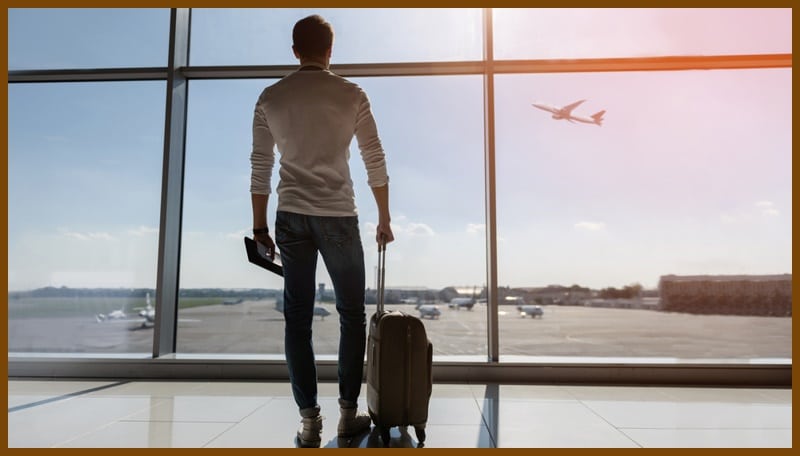 The biggest problem people face while using inflatable pillows is not knowing whether they are allowed on planes or not. There is no straightforward answer to this question, to be honest. The permissibility of inflating pillows depends on the airlines and the size of the said pillow.
With that being said, most airlines do allow you to have inflatable pillows with you. But there are certain conditions you have to follow while using them. First, you can not use them at the time of takeoff or during landing. Second, they can not take up any space in the walkway or the aisle. Which means their size has to be taken into account.
---
Final Thoughts
Travel footrests are a revelation to those who suffer from various problems regarding their legs or feet. It helps them prop their feet up after a stressful ordeal, which prevents the feet from swelling up.
Both the foot hammocks and the inflated pillows have their unique characteristics which can appeal to different kinds of passengers. So it is up to you to choose the right footrest for you.
---
You May Also Like:
How to Pick A Travel Neck Pillow for Long Flights.
6 Most Comfortable Sleep Mask For Your Next Flight.
---