Whenever you fly, choosing between Carry on vs checked bag – or both is quite exhausting. Particularly many things depend on the circumstances, such as where you are heading, how long you will be there, and whom you are traveling with, etc. Moreover, today, almost every area of life is affected by the epidemic. As a result, new considerations need to be taken into account.
Travelers of all types, genders, socioeconomic status, and experience levels often have their priorities. Particularly while traveling with luggage, which is generally heavy. In this essay, let us look together at the advantages and disadvantages of both approaches.
Checked Baggage vs. Carry-On: Everything You Need to Know
Whenever we are talking about checked bags vs carry-on baggage there are certain things you need to know.
What Is Checked Baggage?
Luggage given to an airline or railway for transit is known as checked baggage. Which is found in an airplane's cargo hold or a passenger train's luggage car. In contrast to carry-on baggage, checked baggage is unable to be accessed by the traveler during the flight or journey.
What Is Carry-On Baggage?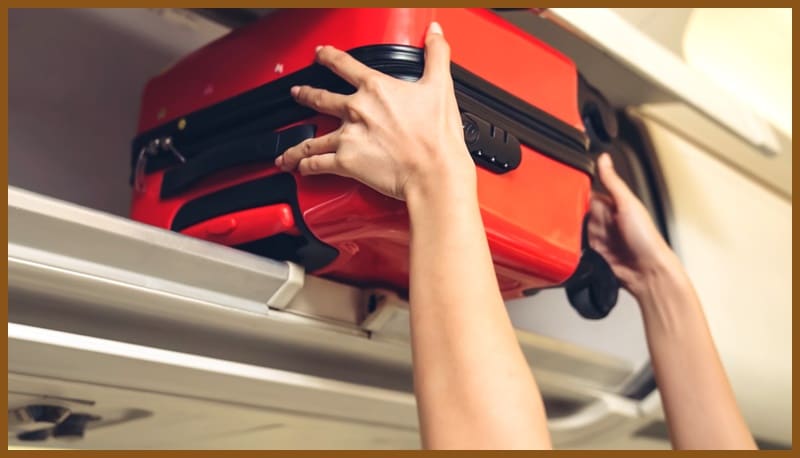 A carry-on bag is a type of luggage that might be taken into a flight. It is also placed in the overhead cabin luggage compartment or beneath the seat next to you.
The term "hand luggage" is also used to describe carry-on bags.
Also Read: 10 Most Accurate Portable Luggage Scale for Traveler.
Differences Between Carry-On Vs Checked Bag
Let us start with some terminology to set our conversation to highlight the difference between carrying on and checked bag in details.
Movement: Accelerate your pace whenever you are using carry-on baggage. Fewer queues, less standing, less burden, fewer goods, and so on. All of this allows you to move substantially quicker altogether.
With a checked bag, passing through security checkpoints, the airport, and boarding your airline will be quicker and easier. You do not have to drag your luggage through immigration and around the terminal if you check it.
Space: Checked baggage is feasible to carry more. Carry-on luggage is limited in size, but when you have a checked bag, you may utilize bigger luggage that weighs up to 50 kilos without incurring additional costs. Consider how many items of clothing you can carry.
On the other hand, for a carry-on bag, you are allowed to travel minimally as a result. One of the benefits of utilizing a carry-on is that it encourages you to pack fewer. In summary, you will be unimpeded.
Transportability: Carry-on bags simplify the transportation of all kinds of belongings, whether rail, bus, taxi, boat, or bike travel, to any place of concern. Moreover, you may put it over your shoulder with lightweight luggage or simply carry it in your arms.
Comparing with a carry-on bag, a checked bag is quite big and tough to carry the entire time with you.
Storage Area: When you are carrying a checked bag, you will be tension-free. You will not have to hassle storage space in the overhead.
Remember, you need to lift your checked bag up and down. You will have to lift your luggage into the overhead storage and then drag it down eventually. However, this will not be a problem if you know how to pack and you are physically active and healthy. However, if you have a terrible back or are not particularly strong or tall, this may create some complications for you.
Duration: Carrying carry-on bag, there is no need to waste time standing in queues to check your luggage or waiting for your bag to get off the conveyor in the baggage area. Furthermore, carrying a bag with you might save you 20-30 minutes or more on your travel.
Whereas carry-on bag, you must have the energy to wait in line until the processing is done. In addition, you need to wait for your bag to be checked and returned.
Size Matters: In general, this is a beneficial strategy for the carry-on bag. Fewer things, less weight, and less trouble. A "travel light" strategy will let you concentrate on your target rather than your journey.
If you are the person who carries all your belongings, you should have a checked bag. At the same time, airlines impose size limits for your luggage, partly because they have to fit beneath the seat or in an overhead bin. It is going to be checked in at the entrance if your luggage is too large.
Read Also: A List of Our Favorite Stroller Covers for Airplane.
Stolen, Postponed, Or Taken Down
You have come on time. Your checked bag?
Wait! Your bags may be misplaced. Even so, it occurs (roughly 3 percent of the time). If you check the luggage, it is in the hands of someone else, not yours. Misplaced luggage can truly ruin a trip.
When you travel with a carry-on bag, you are not simply bringing it on the plane with you. You are lugging it around the airport, into the restrooms, restaurants, and stores. Unless you have a traveling companion or team, it follows you anywhere you go. As a result, you do not have to be concerned about your items being lost.
Click Here for A List of Our Favorite space Saving Bags For Travel, Including the Hottest Ones!
---
Frequently Asked Questions
Should I put food in my carry-on or checked luggage?
Yes. Solid foods can be packed in your carry-on or checked luggage.
What is not allowed in a checked bag?
Liquid or gel food products more than 3.4 oz are not permitted in carry-on bags. If it is allowed you can put it into your checked bags.
How Big Can Your Carry-on or checked bag Be?
Each airline has the right to modify the criteria for carry-on bag size. Whenever you pack your carry-on bag, read your airline restrictions meticulously.
What is Allowed in a Carry-on or checked baggage?
To make sure you have packaged what you are allowed to do aboard an airplane, we recommend that you always verify the laws and regulations of the airline you are flying on.
Is it better to Check Your Bags or Carry On—Yes or No?
To put it succinctly, it depends. Such as where you are going, how long you will be there, and why you're traveling, among other things.
---
Final Words
Consider the sort of journey you are planning, the luggage costs, your desire to drag luggage about, longer wait durations, and how those waits may influence your capacity to physically remove yourself from other passengers when selecting between checked bag vs. carry-on for your next flight.
Both carry-on-only travel and checked bag have advantages and disadvantages. To ensure the best solution for you, analyze all of the factors to locate your sweet spot of money, duration, and airport trouble.
---