Toyota Tacoma itself is a great camper.
But there are some limitations when you are using it as a camper. Lack of spaces, low surfaces, lack of window views, and lots of lacking are there.
You can get rid of all those by installing a roof top tent on your Toyota Tacoma. Make sure to install the best roof top tent for Toyota Tacoma. It will give you ample space, a high sleeping surface, a wide panorama window view, and lots of other benefits. You can even enjoy comfort and breathability in it.
Without the best roof top tents for Tacoma, it is impossible to get all those benefits. It will even make your life more critical in camping. So be smart to pick the right one.
Also Read: A list of My Favorite Roof Top Tents for Toyota Rav4.
Top 5 Best Roof Top Tents for Tacoma in 2022
I have prepared a list of the best Tacoma roof top tent and reviewed them with their benefits and problems. Check them out.
1. Smittybilt 2883 Overlander XL Roof Top Tent
Camping with friends or family is important and a large tent is necessary for that. Smittybilt Overlander XL Roof Top Tent offers such a large size for you. Its wide-open size with a 60mm high-density foam mattress lets 3-4 people sleep comfortably.
A removable cover is there for maintaining hygiene. It also features anodized aluminum frame poles with stainless steel hinges. This construction will help the tent withstand wind. It prolongs the durability and longevity of the tent as well.
Heavy-duty 600D ripstop polyester protects you from rain and fog. It also ensures protection against UV rays. The mosquito screens are there as well to keep you away from mosquitoes and other harmful insects.
Installing the tent in your Toyota Tacoma is a cup of tea with this tent. A single person without any prior knowledge can easily install it. Mounting brackets are also included for more convenience.
The telescoping aluminum ladder helps you climb the Toyota Tacoma smoothly. It also eradicates the need to purchase a separate ladder.
The jungle is a strange place and it becomes spooky without a light setting in the camp. The LED strip interior light helps you solve the problem in a snap.
WHY I LOVE IT:
Large size capacity
Suitable for all seasons
Easy to install
Comfortable inside
Easy to climb for its ladder
TAKE NOTE:
No removable rainfly
Foam could be thicker.
---
2. Overland Vehicle Systems Nomadic 3 Extended Rooftop Tent RTT
You need something simple and easy to use for rooftop camping on your Toyota Tacoma. Overland Extended Rooftop Tent comes with all those facilities to make your life easier. You can fold or install the tent within minutes.
The marine-grade 600d polyester body protects you from UV and rain. It also has a 420d polyester rainfly to protect you from all weather. Stainless steel hardware construction adds more strength to the tent.
Sometimes the tent becomes suffocating just to offer protection against the weather. To solve the problem, this tent comes with 110g breathable windows. It also has an insulated base to keep you cool during hot summer.
Its 3″ high-density foam mattress lets you sleep comfortably inside the tent. A quilted cotton cover is there for more comfort. You will also have storage pockets, an LED strip, and a power bank pouch that will take your camping to another level.
An LED light comes with the tent to set it up at night or use for other purposes. Climbing is also easier for its tubular telescoping ladder. You can even keep your tent protected when not in use, thanks to a 1000g transportation cover.
WHY I LOVE IT:
Installation in a minute
Durable construction for longevity
Breathability and insulation for more comfort
Cozy feeling for dense foam
Lots of storing options
TAKE NOTE:
The rainfly makes noise in heavy wind
No zipper in the windows.
---
3. Body Armor 20010 SKY RIDGE PIKE 2-Person Rooftop Tent
Fitting is more important than anything when it comes to rooftop tents. Without perfect fitting, it will be impossible for you to enjoy camping on the top. This Body Armor 20010 SKY RIDGE PIKE 2-Person Tent fits perfectly in your Toyota Tacoma.
It also features large windows so you can enjoy the outside view. Camping without getting a panorama view is not camping, right? You will also have a zipper to close it down to protect yourself from sunlight, rain, or cold wind.
But what can you do with the view if you cannot get the comfort inside? Well, that is why this tent comes with comfortable mattresses to enjoy the inside. You will also get ample space inside to move around.
Plenty of hooks are available inside to keep lights or anything hanging. It is also equipped with a rainfly for added UV protection.
Installation is not that tough as well. Yes, you may find it difficult and time-consuming for the first time. But it will get a lot easier if you know how to put things correctly.
Overall, this one is the best truck bed tent for Tacoma, with all the essential features and benefits.
WHY I LOVE IT:
Perfect fitting
Wide window view
Comfortable sleeping
Flexible ladder for easy climbing
Durable construction for added longevity
TAKE NOTE:
---
4. DANCHEL 2-3 Person OUTDOOR Hard Shell Rooftop Tent
Durability and comfort- these are the two things you expect from the best hard shell roof top tent Tacoma. That is exactly what you will get from the DANCHEL OUTDOOR Hard Shell Tent.
It comes with a hard shell and rugged design. Thick materials construction makes it tougher against adverse conditions. This RTT tent Tacoma also features 280G exterior canvas material with PU 200mm waterproof exterior.
You will stay dry yet can breathe comfortably inside the tent. It is also UV-50 rated, meaning that it will not fade so easily with time. You will stay UV protected in hot summer thanks to the fly screen-clad windows on every wall.
The 3.15-inch super-soft rooftop tent Tacoma short bed provides a cozy feeling while sleeping. 2 adults and 1 child can comfortably sleep on the mattress due to its large size.
A 7.6ft Aluminum extendable ladder is there to help you climb easily. It has up to 300KGS weight capacity.
WHY I LOVE IT:
Large and durable ladder for easy climbing
Soft mattress for a comfortable feeling
Breathable design to stay cool
UV protection
Durable construction for longevity
TAKE NOTE:
No pockets to store accessories
No mosquito netting.
---
5. Campoint 2-3 Person Sunroof Rooftop Tent
Up next is the Campoint 2-3 Person Sunroof Rooftop Tent that comes to make your camping easier. Easy to set up design lets you pack and set up the tent within minutes. You do not need to take help from others at all to install it.
High-density 92″ x 55″ foam double delivers superior comfort with 661 lb. max load capacity. You will also have a large inside space for even convenient movement and sleeping.
600D heavy-duty waterproof top keeps you dry during thick fog and heavy rain. You will also have an extra-large rain fly and sunroof to protect you from hot summer and UV. A PVC rooftop cover is also there to keep your tent clean and safe when not in use.
But do not think you will feel suffocated due to the confined design. You will have wide windows for panorama views and breathability. The front and back extra entrance let you easily get in and out.
But that increases the chance of bringing mosquitoes in. Do not panic. This tent comes with mosquito netting that keeps away mosquitoes and other insects.
A large aluminum telescopic ladder is equipped with this tent. You do not need to buy an additional ladder to climb the tent.
The tent is made of anodized aluminum and stainless steel hinges. You can expect a longer lifespan from it due to its durable construction. Installing and taking down is also easy just like any good Tacoma roof top tent rack.
WHY I LOVE IT:
Easy to install and take off
High-density foam for added comfort
Large ladder for easy climbing on
Mosquito netting for insect protection
All-weather protection
TAKE NOTE:
No pockets to store accessories
No LEDs.
---
Is A Roof Rack Tent Worth It?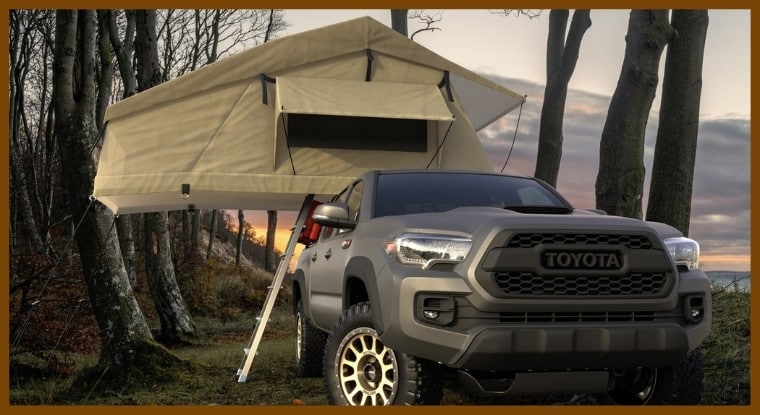 Now the question comes whether you should buy it or not. Well, there are a lot of benefits of roof tents. Here are a few benefits for you.
The roof tent is easy to install and pack. You can do it yourself within minutes.
It offers a safe place to stay at night. You will be protected from dangerous animals and insects.
You can comfortably sleep like your home for the thick mattresses.
It allows you to enjoy the panorama view of the outside.
Carrying and moving are easier with the roof tent compared to traditional tents.
It helps you stay clean, dry, and cool compared to traditional tents.
Roof tents are suitable for all seasons.
It offers a luxurious feeling that takes your trip to the next level.
---
FAQs about Tacoma Roof Top Tent
Still got some questions in mind? Check the section below.
Are rooftop tents bad for your car?
Your car has weight capacity. If the tent exceeds the weight capacity and if you install it wrongly, rooftop tents will damage your car. Otherwise, it is not bad for your car at all.
Can you put a roof top tent on the roof of a Tacoma?
Yes, you can easily install a roof top tent on the roof of your Tacoma. It is easy to install, and it delivers a comfortable and luxurious feeling on your trip.
How much weight can a Tacoma roof rack hold?
It depends on many things, actually. But you can take up to 660lbs. But less is better for your car.
---
Time to Say Goodbye
You always want everything to go perfectly in your camping. Picking and installing the best roof top tent for Toyota Tacoma is the first step to ensure perfection.
If you get the wrong one, your life will be hell in the camp. You will suffer from breathing, cold, rain, or even mosquito or other insects. It is mandatory to have the best roof top tents for Tacoma no matter what. Only then will you get a comfortable mattress, a wide window view, mosquito protection, and weather safety. It will take your camping experience to the next level. Never hesitate to invest your time and effort in picking the right one.
---
You May Also Like:
5 Best Roof Top Tents for Toyota Fj Cruiser.
How to Pick A Roof Top Tent for Toyota Tundra.
How to Choose A Perfect Roof Top Tent for 4runner.
---