Toyota Tundra is an amazing companion for camping lovers. They offer reliability and strength.
Installing a rooftop tent on Toyota Tundra for camping is something special. It takes your trip to the next level.
You can enjoy an amazing panorama view, comfort, and security against animals, insects, and weather.
But the problem comes with picking the best roof top tent for Toyota Tundra.
You need to consider the space, durability, weather resistance, and breathability. It is better to understand the weight capacity and compatibility as well. I know it is difficult for a newbie to consider all these and find the best roof top tent for Tundra.
Also Read: A List of My Favorite Roof Top Tent for Toyota Tacoma.
Top 5 Best Roof Top Tent For Tundra in 2022
We have come up with these 5 tents to make your decision-making easier than ever. You will find the features, benefits, pros, and cons for better comparison and picking.
1. Overland Vehicle Systems Nomadic 4 Extended Roof Top Tent
Overland Vehicle Extended Roof Top Tent is a great tent to consider for your Tundra. This one features a marine-grade high-quality 600D polyester-cotton canvas body. It will prevent fogs during cold and water during rain.
You will also have 420d polyester rain fly to protect you from sunlight and rain anytime. The 110g breathable windows allow you to enjoy the outside view yet ventilation. You will stay cool in summer and warm in cool conditions.
Its 3″ foam mattress will ensure maximum comfort when slipping or resting. It is equipped with a quilted cotton cover for added comfort. You will also get an insulated base to not sweat out during hot summer.
The construction with marine-grade stainless steel ensures higher longevity and durability. You have a transportation cover to keep it protected when not in use. A tubular telescoping ladder is also there for easy climbing.
You can store small items organized thanks to its six built-in storage pockets. A power bank pouch, LED Velcro strip, and handheld led light are also there for more convenience. Installation is easier as well for its user-friendly design.
WHY I LOVE IT:
Durable construction for longevity
LED lights facility for darker conditions
Cover for weather protection
High-comfort mattress
Water and sunproof for rain or hot summer
TAKE NOTE:
No built-in mosquito net
No removable rainfly.
---
2. Thule Tepui Kukenam Rooftop Tent
Thule is one of the top brands to manufacture top-notch quality tents for Tundra. This Tepui Kukenam Rooftop Tent comes with a large capacity for up to 3 people.
Made of coated 600 denier coating, this one can handle any tough weather. Its 260g poly-cotton blend adds more strength that makes it suitable for any season.
You will also get protection against UV rays for its high-quality tent fabric. The mesh panels ensure enough ventilation to keep the airflow running. You stay cool and sweat-free while getting maximum breathability with fresh air.
Keeping small accessories in the camping can be tricky. This tent is equipped with four, large internal pockets that solve the problem. You will also have a travel cover that keeps the tent dry and protected when you move the Tundra.
Rain is common in the rainy season. But it is impossible to be ready all the time and enjoy the beauty of nature. Its quick-release rainfly allows you to protect yourself from rain quickly. You can stay tension-free to enjoy nature.
A ladder is also there so you can climb the Toyota Tundra roof rack smoothly. Overall, you can enjoy a large space with top-notch comfort and reliability from this one.
WHY I LOVE IT:
Weather protected coating for weather protection
UV rays protection for hot summer
Enough ventilation to keep you cool
Large internal pockets to keep accessories organized
Quick rainfly release for faster rain protection
TAKE NOTE:
No separate mosquito net
No LED strap or light facility.
---
3. Campoint 2-3 Person Sunroof Rooftop Tent with Skyline Rainfly & Ladder
What is the fun of camping if you cannot enjoy the panorama view from inside?
And a window is a must for an amazing panorama view in the tent. That is exactly what Campoint Sunroof Rooftop Tent offers. You will get amazing side windows for that view. 2 to 3 people can easily sleep in the tent and enjoy nature.
It also has a high-density 92″ x 55″ foam mattress with a 661 lb. load capacity. That means you all will have comfort and cozy feeling while sleeping or resting.
The 600D heavy-duty extra-large waterproof rain fly will protect you from rain and fog. You will also have a sunroof that makes it perfect for summer.
Mosquito is a big problem for outdoor camping. This Toyota Tundra roof top tent has mosquito netting that protects you from mosquitoes and other harmful insects.
An aluminum telescopic ladder is there that lets you climb the tent smoothly. It also eradicates the need to purchase a separate ladder with the tent.
You will even have a PVC rooftop cover. It helps you keep your tent dry and protected from fading away when not in use. That means you are getting a complete package with this roof tent for your Tundra.
WHY I LOVE IT:
Easy installation for anyone
UV and rain protected rainfly and sunroof
Mosquito netting for insect protection
Telescopic ladder for smooth climbing
Large windows for a beautiful panorama view
TAKE NOTE:
No LED facility
No pockets for storing small accessories.
---
4. Smittybilt Overlander Roof Top Tent
Wind, rain, snow, and sun heat are common when you camp outside. To protect yourself from all these, you must pick something durable and strong to withstand that. This Smittybilt Overlander Tent is what you need in that case.
It comes with anodized aluminum tent frame poles to handle wind and rain pressure. You will also have stainless steel hinges for even more durability. The top and rainfly are made of waterproof 600D heavy-duty polyester for rain and fog protection
Its sunroof and PVC cover sheet offer protection against UV and sun heat. You will also have a PVC cover that will protect your tent from water and UV when not in use.
The sandwich base with 2.5cm thickness can handle up to 300kg load capacity easily. A mattress cover is also there for more hygiene and cleanliness.
But don't think you will get suffocated with all these durable items. The side windows will give you a panorama view where the mosquito netting will protect you from mosquitoes and other insects. It also ensures proper ventilation.
The telescopic ladder lets you climb up the tent smoothly. Installation is easier as well. You don't need anyone to install.
Darkness is scary in the nature. This tent comes with interior LED strips so you can eradicate the darkness that makes it the best Tundra roof top tent.
WHY I LOVE IT:
Suitable for all-seasons uses
Easy to climb up for its ladder
Mosquito net for insect protection
Durable construction for protection and longevity
Comfortable mattress
TAKE NOTE:
Rainfly is not removable
The instruction manual is not up to the mark.
---
5. Thule Tepui Explorer Ayer 2 Roof Top Tent
Explorer Ayer 2 is another excellent tent from the Thule Tepui brand. Its 420D polyester oxford rainfly can withstand rain and sunlight smoothly. You will also have a PU coating for added protection against UV rays.
The canopy is made of durable 600D polyester cotton to deliver maximum strength to handle elements of any season. You will have a high density of 2.5in foam for added comfort when sleeping or resting. A cotton cover is there for a cozier feeling.
Its large inside space can easily accommodate 2-person. Durable double-wall can withstand wind and small storms. The 5/8in aluminum poles add more strength to the tent's durability.
A travel cover is also there for you. It will keep the water out to keep the tent dry while protecting it from UV rays when the Tundra is in motion. A telescoping ladder is there for you to make your climbing easier than ever.
Four large pockets will help you keep your small accessories organized. This tent is equipped with a mosquito net for insect and mosquito protection.
WHY I LOVE IT:
Large pockets for storing small accessories
Travel cover for keeping the tent clean and dry
Mosquito net for insect protection
Durable construction for added longevity
Suitable for all seasons
TAKE NOTE:
No LED straps
Velcro straps are not UV proof.
---
How to Install Roof Top Tent for Toyota Tundra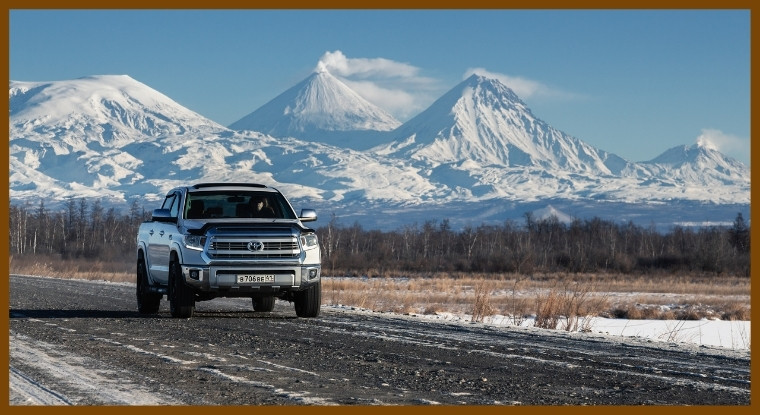 You have selected the rooftop tent. But you need to know how to install it to use it on your trip. Let's check it out.
Read the manual first,.
Wear the safety glasses and gloves to protect your eyes and skins.
Open your tent with a cutter from the box. Open everything including ladder, cover, and others.
Attach the tent cover and ladder.
Slide the tent parallel to the rack. Take help from others if necessary.
Attach the bolts.
You are done.
---
FAQs about Rooftop Tent for Tundra
You should check the section below if you still have some questions in mind.
Can you put a roof top tent on a Toyota Tundra?
Yes, you can put a roof tent on your Toyota Tundra as long as it is suitable. Do not put something heavy or a wrong tent on it. It may damage your car.
How much weight can a Tundra roof rack hold?
You can use 250 lbs when your car is in motion. In the static mode, up to 650 lbs are fine. More than that might break the rack.
Are roof top tents bad for your car?
The tents are not bad for your car as long as they meet the weight limit. Too much weight will break your car's rack and damage the car simultaneously.
How fast can you drive with a roof top tent?
It depends on the type of your car and the quality of the tent. I recommend not to cross 110 kmh speed when the tent is on the top.
---
Conclusion
You can take your adventure to the next step with a good roof top tent. But finding the best roof top tent for Toyota Tundra is somehow difficult for newbies. You need to consider many factors, including space, capacity, durability, and reliability.
Only then can you enjoy the comfort, view, and weather resistance in your camping. Make sure to pick the best roof top tent for Tundra and make your adventure special. My review with the features and benefits will help you pick a good one. Follow the guide and enjoy your trip.
---
You May Also Like:
7 Best Roof Top Tents for Toyota 4runner.
How to Pick A Roof Top Tents for Toyota Rav4.
A List of My Favorite Roof Top Tents for Fj Cruiser.
---