You need to take your bow and arrow to different places for practice, competition, or hunting.
It is easy to carry them in other transport.
But the problem arises when you travel on a plane.
You may get into trouble if you do not know how to carry a bow and arrow on a plane.
The airline has different rules and regulations to carry a bow and arrow.
It is not allowed to carry an assembled bow and arrow as a carry-on. You must use a hard-sided case and take it as checked luggage. Other knives or bear spray are also prohibited as carry-on. Know the airport rules and then act accordingly to ensure a safe carrying of your bow and arrow.
The Process of Carrying A Bow and Arrow on A Plane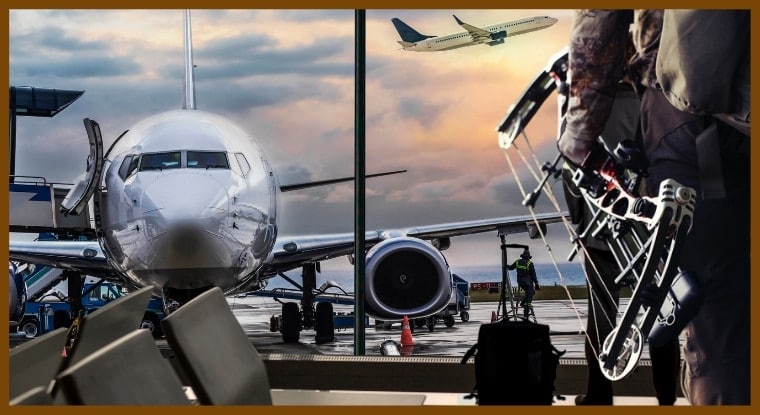 You need to follow some important steps to carry your bow and arrow on a plane. Here are the processes.
Step 1: Pick A Good Bow Case
As we mentioned, you cannot take a bow and arrow as a carry-on. You must need a good hard-sided case to follow airport regulations and protect your bow and arrow. That is why it is important to pick the right case. Consider the factors below to choose the best bow case for air travel.
Hard Cases or Soft Cases
You will find both hard and soft cases for bows and arrows. Hard cases come with a hard outer shell. The inner section is covered with foam to ensure better protection for the bow and other equipment. They are expensive, offer better protection for bows, and ensure safety to surrounding people.
Soft cases are made of durable and strong cloth with lots of inner sections. They help you organize the equipment easily. They are less expensive, roomy, and good for organizing your gear.
Both of them are suitable for recurves and compound bows. But you can only pick hard cases for air travel. It is not allowed to pack your bows and arrows in a soft case for air travel.
Shell Materials
Shell materials determine the quality of the case. The wall varies from thin plastic to hard-thick materials. You will also find some shells offering water, heat, or cold resistance. Consider your weather and surroundings to pick the right materials.
Wheels
Some hard-sided cases come with wheels. These help you move the case easily. If you often travel on a plane and move to different places, a case with wheels will work better.
Comfortable Handles
Some cases come with solid handles, whereas some do not. A comfortable handle will make your move easier and comfortable. A solid handle will also deliver added durability and longevity.
TSA Lock
TSA lock is important to travel on a plane with a bow and arrow. The airport security will open your case with their master key if you have a TSA lock. They will cut it through to check what you have in the case if it does not have a TSA lock.
TSA-approved lock means a strong and safe lock. It also helps you protect your bow and arrow from traditional thieves. Make sure you pick a case with a TSA-approved lock.
Interior Tie-Downs
You do not want your bow and arrows to get jostled around when traveling. But it isn't easy to tie them down with the case. So, it is wise to pick a case with interior tie-downs. You can easily keep them in place with the tie-downs. It also lets you tie down other equipment you are carrying with the bow.
Pinned Hinges and Spring-Loaded Latches
Some people love to have high-quality, expensive items. You will find some quality, expensive bows and arrows as well. To protect them, it is mandatory to have quality cases. Pinned hinges with spring-loaded latches will help you ensure the safety of your equipment.
The case with this facility will certainly be expensive compared to others. But you should go for it if you want the best protection for your instrument.
Shape and Size
Know the size and weight limitation of the respective airport authority. You should also consider your bow and arrow size to fit perfectly in the case. The best way to ship a compound bow and arrow on a plane is to pick the right size. Do not mess with it.
---
Step 2: Pack Them Carefully
You must pack the bow and arrow carefully. When the authorities check your luggage, they may open it. Make sure you do not put any sharp objects in the case without wrapping them. They include sharp arrowheads, knives, or any other things.
You can pick a case with a tie-down facility or use something to tie them securely. Then tie them securely so that they do not get jostled around. Finally, pack them in the most secured compartment of your case.
Step 3: Register for International Travel
You may need to go abroad for archery competitions or extreme hunting. It will be wise to register in the customs office before the date. Visit this link to register for upcoming travel with bow and arrow. It proves that you do not buy it from abroad. You can stay away from additional charges while coming back.
Step 4: Ship Them Ahead
You may find it a hassle to transport a bow and arrow on a plane. It is always better to use a transport system and ship them ahead so that you can relentlessly enjoy your air travel. Your arrow case will be there when you reach there.
---
Things to Consider Before Carrying A Bow and Arrow on A Plane
Know how to ship a bow and arrow first long before you make your travel.
Always consider shipping a bow in the hard case since soft cases are not allowed in air travel.
Try to arrive at the airport at least half an hour ago since the authority may take extra time checking your arrow case.
Make sure you follow the safety standards to ensure safety for everyone.
Do not panic if you do not find the bag when you reach your destination. It may take extra time to check since bow and arrow are considered weapons.
---
Frequently Asked Questions
Do you still have some questions in mind? Then follow the questions below to get all your answers.
What makes a bow case TSA approved?
The bow case has to be hard-sided and come with a TSA lock. A soft arrow case or other locks might not get approved by the TSA.
How much is it to fly with a bow?
You do not need any charge to fly with a bow when you use the arrow case as your checked-in luggage.
How to ship a compound bow?
The process of shipping a compound bow is not different from others. You can use a hard-sided case to carry your compound bow in the plane. Using a shipping company to ship your compound bow is also wise.
---
Conclusion
We often need to carry our bow and arrow for different purposes. But airport authority enforces some rules to carry these instruments since they are risky to handle. You should always know how to carry a bow and arrow on a plane to protect yourself and others from any harm.
Know the rules and guidelines of the airport authority. Use a hard-sided bag to carry the bow and arrow. Register in the customs office for international shipping. Try to ship the bow and arrow through transport to avoid any difficulties. It will help you reach your destination without facing any hassle at the airport.
---
You May Also Like:
How to Carry A Bow on Your Back – 5 Easy Steps.
---