Ada is located on the northeast edge of southern Oklahoma's Chickasaw Country, which is known as the headquarter of Chickasaw Nation.
If you are looking for a place to spend time with family, friends, relatives, or a special someone, you can choose Ada, Oklahoma.
Enjoy the beauty and calamity of nature in Wintersmith park, go to the traditional McSwain theatre for live music and do a lot of fun activities in the Lazer Zone Family Fun Center. Make sure to visit Ada in September so that you can join the annual Ada Medieval Fair.
Parks and Nature
Wintersmith Park
Wintersmith Park, which is named after Frances Wintersmith, is listed in the National Register of Historic Places. The park has a public swimming pool, courts for basketball, softball, volleyball, and horseshoes, especially a 1.5-mile lighted nature trail.
Among the other things, there are Wintersmith Lake, a lodge, stone bridges, trails, and a public amphitheater within the park's 150 acres. The recreation department accepts reservations for the historic Wintersmith lodge.
Visitors can also go to Chapel Schoolhouse which is a one-room schoolhouse opened in 1907. The Campbell Cabin which is located near the schoolhouse represents the early days of Ada.
Veterans Lake
This beautiful lake is surrounded by a three-mile paved trail. The lake was named after American war veterans. You can go on a scenic hike along the perimeter of the lake.
While going around the lake enjoy different species of wildflower growing along the edge of the water, Canada geese, and other animals like white-tailed deer and armadillos. The area allows boating, fishing, or swimming in the clean water of the lake.
Other things you can do are picnic areas, grills, restrooms, and a large picnic pavilion that can be reserved for groups.
Chickasaw National Recreation Area
Chickasaw National Recreation Area has six public campgrounds including 400 campsites. The authorities accept reservations for some of the sites and the other sites are available on a first-come, first-serve basis.
Beautiful wildflowers can be seen here from March to October. You are allowed to hunt in specific areas with some restrictions during state-regulated hunting seasons. There are some places where you can swim and play in the water and some other places are suitable for picnics.
---
Fun and Games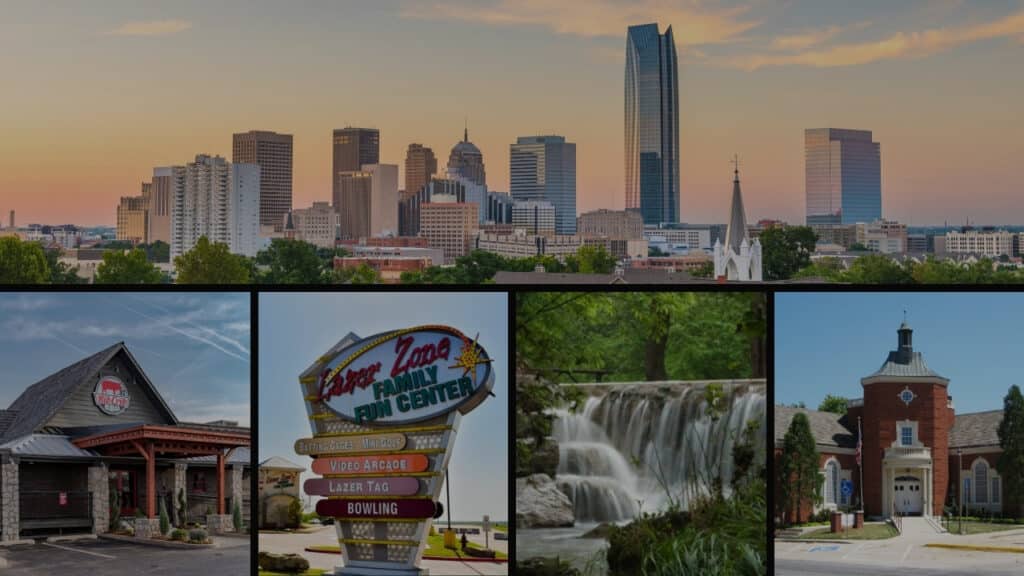 Lazer Zone Family Fun Center
Don't forget to visit the Lazer Zone family fun center if you come to Ada with your family. The area is decorated with a 24-lane blacklight bowling alley, two-story laser tag arena, 9-hole 3D blacklight mini-golf, three station batting cages, and an arcade that is perfect for having fun with friends and family.
When you get tired doing some activities, you can fuel yourself with delicious pizza, hamburgers, cheesecakes, and ice cream. The prices are affordable.
Birthday parties, young and corporate events can be arranged here. Also, you can rent a room for a certain amount of time with additional facilities like drinks, food, and games.
Star Skate
Do you love skating? Star skate is a roller and inline skating rink for kids and families. Take a few laps around the rink, practice rollerblading skills or show off your skating speed. The rink is beautifully designed with multiple colors. Star Skate offers skating lessons to improve your performance.
Kids enjoy the place a lot. So, you can celebrate birthday parties for your children here. Star Skate specializes in private functions, birthday parties, and roller skating.
McSwain Theatre
The McSwain Theatre was founded by Foster McSwain in 1920. Since then, the theater has been serving a wide range of entertainment to its fans of all ages.
The theatre offers various music performances — country, rock, gospel, and oldies. Comedy shows and weekly movie nights are also shown on McSwain's big screen. Enjoy the shows while having popcorn and cheering with your friends. The theatre has clean sitting and staff and is equipped to host stage plays, special events and more!
---
Museums and Cultural center
Ada Arts and Heritage Center
The Ada Arts and Heritage Center is a non-profit organization, a museum that serves art displays from local, regional and national artists. The center regularly hosts art shows, musicals, recitals, receptions and more.
Listed in the National Register of Historic Places, the heritage center has a collection of historic photographs and colonial revival-style buildings. If you are interested in art and heritage this place is worth visiting for you.
The Toy and Action Figure Museum
The museum features over 13,000 action figures on display which can give you both excitement and education. When you go to the Collector's Bedroom, you will be surprised by thousands of action figures. It is said that these figures come alive each night!
People can see how these toys are made behind the scenes. Most deserving toys are placed into the Hall of Fame every year. The Toy and Action Figure Museum also features the works of many artists and writers from Oklahoma.
---
Restaurants
Rib Crib
Rib Crib serves high-quality foods in its comfortable and casual dining environment. The menu includes burgers, hot sandwiches, salads, ribs, Rib Crib classics, combination plates, and barbecue creations.
Taste something new — Rib Crib's famous chicken nachos which are made with tender smoked chicken, cowboy beans, cheese, tomatoes, and peppers on fresh tortilla chips.
JD's Café & Cafeteria
JD's Café & Cafeteria has been serving since 1955. This family-owned institution offers breakfast and lunch.
You will like the taste of their homemade biscuits and gravy for breakfast. Try JD's gooey cinnamon rolls that you may find delicious. The rolls are enormous in size that you can share with others. If it is found so delicious to you, have a whole one, who cares?
---
Hotels
Silver Spur Motel
You can have a rest and relaxation in Silver Spur Motel. The rooms are clean and have a queen-size bed, an icebox, a microwave, and a flat-screen TV.
Enjoy their personal kitchenettes and full access to Direct TV channels. The motel
is perfect to rest for a night and week's stay.
Quality Inn of Ada
Quality Inn of Ada provides controlled heat and air conditioning facilities. You can take advantage of free local phone calls, guest laundry, and valet services. The hotel provides meeting rooms, continental breakfast, and an indoor pool.
From here you can go to Ada's nearby destinations including the Arbuckle Mountains and McSwain Theatre & Art Gallery. Quality Inn of Ada can be a great comfort for you, whether you are in Ada on business or holiday.
When you decide to visit a place, you should know about that place before you go. I hope you have read the article attentively as you are ready to go to Ada soon. Enjoy all the aforementioned attractions. Have fun in Ada!
---
You May Also Like:
10 Secret Places in Southern California.
13 Cool Things to Do in Adairsville, GA.
---