Adairsville was the first Georgia town to be listed on the National Register of Historic Places. If you are interested in history, you can visit the antique shops where you can see amazing historical items.
During the Civil War, much action took place in Adairsville, including the Gravel House Battle (May 17, 1864) and the Great Locomotive Chase (April 12, 1862). Browse Adairsville depot history museum and welcome center to know what happened in Adairsville in the Civil War's Locomotive Chase.
Don't miss horseback riding and luxurious spa services at Barnsley resort. Enjoy lunch and dinner at one of the area's best restaurants.
Park, Zoo & Museums
Manning Mill Park
Manning Mill Park is a great place for outdoor activity. It has a nice trail for walking. Children like playing football and softball in the playground. Enjoy the beautiful lake with ducks and other wildlife while walking along the trail.
The park includes 5 lighted baseball fields, 1 youth playground, 1 large picnic shelter, 3 restrooms on-site, 1.4 mile-lighted walking trail, 5-acre lake on-site, 3 lighted tennis courts and 1 pickleball court.
Cock and Doodle Doo Petting Zoo
Cock and Doodle Doo Petting Zoo includes animals like a Scottish highland cow, donkey, pony, sheep, goats, bunnies, and roosters. The farm brings you a lot of fun including barnyard petting animals, a pony to ride or pony and cart rides, horse rides, farm-themed games, hayrides.
You can enjoy boiled peanuts or other farm-themed food of your choice. Play farm-themed games and see 1950's trucks. A variety of packages are available to choose from. One of the many options is a full petting zoo that can travel to you and turn your backyard into a zoo.
Adairsville Depot History Museum and Welcome Center
If you are a history lover you can go to the Adairsville depot history museum and welcome center. This historical museum provides information about the town of Adairsville, how it was found, and what role it played in the Civil War's Locomotive Chase.
The town has historical importance to Georgia and was the first Georgia town to be listed on the National Register of Historic Places. Visitors may pick up a self-guided tour brochure with information on Adairsville's most historic homes. The depot is open Tuesday-Saturday 11 AM-3 PM. Admission is free.
Tellus Science Museum
Tellus museum house has four major galleries — Weinman Mineral Gallery, Fossil Gallery, Science in Motion Gallery, and My Big Backyard. The museum includes a fossil dig and gem panning hands-on experience, a planetarium, and an observatory. Some eye-catching exhibits like apatosaurus and a replica Wright flyer amaze and excite visitors of all ages. Children enjoy doing hands-on experiments with light, sound, and magnets. Dazzling gems and minerals show how Earth moves and changes. In the Fossil Gallery, Tyrannosaurus rex along with other dinosaurs and fossils let you know the history of life on earth.
Science of Motion deals with the major developments in science and technology related to automobiles, aircraft and space travel.
The museum also features various special exhibits throughout the year featuring everything from model trains to incredible photos from space.
---
Antique Shops
Peacock Junction Antique Mall
People who love to learn about the past and find the beauty of historical things, visit places full of historical items.
Peacock Junction Antique Mall is a wonderful historic building that is about 60 miles north of Atlanta. The shop offers antiques, primitives, and vintage items, as well as home furnishings, decor, collectibles, and costume jewelry. The shop preserves the history of the area. You can purchase something authentic and interesting.
Public Square Market
Public Square Market has an awesome collection of refinished furniture of different styles. This little store is full of interesting antique and modern objects and offers all sorts of home décor along with decorative pillows.
You can buy something to decorate your house. Some sets of furniture are painted in a unique color. The special paints are displayed for visitors to purchase, even some items are displayed in the bathroom for sale.
The owner would allow you to browse the shop freely.
1902 Stock Exchange Antiques
Your trip may be incomplete if you don't stop at the 1902 Stock Exchange.
The building was constructed in 1902 with woodwork and metal. The bottom floor houses Maggie Mae's Tea Room and a collection of antiques, reproductions used 1902 Stock Exchange and rare books, home accessories, specialty gifts and more. Public Square Opera House is on the upstairs which hosts dinner theater performances.
The shop offers a variety of items such as home decor, candles, collectibles, clothing, furniture and more.  Everything is beautifully displayed and some pieces date back to the Civil War.
---
Hotels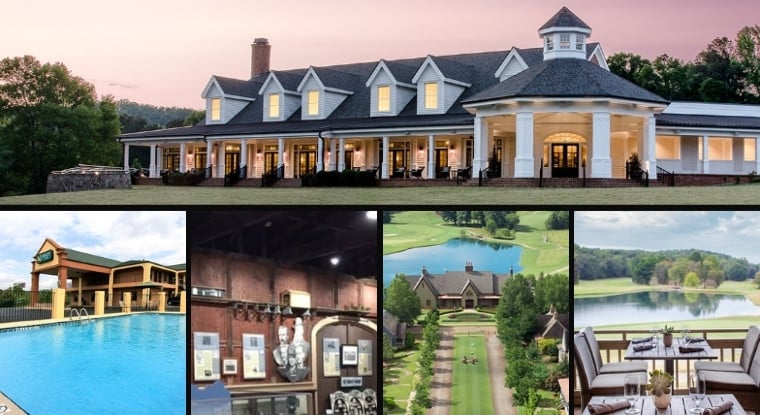 Barnsley Resort
Barnsley Resort lies in the foothills of the Blue Ridge Mountains. It was originally built in the 19th century and has been transformed into a world-class resort which can make you feel old-world with modern facilities. The resort is an outstanding destination for romantic getaways, business meetings and social events.
The resort offers championship golf, horseback riding, hiking & biking, fishing, sporting clays and even bird hunting. Here you can ride on horseback, hike through woodlands, bike the nature trails or take a relaxing boat ride on the lake.
The resort offers luxurious spa services for your enjoyment that includes massage, body treatments, facials and more with 10 treatment rooms, a steam room and a sauna. Have a relax for one hour or two in 100 treatment rooms and a relaxation area separated for men and women.
Quality Inn Adairsville
Quality Inn Adairsville has a family-friendly environment and can be a great choice while visiting Adairsville. The hotel offers free coffee.
All rooms have free Wi-Fi to keep you connected all the time. The hotel also provides a flat-screen TV and air conditioning. The hotel provides. Parking is free and you can also enjoy an outdoor pool.
While staying in Adairsville, you can check out some nearby restaurants including Fan Zone Pizza, El Nopal Mexican Restaurant, and El Pueblito.
OYO Hotel Adairsville Hwy
OYO Hotel Adairsville Hwy 140 is close to tourist attractions like Adairsville Body of Christ Church, Tile Factory Outlet, Rosabelle Manor, Bethel Baptist Church, and Oothcalooga Creek.
The hotel provides a lot of facilities including AC, laundry service, parking facility, room service, free Wi-Fi, TV, refrigerator, mini-fridge, bathTub and card Payment. You can also enjoy the seasonal outdoor pool.
A cable TV, hairdryer, and coffee-making facilities are featured in all guest rooms.
In addition, you can enjoy free on-site parking, photocopy and fax facilities.
Hampton Inn and Suites
Hampton Inn and Suites is 3 miles from downtown. The rooms include beautifully designed beds and desks, flat-screen TVs with HD channels and coffeemakers.
The hotel has a wide range of services that make you stay comfortable.
Browse the web using free Wi-Fi, go work out in the fitness center or take a bath with children in the indoor pool. The hotel also provides free tea and coffee 24-hours a day, free copies of USA Today and free local calls.
You can watch a movie lying on the clean and fresh Hampton bed. Have a cup of fresh coffee using an in-room coffee maker. You can upgrade to a spacious suite if you want to enjoy a separate sleeping and living area.
---
Restaurants
The Woodlands Grill
The woodlands grill overlooks the surrounding hills and golf course. This Vegetarian-friendly hotel has vegan and Gluten-Free options and offers breakfast, lunch, dinner, brunch and drinks.
The other features include takeout, reservations, outdoor seating, parking, highchairs, wheelchair, full bar, free Wi-Fi, table service, gift cards and more.
The restaurant is reserved for resort guests on weekends.
Maggie Mae's Tea Room
When you visit the 1902 Stock Exchange, Maggie Mae's Tea Room will be a great option for a good lunch or afternoon tea. The restaurant is located on the ground floor of the 1902 Stock Exchange. Maggie Mae's Tea Room offers chicken salad, quiche and hummingbird cake. If you go in a group, you will need to have a reservation.
---
You May Also Like:
12 Best Things to Do in Ada, Oklahoma.
---