Bows and Arrows are essential equipment when you are going for a hunt. As almost all hunts are done in the forests and woods, it is mandatory to know the right way to carry the bow on your back, otherwise, they may pose a problem when you are moving through the bushes.
The method of carrying bows on your back slightly differs from bow to bow. But the basic principles of carrying any bow are more or less the same. Almost all of them need to be wrapped with a cotton towel and worn like a sling.
Although there are other ways to carry bows such as cases, over the shoulder, and vehicles, we will discuss how to carry a bow on your back in this article.
Also Read: How to Find A Perfect Bow Case for Air Travel.
How to Carry A Bow on Your Back?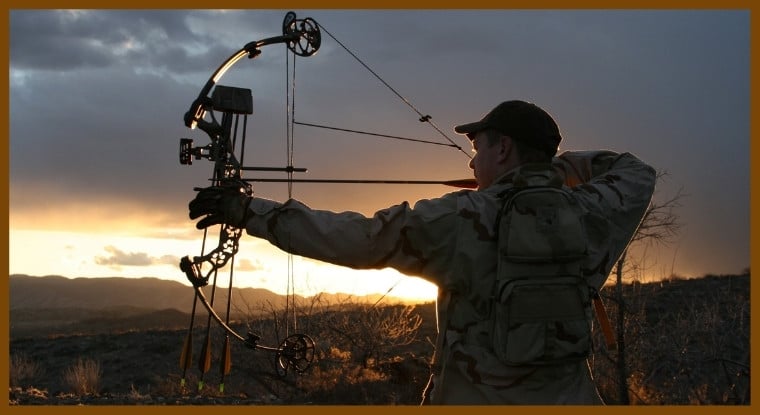 Carrying a bow on your back is not a straightforward task. There are a lot of things that must be considered while you carry a bow on your back. You have to carry your bow in such a way that you don't need to use your hands at all for this purpose.
Also, proper weight distribution is very important. If the bow is slightly heavier on any side, it will hamper your movement.
Now, let's take a look at how to carry a bow and arrow on your back.
How Can You Carry A Bow on Your Back?
The basics of carrying a bow, regardless of what kind of bow it is, are usually the same. As most hunters nowadays use compound bows, the following steps will also teach you how to carry a compound bow as well.
1. Wrapping the Bowstring with A Cotton Towel
Bowstrings are pretty sharp and can cause serious injury if they come into serious contact with your skin. To avoid any serious injury, it is better to wrap the bowstring with a cotton towel. This makes it easier to carry on your back without any worries.
2. Wearing the Bow Like A Sling
After you are done wrapping the bowstring with a towel, wear the bow like a sling. This is why the bowstring should be wrapped in a towel as the string will be near your skin. It will be better if you use a large towel so that you can double wrap the string. The advantage of wearing the bow as a sling is that the bow will never fall off your body.
3. Tightening the Sling
Once you have slung the bow on your back, ensure that the sling is tight enough. This will ensure that the bow will not dangle around and be a nuisance.
4. Practicing Moving Around
It is mandatory to practice moving around before going for the hunt. As you will be moving through woods and bushes, a lack of practice may result in the bow getting stuck in twigs and creating unnecessary problems for you.
5. Removing the Bow
Hunting requires that you remove your bow as quickly as possible. To do so, hold the bow at the bottom. Then slip the bow over your head and arm in one motion. This method is the fastest and most efficient way of removing a bow.
---
How to Carry A Recurve Bow on Your Back?
The method of carrying a recurve bow on your back is pretty similar to that of a compound bow. But in the case of recurve bows, the measurement of the bow and string has to be inch-perfect. The way to measure the perfect length of the bow and sling is to extend your arms outwards and then measure the distance between your chest and the fingertips of the outstretched arm. Then add 1 inch to this distance. This will be the length of your bow as well as the sling. After that, follow the steps I have mentioned above.
---
How to Carry A Longbow on Your Back?
Carrying a longbow on your back is a somewhat tough task. Longbows were not designed to be carried on the backs in the first place. But there is a way you can carry in on your back. For this purpose, you have to have a tip protector on the hand that is used to hold the string in notches at the time the bow is unstrung. You can then use this string akin to a rifle string which is much more comfortable. All you need to do is to slide the upper loop down the hand, that's it.
---
How to Carry A Bow on Your Backpack?
Some backpacks are specifically designed for carrying a bow that you can use to carry your bow. A few examples are Eberlestock and Jansport 4900 CI. These backpacks have straps that are designed to hold the bow in place in such a way that it doesn't hinder your movement. All you have to do is to strap your bow to those straps.
---
Pros And Cons of Carrying the Bow on Your Back
There are a few advantages as well as disadvantages of carrying the bow on your back. You would do well to keep these in mind when carrying the bow.
Pros
It keeps your hands free.
This method is suitable for long-distance travel.
It is a more comfortable way to carry the bow.
You can move faster by carrying the bow on your back.
Cons
Your limbs and the parts of the bow can be damaged.
This process takes time to get used to.
---
Things to Remember When Carrying A Bow on Your Back
Here are a few tips to carry a bow on your back. Following these tips will make your life easier as well as protect your bow.
The string is always in contact with your body. So to avoid injuries, insulate the string.
While wearing the bow as a sling, wear it across your body, not on one shoulder. One side of the string should be over your one shoulder while the other side must be under your opposite arm.
Use larger bows as a sling as smaller bows are hard to carry in such a fashion.
Take time getting used to the sling.
---
Final Words
No matter what kind of bow you are using, the principles of carrying it are almost the same. Knowing how to carry a bow on your back is one thing, but properly executing those steps needs practice. So, before going hunting with your bow, take some time getting used to the bow on your back.
---
You May Also Like:
How to Carry A Bow and Arrow on A Plane.
---